Tyhume Theatre South Africa, Eastern Cape architecture, Architect News, Design Images
Tyhume Theatre, South Africa : Eastern Cape Building
Contemporary Project in Africa design by Ryder Architecture + Dodgy Clutch
16 Jan 2009
UK Ryder Architecture heads to South Africa to build theatre with local community
London, 16 January 2009 – Ryder Architecture and theatre company Dodgy Clutch have joined forces to launch a cultural regeneration project in South Africa's Eastern Cape which will see the construction of a new community theatre.
Tyhume Theatre – proposed building: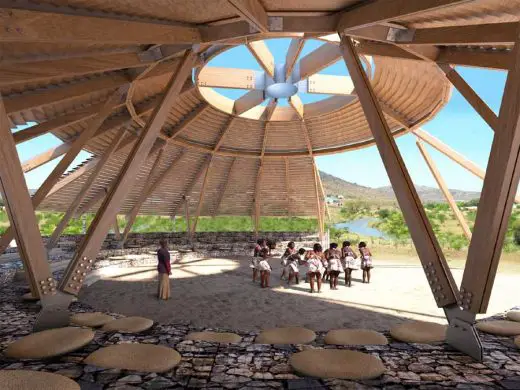 Tyhume Theatre Building
Ryder and Dodgy Clutch, which has a long running association with the local community in the Tyhume Valley, have organised this project in conjunction with engineering firm Cundall and with the active support of the region's political leaders in the hope that the scheme will provide a catalyst for regeneration and encourage a cultural renaissance in the area.
Site of the theatre as it stands now:


In recent years the Tyhume Valley has suffered from urban migration as young people move from the countryside to the cities in search of employment. Located next to the local primary school and near the University of Fort Hare, this project is seen as an opportunity to start to reverse this trend in the Tyhume Valley.
Peter Buchan, chief executive of Ryder Architecture, said: "This is not just an opportunity for Ryder to use our expertise overseas to benefit the local community, but a real two-way exchange of knowledge. The team will be learning about local construction techniques and materials and working with the community to deliver a sustainable facility that will benefit the area for years to come. As we have seen in the UK, cultural-led regeneration projects like this can kick-start and inspire dramatic growth and this project has the potential to demonstrate what is possible for similar communities across South Africa."
Darren MacDonald, a senior architect at Ryder said: "Building the Tyhume theatre is a once in a lifetime opportunity to get involved in a project that could change the lives of a whole community. The theatre will provide a fantastic resource for young people in the area once completed and will allow them to develop their creativity and skills."
image of the nearby local school that will take advantage of the Tyhume Theatre:


Ozzie Riley, founder of Dodgy Clutch, explains, "We have found the Eastern Cape to be one of the most creative places that we have worked. It has a rich and deeply rooted popular culture living side-by-side with a modern industrial society. We have, through artistic collaboration, already created an international theatrical hit with "Elephant" and the new amphitheatre will provide a base for further collaboration and "Elephants" to be nurtured."
David Dryden, Managing Partner at Cundall said: "This is an exciting project for those taking part, not only is it very different to our usual projects, it also ties in with Cundall's approach to social responsibility and plays to our strengths as engineers, being fundamental to the process of creating wealth and wellbeing in our society." Jonathan Hays, a structural engineer at Cundall adds: "It allows interaction with the client, community and other members of the design team – in fact teamwork will be intrinsic to the project's success with everyone sharing a common passion to deliver a truly sustainable solution".
Tyhume Theatre building – sketches:



Former freedom fighter and leading member of the ANC, Archie Sibeko, adds: 'It is a wonderful idea for Ryder and Dodgy Clutch to go to the Eastern Cape to build this amphitheatre. Sharing expertise in this way opens the doors to greater understanding and is never a one-way process, learning occurs on both sides. The people of South Africa have a gift for cultural activities. Most, especially children, love singing, dancing and acting and quickly acquire new skills, although in the past they have had little access to good facilities or training. I have always said that, as far as art and culture are concerned, the people of South Africa are like dry grass – given a spark they will catch fire!
"The location of the project near to a school has many advantages. Children will want to be involved in the construction and in performing in the arena as it is being built. They will also provide a valuable link with the local community, drawing them into the project and encouraging a feeling of ownership.
"The South African Government faces many challenges, but I believe that when they see the success of the Tyhume project they will recognise more clearly the potential that culture has to contribute to development. The Provincial Minister of Housing and Security has said to me that he thinks that more opportunities for cultural involvement will attract and divert young people who might otherwise seek excitement and rewards in anti-social ways."
Ryder and Cundall's approach to the design of the theatre has been collaborative and the project team will be working closely with local builders and trades people to exchange skills, expertise and knowledge. The design relies on a simple, sustainable, low maintenance structure, with the timber and stone sourced locally. The theatre will sit sensitively in its surroundings above the river Tyhume.
The Tyhume Theatre project has the backing of numerous high-profile individuals including:
– Archie Sibeko, known in the UK as 'Zola', was born in the Tyhume Valley and is a former freedom fighter and leading member of ANC (African National Congress) who stood trial for 'treason' in 1956, alongside Nelson Mandela. He was later sent out of the country by the ANC for training to continue the fight against apartheid. He now lives with his wife in the UK.
– the Provincial minister for SARC, Naxolo Abrahams
– Tandile Mandela, the Head of Music at the University of Fort Hare and granddaughter of former President of South Africa Nelson Mandela, who takes students to the area to teach them about its rich history of indigenous music.
The Tyhume Theatre scheme will:
– involve 10 Ryder Architecture and Cundall employees and members of the local community
– use only locally sourced materials, the majority of which will be stone and more than 10 tonnes of timber for the main frames and 500 metres of timber for the cladding
– use a minimum of 207 Gabion baskets, equating to approximately 380 tonnes of stone
– be completely self-supporting with no central pillars
– cover an area of 600 square metres when complete, standing 9.5 metres tall, 28 metres wide, boasting 4 terraces and a 200 square metre performance area
– provide an additional educational facility for the Gqumahashe Primary School, in whose grounds the theatre will be built.
The team is flying out to South Africa on 16 January 2009 and the project is expected to be completed later in the year.
Tyhume Theatre image / information received 160109
Ryder Architecture – Eastern Cape Theatre designers
Location: Eastern Cape, South Africa
Architecture in Africa
Contemporary Architecture in Africa
South Africa World Cup Stadiums
Sassen Residence, Cape Town
Design: SALT Architects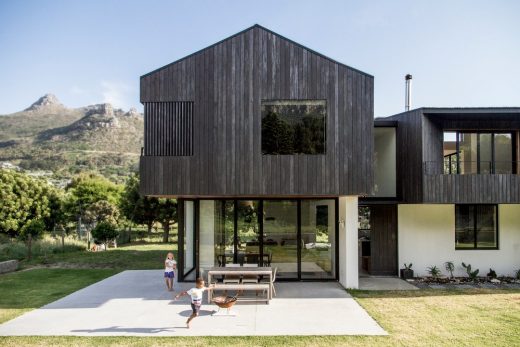 photograph : Linda Smal
Sassen Residence, Cape Town
Horizon Villa, Cape Town
Design: SAOTA and ARRCC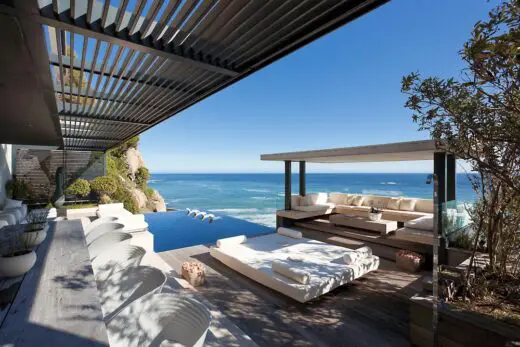 photograph : Adam Letch
Horizon Villa, Cape Town House
Comments / photos for the South Africa Theatre Building – Eastern Cape Architecture page welcome