Nelson Mandela Childrens Hospital, Johannesburg Health Building, African Design, Image
Nelson Mandela Childrens Hospital Africa
Johannesburg Building Project design by Sheppard Robson John Cooper Architecture
2 May 2017 + 3 Aug 2009
Nelson Mandela Childrens Hospital
Architects: Sheppard Robson
Location: Johannesburg
Sheppard Robson completes Nelson Mandela Children's Hospital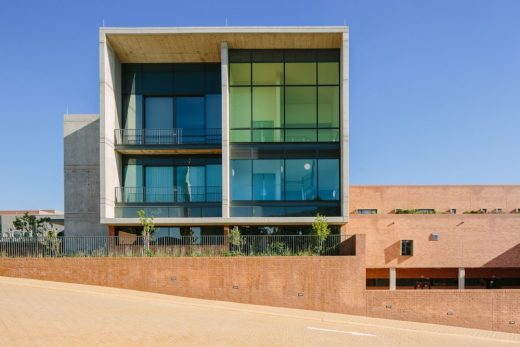 The concept by London-based architects fulfils Nelson Mandela's dream of providing a specialised facility for children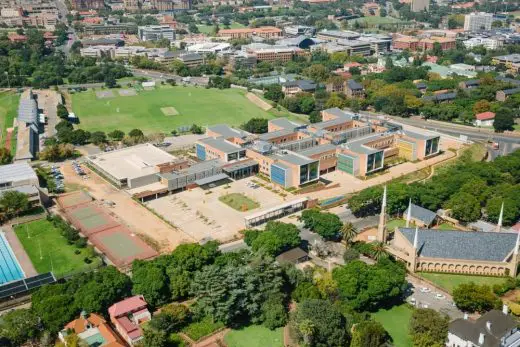 UK-based architecture firms Sheppard Robson and John Cooper Architecture (JCA) collaborated in 2009 to win an international design competition for the new Nelson Mandela Children's Hospital in Johannesburg. The facility will employ 150 paediatric doctors and 450 nurses.
Sheppard Robson and JCA, responsible for the concept design of the hospital, were joined by local architects GAPP and Ruben Reddy. GAPP Architects & Urban Designers were responsible for the development of the facade and public spaces within the hospital, whilst Ruben Reddy Architects were the local lead and site architects, with a scope that included the design development of the clinical and operational facilities of the building and overall coordination.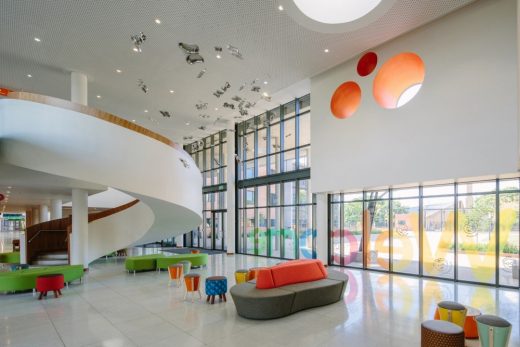 The vision
The team drew together specialist design skills with local experience and expertise to deliver the vision for the new hospital, which centred on creating a modern state-of-the-art paediatric tertiary facility located on the University of the Witwatersrand's education campus in Parktown, Johannesburg – a central position allowing it to service the needs of the region's populations.
The design is a 200-bed, eight-theatre facility, with advanced diagnostics and future plans for expansion to 300 beds. It will operate in partnership with the University of the Witwatersrand Medical School as a primary base, and will engage with all medical training facilities across the region.
The hospital includes specialist facilities for the treatment of: cardiovascular, neurological, haematological, oncological, endocrine, metabolic and renal diseases. The project also includes facilities for paediatric surgery, whilst supporting paediatric academic research and training.
A key element of the brief was to construct a hospital that provides high-quality child healthcare in a natural healing environment. This focus on connecting to nature would go on to shape the design of the project and be a starting point to creating a welcoming, safe environment for both children and parents.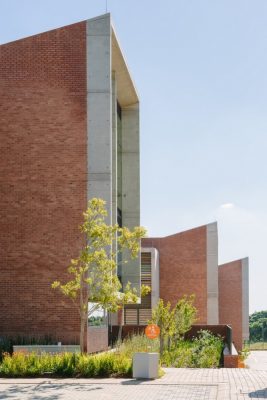 The design
The competition-winning design broke away from housing all departments in a single 'box' building, which often leads to deep floorplates where the patients and staff have little contact with the outside world. After extensive consultation, it was clear that long, institutional and windowless corridors should be avoided in favour of a plan that connected to its natural surroundings.
Sheppard Robson and JCA's concept revolved around creating six wings, each with its own specialism. These were connected by a 'street' that ran through the centre of the project. This 'street' was vital for connectivity, with three main junctions that enable efficient flow of people. The separation of floors of floors avoided cross-overs and assisted wayfinding.
By breaking down the mass of the building into six elements, the design has a domestic, human scale that reassuring and familiar to children. Further moving away from a feeling of institutional design, each wing has subtle twists of the common design language to give it a distinct identity; for example, the colour of the solar shading walls – formed from horizontal rails – changes for each department, picking up on vibrant, local colours.
This composition increased the length of the perimeter of the building and created shallow floorplates. This meant more natural light could flood into the building, placing many treatment spaces next to windows which made the most of the views out over the surrounding landscape as well into the internal courtyards created in between the hospital's wings.
Spaces that invite contemplation, the five internal therapeutic courtyards and the three exterior therapy gardens were designed for occupational therapy and children's play. The landscape is predominantly indigenous, using plant species found in the nearby Melville Koppies Nature Reserve. The external spaces were created with healing in mind, and the design encourages patients to use the outdoor spaces as part of their recovery.
The wards are positioned on the second floors of the wings to maximise views out, whilst more heavily serviced, critical care facilities are located in more private spaces on the lower levels.
Commenting on the opening of the building, Sheppard Robson said: "Having worked on the project for the last seven years, it's particular satisfying to see the important and remarkable facility open its doors.
"The design creates a close connection between nature and the healing process, with the architectural language of the project a beacon that shines out over the city from its prominent location."
The palette of materials is characterised by orange brick which makes reference to the region's red clay soil. The pronounced ends of each wing rise to a sweeping peak, designed to give the building a distinct architectural form that makes the hospital identifiable from a distance and animates it when viewed close-up.
Interior design
Sheppard Robson's interior design group, ID:SR, also worked on the project, helping create a clear and coherent wayfinding solution and designing the internal finishes for shared spaces, including the corridor, reception and family rooms.
The wayfinding was designed in collaboration with local graphic designers Black Bird Design and incorporated a number of artworks completed by children at project workshops. Rather than being text-based, much of the wayfinding uses colour and symbols to ease navigation for children and the different nationalities that will use the hospital.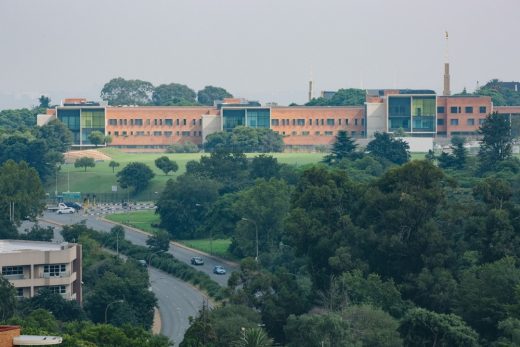 Nelson Mandela launches UK architects' winning design for new Nelson Mandela Childrens Hospital, Johannesburg
Nelson Mandela launched the Sheppard Robson and John Cooper Architecture (JCA) competition winning design for a new specialist children's hospital in Johannesburg, South Africa on July 31st 2009.
Speaking at the launch, Nelson Mandela, who turned 91 on July 18, said the hospital was badly needed on a continent where millions do not live to see their fifth birthday: "This is not a luxury but a vital necessity that can no longer be delayed".
Proposed view of atrium around the secret garden


The Sheppard Robson and JCA hospital design was developed with local architect Gapp and Ruben Reddy and won in an international design competition. It will be a modern state-of-the art paediatric tertiary facility located on the Wits education campus in Parktown, Johannesberg – a central position allowing it to service the needs of the region's populations.
The hospital will be a 200-bed, 8 theatre facility, with state-of-the-art diagnostics, with future plans for expansion to 300 beds. It will operate in partnership with the Wits medical school as a primary base and will engage all medical training facilities across the region.
Rod McAllister of Sheppard Robson is received by Nelson Mandela


The design centres around a secret garden – a visual and spiritual heart – around which all activity is based. The shallow floor plans enable much of the building to be naturally lit and ventilated with daylight concentrating into all areas – a highly sustainable design employing passive energy principles and exploiting the opportunity to use local labour and materials.
Rod McAllister, partner and design director for Sheppard Robson, who was received by Nelson Mandela himself at the launch of the hospital design in Johannesburg, said:
"Sheppard Robson is delighted to have won this competition for what will be a very important project for South Africa. It was an honour to meet Nelson Mandela, knowing that we are playing a part in achieving his vision for Southern Africa."
Competition winning model of the hospital design


Construction of the rands1 billion (about $800 million) hospital will begin in late 2010 and is expected to be completed in 18 months.
Mandela was jailed for 27 years for his fight against apartheid. He became South Africa's first black president in 1994 and stepped down after serving one term in 1999. Since then, he has devoted himself to causes such as fighting AIDS and poverty and championing the rights of children.
Sheppard Robson's Rod McAllister speaking at the launch of Nelson Mandela Children Hospital


Nelson Mandela Childrens Hospital images / information from Sheppard Robson
Nelson Mandela Childrens Hospital Johannesburg joint architects : Sheppard Robson
Location: Johannesburg, South Africa
African Buildings
Africa Architectural Projects
African Architecture Designs – chronological list
Sheppard Robson and John Cooper Architecture
Sheppard Robson and John Cooper Architecture recently formed an association to work together on large and complex health care projects. Experts in design, delivery and health care architecture, the principals provide a levelof thought leadership which is the equal of any in the UK.
The design and delivery resources at Sheppard Robson have secured and maintain a client list of major companies, institutions and public bodies in the UK and internationally. The practice has worked on many healthcare projects, the most celebrated of which is the Chelsea and Westminster Hospital in London, UK.
In fields allied to healthcare, the practice has developed an expertise and a track record in the design of research and academic buildings for leading universities and teaching hospitals in the UK.
John Cooper Architecture brings a proven track record of leading the design and construction of innovative and complex hospital projects.
Sheppard Robson
Established 70 years ago, Sheppard Robson has undergone an evolution with each new generation of partners, however the guiding principles on which it was founded remain the same: Innovation, Sustainability and Social Conscience. This has enabled the practice to develop and maintain its position as one of the UK's largest architectural practices over the last twenty years.
Today, Sheppard Robson has over 350 architects, designers, technicians and support staff in offices in London, Manchester and Glasgow, and is working in the Middle East and Asia. We believe our people are our most valuable asset and strive to create and maintain a learning organisation that offers the opportunity to grow and develop their skills.
Our projects cover a diverse range of building typologies: Healthcare, Schools, Colleges, Universities, Offices, Headquarters, Interiors (ID:SR), Residential, Science, Retail, Hotels and Arts and Cultural buildings.
John Cooper Architecture
John Cooper Architecture was founded in 2009 by John Cooper, who has been a principal in practice for 28 years with Avanti Architects for which he was a founding member and Anshen+Allen, where he was the co-leader of healthcare in their London office. During his leadership at Anhen+Allen, London, the practice designed three major children's teaching hospitals and four further new hospitals with significant paediatric components.
JCA is already working on a number of hospital projects in the UK and offers a very experienced and innovative core of healthcare designers and planners.
John Cooper Architecture is committed to innovation and humanising the design of healthcare facilities and is developing an architecture which is genuinely international, incorporating the best of European, US and southern hemisphere design.
Nelson Mandela's Childrens Hospital
In 2005, the NMCF identified an urgent need to develop a dedicated paediatric hospital servicing the SADC region. There are only two hospitals on the African continent specifically dedicated as tertiary and quaternary referral paediatric facilities.
South Africa's only dedicated paediatric hospital, the Red Cross Children's Hospital ("RCCH"), mainly serves the Western Cape region of South Africa. Compared to, for example, 23 children's hospitals in Canada, 19 in Australia and 20 in Germany, the plan to establish a second health facility for a population of 20,8 million[1] children in South Africa is a small, but necessary, step towards providing much needed paediatric care on the continent.
Paediatric professional resource revitalisation
There has been a decline in the population of qualified paediatric healthcare professionals in South Africa. The need to establish a centre of excellence in paediatric sub-speciality training is paramount to increasing the human resource capacity of the region to treat the population adequately across all levels of care. This may also encourage the return of the many specialists that have left the region over the last few years.
Nelson Mandela Childrens Fund
Driven by his love for children and a desire to end their suffering, former President Mandela established the Nelson Mandela Children's Fund (NMCF) in 1995. From 1996 to 1998, NMCF successfully mobilized over R36 million to fund over 780 projects, at an average of R40, 000 per project. Grounded in the legacy of its founder, NMCF initially operated as a grant-making organization promoting a humanitarian response to the plight of South Africa 's children and youth.
The 1995-1999 period was characterised by ad hoc funding strategies that enabled children and families to meet immediate needs, and one-time support for overhead and salary costs for organisations targeting children's issues, with no particular programmatic basis for NMCF's engagement with these organisations.
During 1999, NMCF realised that this welfare or handout approach was not sustainable as it did not encourage community involvement nor did it address the array of growing organizational capacity issues. To inform a new approach, NMCF conducted an extensive review of national and regional policies on children and youth; identified several significant policy gaps; evaluated its portfolio of projects and internal procedures; and carefully defined programme intervention areas it would pursue.
This review culminated in the launching, in the year 2000, of the Sakha Ikusasa strategy, reflecting a new programme and organizational approach for the period 2000-2005, and establishing NMCF as a funding cum development agency that seeks to change the ways in which society treats its children and youth in order to improve their conditions and lives.
South Africa World Cup Stadiums
Butaro Hospital, Burera District, Rwanda
MASS Design Group, USA



image from architect
African Hospital Building
Comments / photos for the Nelson Mandela Childrens Hospital Africa – Johannesburg Architecture page welcome