UK and Africa Business Investment Building, FBW Group Development, Alok Sharma, Architecture, Architect
Building Green Cities across Africa
28 Jan 2020
UK and Africa businesses urged to "seize the moment"
Malawi Creator Centre, Medical Training building: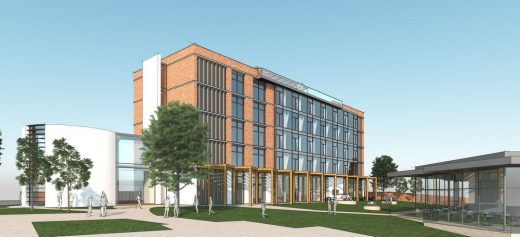 image courtesy of architects office
Building Cities in Africa – FBW Group Development News
A leading East African architecture and engineering firm is urging businesses in the UK and Africa to "seize the moment" following a major summit looking to deliver more investment and jobs.
FBW Group, which is helping deliver large-scale development projects across the region, has also welcomed UK International Development Secretary Alok Sharma's pledge of new aid to help build green cities across Africa with quality infrastructure.
The new UK Centre for Cities and Infrastructure that he has announced aims to "turbo-charge investment" in fast growing cities across the developing world.
It will provide British expertise to African governments and city authorities to improve the way cities are planned, built and run, including making them more environmentally-friendly. The focus will be on improvements to infrastructure, including water and energy networks.
Mr Sharma's announcement came on the eve of the UK-Africa Investment Summit 2020 which took place in London earlier this month (January).
In the post-Brexit world the British government is looking to increase exports and encourage UK companies to be more active globally – and specifically turn their attention to markets like Africa.
The aim of the London summit was to create new lasting partnerships to deliver more investment, jobs and growth, benefiting both Africa and the UK. It brought together UK and African business representatives, African leaders, international institutions and young entrepreneurs.
FBW has operations in Uganda, Kenya, Rwanda and Tanzania as well as a base in Manchester in the UK.
The business is a major player in the region's construction and development sector and this year is celebrating operating in East Africa for 25 years, working on high-profile infrastructure projects enabled and driven by international investment.
Paul Moores, FBW Group managing director: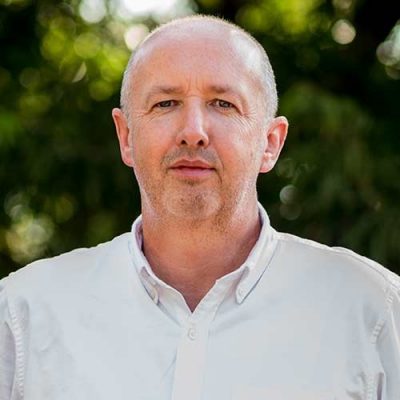 Paul Moores, FBW Group managing director, is based at its head office in the Ugandan capital Kampala. He believes the summit and the pledge to support urban infrastructure improvements herald the start of an exciting new chapter in UK-Africa economic relations post-Brexit.
He said: "There is no doubt the UK's focus on infrastructure improvements and improving the urban environment in Africa can be a real-game changer for cities across the continent.
"Africa's urban population of more than 470 million is set to double over the next 25 years, so it is vital that we come together now to address issues such as connectivity, power and water if we are to deliver the economic growth that will create jobs and improve people's living standards.
"Making Africa's fast-growing cities more eco-friendly and better places in which to live and do business is an important part of this work. Improving infrastructure and the planning of their future development will attract more investment and allow businesses to develop and grow.
"There is feeling of real momentum behind this announcement and we've no doubt that momentum will continue to gather pace after the UK-Africa Summit.
"We hope that businesses will come together to seize the moment and to explore what partnerships they can forge for their benefit and for the benefit of people in countries across Africa.
"The potential is there, as growing numbers of UK businesses are discovering. Africa is home to eight of the fastest growing economies globally. Its young and dynamic population will make up a quarter of the world's consumers by 2050.
"We're seeing strong economic opportunities in all the countries we operate in. For instance in Kenya we are working to deliver major housing projects on the outskirts of Nairobi.
"In Uganda and Kenya we are involved in a number of high-profile hotel and leisure developments. In Rwanda we are also working on a number of tourism-related development projects on behalf of international investors.
"The country's ambition to become the region's IT hub is also set to create big opportunities there, we believe."
The 'Lord's of East Africa' – Rwanda's national cricket stadium built by FBW: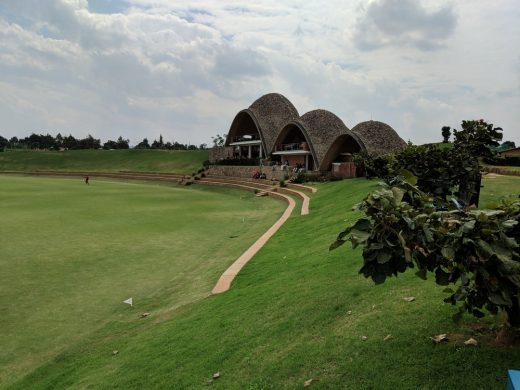 He added: "Our structural and civil engineers have also worked on a number of industrial projects that were successfully completed in 2019 as we continue to support international design firms in their delivery of developments. And there are more in the pipeline."
FBW Group has a strong-track record of working successfully with international organisations and businesses investing in transformational projects in Africa.
It has been part of a specialist team carrying out feasibility studies centred on the creation of special 'trade and logistics clusters' near borders and points of entry in countries across East Africa.
Aid-for-trade organisation TradeMark East Africa (TMEA), funded by UK AID and other donors, is behind the strategy to create special industrial parks and export processing zones. It is looking to invest $400m to create one million new jobs by 2022 by reducing trade costs by 10 per cent and increasing exports by 25 per cent.
FBW is also working on a life-changing £9.5m project to deliver Malawi's first specialist postgraduate medical training centre, undertaking enabling surveys on the proposed site of the facility in the southern city of Blantyre.
The Clinical Research and Training Open Resource (Creator) project is a partnership between the University of Malawi's College of Medicine (CoM), Queen Elizabeth's Central Hospital in Blantyre, Malawi, the Liverpool School of Tropical Medicine (LSTM), the University of Liverpool and the medical research foundation Wellcome.
Malawi currently has around 600 clinical doctors to treat a population of 16 million people. The new centre will meet a critical need for further training and research opportunities, helping to halt the 'brain drain' that sees doctors leave the country to progress their careers.
FBW's portfolio of successfully delivered developments includes the British High Commission in Uganda, several high-profile commercial office towers in the city and the Kampala International School as well as the National Teachers College and hotels on the shores of Lake Victoria.
In Tanzania, the group has delivered hotel resorts, hospitals, shopping centres and a major mixed-use development in the capital Dar es Salaam.
In Kenya, its team has worked on residential, commercial and mixed-use developments in Nairobi and the Tatu City development project in Kiambu, including the large-scale Tatu Waters residential plan and delivery of the Crawford International School.
Its Rwandan projects include 'The Downtown' – a retail, commercial and transport hub in Kigali, a signature library building for the Kigali Institute of Science and technology, together with Hotels and a number of tourism and leisure developments.
It also played a major role in the creation of 'the Lord's of East Africa' – Rwanda's national cricket stadium.
FBW has also successfully completed projects for a range of businesses including a Coca Cola bottling company and breweries in the region and is currently involved in the master planning of several large-scale industrial parks and logistic clusters, funded by UK government aid.
Building Green Cities across Africa, UK Business Investment News information / images from received 280120
Circular Economy in Africa: FBW Group
Previously on e-architect:
USA Africa Investment Advisor Programme
17 Dec 2019
£9.5m medical training centre plan is a game-changer in Malawi's medical future
Design: Cassidy + Ashton with structural engineering specialist TRP Consulting
Location: Republic of Malawi, southeast Africa
A team of architects and engineers from the UK and East Africa are working on a life-changing £9.5million project to deliver Malawi's first specialist postgraduate medical training centre.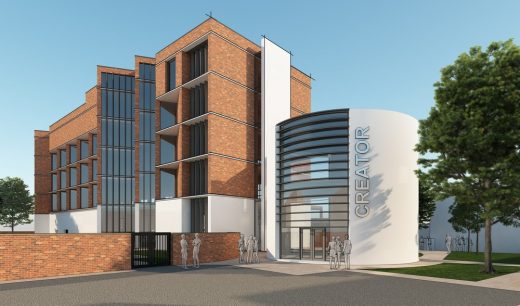 Location: across Africa, including Malawi
African Buildings
Africa Architectural Projects
African Architecture Designs – chronological list
Another Malawi building on e-architect:
The Legson Kayira Community Center & Primary School Malawi
Design: Architecture for a change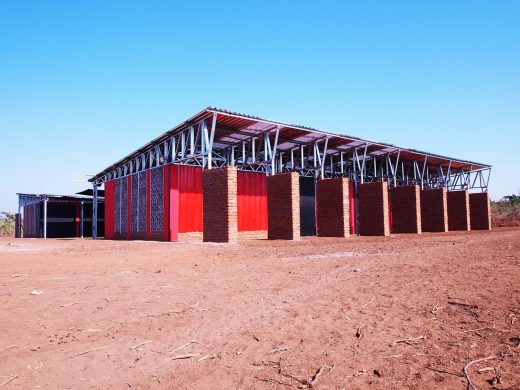 image courtesy of architects
The Legson Kayira Community Center & Primary School Malawi
New African Building Designs
Butaro Hospital, Burera District, Rwanda
MASS Design Group, USA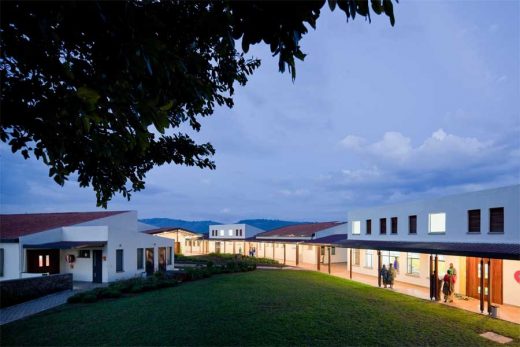 image courtesy of architects
African Hospital Building
Bibliotheca Alexandrina, Egypt
Design: Snohetta Architecture
Alexandria Library Egypt
British High Commission Kampala, Uganda
Design: Kilburn Nightingale Architects
British High Commission Kampala
Comments / photos for the Building Green Cities across Africa – UK Business Investment News page welcome