Swansea City Centre Regeneration, Welsh Public Realm, Buildings, Architect, Planning
Swansea City Centre Regeneration News
Welsh Leisure, Retail & Residential Quarter: Building Project design by ACME Architects
7 Jun 2017
Swansea City Centre Regeneration, Wales
Design: ACME Architects
Swansea Central regeneration gets outline planning permission
Swansea Central has achieved outline planning approval to create a major new leisure, retail and residential quarter in the centre of Wales' second city.
Located on the site of the former St David's shopping centre and the city's LC car park, the Swansea Central scheme is one of a number of major urban regeneration schemes nationally that went on hold in the financial crisis, where local councils have subsequently stepped in to kick-start the process of delivering much-needed employment and renewal of their city centres.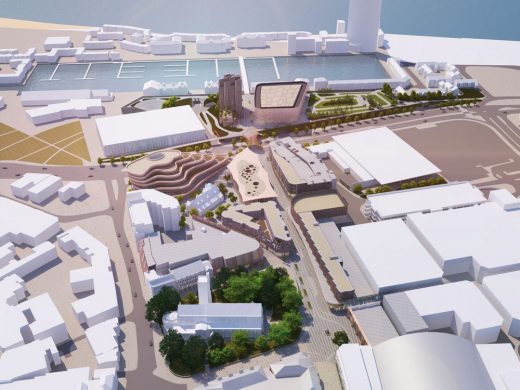 images : ACME, 2017
Swansea Central will re-establish a network of pedestrian streets and squares aligned to the historic character of the city centre. While central Swansea has been located along Swansea Bay for many centuries, the city has slowly lost its connection to the sea through the construction of railways and docks, and now Oystermouth Road forms a significant barrier. Swansea Central seeks to re-establish the links from the centre to the bay, making the beach more accessible from the high street.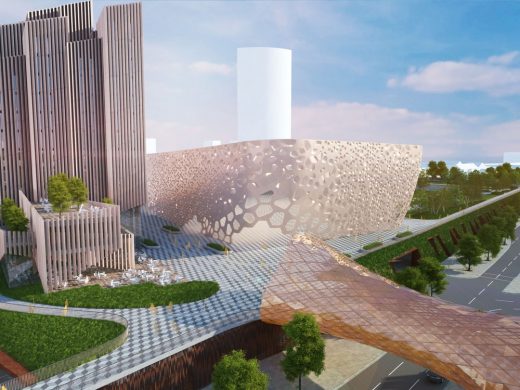 Views through the site are key and the setting of the two central churches, St Mary's and St. David's, has been framed and enhanced. A taller building has been proposed as part of the planning of the southern site located on the current LC car park area, to create a visual marker drawing pedestrians to the sea, and announce Swansea City Centre to the passing traffic on Oystermouth Road.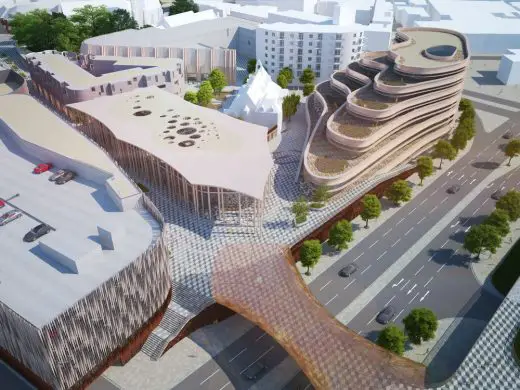 On the north side of Oystermouth Road, 85,000 square metres of floor space is proposed in seven buildings, including retail, leisure, education, residential and restaurant uses, as well as a multi-storey car park. On the south side of the road, 40,000 square metres across three buildings will provide a new indoor arena, a hotel, restaurants, and an undercroft car park.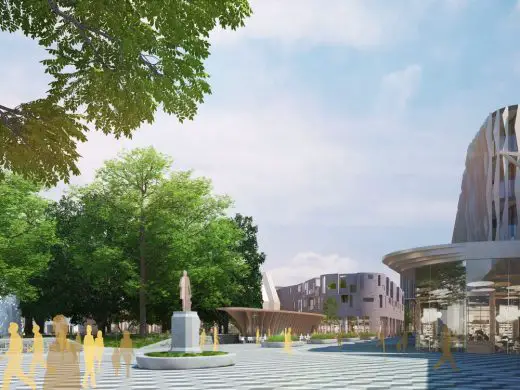 A major new pedestrian bridge will link the north and south parts of the site across Oystermouth road, providing residents and visitors with much better access to the city's coastline. The design of the new buildings will create a series of lively ground-floor frontages that draw people into and through the site. Materials will be selected for their durability and to reflect the city's historic relationship with copper, pottery and stained glass.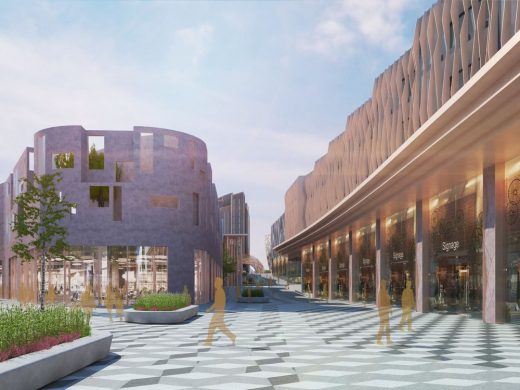 Friedrich Ludewig, Director at ACME, said: "We're delighted that Swansea Central has received outline planning permission. It is a development that will radically reshape a part of the city which is undergoing much-needed regeneration. Swansea has seen impressive growth in its university landscape and in the regeneration of the High Street, and we are delighted to be able to build on this with the proposals for St David's and Victoria Quay to bring employment, leisure and education back to the city centre and create new links from the high street to the beach. "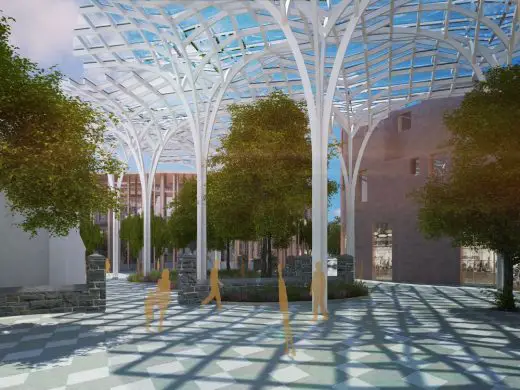 Martin Nicholls, Director of Place at Swansea Council, said: "The approval of outline planning consent for this scheme is a major step forward for the regeneration of Swansea city centre.
"This approval means we can now especially push on with our plans for the site that's south of Oystermouth Road, which will form the first phase of the overall development. "Working in partnership with Rivington Land and their design team, detailed design work will now take place on the planned indoor arena, hotel, multi-storey car park and pedestrian bridge. We also soon hope to appoint an indoor arena operator as the southern development site's anchor tenant, who can work with us on the design and specification of the attraction.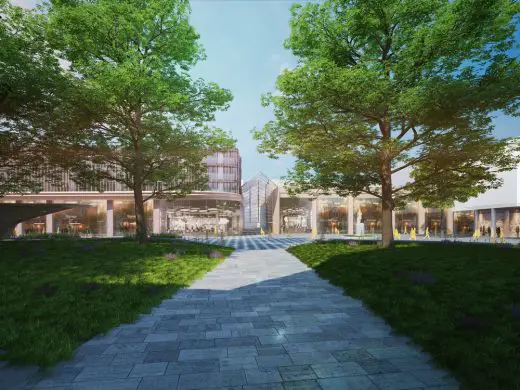 "Once specific plans are in place, planning consent will again be needed, but we're looking to start work on the southern site of the overall development by the late spring or early summer of 2018."
Other imminent work will include a detailed travel plan and the appointment of a hotel operator. Swansea Central will be developed in a phased programme, with a target of completion by 2022.
Scheme Credits: Client: City and Council of Swansea Development Management: Rivington Land Masterplanner and Architect: ACME Landscape: Capita Planning Consultant: Savills
About ACME
ACME is based in London, Berlin and Melbourne. Projects extend across scales and disciplines, from contemporary architecture and urban planning to interior design and product design for private, corporate and public clients. Since its founding in 2007, ACME has worked on 180 projects in 25 countries, across a wide range of functions – from palaces to parks, offices to museums, bridges to shopping centres, housing to sports facilities, car parks to power stations.
Current urban scale projects include Leeds Victoria Gate, Eastland Melbourne, Chester Northgate and Jumeirah Central, as well as the transformation of Brighton's seafront and a public square in Muscat, Oman. These projects transform underused areas and provide new identities to forgotten city centres, bringing citizens and visitors to former derelict sites and providing new places to live, work and play.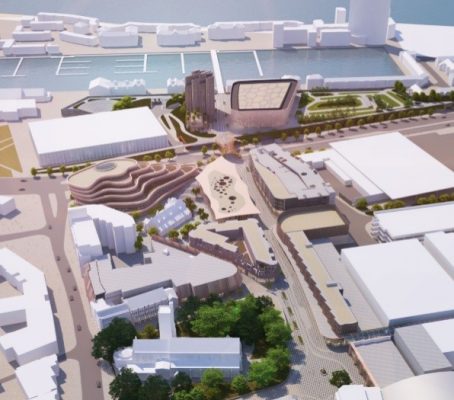 Recently completed architectural projects include the new arcades at Victoria Gate in Leeds, a mixed-use scheme in Southampton, the new Eastland Library in Melbourne, a sculptural staircase in One New Change in London, the new Robina Market in Queensland and Hunsett Mill in Norfolk. ACME is currently developing the new headquarters for the German bank SAB in Leipzig, a new footbridge in Berlin, several hotels in Knightsbridge and Aldgate and 600 residential units in the City of London.
The practice has won a number of international awards and competitions. Recent awards include the 2017 MIPIM World's Best Shopping Centre Award, the RIBA Yorkshire 2017 Project of the Year Award for Victoria Gate, the ICSC Best of Best Award and the 2010 Manser Medal for the best house of the year, for Hunsett Mill in Norfolk. www.acme.ac
Swansea City Centre Regeneration image / information from ACME
Location: Swansea, Wales
Swansea Buildings
Maggie's Southwest Wales
Design: Kisho Kurokawa Architect & Associates with Garber & James
Maggie's Southwest Wales
Swansea Masterplan
Design: BDP – Building Design Partnership
Swansea Masterplan
Welsh Architecture
Welsh Architecture – Selection
Welsh National Assembly, Cardiff
Richard Rogers Partnership
National Assembly for Wales
University of Wales, Newport – City Campus, Newport, southeast Wales
BDP
Newport City Campus
Maggie's Cardiff
Dow Jones Architects
Maggies Cardiff
Comments / photos for the Swansea City Centre Regeneration News page welcome