Cardiff Story Museum Design Competition, Architecture Contest Wales, Building Project
Cardiff Story Museum Design Competition 2016
Welsh Architectural Contest: Guerrilla pop-up initiative by Lowri Roberts architect
29 Mar 2016
Cardiff Story Museum Design Competition News
Design: Lowri Roberts architect
Cardiff Story Museum Design Competition
A prize of £2,500 to design a structure fit for Cardiff Story's new pop-up initiative 'Guerrilla Museum'.
Competition Opened – 1st Feb 2016
Competition Deadline – 11th March 2016
The Cardiff Museum Development Trust and the Cardiff Story Museum, are offering a prize of £2,500 to design a structure fit for the Cardiff Story's new initiative 'Guerrilla Museum'.
Winner: Lowri Roberts, Bala, North Wales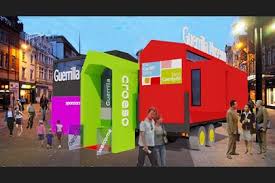 1. Introduction to Cardiff Story Museum
Cardiff Story Museum is an inclusive, exciting, inspirational resource; bringing people
together to discover more about themselves, each other and Cardiff.
The Cardiff Story Museum is the only venue in the city that tells and celebrates
Cardiff's history – how the city we know today has been created, what makes it
unique, and how important the 'ordinary' person is to that story. It is the only
organisation that collects, saves and preserves Cardiff's heritage for future
generations to understand and learn from. It is the only place that visitors or tourists
can come and find out what Cardiff is about, and what makes it so special.
We are a community and cultural venue, a location that celebrates Cardiff's heritage
for tourists and visitors to the city, and a place which encourages active citizenship
and active engagement with the area's history and diverse communities.
Throughout all of our activities, we provide a service that is inspiring and enjoyable,
inclusive and accessible.
We are a free venue, located in one of Cardiff's most well loved buildings, the Old
Library. We are a hub for Cardiff's heritage, encouraging Cardiffians to value,
explore and represent their past, present and future. We equip people to learn from
it, and be inspired by it, creating empathy and understanding between individuals
and communities, challenging stereotypes and long held views, and stimulating pride
and enthusiasm in Cardiff and its shared heritage.
We are accessible for all and we're commended for being so. Our interactive
galleries involve people in their heritage, providing different ways of accessing the
information in our galleries for those of different ages, disabilities, language groups
and interest groups. We work outside our walls as well as within them, taking the
museum to those who are not able to visit for economic, social or physical reasons.
We are at the heart of the community, created by the community. Cardiff's amazing
diversity is reflected throughout our displays and outreach work, ensuring the key
contributions of the huge mix of communities that make up the city is integral to the
story we tell. Our galleries are full of stories from those who know the city best – the
people who have lived and worked here over the centuries. We work on a very
personal level, your story is important to us because it's important to creating Cardiff,
be that in the past, the present or the future. We evolve as the city, and the people
who make it, evolve.
Rich in stories, objects, photographs and film, the Cardiff Story tells the history of the
city through the voices and experiences of the people who have lived and worked
here. Visitors both at the Museum itself, or as part of the outreach programmes the
Museum runs, discover how Cardiff transformed from a small market town in the
1300s, to one of the world's largest ports in the 1900s, to the cosmopolitan capital
we know today.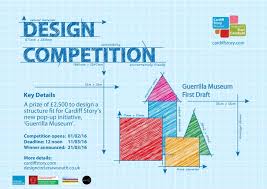 2. Aim of Guerrilla Museum project
The Cardiff Story no longer has temporary exhibition gallery space at its core site,
the Old Library building, and therefore cannot change its visitor offer at its main
venue. At the same time we know from our visitors, participants and community
partners that they want more from us. We need to find a new way of working with
them and we need to find it soon.
Guerrilla Museum will create a satellite museum always on tour: that appears, stays
for a while, then disappears overnight across the city and county of Cardiff.
The purpose of Guerrilla Museum is to break down barriers of access to the museum
by bringing it to local communities. The displays, exhibitions and content within the
structure will be co-created in partnership with those communities.
This is a bold new way of working for the Cardiff Story Museum and will truly take the
museum to the people. Not only physically, reducing barriers to visiting by
materialising in the heart of their own hyper-local community areas. But those very
displays will be co-created with the public. It is their city, their story.
Sometimes exhibitions, activities and events will be Cardiff-wide in their relevance,
eroding misunderstandings between geographical areas and diverse communities
through shared experiences. Sometimes they will be focussed on the locality or
community group within it. Always they will be sited both in 'traditional museum
visitor' localities and within those hard to reach, disengaged, socially excluded
communities.
Guerrilla Museum is about changing the way the Cardiff Story Museum works for the
long-term. But it is also of relevance to the whole museum sector. This is a really
different way of working for museums, who are usually tied to a building. It is more
than a mobile museum – it will not feel temporary or low quality – it will be as high
quality an experience as if you were visiting our gallery in the city centre. This will be
the first time a museum will be working in this way as standard.
The Cardiff Story Museum wants Guerrilla Museum to be more than a pop up display
or a museum in a bus – that's been done before. We want something that is new,
exciting and fresh feeling. The circus in the 19th century really echos our ambitions
for Guerrilla Museum. We want it to be colourful, qwerky, the 'must see' thing in your
community.
Think of the building excitement in the community when they knew the circus was
coming to town, the colourful parades through the town or village when the circus
arrived, the way everyone in the community went to see it while it was there, and the
disappointment felt when it packed up and moved on…but the anticipation of looking
forward to it coming again next year… That's what we want for Guerrilla Museum!
The Cardiff Museum Development Trust and the Cardiff Story Museum, are offering
a prize of £2,500 to design a structure fit for the Cardiff Story's new initiative
'Guerrilla Museum'.
The budget for the fabrication of the structure is c.£200,000.
Pictured: The Chairing Ceremony which was won by Ceri Wyn Jones: 'The National Eisteddfod takes place in Llanelli, Carmarthenshire, West Wales, 8 August 2014: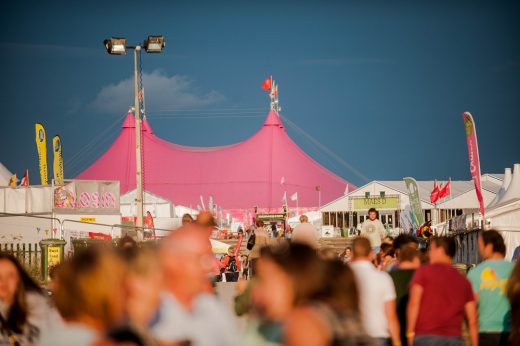 3. Competition brief
3.1 Structure
This is an open call competition to design Guerrilla Museum's structure: attentiongrabbing,
secure, robust, weather-proof, suitable to create a museum display within,
but logistically relatively easy and cost effective to move and site at multiple venues
in a year.
This is a competition for ideas. Entries need to provide a design for the structure,
and indicative costs for its creation. These will be used by the Cardiff Story Museum
to inform applications for grants and sponsorship for the project. The winning design
will be awarded a £2,500 prize.
Any entry to the competition must essentially provide a design solution for a structure
for Guerrilla Museum, to answer the following requirements:
A structure that:
• enables Guerrilla Museum to tour throughout the city and county of Cardiff.
• enables the display of changing exhibitions of aspects of Cardiff's history and
heritage.
• encourages local people to feel part of the museum and will encourage them
to visit while it is located in their neighbourhood.
A structure that is:
• attention-grabbing,
• secure,
• robust and sturdy,
• weather-proof,
• mobile enough to easily and cost effectively move and site in various locations
Any proposed structure for Guerrilla Museum must be:
• Accessible with level access and/or the ability to ensure those with mobility
difficulties or those using wheelchairs are able to access all areas, and for
those with other disabilities, hearing and visual impairments, etc.
• Eye-catching, colourful and visually attractive. Encouraging people to visit
and then encourage them to interact, engage and enjoy
• Welcoming, providing a comfortable and social space
• Safe with thought given to health and safety issues inherent in using such a
structure in all seasons (eg. slippery floors in wet weather, temperature in
winter)
• Secure as it will be housing museum collection objects within it
• Visible as well as eye-catching, visitors need to be able to see what's going
on inside to encourage them to feel safe and inspired to go in
• Branded as part of the Cardiff Story Museum. Aesthetically Guerrilla Museum
needs to sit alongside the 'core' site at the Old Library and echo the Cardiff
Story's ethos and branding. It must also thank and acknowledge its funders
and sponsors.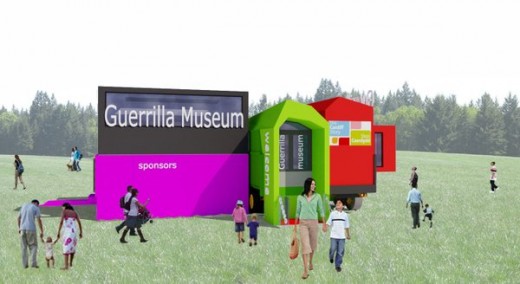 3.2 Users
As with everything the Cardiff Story Museum does, Guerrilla Museum will put the
Cardiff community at its core. Therefore visitors to, and participants in, Guerrilla
Museum will be from all sections of the Cardiff community. However, priority target
audiences will be:
• Families
• Older people
• Schools
• Young people (18-25 year olds)
• BME communities
• Those at socio-economic disadvantage
We would hope to attract around 75,000 visitors to Guerrilla Museum every year.
The structure should be able to hold one class of school children at a time (c.40
children plus accompanying adults) as a minimum.
Two members of museum front of house staff will be on site to welcome visitors,
facilitate visits and to provide an element of security. They will also be joined by
volunteers.
3.3 Activities
The designs submitted should give thought to the 'external' structure as well as the
'internal' space. The following 'activity' needs must to be incorporated, as Guerrilla
Museum will be a:
• Social space – encouraging visitors to engage and interact with the displays
and with each other. We want Guerrilla Museum to be a friendly, warm, social
place to be.
• Activity space – encouraging visitors to be active in their visit. We want
Guerrilla Museum to have lots going on within it. Not only in the displays but
also in activities and events that happen while it's in each locality.
• Display space – Guerrilla Museum needs to include a flexible interpretive
display system, as exhibitions will feature objects, museum display cases, AV
content, graphic panels, hands on activities (low and high tech). The Museum
has exhibition cases, screens and equipment for AV content but thought
should be given to how to structure this into the design and how to display
graphic panels.
• Storage space – we will need some storage areas built in for equipment and
resources
Thought must also be given to how the structure and its content are transported
safely from place to place.
3.4 Building requirements
• Capacity: 50 people as a minimum
• Usable floor area: 100 square metres.
• Life expectancy: Guerrilla Museum should be robust and reliable for at least
3-5 years. The purpose of Guerrilla Museum is to provide as high quality a
museum experience in a person's locality as on site in the museum's
temporary exhibition gallery. Therefore the materials chosen need to have
that same feel for the duration of the life of the structure.
• Site: various sites on private land such as car parks or fields.
• Foundations: non-intrusive, leaving no trace on removal.
• Environmental conditions: robust and sturdy, weather-proof and comfortable
conditions for visitors all year round.
• Operation: The structure needs to be able to be taken down in one venue and
set up in the next within five working days.
• Use: Activities within the structure include, exhibitions/displays, social space,
activities and events, storage space for resources.
• Additional structures: Additional facilities such as toilets and handwashing will
be provided by sites the museum is erected next to so do not need to be
provided.
• Acoustics: Structure to allow clear acoustic delivery of speech.
• Access: The structure is to be DDA compliant. Thought must be given to
ensuring access for all protected characteristics.
• Lighting: The structure must include internal display lighting as well as lighting
suitable for circulation and educational use of the space.
• Anchorage: The Museum has exhibition cases, screens and equipment for AV
content but thought should be given to how to structure this into the design
and how to display graphic panels. Anchorage must be included for potential
AV equipment and other display materials, to allow the flexibility to design a
variety of exhibitions within the structure.
• Information technology: The use of Wifi must be available.
• Power: Power will be provided by a local host. Power must be available for
display purposes, educational use, events and cleaning.
• Statutory requirements: The Guerrilla Museum will be on sited on private land
and therefore can remain in one place for longer than the 28 days specified in
the relevant UK legislation for temporary structures.
3.5 Locations
It is envisaged that Guerrilla Museum will tour to c.6 sites each year, spending c.6
weeks at each venue. Sites will be on private land such as car parks or fields.
We envisage that the sites would have facilities such as toilets, handwashing
facilities, etc. nearby and therefore such facilities do not need to be incorporated into
the designs.
3.6 Logistics
The structure needs to be relatively simple to set up, take down and transport from
site to site. It must be cost effective to repair/replace.
The structure must be suitable for a visitor experience in all seasons. Thought must
be given to heating and lighting of the structure, and to the electrical requirements for
case lighting, AV equipment, etc.
3.7 Costs
Guerrilla Museum will be grant funded. As such the structure needs to be cost
effective to create/purchase/hire, to install, take down and transport and to
repair/replace.
Applicants should frame their entries in terms of the structure costing no more than
£200,000 to create.
Thought however must be given to the logistics and therefore costs of putting the
structure up, taking it down and transporting it between sites and the cost
effectiveness of doing so.
4. Competition and entry details
4.1 Competition process
The competition will be an open anonymous competition.
Judging panel will include:
• Anna Lermon, Interim Director, Civic Trust Cymru
• Victoria Rogers, Museum Manager, Cardiff Story Museum
• Gavin Traylor, Secretary, Design Circle, Royal Society Architects Wales south
• Richard Tynen, Trustee, Cardiff Museum Development Trust
The judges' decision will be final.
By submitting an entry to the competition, all entrants are allowing any of their ideas
to be used as part of any final designs for the Guerrilla Museum project. The
winning design may not be used in full in the final designs for Guerrilla Museum.
4.2 Timescale
Competition opens: 1 February 2016
Deadline for submissions: 12.00 noon 11 March 2016
Judging period completed: w/c 14 March 2016
Winning design announced: 21 March 2016
4.3 Judging criteria
Criteria for judging entries will be:
Meeting the requirements as set out in section 3.4, with a key focus on
• Use throughout the year, irrespective of weather conditions
• Robustness
• Secure and safe
• Flexibility of space within structure
• Cost efficiency / value for money
• Originality (eye-catching, visibility)
• Accessibility
• Meeting ethos of Guerrilla Museum and Cardiff Story Museum
4.3 Eligibility
The competition is open (but not limited to) architects, designers, artists, product
designers, portable space designers and/or any other disciplines.
4.4 Exceptions
The competition is not open to the Cardiff Museum Development Trust Trustees,
employees or immediate family members of the Cardiff Story Museum or the
competition judges.
4.5 Competition prize
The competition winner will receive a prize of £2,500.
The competition is generously supported by the Museums Association and the
Federation of Museums and Art Galleries of Wales through the Transformers:
Radical Change in Museums programme
http://www.museumsassociation.org/professional-development/transformers/15042014-transformersradical-change-in-museums
http://www.cardiffstory.com/content.asp?nav=178,228&id=789
Location: Cardiff, Wales
Welsh Architecture
Theatre Space Architecture Competition
Theatre Architecture Competition
Alongside the Royal Welsh College of Music & Drama performance venues and facilities, sits the Anthony Hopkins Centre, a 19th century building. Entries are sought to design a theatre space to be built from low resource materials, considering sustainability and the environment.
Welsh Architecture – Selection
National Assembly for Wales
Richard Rogers Partnership
National Assembly for Wales
Hafod Eryri
Ray Hole Architects
Snowdon Summit Visitor Centre
Cardiff University Innovation Campus
Comments / photos for the Cardiff Story Museum Design Competition Architecture page welcome