World Architecture : Social Media, facebook, pinterest, twitter, instagram, linkedin
Social Media for e-architect.com
International Architecture Resource – Global Buildings Online – Sharing Information Online
Architectural Social Media
facebook
twitter
pinterest
instagram

www.instagram.com/earchitectstream
tumblr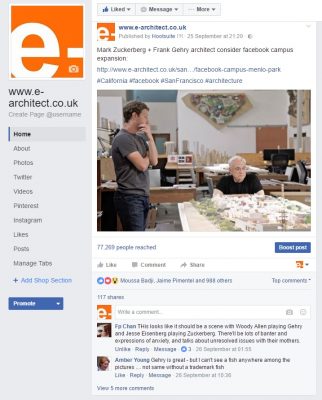 Team
The website is directed by Adrian Welch & Isabelle Lomholt with assistance from various other writers across the globe.
Adrian and Isabelle prepare the website articles plus facebook posts and tweets.
Adrian Welch

Adrian completed his Architecture degree in 1992 at Manchester University and graduated from The Bartlett School of Architecture in 1995 with a Diploma in Architecture.
He has worked for architects such as Eva Jiricna, Sir Terence Conran, Richard Murphy, RMJM and Sutherland Hussey.
Isabelle Lomholt

Isabelle Lomholt completed her Architecture degree in 1995 at North London University.
She has worked for Hunt Thompson, GRD (Malaysia) and the EAA.
David McManus

David McManus is currently studying HND Interactive Media (Web Development) and manages many aspects of the website from technical issues to images and social media.
Social media use web-based technologies, desktop computers and mobile technologies (for example, smartphones or tablet computers) to create highly interactive platforms through which individuals, communities and organizations can share, co-create, discuss, and modify user-generated content or pre-made content posted online.
Social media is defined as the collective of online communications channels dedicated to community-based input, interaction, content-sharing and collaboration.
The various types of social media include websites and applications dedicated to forums, microblogging, social networking, social bookmarking, social curation, and wikis.
Here are some key examples of social media: facebook, twitter, instagram, google+, pinterest, linkedin and reddit,
Comments for the e-architect Architectural Social Media page welcome