Puerto Rico buildings
Puerto Rico architecture projects with architectural images, plus architects background. Find building news from across this Caribbean island nation.
We select buildings designs and architecture in this unincorporated territory of the United States of America. Discover interesting projects in this Greater Antilles island.
We select what we consider to be the most interesting architectural projects and post frequently.
The website archives features a selection of the best new building designs in Commonwealth of Puerto Rico. Similarly, find details about designers in this small Caribbean country.
In conclusion, our posts are informative and together provide a useful global architectural resource. On our site we post architectural content seven days a week.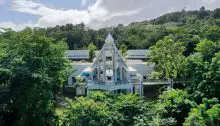 Marvel's design and construction of El Yunque Visitor's Center, Puerto Rico, include solar energy-readiness facilities, water conservation etc