Slate Quarries in Scotland, Specifying Scottish Materials
Scottish Slate : Indigeneous Materials Scotland
Discussions on Current Architectural Topics – article by Mark Chalmers, architect
15 Mar 2008
Slate Quarries Scotland : Architecture Debate
Ballachulish slate quarries could be reopened: Historic Scotland is to publish a study into the viability of resuming mine operations. Apparently there is also commercial interest in this Argyll quarry with a huge demand across Scotland.
Scottish Slate – Foudland Slate Quarrries – Indigeneous Materials in Scotland
by Mark Chalmers
For many Scots, the Glens of Foudland are familiar only through winter road reports: over this wild stretch of country runs the snowbound A96 road, which links Aberdeen with Inverness. Some will look up to the north-facing slopes of the Hill of Foudland and notice the overgrown rock faces.
Few will realise that these scars are man-made: spoil heaps created by the once-extensive quarries which supplied the North-east with roofing slate. Today, these slopes are being eyed with renewed interest.
From the first workings on Easdale in the 1550's, until last two slate quarries at Ballachulish closed in 1955, quarries spread along the Highland Line supplied both domestic demand and the export trade. These ranged from the "Slate Islands" of Easdale, Seil, Luing and Belnahua; at Ballachulish itself; the "Slate Belt" running from Luss and Aberfoyle to Birnam and Craiglea; also in the "Slate Hills" above the Glens of Foudland.
Now, whenever roof repairs are required to old buildings, matching slate has to be robbed from another structure; this path leads in ever-decreasing circles, since fewer and fewer old buildings are demolished, yet more and more need maintenance. Historic Scotland realised that this Catch-22 situation wasn't sustainable indefinitely, and instigated a search for sources of fresh slate.
The obvious first step was to look at the quarries which were abandoned last century. So far, the Khartoum quarry at Ballachulish, and the Hill of Foudland quarries have been examined and blocks of slate removed for analysis at the University of Paisley.
Although everyone believes they know the colour of "slate", its full spectrum speaks of subtly different origins: Ballachulish slate is a deep blue-black; Snowdonian is dark purple; Westmorland slate is a shade of sea green; Easdale is gunmetal grey; Birnam slate is almost violet in colour… and Foudland slate is midnight blue with a crystalline sheen.
The Foudland quarries were opened up in 1754– local knowledge having unearthed a belt of slate running along the west border of Aberdeenshire from Auchterless towards the Tap o' Noth near Gartly. At their peak a century later, the quarries produced almost one million hand-split slates per year– which is an amazing total given the harsh conditions on the hill.
The quarriers sat on the ground whilst cleaving the slate: but they did at least have small shelters– scathies– with slate walls and timber roofs to hold off the worst of the weather. At up to 1500 feet above sea level, and facing north, the quarries shut down each year with the onset of winter.
The slate industry here was never heavily mechanised and although quarrymen from Wales were drafted in to train the local workforce, Scottish quarriers were actually more efficient, recovering twice the amount of quarried material as usable slates. Due to its often poorly-defined cleavage, Scottish slate is not capable of being split into the smooth, regular slates which come from abroad: blocks were cut to whatever size could be produced. Foudland quarries supplied slate for buildings within a 50 mile radius – including Balmoral Castle – since this was the practical limit of horse-and-cart haulage.
Paradoxically, the coming of the Great North of Scotland Railway from Aberdeen to Huntly should have allowed Foudland slate to be distributed further afield: in fact, it enabled cheaper slate to be imported. The turn of the 20th century saw a slump in the building industry – this recurs with monotonous regularity every few years – and the Foudland slate quarries closed 100 years ago, as depressed demand and competition robbed their market.
The early conclusion of the foray into the Foudlands is that major reserves of workable slate are certainly available, but the manner of working these old quarries has led to a collapse of their working faces. Quarrying started too high up the hill, and only the top of the strata were worked, all the time dumping spoil immediately below. Since the quarries at Foudland cover three square kilometres of hillside, we have literally only scratched the surface.
In the largest of the old workings, the Gutter Quarry, all the faces have suffered erosion and weathering: the freeze-thaw action of a century of winters has created fantastic stratified patterns, and the waste tips are overgrown with heather. Another issue is that there is no water supply close to the most-promising of the old quarries – and water is essential for lubrication during drilling and cutting: ironically, water is in surfeit further down the hill, and dams were built to harness it to drive a mill which cut and polished the slate.
So, how to resolve Catch-22? A beginning may be "snatch" mining where useful slate is recovered from the waste tips – at Foudland, it is known that after the quarries closed officially, individual quarrymen continued to win slate at least until the Great War.
Traxcavators would scrape back the overburden to expose a workable face– in the past, Foudland slate was quarried using a combination of timber wedges and iron pinches to lever blocks free, whereas black powder was used for blasting at Easdale and Ballachulish, to great destructive effect. Today, the advent of diamond wire saws and compressed air for drilling would reduce wastage.
There's a strong economic case for re-opening, since the repair and refurbishment sector has high margins, and a Scottish slate producer would have a captive market. In addition, "architectural slate" for flooring and cladding are profitable areas, and a use has finally been found for the spoil: crushers can turn it into slate chips for hard landscaping.
We should take pride in using materials whose subtle colour and tone is sympathetic to their context; which sustain our native industries – but most of all, which create buildings that look like they belong. The rebirth of Scottish slate may start here, in the lunar bleakness of Foudland.
Jul 2005
Adrian Welch
It can be frustrating for specifiers to find EU rules appear to prevent specifying timber from the UK. With stone it is easier due to typological classification defining a specific location, eg Caithness stone only comes from Scotland but European Oak can come from anywhere in the world.
There appear to be a number of problems as I see it in specifying Scottish materials, namely:
lack of resources available eg open quarries, sufficient hardwood forests
lack of knowledge by specifiers
lack of skills in craftsmen/builders
lack of major state funding of the above
Feedback on ways to encourage sustainable specification ie local products or at least UK products, please mail info(at)e-architect.com.
Photo of Ballachulish Slate Quarry: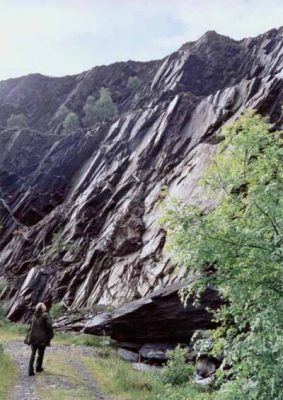 photo © Muriel Welch
Location: Scotland
Architecture in Scotland
Scottish Architecture Designs – chronological list
Comments for the Scottish Slate page welcome