John O'Groats Masterplan, Scottish Building, Project, Photo, News, Design, Property, Image
John O'Groats Development
Building Proposal – Robert Adam Architects Masterplan
15 Oct 2009
John O'Groats Masterplan
GVA GRIMLEY AND ROBERT ADAM ARCHITECTS UNVEIL JOHN O'GROATS MASTERPLAN
Leading property consultants GVA Grimley Ltd on behalf of Highlands and Islands Enterprise (HIE) and in association with Robert Adam Architects, has unveiled a masterplan for the re-development of one of Scotland's best known tourist destinations, John O'Groats.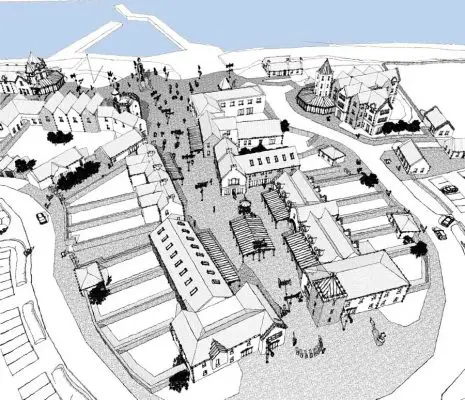 The masterplan, which was unveiled to the public on 9th September, has been shaped by the views of residents, businesses, tourists and public agencies and offers various design options. Each option features the creation of a destination focal point, possibly a sculpture or piece of artwork, drawing 'end to enders' to a main square near the harbour.
Commenting on this masterplan, Carol Gunn of HIE said:
"One of the aims we had in creating this masterplan was to look to the future of the community, but not to lose sight of its past. We have a masterplan that can allow us to retain a local identity but also respond to the various needs of the community, our visitors and potential investors."
Richard Slipper, Director of Planning at GVA Grimley, commented:
"This has been a healthy challenge for our planners, designers and tourism and energy specialists and one which has been tackled using the 3 key themes from the Scottish Government guidance in PAN 83: Movement, Spaces and Buildings. These three themes are a strong reference point to drive any masterplan. They encompass all the important "fixes" which need to be laid down in the first instance to set the base skeleton for the masterplan – an approach which Robert Adam Architects have always adopted in their urban design workshops and iterative design process.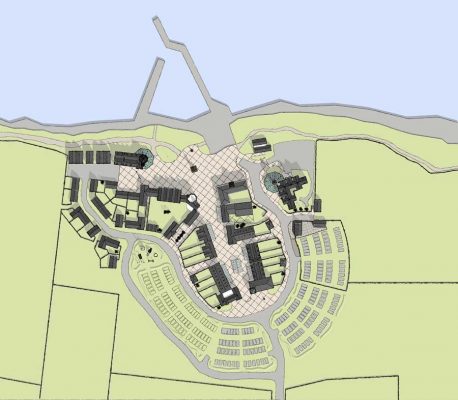 Many hours of people's time have contributed to the 12 week consultation process conducted under Planning Aid Scotland best practice (from Scottish Planning = Effective Engagement and Delivery – SP=EED) and an array of exhibition boards and publicity material were devised using the 3 themes of "What we know so far", "What you can tell us" and "Next Steps – options for delivery". Taking these three themes with the previous design themes the John O'Groats masterplan took shape.
We are positive about our final proposed masterplan which is shaped to maximise the tourist and visitor experience and to be supported by tourism and business interests; and also to provide for positive local impacts. Our brief concludes with a suggested phased plan and some initial ideas for implementation. We are optimistic about the next steps being able to look more closely at the capital costs, land assembly, local authority endorsement and other key moves, to progress the plan onwards."
Nigel Gilkison, Associate for Robert Adam Architects commented:
"The vision for John O'Groats seeks to create an environmentally, socially and economically sustainable community with a distinct local identity and a compact urban form. This approach will provide a safe, sheltered, secure and accessible community which is looking to the future, but well connected with its past.
The new masterplan provides an expanded tourist destination with a diverse mix of uses and facilities in a design which is flexible enough to allow it to evolve to meet the future needs and demands of the community.
The arrangement of the masterplan is based on the urban precedent of the Scottish coastal village with a compact grouping of low scale buildings designed to sit comfortably within the landscape.
Traditionally the landscape and the materials that can be won from the local landscape have shaped the patterns of building, helping to make places locally or regionally distinctive. In order to create an authentic identity to the regeneration of John O'Groats, new buildings within the masterplan will reference local vernacular building forms and use locally available, traditional building materials.
This building typology with its robust, durable materials, thick walls and limited areas of glazing is particularly well suited to providing high thermal efficiency whilst delivering modern standards of accommodation."
Four development phases have been identified, with phase one described as the 'most critical'. It incorporates the restoration or replacement of the John O'Groats Hotel, a new harbour square, refurbishment of the Last House Museum and the restoration of coastal paths to Duncansby Head and to the John O'Groats Mill.
Location: John O'Groats, Scotland
Architecture in Scotland
Scottish Architecture Designs – chronological list
John O'Groats Masterplan – Team
GVA Grimley Ltd
GVA Grimley Ltd is one of the UK's leading firms of property consultants operating from 12 offices with 862 fee earners generating a turnover of £118 million year ending 30th April 2009. In the six months ended 31 October 2008 the firm generated turnover of £65 million compared with £72 million in the six months ended 31 October 2007.
The firm provides a full range of property-related services including agency, planning and regeneration, rating, building consultancy, investment, management and valuation consultancy. GVA Grimley also offers specialist advice in areas such as telecomms, education, healthcare, retail, contamination, plant and machinery and the automotive and roadside sectors. GVA Grimley is a founding member of GVA Worldwide with a global reach throughout Europe, North America and Australasia, with real estate representatives in 90 offices serving 20 countries.
Robert Adam Architects
Robert Adam Architects is one of the leading practitioners of traditional architecture and urbanism. The practice is run by five Directors: Robert Adam, Nigel Anderson, Paul Hanvey, Hugh Petter and George Saumarez Smith. The practice has an international reputation in designing classical and traditional buildings, with a wide experience in various forms of residential work, including new country and town houses, refurbishment, alteration and conservation work, and speculative housing.
The firm's portfolio of award-winning projects also covers a range of new commercial and institutional developments such as offices, hotels, libraries and health care buildings; historic building renovation, and many specialised bespoke projects within the UK and abroad. The Directors have become pioneers of Traditional Urbanism, a contemporary design movement that creates sustainable neighbourhoods, based upon common sense principles found in traditional villages, towns and cities. The firm has worked extensively on urban design and masterplanning projects ranging from housing layouts of around 100 homes to large urban extensions and new settlements.
The firm promotes traditional and classical design principles, not just through the practice of architecture and urbanism, but also through teaching, writing and research.
Comments / photos for the John O'Groats Masterplan Scottish Architecture page welcome