Eco-Polis, Odintsovo Regeneration Project, Russia Masterplan, Russian Architecture
Eco-Polis, Odintsovo
Russian Regeneration Project – design by de Architekten Cie.
8 Jul 2013
Russian Masterplan
Design: de Architekten Cie.
Location: Odintsovo, Russia
Odintsovo Regeneration Design
By its location, rail and roads connections, commercial-, cultural- and sport facilities, it's green aspirations, university and science campus, in its close proximity of Skolkovo centre, Odintsovo has the potential to become one of the most attractive cities in the greater Moscow region.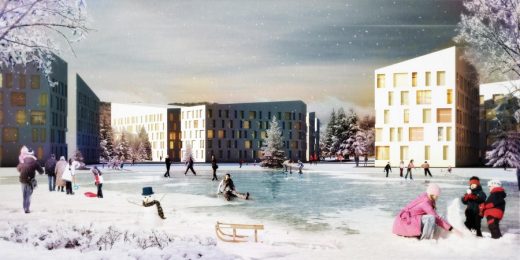 image from architect
A new highway on the north side of Odintsovo and a new railway station for a high speed rail line, which eventually will link an innovation center ´Skolkovo´ with the proposed international financial centre in Rublevo-Archangelskoe, will additionally strengthened Odintsovo as a desirable location for living, working and education. The surroundings of Odintsovo are characterized by a rich and beautiful network of water bodies and natural green penetrating the city. Both green and water are used and enjoyed by the people of Odintsovo.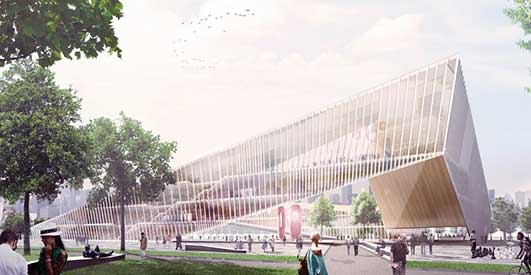 image from architect
Discussing the regeneration of Odintsovo conjures up an association that at first sight does not seem terribly obvious: the painting Victory Boogie Woogie The rigor of Mondrian´s sharply defined fields of color in his earlier work could be compared with the fragmented early development of Odintsovo, in the same way his classically minimalist work found a later pendant in the plan libre of modern urban planning.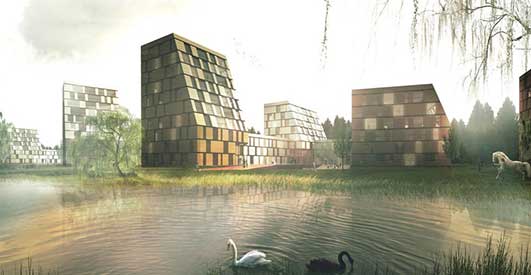 image from architect
In its apotheosis, Victory Boogie Woogie, both tendencies are reconciled in a rich and lively painting, just as the two outlooks in the history of urban planning are reconciled as overlapping layers in the regeneration of Odintsovo. The Odintsovo Boogie Woogie concept could be exemplary for the way the centers of soviet cities can be regenerated, resulting in a higher level of comfort, security and technical sophistication.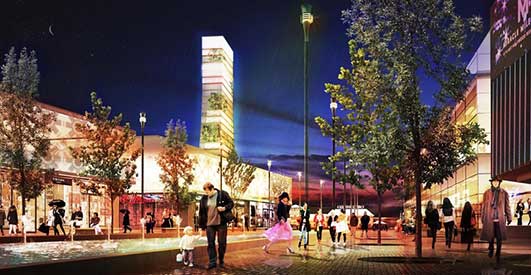 image from architect
MAKING A CONTEMPORARY GARDEN CITY
The urban scenario for Odintsovo integrates disperse urban fragments and landscape into a harmonious whole. By injecting iconographic urban fabric, cultivating existing greenery, enabling forest to penetrate to the centre, forming green rooms, greening (planting trees) on existing boulevards, the scale of the city is formatted on a human scale. Programmatic densification and establishing of new public program together with series of different public spaces results in a contemporary garden city. New landmarks as railway station, city hall, health centre with swimming pool and a eco dome, are well connected by visual lines as well as pedestrian paths enhancing idea of a city in a park.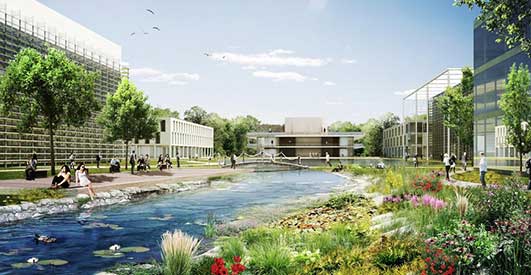 image from architect
A new rearranged compact Odintsovo, with reduced car mobility, lower ecological footprint would also allow for high quality of social life and security, with series of places to meet, sport, children to play, to shop, learn and work.
Several instruments play a key role in the regeneration of Odintsovo:
1. Connecting points: a network of green boulevards, pedestrian paths and iconic public spaces
2. Framing space: defining urban rooms
3. Creating diversity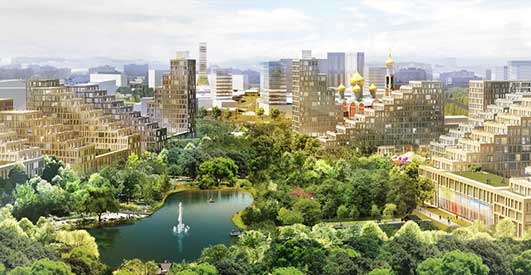 image from architect
INSIDE-OUTSIDE
The block typology establishes a hierarchy of outdoor spaces which interact and work together:
Outside the block: Public Space
Combining public space with infrastructure, circulation, commercial functions and housing, provides a self-monitoring environment. This increases security, encourages social interaction and fosters a sense of community at neighbourhood level.
Inside the block:
Communal Space is focused within the courtyards of the blocks and shared among residents. This space is not freely accessible for the public. The communal space is self-monitored by the residents and fosters a smaller community at block level.
Private Space ' Every apartment has a private outside space. Furthermore the ground bound units within each block have a small outdoor space or front yard.
SUSTAINABILITY
Catalyst for a Sustainable Moscow Region
In today's world of development, sustainability is becoming standard. But it is only standard in terms of speaking about it and often not in terms of actual understanding of how to design a financially feasible project and to deliver a truly sustainable final product. In the world of sustainable development the most significant move one makes is the initial strategy.
Planning and designing a compact, dense, mixed place is the most ecologically sensitive development of all. And that is our primary goal – to create a rich, divers, lively project, 'sustainable' in the everyday sense of long-lasting: from keeping the impact on the environment to a minimum to establishing the best conditions for sustainable and equitable social relations; from the use of sustainable materials to buildings and spaces that are so flexible they can adapt to various forms of use and function, with the only certainty being that these will definitely change over the course of time.
MIX TO THE MAX: XS,S,M,L,XL
The buildings structural grid allows multiple unit configurations to exist.
Therefore the block can be formed entirely of small studio units, larger apartments or a mixture of sizes, offering immense flexibility in the plan.
Eco-Polis images / information from de Architekten Cie.
Location: Odintsovo, Russia
Architecture in Russia
Russian Architecture Designs – chronological list
Russian Architecture Walking Tours
Kazan building : City Centre for Kazan, third Capital of Russia
Novy Urengoy Airport, Yamalo-Nenets Autonomous Okrug
Design: Twelve Architects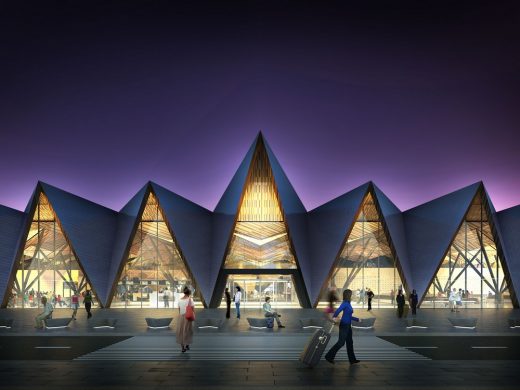 images courtesy of architecture office
Novy Urengoy Airport Building
City Palace Tower, Moscow
RMJM Architects
City Palace Tower Moscow
Gazprom HQ, St. Petersburg
RMJM Architects
Russian tower
Comments / photos for the Eco-Polis – Russia Architecture page welcome
Website: Architecture