Università Station at Metropolitana di Napoli, Naples Subway Building, Italian Metro Project
Naples Subway Station : Metropolitana di Napoli
Naples Metro Station Building Interior design by Karim Rashid and Atelier Mendini in southern Italy
5 Dec 2011
Naples celebrates an ultra-colorful and dynamic subway station designed by Karim Rashid
Design: Karim Rashid ; Landscape: Atelier Mendini
Architect of Record: Atelier Mendini
Photography courtesy by M.N. Metropolitana di Napoli
Università Station at Metropolitana di Napoli
December 2011 – Naples, the Southern Italian city with the largest historic centre in Europe dating back to the early Roman era, has now celebrated the opening of the new "Università" subway station, featuring vividly colorful, expressive and dynamic interiors conceived by New York-based designer Karim Rashid.
M.N. Metropolitana di Napoli commissioned Atelier Mendini, the Italian architectural and design studio for the renovation project of the surrounding Bovio square, while for the subway station, the company selected Karim Rashid, who in turn chose DuPont™ Corian® hi-tech surfaces for a variety of sculptural wall and column cladding applications in four different levels of the station.
"Università" subway station in Naples, designed by Karim Rashid, is characterized by dynamic shapes, vivid colours and high-impact graphics. The black columns and the control center are clad with DuPont™ Corian®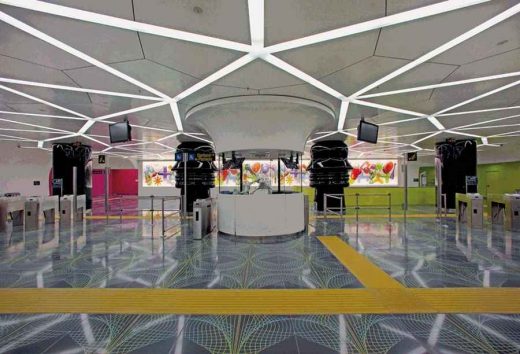 photo by Peppe Avallone for M.N. Metropolitana di Napoli S.p.A., all rights reserved
The new "Università" subway station is the first of five new stations integrating Naples' subway line 1, which serves strategic areas of the city and is part of the "Art Stations" network devised by M.N. Metropolitana di Napoli. The "Art Stations", each project conceived by internationally renowned architects, are characterised by wide, high-traffic, functional spaces, enriched both internally and externally by sculpture, installations and contemporary artworks.
Thousands of passengers daily can now quickly access the academic and multi-cultural area around the "Università" metro station while enjoying the inspiring interiors conceived by Karim Rashid. The first encounter with these decorative surfaces is at the mezzanine level of the new subway station, which is structured with four dramatically shaped columns clad with DuPont™ Corian® in the deep black Nocturne colour.
"Università" subway station in Naples, mezzanine level, black columns clad with DuPont™ Corian® in Nocturne



photo by Peppe Avallone for M.N. Metropolitana di Napoli S.p.A., all rights reserved
ted close to the ticket barriers, two of the columns display smooth sections, while the other two feature a circumference of huge sculptural '3D profiles' of abstract faces. Nearby, positioned between the barriers, the subway station control centre is also clad with DuPont Corian, this time in the Glacier White colour choice, thermoformed and invisibly joined to create a massive, flared cylindrical structure.
The monochromatic effect of the four black columns and the white control centre contrasts effectively with the lively pop-art style graphics on the floor and the walls, the geometric "light cuts" on the ceiling and the high-impact "Synopsis" sculpture – all by Karim Rashid.
"Università" subway station in Naples, designed by Karim Rashid, is characterised by striking shapes, vivid colours and high-impact graphics. The columns and the control centre are clad with DuPont™ Corian® in black and white



photo on the right by Peppe Avallone for M.N. Metropolitana di Napoli S.p.A., all rights reserved
The fluid shapes, eye-popping colours and iconic symbols on the walls, distinctive of Karim Rashid's signature style, are also made with DuPont Corian. To add to an extensive chromatic selection for this high-performance surface, DuPont specially developed two new tones – lime and pink – in order to enable the designer to achieve his vision for this project. The overall result is an astonishing and unique environment for a subway station: curved walls, sculptural columns, vivid colours and graphics all conferring a strong spatial personality.
Details of the lime coloured walls in DuPont™ Corian®;



Detail showing the walls are a cropping of a larger photo by Peppe Avallone for M.N. Metropolitana di Napoli S.p.A., all rights reserved
A connecting corridor is enhanced by sinuously shaped white walls that explore the creative flexibility made possible by cladding with DuPont Corian. The vast dimensions involved (approximately 100 metres), together with the wall's irregular and organic curvature (with details discretely incorporated within), as well as the glossy finish, required highly skilled and complex fabrication.
To ensure the optimum result, the precise expertise of bsolid, a Naples-based company specialised in the fabrication of DuPont Corian, undertook the work. Embracing their environment with sleek, sensual fluidity, these curving walls create a powerful contrast to the further corridors that are clad with DuPont™ Corian® in vibrant pink and lime, colours created specifically for this project.
The entire interior concept for the "Università" subway station is intended to stimulate and inspire both imagination and reflection. Beyond guiding the traveler through this underground space in a fresh and exciting way, the decorative and structural elements are designed to create a link between the pragmatic functionality of the station and the academic and multi-cultural relevance of this district of the city.
This ambitious project also demonstrates the extraordinary potential of DuPont™ Corian®, which thanks to its thermoformability and seamless joining, enables visual continuity and a powerful aesthetic impact. The wide range of colours offered, plus DuPont's ability to create custom-made colours, has contributed indispensably to a colourful underground environment full of verve and energy. What's more, the durability, easy maintenance and repairability of the material will ensure this high-traffic environment maintains its distinctive beauty for the long term.
The irregularly curved white wall made with thermoformed DuPont™ Corian® integrates the newsstand and creates a high-impact contrast to the pink walls in the contiguous corridor. The pink version of Corian® has been custom-made by DuPont for Karim Rashid's project of the "Università" subway station in Naples




photos courtesy of Iwan Baan for M.N. Metropolitana di Napoli S.p.A., all rights reserved
The corridor, clad with DuPont™ Corian® in pink, leads the way to the escalator and platform



photo courtesy of Peppe Avallone for M.N. Metropolitana di Napoli S.p.A., all rights reserved
About Karim Rashid (www.karimrashid.com) – Karim Rashid (see his portrait on the left, photo by Roman Leo, courtesy of Karim Rashid Inc, all rights reserved) is one of the most prolific designers of his generation. Over 3000 designs in production, over 300 awards and working in over 35 countries attest to Karim's legend of design.
His award winning designs include democratic objects such as the ubiquitous Garbo waste can and Oh Chair for Umbra, interiors such as the Morimoto restaurant, Philadelphia and Semiramis hotel, Athens. Karim Rashid collaborated with clients to create democratic design for Method and Dirt Devil, furniture for Artemide and Magis, brand identity for Citibank and Hyundai, high tech products for LaCie and Samsung, and luxury goods for Veuve Clicquot and Swarovski, to name a few.
The work of Karim Rashid is featured in 20 permanent collections and he exhibits art in galleries world wide. Karim is a perennial winner of the Red Dot award, Chicago Athenaeum Good Design award, I.D. Magazine Annual Design Review, IDSA Industrial Design Excellence Award.
About DuPont™ Corian® (www.corian.com, www.corian.co.uk) – First marketed as a high performance solution for kitchen and bathroom worktops, DuPont™ Corian® is now a leading global brand in superior quality surfacing materials for design, architecture and furnishing, a solution chosen worldwide by thousands of architects, designers and companies and by millions of consumers.
The continuous investment and creativity of DuPont in research and technology, product innovation and new applications have made DuPont™ Corian® a design tool offering exceptional versatility and almost limitless possibilities. From kitchens to lamps, from bathrooms to the skin of buildings, from seating to technical systems, from radiators to touch control surfaces, from furnishing to fashion accessories…: the "magic" of DuPont™ Corian® can be found in a vast variety of products, systems and objects. And the list keeps growing…
DuPont™ Corian® (the whole range or specific types) has received important independent certification for its environmental performance (such as GreenGuard®, NAHB North American Builders Association, U.S. Green Building Council's LEED® Green Building Rating System, ISO 14025 Green Choice, Scientific Certification Systems for the series with recycled content). Its hygienic performance has also been certified by prestigious independent institutions (for example, by NSF International, The Royal Institute of Public Health and LGA QualiTest).
Location: Naples, Italy
Naples Architecture
Naples Subway Station – further information on Metropolitana di Napoli:
Naples Subway Station
Another Naples Subway Station design on e-architect:
Monte S Angelo Metro entrances + tunnel link, Traiano
Amanda Levete Architects + Anish Kapoor
Naples subway station
Commissioned as Future Systems and completed as Amanda Levete Architects
Key Italian Buildings
Maxxi : National Contemporary Arts Centre, Rome
Zaha Hadid Architects
Maxxi Rome
University Luigi Bocconi
Grafton Architects
University Luigi Bocconi
Art Museum Strongoli
COOP HIMMELB(L)AU
Art Museum Strongoli
Comments / photos for the Naples Subway Station building design by Karim Rashid and Atelier Mendin page welcome