HI-MACS® Natural Acrylic Stone, Photos, LG Hausys Design, Solid Surface Products Pictures
HI-MACS Natural Acrylic Stone
Solid Surface Product: Information + Images
HI-MACS® is the New Generation of solid surface. It is composed of 70% natural stone powder derived from bauxite, 25% high quality acrylic resin and 5% natural pigments. Designed and produced by LG HAUSYS, a world technology leader, it is distributed across Europe from LG Hausys Europe headquarters in Geneva.
HI-MACS® Natural Acrylic Stone
It is a product of highest quality, and is inert and ecological. Its versatility allows users to mould and transform their ideas into reality with possibilities far beyond those offered by materials traditionally used in the world of architecture and design. The most prestigious groups have adopted this product which adapts to the most demanding needs with its extraordinary characteristics; it is completely non-porous, has the highest level of durability and thus does not lose its colouring. It also has uniform thickness, allowing for perfectly imperceptible joints!
Easy to fabricate, HI-MACS®, with its excellent thermoformability properties, lets you adapt the material to the desired shapes and to create a range of designs that is nearly infinite.
HI-MACS® is used by the most prestigious companies, and many well-known architects and designers such as Zaha Hadid, Jean Nouvel, David Chipperfield, Ron Arad, Marc Newson, Elke Delugan Meissl and Joaquín Torres. Some of the most notable projects made out of HI-MACS® include the Prado Museum and the Hotel Puerta América in Spain, Leonardo Glass Cube and the Porsche Museum in Germany and the Zara flagship store in the Westfield Shopping Complex in London, UK.
HI-MACS® is available in more than 100 colours, comprised of the following ranges: Solids, Granite, Sand, Pearl & Quartz, Volcanics, Lucent, Galaxy, Marmo, and the new recycled range of colours HI-MACS® Eden. Eden is GREENGUARD Certified for indoor air quality as a "Low Emitting Product" which can help your projects achieve LEED® credits in sustainable design, under the Green Building Rating System managed by the U.S. Green Building Council (USGBC) – A clear benefit for constructing sustainable buildings. HI-MACS® is manufactured in 3, 6, 9 and 12 mm thicknesses. Furthermore a wide range of sinks and bowls is available.
HI-MACS® is synonymous with the very best quality thanks to a production process that it is one of the world's most innovative, sourcing the finest materials that result in a harder, flatter more resistant product. Many international certifications backup the outstanding quality of HI-MACS® concerning environment, hygiene, fire resistance and processes as ISO 9001 and 14001, Greenguard, NSF, LGA and IMO MED (Module B and D), among others.
HI-MACS® is in a league of its own with its quality assistance, guaranteed by Quality Club, a network of expert and approved fabricators. Thanks to the quality of the material, we can offer the longest warranty package currently on the market: 10+5 years*.
* An initial guarantee of 10 years + an extension of 5 years if you register on our Internet site at www.himacs.eu
Public Buildings:
Leonardo Glass Cube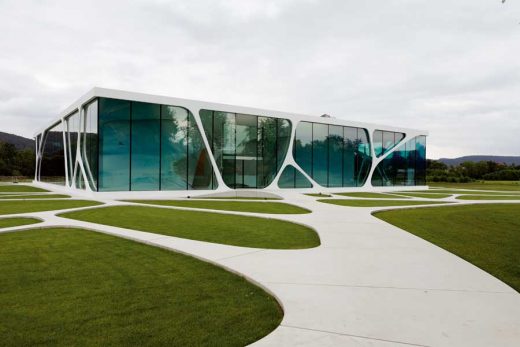 photos : 3deluxe
Location: Bad Driburg, Germany
Design: 3deluxe
Fabrication: Rosskopf & Partner AG
Material: HI-MACS®, Alpine White
Porsche Museum



photo : Zooey Braun Fotografie
Location: Stuttgart, Germany
Design: Delugan-Meissl ZT Gmbh
Fabrication: Rosskopf & Partner AG,
GRAICHEN Bau- und Mobelwerkstatten
GmbH – Klopfer Surfaces
Material: HI-MACS®, Alpine White
WGV



photo : Zooey Braun Fotografie
Location: Stuttgart, Germany
Design: Ippolito Fleitz Group
Fabrication: Bayerl & Demmelhuber – Klöpfer Surfaces
Material: HI-MACS®, Alpine White
Hospitality:
Hotel Puerta America



photo : diephotodesigner.de
Location: Madrid, Spain
Design: Zaha Hadid
Fabrication: Rosskopf & Partner AG
Material: HI-MACS® Alpine White
Empire Riverside Hotel Hamburg



photo : Tobias D. Kern
Location: Hamburg, Germany
Design: David Chipperfield Architects
Fabrication: Rosskopf & Partner AG – Hofmann Innenausbau KG
Material: HI-MACS® Alpine White, Black
Facades and Wall Cladding:
Location: Westfield Shopping Complex,
London, United Kingdom
Design: Zara Estudio
Fabrication: Grupo Candido Hermida
Material: HI-MACS®, Toffee Brown
Living Spaces:
Private House




photos : Dirk Wilhelmy Fotografie
Location: Ammersee, Germany
Design: Karl Dreer, Felix Bembe & Sebastian
Dellinger
Fabrication: Schreinerei Karl Dreer –
Klopfer Surfaces
Material: HI-MACS®, Alpine White
Shops and Exhibitions:
Audi International Stand



photo : Zooey Braun Fotografie
Location: IAA, Frankfurt am Main, Germany
Design: oettle ferber associates
Material: HI-MACS®, Alpine White
Showroom ALV



photo : Valter Baldan Fotografo
Location: Milan, Italy
Fabrication: Flusso, Facchinetti Group
Material: HI-MACS®, Ivory White
Marine Industry:
Location: Belgium
Fabrication: Elft bvba – Interieurinrichting
Material: HI-MACS®, Alpine White
Contact details of HI-MACS® in the UK
Alex Gray
[email protected]
Tel: +44 (0)17 32 42 42 40
www.himacs.eu
HI-MACS® Natural Acrylic Stone images / information received 6 Jan 2011
Location: UK / Geneva, Switzerland
Architectural Products
Building Products – chronological list
Architectural Product Profiles – recent selection on e-architect:
Oneiric Catamaran
Design: Zaha Hadid Architects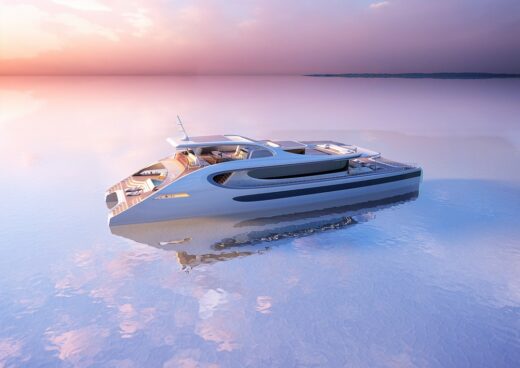 Oneiric catamaran
Oneiric Catamaran, Zaha Hadid Superyacht
Libeskind House : Daniel Libeskind



image © proportion GmbH 2009
Artemide lamp – Genesy



picture from architect
LEGO Architecture



image © 2009 The LEGO Group
Comments / photos for the HI-MACS Natural Acrylic Stone page welcome