MoMA PS1 Young Architects Program Queens, YAP Design New York
MoMA PS1 Young Architects Program, Queens : YAP
Design in Long Island City, Queens, NY, USA
Feb 6, 2013
MoMA / P.S.1 Young Architects Program Runner-Up
My Hair is at MoMA PS1 – 2012 Young Architects Program in New York
MY HAIR IS AT MOMA PS1
Runner-Up, MoMA PS1 Young Architects Program 2013
by TempAgency (Kutonotuk + mcdowellespinosa)
Partners: Leena Cho, Rychiee Espinosa, Matthew Jull, Seth McDowell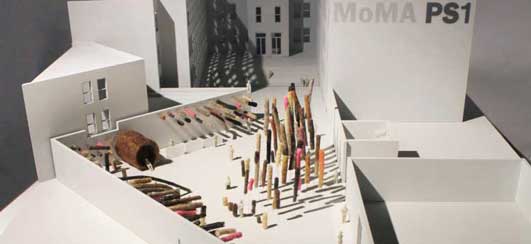 image of design
Project
"My Hair is at MoMA PS1" is a project about everyone: the waste we produce, our hair. It is an element that links us, divides us, fascinates us, and traces our diversity as a process and relic of life and reflection of ourselves.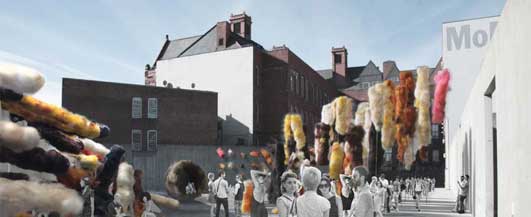 image of design
Animation:
There are over 4,000 hair salons and barbershops in the five boroughs of New York City. Each salon produces up to 4ft3 of hair clippings daily, and nearly all of it ends up in a landfill; the material that once signified diversity, character, and collective identity is readily forgotten and discarded. This project aims at diverting hair as a material waste stream and fabricating the cultural and architectural potential imbued with thermal, acoustic, and structural qualities as well as life and growth. Working in collaboration with material scientists, hair stylists, medical doctors and engineers, we revive and transform waste hair into a dynamic, interactive, and resilient modular canvas. "My Hair is at MoMA PS1" is a project about curating this process and manufacturing the power and spatial typologies of this living material.
The process we propose has four phases: hair collection, treatment, assembly and installation. TempAgency partners with over 120 NYC hair salons and barbershops and collects a total amount of 80ft3 of hair for a period of five days.
Collected hair is carefully inspected, sanitized, dyed and bound with customized weather-proof, fire-retardant silicone, and is affixed to light and rigid metal mesh, then finally to fiberglass poles. Horizontal and vertical variations of the hair rollers offer six distinct stage-like environments in the MoMA PS1 courtyards: 'Cut', 'Tease', 'Brush', 'Part', 'Wash', and 'Love Cave', and provide a variety of shade, seating, water as well as intense yet flexible spaces for Expo1, Warm-Up, and barbershop for the ultimate cool-down.
With a color-coded tagging system, each hair roller is further a representation of individual salon or barbershop from one of five NYC boroughs, and together act as map of hair taxonomy of the city. The tags guide visitors' quest to find their own hair and salons/barbershops in the MoMA PS1 courtyards. "My Hair is at MoMA PS1" is a landscape of serendipity, layered with scientific and tactile exploration of material and information, and ultimately an architectural expression of renewed life.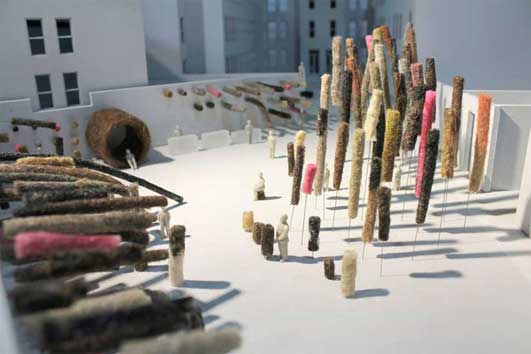 image of design
Designers
TempAgency is a design/research collaborative between Kutonotuk (Leena Cho, Matthew Jull) and mcdowellespinosa (Rychiee Espinosa, Seth McDowell). TempAgency's work lies at the intersection of architecture, landscape architecture, urbanism, product design, and an array of interrelated forces that shape the built environment from the scale of the object and body to that of the city and continent.
Combining numerous expertise linking materials, politics and science, the collaboration defines a unique and critical vision for the future of sustainability.
TempAgency partners: Leena Cho, Rychiee Espinosa, Matthew Jull, Seth McDowell with Jake Fox, Aaron Gahr, Ben Gregory, Teppei Iizuka, Gwen McGinn, Matthew Pinyan
All images, models, material samples, mock-ups and animation were produced by TempAgency and our students at the University of Virginia School of Architecture, Charlottesville, VA.
TempAgency: http://www.tempagency.co/
Kutonotuk: http://kutonotuk.com/
mcdowellespinosa: http://www.mcdowellespinosa.com/
Consultants & Acknowledgement
Derrick Roorda, Buro Happold
Tom Bishop, BRB Architects
Transsolar, Climate Engineering
Chris Martin, Quantum Silicones
Adam Malcom, University of Virginia Department of Material Science and Engineering
Steve Warner, University of Virginia Department of Drama
Peter Heymann, M.D., University of Virginia Division of Allergy and Immunology
Steve Jacobs, PennState University Department of Urban Entomology
John Davidson, University of Maryland Department of Urban Entomology
Lisa Gautier, Matter of Trust Ecological Public Charity
Alan Dumpit, Manhattan Mini Storage
Whittemore House Salon
Hiro Haraguchi Hair Salon
Michael Angelo's Wonderland Beauty Parlor
TempAgency would like to extend our thanks for the amazing support and encouragement from the faculty and students at the University of Virginia School of Architecture (http://www.arch.virginia.edu/): Dean Kim Tanzer, Inaki Alday (Chair, Dept. of Architecture), Nancy Takahashi (Chair, Dept. of Landscape Architecture), Karen Van Lengen, Kirk Martini, Robin Dripps, Lucia Phinney, Teresa Gali-Izard, Melissa Goldman, Dick Smith & Eric Field.
MoMA/MoMA PS1 – Young Architects Program
The MoMA/MoMA PS1 Young Architects Program has expanded in recent years to include the National Museum of XXI Century Arts (MAXXI) in Rome, Italy; Istanbul Modern in Istanbul, Turkey; and CONSTRUCTO in Santiago, Chile. This year marks the 16th summer that MoMA PS1 has hosted a combined architectural installation and music series in its outdoor galleries, though it is only the 14th year of the Young Architects Program, which began in 2000. The inaugural project was an architecturally based installation in 1998 by an Austrian artist collective, Gelatin. In 1999, Philip Johnson's DJ Pavilion celebrated the historic affiliation of MoMA PS1 and MoMA.
The previous winners of the Young Architects Program are SHoP/Sharples Holden Pasquarelli (2000), ROY (2001), William E. Massie (2002), Tom Wiscombe / EMERGENT (2003), nARCHITECTS (2004), Xefirotarch (2005), OBRA (2006), Ball- Nogues (2007), WORKac (2008), MOS (2009), Solid Objectives – Idenburg Liu (2010), Interboro Partners (2011), HWKN – HollwichKushner (2012), and CODA – Caroline O'Donnell (2013).
Address: P.S.1 Contemporary Art Center, 2225 Jackson Ave, Long Island City, NY 11101-4309, United States
Contact P.S.1 Contemporary Art Center: (718) 784-2084
MoMA / P.S.1 Young Architects Program Runner-Up images / information from TempAgency
MoMA / P.S.1 Young Architects Program Winner
HWKN wins the 2012 Young Architects Program at MoMA PS1 in New York
New York based office HWKN (HollwichKushner) announced by The Museum of Modern Art and MoMA PS1 as winner of the annual Young Architects Program (YAP) in New York.


image of winning design
PS1 Contemporary Art Center Canopy
MoMA PS1 Young Architects Program 2016
Location: P.S.1 Contemporary Art Center, New York City, USA
New York City Architecture
Contemporary New York Buildings
NYC Architecture Designs – chronological list
New York City Architectural Tours by e-architect
Museum of Contemporary Art New York – Extension
MoMA / P.S.1 YAP 2017 Program Finalists
MoMA / P.S.1 YAP Program Finalists in 2017
Comments / photos for the MoMA PS1 Young Architects Program – YAP New York page welcome