Manchester Central Library, Redevelopment, Architect, Building, Project, News, Design, Property
Manchester Central Library Redevelopment
Civic Building in Manchester England: Building Renewal News – design by Ryder Architecture
24 Mar 2014
Manchester Central Library Redevelopment Opening
Central Library Redevelopment Now Open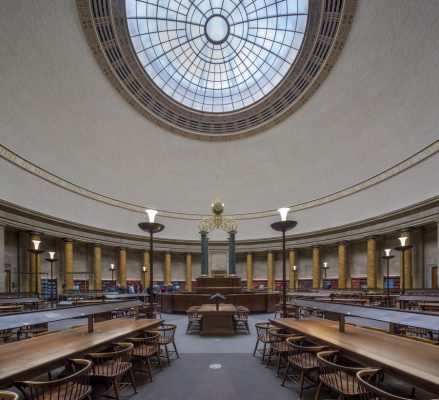 Design: Ryder Architecture
Through a series of controlled but fundamental interventions, Manchester Central Library is being transformed, updated and sympathetically refurbished on the existing site and within the existing building envelope.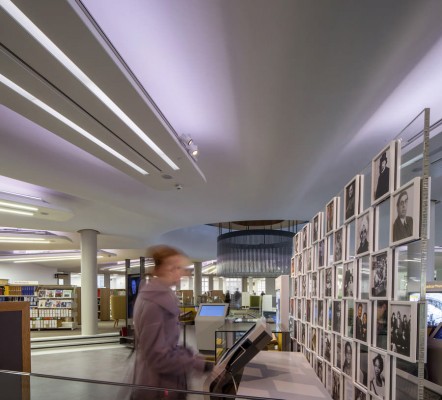 The design, created by Ryder Architecture, has been driven by Manchester City Council's commitment to reshaping the way library, information and archive services are delivered in central Manchester and introducing services and facilities that go significantly beyond the traditional range of library services provided in the current building.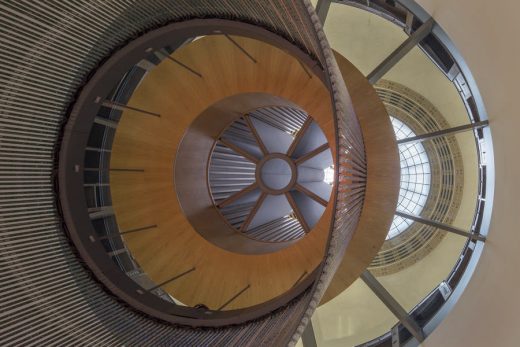 It has four aims:
To develop a new Target Operating Model (TOM) fit for purpose for a 21st century city – new services, delivered differently for the people of Manchester and beyond.
To improve customer services for residents –library and archive services and access to other council services.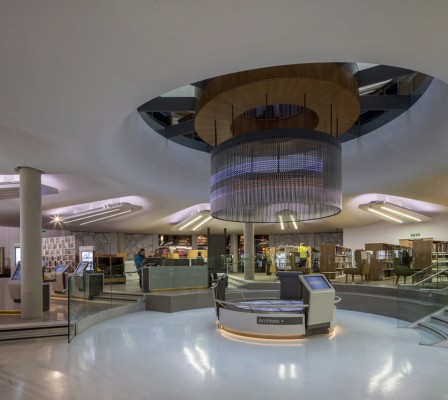 To deliver a service transformation programme in line with the wider town hall transformation programme – doing things more efficiently with a strong emphasis on customer self-service for library transactions.
To provide a Central Library building fit for the 21st century with the flexibility necessary for continued use in an ever changing environment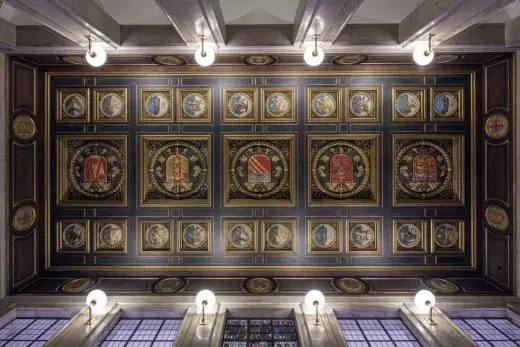 Architectural Vision:
Ryder's architecturally ambitious design aims to transform a beautiful, well-loved but internally hamstrung building into a cohesive and coherent delight, able to fulfil its practical purpose for decades to come.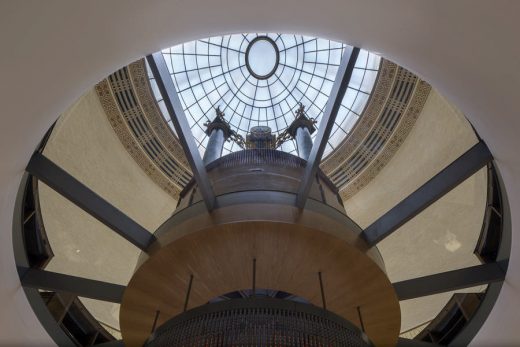 The scale of the two main interventions – removing the book stacks from the core of the building and installing a new vertical circulation provision – was considerable, likened to removing the fruitcake filling from a wedding cake and replacing it with sponge, all without disturbing the icing.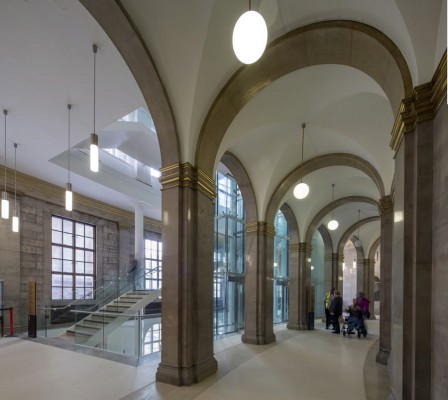 Yet scooping out the entire innards of the building and putting in a radically different new structure was vital to renewing Manchester Central Library, making a completely accessible, legible and uplifting space whose inherent flexibility would see it loved and used for its next 80 years – and beyond.
Description of project:
The Central Library will become the home for a new integrated archive service, Archives+, the city's treasure house and the main knowledge hub for information. The design aims to retain and enhance the original look and cherished ambience of this much-loved building whilst providing it with modern facilities and a continued relevance for the next part of its life.
Key elements of the design include:
Attractive and simple to use layout with intuitive wayfinding
Space to house non-fiction and reference collections
Facilities and technologies to showcase special collections
Well-designed study spaces, for individual and group learning
Spaces which are flexible and adaptable, to support a range of activities
Performance and events space
Maximising income generation by creating meeting rooms and a performance area
Emphasising the library as a destination and meeting place
Clear customer, rather than collection, focus
Accessible and inclusive
For the collections, the design aim was to give the public direct access to one coherent and integrated collection utilising as much of the building footprint as possible. When the architects visited the building in its original layout, they were struck by how easy it was to lose their bearings just walking around one floor.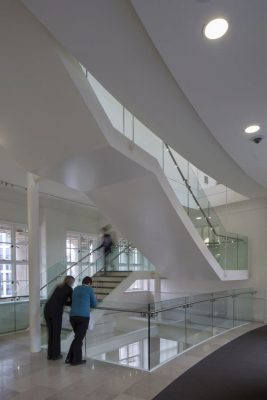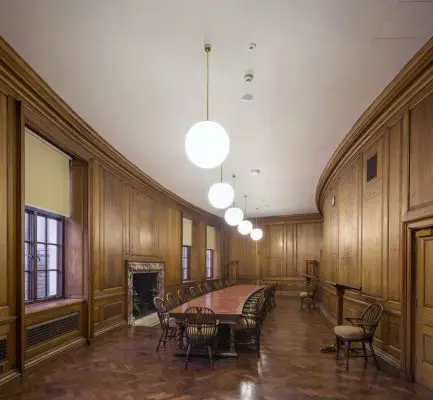 Photography: Morley von Sternberg
Manchester Central Library information from Ryder Architecture
9 Feb 2014
Manchester Central Library Building Renewal
The beautifully refurbished and extended Central Library will open on Saturday 22 March 2014.
The historic features have been sensitively restored and transformed, bringing the building up to twenty-first century standards.
Winning plans for St. Peters Square – external link
13 May 2011
Manchester Central Library Building
LIBRARIES ARE THE HEART SPACE
Manchester Central Library Photo © Adrian Welch, May 2011:


Manchester Central Library
A seminar on the role and design of libraries hosted by Manchester University for the Royal Institute of British Architects' Higher Education Design Quality Forum (5 May) attracted over 80 academics, librarians, estates directors and architects.
The event was sponsored by Laing O'Rourke and opened by Professor Rod Coombs, deputy president and deputy vice chancellor of Manchester University. It was chaired by John Dolan OBE head of community regeneration at development company Eye.
Manchester Central Library section:



Manchester Central Library image from Ryder Architecture
Speakers were Maggie Barlow Ryder Architecture consultancy director and Lee Taylor, Ryder, architect for the redevelopment of Manchester Central Library, Jo McCausland client programme manager for Manchester Central Library and Fred Garnett visiting research fellow at the London Knowledge Lab.
Maggie Barlow said: "The integration of new information technology has become a catalyst that has transformed the library into a more vital and critical intellectual centre of life in our cities, schools, colleges and universities. Where institutions have worked in partnership with architects, planners and stakeholders usage has in fact increased despite predictions.
"If we still need buildings what should go in them, how should they be organised? How do we take learned institutions and make them learning institutions?"
Introducing the event John Dolan asked if the library concept in all sectors needs to move to a new model that is both physical and virtual and focussed on learning not just resources – higher education has the capacity to lead a collaborative approach to innovation.
Jo McCausland spoke in support of the continuing relevance and importance of the library as place but within a revitalised organisational model, with renewed spaces and resources and a transformed relationship between staff and library members. She made the case for the co-existence of print and technology based resources supported by inspiring and uplifting public library spaces – perhaps fewer and bigger and better in the future – and a renewed role for library staff as 'community coaches'. The journey was summarised as from 'information to transformation', from 'collections to connections' and from 'delivery to discovery'.
Fred Garnett looked at the history and development of knowledge taking in emerging digital trends to introduce the concept of the 'unlibrary'. He talked about the need to create new context-responsive tools for new forms of participation.
A lively discussion followed between service providers and estates managers covering the fundamental role of libraries across sectors from academic to community and what we need from them in the 21st century.
"It was clear that people across all sectors value libraries as vital 'heart' space where they can come together to engage in and around knowledge based activity, whatever form that takes," commented Lee Taylor.
"Also that the future of libraries needs to be an integrated conversation between the service providers and designers. As services come under pressure, we have a window of opportunity to have that conversation and make changes to make libraries more relevant to more people, more of the time."
Manchester Central Library image / information from Ryder Architecture
Photographs taken for e-architect by webbaviation:
Photo refs: the Central Library is circular, on the right ; the Town Hall is triangular in plan, the Town Hall Extension is roughly C-shaped between the two.
Related Civic Redevelopment Project:
Manchester Town Hall Redevelopment – extracts below:
19 May 2010
Manchester Town Hall Building
Central Library + Town Hall Redevelopment
BDP Architects named as winners of this major urban project.
Manchester's Town Hall Extension and Central Library buildings to get green make-over from BDP
The Manchester studio of BDP, the UK's largest inter-disciplinary design practice, has been appointed to overhaul the internal workings of Manchester's Town Hall Extension and Central Library buildings to bring it up to modern green standards.
The project to replace, upgrade and provide safe, resilient, flexible and adaptable building services and electrical systems installations throughout the two buildings will enable Manchester City Council to deliver its visionary Transformation Programme, which will see the Council function in a even greener and more energy efficient way, as well as providing improved services for residents and visitors.
Michael Whitehurst, BDP Manchester's Environmental Engineering Director, will lead an inter-disciplinary team of specialists responsible for delivering the mechanical and electrical facets of the refurbishment.
The transformation aspiration of the project, which is to evolve from cellular offices to open plan work places, will be a catalyst for improved communication, teamwork and efficiency.
The scheme will also help make the building a more sustainable workplace and a more comfortable environment for customers, visitors and tourists. The work however will be sensitive to the extension's much-loved architecture and Central Library's celebrated design.
Michael Whitehurst said; "The listed buildings are one of the focal points of the city and have a unique character that we are striving to preserve. But it is obviously a complex task to try and bring such historic infrastructure into the 21st century and make it genuinely sustainable."
Michael continued; "From our experience, we understand that sensitive integration of modern technologies is an important part in any refurbishment project.  Some of the buildings' internal engineering has reached the end of its useful life and the project will require both very careful planning and delicate execution.
"Our vision is that the project sets the standard for environmental performance and carbon emissions that changes the misconception that it is too difficult to achieve this in historic buildings."
Councillor Nigel Murphy, Assistant Executive Member for the Environment for Manchester City Council, said: "Manchester has an ambitious plan to reduce the city's carbon emissions by 41 per cent by 2020 and putting energy efficiency at the heart of our own buildings underlines the Council's determination to lead by example. Along with providing state-of-the-art, accessible services to residents and visitors, one of the guiding principles of our transformation programme is improving the environmental performance of these historic gems."
The Town Hall Complex Transformation programme will see the Town Hall extension and Central Library extensively refurbished by 2014 to deliver state-of-the-art services and to preserve both Grade II*-listed gems for future generations. It will also involve an international design competition to ensure St Peter's Square provides a world-class setting for both historic buildings.
Construction work is due to commence in 2011 with the entire Town Hall Transformation Programme being complete in 2014.
Previously:
26 Nov 2009
Manchester City Council appoint Ian Simpson Architects + Ryder Architects
Refurbishment of Manchester Town Hall Extension + Manchester Central Library
Both buildings Grade II*-listed
International Design Competition
Contest due in Jan 2010 for St Peter's Square and Library Walk – the dramatic curved space between Central Library and Manchester Town Hall
Manchester Town Hall



photo © Adrian Welch
27 Nov 2009
RYDER ARCHITECTURE APPOINTED FOR MANCHESTER CITY LIBRARY
Ryder Architecture has been appointed to redesign Manchester City Library by the City Council. The decision was made on the high quality of the bid.
The proposals for the Grade II*-listed library will increase access to the collection and provide a much greater range of library services. The project is part of the redevelopment of the Manchester Town Hall complex, estimated at £165M, improving services to the public and investing in key civic buildings and spaces.
This appointment follows the success of Ryder's award-winning Newcastle City Library with developer Kajima Partnerships completed in March 2009, and a recent commission from Devon County Council for the interior design of six libraries in a joint venture with Radford-HMY Group.


photo © webbaviation
Manchester Town Hall Redevelopment information from Manchester City Council
Location: Manchester Central Library, Manchester, Northwest England, UK
Manchester Buildings
Contemporary Manchester Architecture
Manchester Architectural Designs – chronological list
Manchester Architecture Walking Tours
Manchester Architecture – Selection
Manchester Civil Justice Centre
Do We Need Libraries? – article by e-architect Founder & architect Adrian Welch
Comments / photos for the Manchester Central Library Redevelopment page welcome
Website: www.manchester.gov.uk/info/500138/