Bluecoat Liverpool, Queen Anne Style Architecture, Merseyside Art Gallery Images, Architect, News
Bluecoat Liverpool City Centre's Oldest Building
Merseyside Arts Centre: Historic Building in northwest England design by Edward Litherland & Thomas Steers
19 Sep 2016
Bluecoat is Liverpool City Centre's Oldest Building
Bluecoat Oldest Building in Liverpool City Centre
Master Mason: Edward Litherland ; Engineer: Thomas Steers
Project finally solves mystery of who built Liverpool's oldest city centre building
It is Liverpool's oldest surviving city centre building and a fine example of Queen Anne-style architecture, yet the builders and architects responsible for creating Bluecoat have remained unconfirmed – until now.
Bluecoat exterior: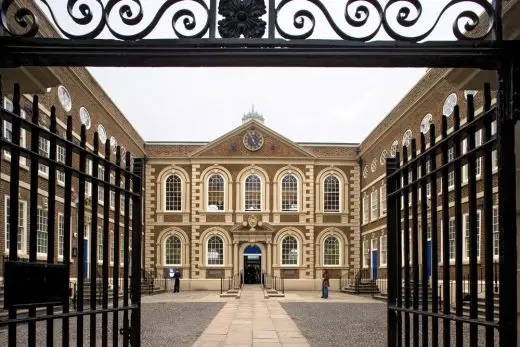 New research has discovered fresh information about the origins of this much-loved Liverpool building, which dates from 1717 and started life as a charity school before becoming a centre for the contemporary arts.
Bluecoat staff now believe they have identified the builders as master mason Edward Litherland and engineer Thomas Steers, the same duo responsible for Liverpool's famous Old Dock (1715), as well as a number of other buildings around Liverpool.
Girls in the school laundry, c. late 19th century: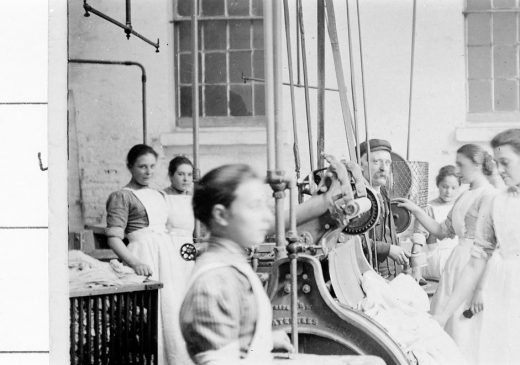 The information was found by examining records as part of heritage project My Bluecoat, ahead of the building's 300th anniversary in 2017.
Steers has been put forward as a contender before, alongside Thomas Ripley and Henry Sephton, but with no conclusive evidence. Because there was no mention in the School's historic accounts records of an 'architect's fee', previous researchers had also suggested that the fee may have been waived – and therefore not accounted for.
Recollections of the Blue-Coat Hospital, Liverpool, St. George's Day, 1843: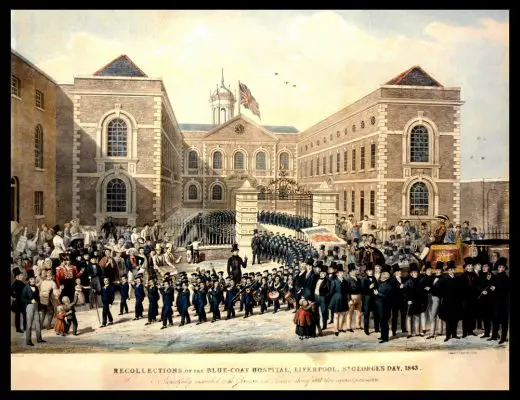 However, the new research has pointed out that in the 1700s the term 'architect' was rare, with masons and engineers like Litherland and Steers carrying out design work that would nowadays fall under an architect's remit. And the central role of the two men during the construction period was confirmed by careful analysis of the accounts book, which revealed both of them received large payments.
Gavin Davenport, Project Manager for My Bluecoat, says: "It's really exciting that the work we are doing on My Bluecoat is starting to unlock some of Bluecoat's secrets. It's long been a subject of debate as to who its architects were. Now we can say with confidence that we know who is responsible for the design of this stunning building.
Portrait of Bryan Blundell by Hamlet Winstanley. Collection Liverpool Blue Coat School: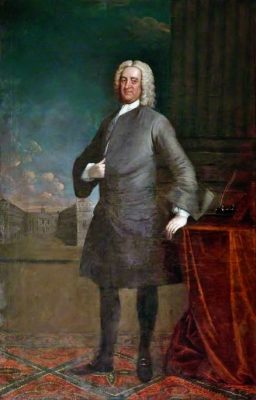 "Whilst Steer's role is not clear, we know Litherland was the chief mason for the build. Traditionally it is the master mason who would oversee the design of the building, though from 1709 onwards we see a pattern in Liverpool where Litherland facilitates the design of buildings by Steers.
"The connection with Litherland and Steers is really important, as they were responsible for so much building work around Liverpool in the early 1700s. It really illustrates Bluecoat's significant place in the history of the city".
Thanks to a grant from Heritage Lottery Fund, My Bluecoat will digitise a range of archives related to the building. These are held at various sites including Bluecoat, Liverpool Record Office, and the Blue Coat School in Wavertree, where the school relocated when it vacated its School Lane premises in 1906. My Bluecoat will bring these fascinating records together for the first time, alongside memories from the public.
James Chadwick, The Mapp of all the streets, lanes and alleys within the town of Liverpool (1725):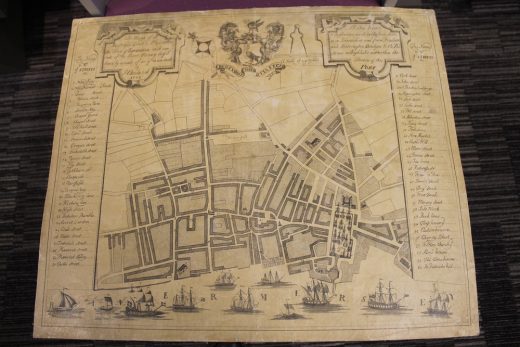 Bluecoat's Artistic Director, Bryan Biggs, who is leading on the building's tercentenary celebrations in 2017 says: "The results of this important detective work firmly position our building at the start of the story of modern Liverpool, which began with the innovation at Old Dock. After three centuries, during which the building has resisted threats of demolition and wartime bombing, it is still here at the heart of the city's cultural life, a symbol of Liverpool's resilience and its historical significance as a global port."
Steers and Litherland continued to work together after building Bluecoat, until Litherland's death in 1739. Their work around Liverpool also included St. George's Church, which was built on the site of the dilapidated Liverpool Castle, now known as Derby Square, and the entirety of the city's Chorley Street with its houses, fashionable new theatre (which Steers would one day run) and artists' coffee house.
School life, c. late 19th century: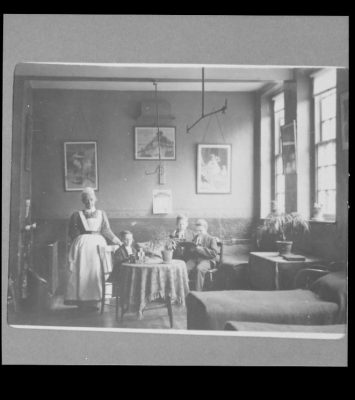 The discovery comes ahead of 2017 when Bluecoat will celebrate 300 years since the dedication of its building in 1717, which began as a charity school and went on to become the UK's first arts centre. The tercentenary will be commemorated with a celebratory programme of special exhibitions and events over a period of 300 days throughout 2017, running from 4th February to 29th November.
Bluecoat is Liverpool city centre's oldest building, Grade One listed, and located within the UNESCO World Heritage Site.
Built in the Queen Anne-style, Bluecoat has been in almost continuous use since 1717. It was founded as a charity school by the Anglican St. Peter's Church opposite and by master mariner Bryan Blundell. After nearly 200 years, it became a centre for the arts, the first of its kind in the UK, being formally constituted in 1927 as the Bluecoat Society of Arts.
My Bluecoat is supported by the Heritage Lottery Fund. Since it was founded in 1994, the Heritage Lottery Fund (HLF) has awarded £6.8billion to over 39,000 projects. HLF was set up to distribute money raised by the National Lottery to projects that make a lasting difference for heritage, people and communities. A further £182,600 has been earmarked by HLF for My Bluecoat, to be awarded at a later date and subject to a second round application.
The school band in the front courtyard, c. late 19th century: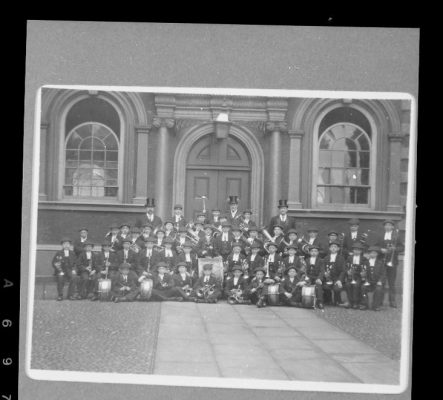 Bluecoat Liverpool
Bluecoat is Liverpool's centre for the contemporary arts, supporting and presenting visual art, music, dance, live art and literature, as well as practices that fall in between these categories. The past few years have seen the organisation show internationally renowned artists such as William Kentridge, Sonia Boyce, John Akomfrah and Mark Leckey. At the same time Bluecoat has worked to engage with audiences from the most vulnerable communities, from those with dementia to families facing disadvantage, through its community projects. Bluecoat is the UK's oldest arts centre, with a rich artistic history; early exhibitions include the first showing of the Post-Impressionists alongside their UK peers in 1911.
The school refectory, c. late 19th century, now the Hub: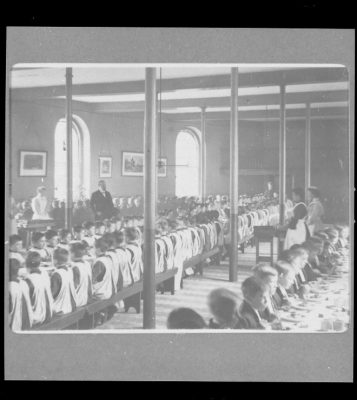 Heritage Lottery Fund
Heritage Grants applications are assessed in two rounds. A first-round pass is given when HLF has endorsed outline proposals and earmarked funding. A first-round pass may also include an immediate award to fund the development of the project. Detailed proposals are then considered by HLF at second-round and as long as plans have progressed satisfactorily and according to the original proposal, an award for the project is confirmed.
Thanks to National Lottery players, we invest money to help people across the UK explore, enjoy and protect the heritage they care about – from the archaeology under our feet to the historic parks and buildings we love, from precious memories and collections to rare wildlife. www.hlf.org.uk @heritagelottery
Bluecoat Arts Centre Liverpool
Bluecoat School Extension + Redevelopment
Renewal + extension date: 2008
Design: biq stadsontwerp bv
The UK's oldest art centre re-opened on 15 March 2008 after a £12.5 m re-fit designed by Biq, The Netherlands
Bluecoat Arts Centre Liverpool – design : Biq Architects
Mies van der Rohe Award Nominee 2009
Bluecoat Arts Centre Liverpool: Building information from Biq Architects
Blue Coat Chambers
Dates built: 1716-17
The original building of the Blue Coat School (www.bluecoatschool.net), built around 1710, and the oldest building in Liverpool's city centre.
Bluecoat Chambers is the oldest surviving building in central Liverpool
Address: Liverpool ONE, School Lane, Liverpool L1 3BX
Opened: 2008
Phone: 0151 702 5324
Location: Bluecoat, School Lane, Liverpool L1 3BX, England, UK
Website: Bluecoat Arts Centre Liverpool
Liverpool Architecture
Liverpool Architecture Designs – chronological list
Liverpool Architects – design office listing
The Florence Institute
Design: Purcell



photo : Ben Jones
The Florence Institute
St Georges Hall Building
Comments / photos for Bluecoat Liverpool City Centre's Oldest Building page welcome