Lucknow Memorial Gate, Indian Structure, Gardens, Images, Architect
Lucknow Memorial Gate
Landscape and Building Proposal in India design by Archohm Architects
1 Mar 2016
Lucknow Memorial Gate India
Architects: Archohm
Lucknow Memorial Gate in India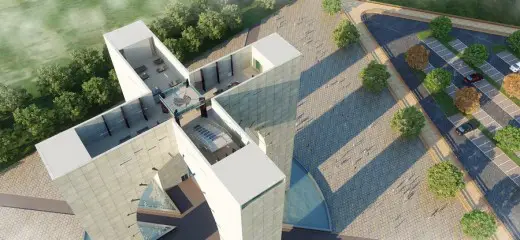 The Lucknow Memorial Gate, located at the focal point of the approach road is identified as one node of the site whose other node towards Samta Mulak Chowk, is a park.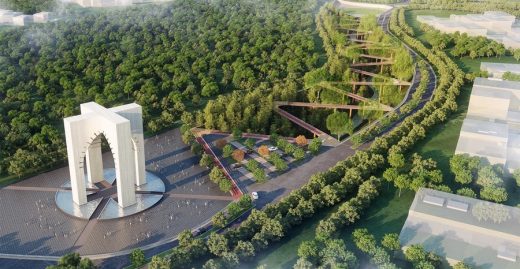 The gate as a simple and contemporary rendition of the iconic Roomi Darwaza extracts the spirit of the criss-crossing arches. The 'Torana', or bud like element making up a garland, typifying Jain architecture and one of the earliest elements to be picked up by the muslim monarchs in the creation of the amalgamated Indo-Islamic works that emerged in India in the medieval times is also cleverly reinterpreted.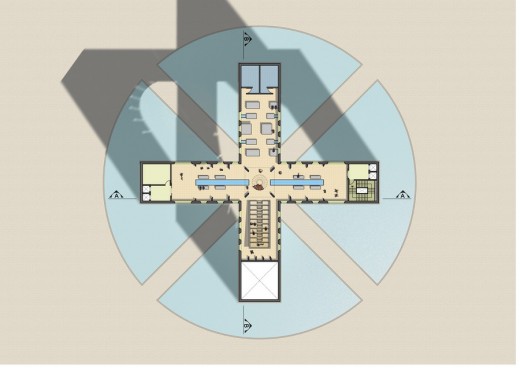 While the protruded buds forming an additive approach to softening the stern profile of the muslim arch represented the past identity, the indented ones carved into the same profile as a subtractive approach represent the contemporary identity. The reflection in the water-body endows the fourth dimension and a surreal quality to it, particularly in the night lighting. The pillars are accessible and lead to a deck that gifts panoramic views of the greenery in the vicinity.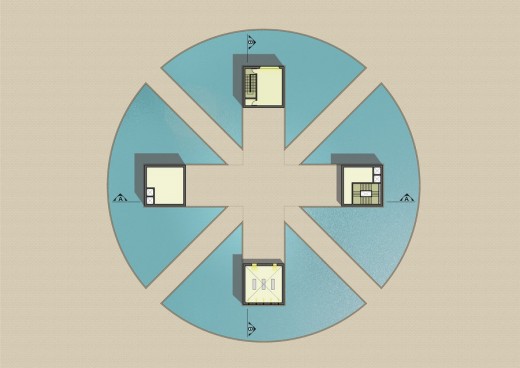 The main ideology behind the planning and design of the entire site was to avoid filling up the low-lying areas of the site and 'asphyxiating' its ecology; instead by using the existing profile of the land it was turned into an advantage, by positioning an elevated walkway that is both interactive and fruitful to the site.
This elevated walkway is 6m wide approximately 7.5 m high and meanders along a distance of 1.76 km! it runs like 'a line' across the site in a zigzag pattern creating 'entrance-nodes' at regular intersections for easy access to the park. These nodes also accommodate inviting functions like relaxing zones, food stalls and informal interaction spaces. The concept thus becomes economical and environmentally viable.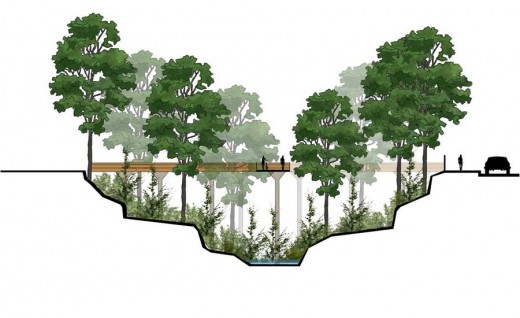 The stench that typically accompanies a 'Nullah' is done away with by proper filtration which in turn is activated by suitable plant/tree growth. The project is a living example of how working with the environment is always mutually beneficial.
Ironically, in 'killing several, not two birds with the same stone', the flora and fauna is kept alive!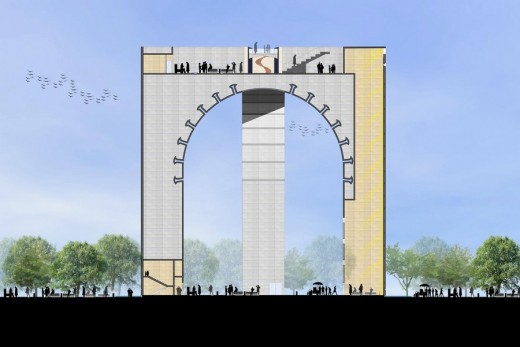 Lucknow Memorial Gate – Building Information
Typology: Public Building
Name of Project: Lucknow Memorial
Location: Lucknow, Uttar Pradesh
Name of Client: LDA
Principal Architect: Mr. Sourabh Gupta
Design Team: Sukhmani Singh, Shailesh Pathak, Harsh Soni
Site Area: 82032 Sqm
Built-Up Area: 31145 Sqm
Project Cost: 97.73 Cr.
Structural: BMSF
Electrical: Archohm
Civil: Archohm
Landscape: Archohm
Plumbing: Techno Engg.
Lucknow Memorial Gate images / information from Archohm
Archohm Architects, India – Head Office, Noida
Website: Archohm
Location: Lucknow, India
Lucknow Architecture
Museum of Socialism, Jayaprakash Narayan Interpretation Centre, Lucknow, northern India
Design: Archohm Consults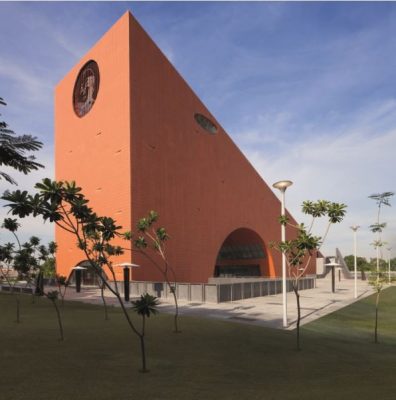 photograph :
Museum of Socialism Lucknow
18 Screens House in Lucknow, Uttar Pradesh
Indian Architecture
Indian Architecture Designs – chronological list
Comments / photos for the Lucknow Memorial Gate page welcome
Website: Lucknow