Lui Seng Chun, Chinese Medicine Centre, Kowloon Building, China
Lui Seng Chun, China : Kowloon Medicine Centre
Medicine Centre Building design by AGC Design Ltd, architects
18 Oct 2012
Medicine Centre, Kowloon, China
Architect: AGC Design Ltd
Lui Seng Chun Chinese Medicine Centre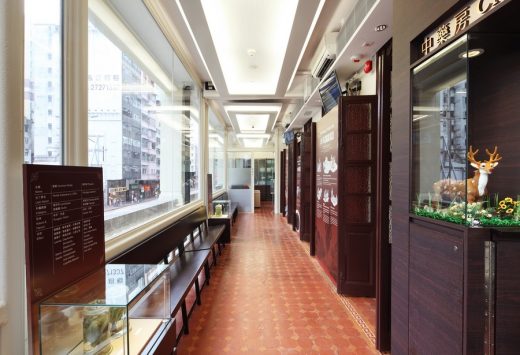 images : AGC Design
A Disappearing Cultural Legacy
Constructed in 1931 on a prominent triangular site in the dense heart of Kowloon, Lui Seng Chun was a 4 Storey Tong-Lau (the local term for Hong Kong Shop-house typology), which G/F was occupied by a Chinese bone-setting medicine shop named "Lui Seng Chun 雷生春"- literally means "Thunders brings about the Spring" – an analogy for Rejuvenation of Health as Spring bringing forth new energy to the Earth. The Lui's medicine enjoyed a good reputation locally and overseas. The upper floors served as living quarters for the Lui's family.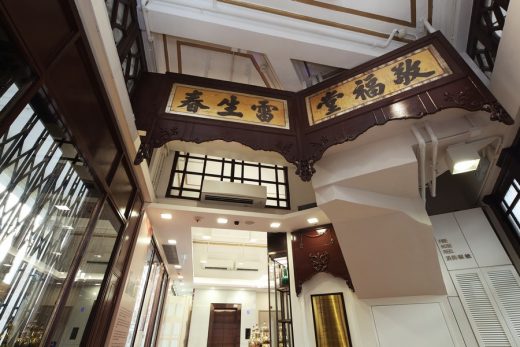 The architecture features a mixing of the sweeping horizontal lines of Streamline Modern (Art Deco) with robust classical elements, which are characterized by a square-shaped frame and a row of decorative balustrades in front. The deep verandahs together with the stone plaque marked with the name of the medicine shop "雷生春"installed at the top of the building are all typical architectural features of pre-war Chinese tenements.
The building became deserted in midst of the aging city centre since the Medicine shop ceased from business after WWII, along side with the rising popularity of western medicine against traditional Chinese medicine. Yet its significance imprinted in the heart of the locals.
Rejuvenating the Cultural Landscape
In recent decade, Chinese medicine has earned greater social demand and respect in Hong Kong. Re-open to public in 2012, Lui Seng Chun was conserved and adapted as a Chinese medicine & healthcare centre operated by the School of Chinese Medicine, Baptist University of Hong Kong (HKBU). Fitting with modern building facilities, it provides affordable Chinese medical treatment including bone setting, acupuncture and traditional Chinese herbal tea (涼茶) to the locals especially the less-privileged, on-job training for medical students and continuous education of local practitioners. It also provides exhibitions on herbal tea, Chinese medicine and history of local "tong lau" for the general public.
The Revitalisation of Lui Seng Chun as a Chinese Medicine center preserves the intangible cultural significance of the Chinese medicine heritage and continues the legacy of Lui Seng Chun bone setting and herbal medicine established 80 years ago. It also rejuvenates the aging local community as a tourist attraction as a land mark medical service and successful case of adaptive re-use.
Conservation Principle
Both cultural and physical issues have been considered in the conservation process. The new use of Lui Seng Chun was selected to match with its historical and social identity. The distinctively well preserved building fabric is carefully respected and maintained during the Revitalisation with minimum intervention.
The Old Fabric & New Additions
Original building fabrics and its distinct architectural features are intact with a high degree of authenticity and integrity. The design of new additions is compatible yet humbly distinguishable from the 80 year-old building. Located to the less significant face of the building, additions including lift, steel staircase set back from the prominent corner of the building. New steel staircase integrates structure and screen wall inspired by the geometric pattern from the fenestration.
1. The New Glass Enclosure: The deep verandah occupies more than 50% of the typical floor plate. To fulfill the spatial requirement of the Chinese Medical and Healthcare Centre and tackle the serious traffic noise issue, the verandahs were enclosed by super clear glass with structural frame carefully designed behind the existing columns in order to minimize visual impact. Curved glass to be adopted to curve corners of the building, to avoid segmented appearance.
2. External Facade: The main external facade is preserved to high authenticity. Only necessary structural repair, re-paint & minimal restoration of decorative molding at columns has been carried with flag poles re-instated at their original location. New metal gate was added at the rear courtyard in subtle grey wash colour, in replacement of solid fence wall to improve the openness of G/F.
3. The Existing Parapet: To respect the original facade, upgrading of existing parapet to minimum 1.1m was avoided via tactful space planning and management approach in converting small balconies facing Tong Mei Road as inaccessible area for public and guarded the parapets in question in roof area with new planters.
4. Fire engineering approach is used to reduce number of new staircases from 2 to 1, as the only existing staircase is substandard from prevailing buildings regulations. The number of occupants above G/F would be carefully controlled under 83 via pre-book appointment and guided tour. Fire Services such as smoke curtain is adopted to extent time for fire escape.
5. New Staircase: New external steel staircase in light weight steel structure which is a reversible construction was added at rear courtyard which is a less obstructive location, The steel post and screen in between stair flights are compatible to the metal window grid all along the facade and interior of Lui Seng Chun, yet distinguishable from the original building. The new staircase is on independent mini pile foundation to minimize adverse settlement to the existing building.
6. Interior Design: Interior decoration is kept minimum and humble to express the authenticity of Lui Seng Chun. Original ceiling molding were all maintained and expressed as far as the building services allow. New suspended ceilings were added at verandah to enhance the acoustic performance providing space for building services while expressing the original ceiling grid and molding.
Original hexagonal colour cement tiles have been extensively preserved. Most floor tiles were salvaged during new lift shaft formation and applied in later repair. Replica cement tiles were manufactured in Fujian with traditional cold-pressed process.
7. Building Services: Building services including FS Installations, MVAC, new machine room-less lift were centralized at the original interior space so that new building services exposed to view in the verandah can be kept minimal and minimize intrusion to existing building. New accessible toilets are provided at the area where the original kitchen and toilet located to respect the original space planning.
Conclusion
Lui Seng Chun not only bears witness to the history of a well-known family in Hong Kong, but also illustrates the past community life, economic activities and architecture of the territory. It was one of the representatives of Chinese medicine development in Hong Kong.
Situated in Mongkok – a district with lower income group and insufficient public medical facilities, Lui Seng Chun meets the demand for affordable medical service. In recent decade, Chinese medicine has earned greater social demand and respect in Hong Kong, the Revitalisation of Lui Seng Chun as a Chinese Medicine and Healthcare center preserves the intangible cultural significance of this heritage and continues the legacy of Lui Seng Chun bone setting and herbal medicine established 80 years ago.
Lui Seng Chun Chinese Medicine Centre images / information received from AGC Design Ltd.
Location: 119, Lai Chi Kok Road, Mongkok, Kowloon, Hong Kong, Eastern Asia
Hong Kong Architecture Designs
HK Architectural Designs
Hong Kong Architecture Designs – chronological list
Hong Kong Architecture Tours by e-architect
International Culinary Institute
Architects: Leigh & Orange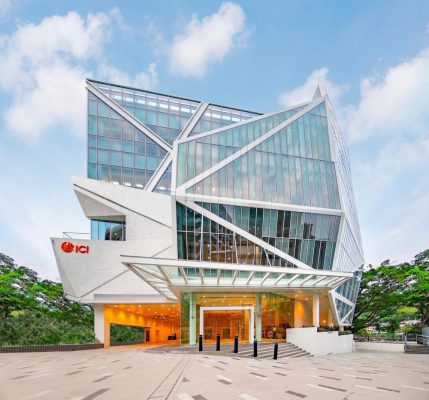 picture : Leigh & Orange
International Culinary Institute Hong Kong Building
Savannah College of Art and Design
LEO A DALY
SCAD
i-Square
Rocco Design / Benoy
i-Square
HSBC Building, Central
Foster + Partners, Architects
Hong Kong and Shanghai Bank
International Commerce Centre, West Kowloon
Architects: Kohn Pedersen Fox Associates with Wong & Ouyang
International Commerce Centre incl. The Ritz-Carlton – The world's highest hotel
West Kowloon Development, Kowloon
Foster + Partners Architects
West Kowloon Cultural Complex
Comments / photos for the Lui Seng Chun – Chinese Medicine Centre page welcome