Thonet, contemporary since 1819 London, Kitchen and Home Office Interior, Furniture Pictures
Thonet contemporary design since 1819
11 June 2020
Thonet – Contemporary Design
Short supply chains and its own production facility in Germany help Thonet overcome the crisis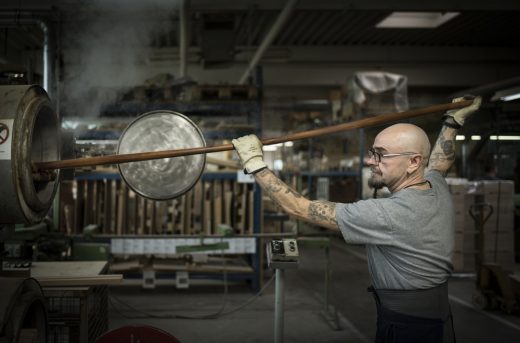 Thonet Production Bentwood Steaming © Philipp Thonet
The new challenges confronting the world in 2020 have cast a number of issues into sharp focus. The current crisis instigated by the Covid-19 pandemic clearly demonstrates how problematic it can be for a globalised economy when movement of products and people is restricted.
"Here at Thonet we see ourselves reflected in the words of EU Commission President Ursula von der Leyen when she advocates a 'mindful globalisation'. The corona crisis is increasingly focussing attention on the trends of 'deglobalisation' and 'glocalisation'. And this is precisely what Thonet's guiding principle has been for the last 200 years," says CEO Brian Boyd.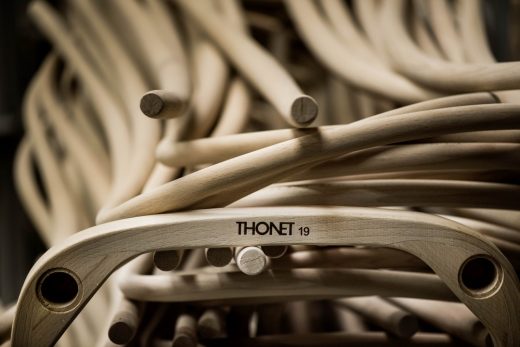 Thonet Production © Thonet
In addition to the benefits of short supply chains and its longstanding proprietary production facility in Frankenberg (Hessen, Germany), maintaining its renowned ecological, economic and social standards are key priorities for Thonet. These values in combination with the highest principles of design and quality ensure the production of timeless pieces that are the epitome of durability and style and which have become cultural icons.
"A crisis such as the one we are currently experiencing is not easy to overcome, even for one of the oldest furniture companies in the world. Favourable supply chains and excellent relationships with our partners work to our advantage, however. Our suppliers are all based in Europe and we know them very well," explains Norbert Ruf, who is both Creative Director and Managing Director at Thonet.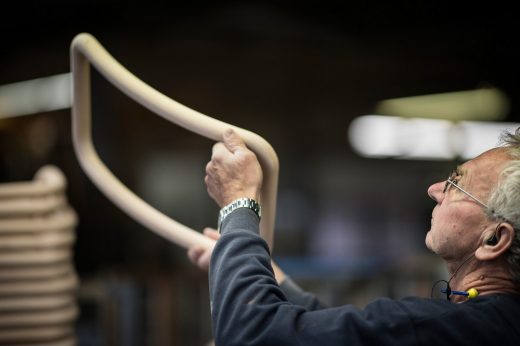 Thonet Fertigung Schleiferei © Philipp Thonet
Thonet's precision tubular steel comes from the Black Forest, its beechwood from domestic forests and the leather upholstery from southern Germany and Italy. In addition to regionality, another distinguishing factor for Thonet is that its suppliers embrace similar values.
The only component that is not directly "European" is the traditional Viennese-style canework – the mats are woven from the skin of the Indonesian rattan palm. "For a material so crucial to our classic pieces, we have long relied on stockpiling. Although this costs somewhat more, in situations such as this, the investment proves its worth," explains Brian Boyd.
Every movement is unique
Craftsmanship is integral to the Thonet DNA and thus also a considerable current advantage. Entering Thonet's production facilities is to experience a world that instantly engages the senses. The aromas of wood and metal hang in the air. There's a hissing over here, and steam rising over there; the percussive rhythms of components as they are hammered and assembled.
For its bentwood and tubular steel classics Thonet has largely remained faithful to traditional production methods while implementing complementary elements of modern production technologies where appropriate. Only certain highly valued craftspeople in the long-term employ of the company have the expertise needed to bend into its classic shape the iconic 'coffee house' 214 chair or the bentwood 209 chair.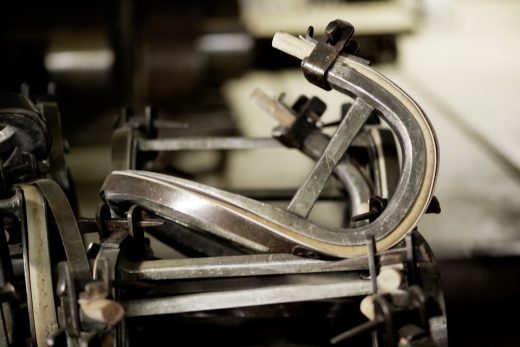 Thonet Production © Thonet
The procedure, which was developed in the 19th century by Michael Thonet, demands a great deal of care, with practised and synchronous processes as well as a knowledgeable and respectful use of resources. The most crucial element, however, in the process of bending the solid beech or ash wood – which is first put in a steam boiler for a few hours to make it flexible and then fixed in a bending mould and dried – is experience. "I have to feel the wood as I bend it," says Armin Ludwig, who has worked for Thonet in Frankenberg for 34 years and has moulded thousands of bentwood chairs into their unmistakable form.
The production of tubular-steel furniture is similarly complex and numerous icons have been created, such as the famous cantilever chairs S 32 and S 64, designed by Marcel Breuer during the Bauhaus era. For optimum results, Thonet sources a specially alloyed, spring-hardened tubular steel that has a high degree of dimensional accuracy and a specific material strength. This ensures the longevity of the flexing effect so that it does not lose its elasticity over time.
After they are cut to length, the tubes are deburred and smoothed. This is followed by the bending process, which for most of the furniture is carried out by a CNC-controlled machine. Armchairs such as the S 35, and the S 285 desks are bent by the team using semi-automatic machines. After which, the shaped steel tube is inspected at millimetre-level precision, aligned by hand, smoothed again and then polished.
For the surface finishing – chrome plating, painting or powder coating – the completed frames are brought to specially equipped paint shops for environmental reasons. The production and assembly of upholstery and the various seats and backrests made of wood, leather, synthetic mesh or canework, as well as the final inspection, take place in Thonet's own production facilities.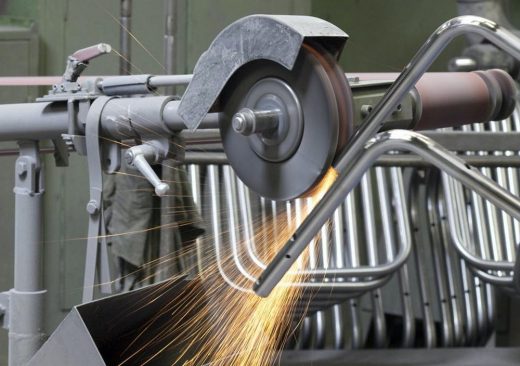 Thonet Production Tubular Steel Sanding © Thonet
Quality is and remains in demand
From its industrial mechanics to woodworking technology, and from process technicians and logistics operatives to its upholsterers – Thonet trains all its specialists in-house. This is how priceless expertise comes to be passed down over the generations. Teamwork is an essential part of the training. For the manufacture of many of the chairs and tables, skilful, synchronised movements are critical: above all for making of the bentwood classic 209, which requires four experts to bend the backrest together at the same time.
The Thonet production facility in Frankenberg is a modern industrial plant that takes care to preserve the ethos, precision and skills of the artisanal workshop. "We place a high priority on the perfect craftsmanship and unmistakeable quality of our processing and materials. We have noticed that these things have been even more in demand since the Covid-19 crisis began. Those who value sustainability and more considered purchasing practices come to the right place when they choose Thonet. Additionally, our classic pieces are absolutely timeless and thus long-lasting in every respect", says Norbert Ruf.
"If the corona crisis has the effect that more people are willing to consume more consciously and invest in the longevity and value of an original, this is one silver lining in a terrible situation that bodes well for the future", adds Brian Boyd.
Thonet showroom / agent in the UK: 3rd Floor, 104-110 Goswell Road, London, EC1V 7DH
T +44 (0) 7980 019 194
Thonet – contemporary since 1819 images / information received 110620
Location: London, UK
Thonet Designs
Thonet Aqua Monaco in Munich
Design Architects: concrete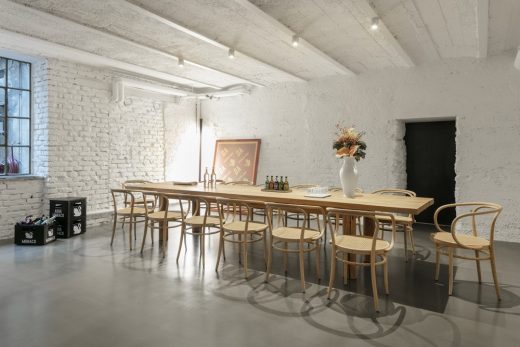 image courtesy of architects
Aqua Monaco in Munich, Thonet design classic
Work from Home? Thonet offers some Lasting Comforts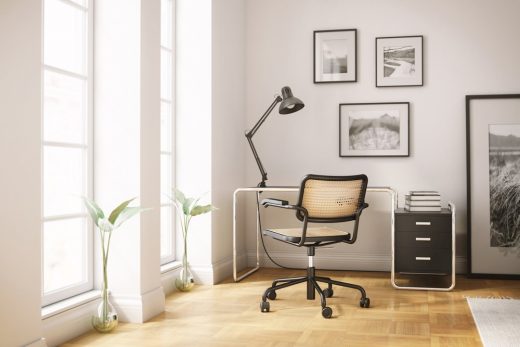 The 'Atelier' version of the famous S 64 chair, now with a pedestal and castors, and the classic Bauhaus era S 285 desk by Marcel Breuer for Thonet
WFH? Thonet offers some Lasting Comforts
Thonet: High Level Dining with Range 118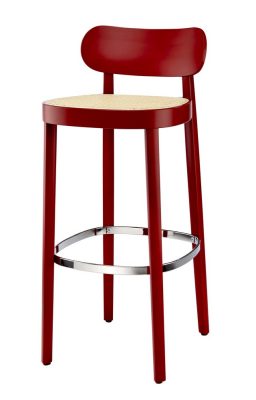 image courtesy of architects
Thonet: High Level Dining with Range 118
The Iconic 214 Chair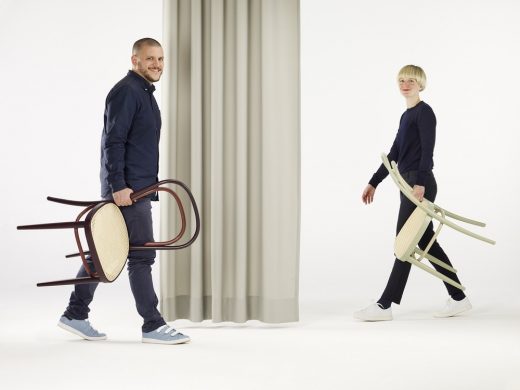 photo © Thonet Constantin Meyer, Koeln
200 years of Thonet: iconic 214 chair
Thonet tubular steel cantilever chairs, Leipzig Library, Germany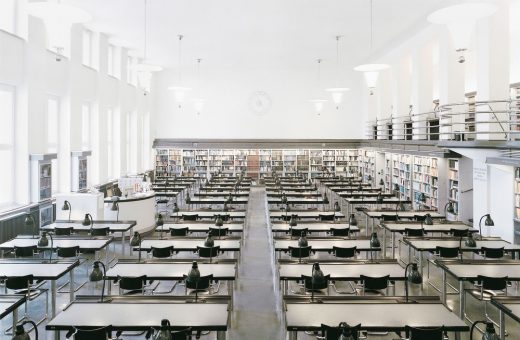 image courtesy of architects
Thonet tubular steel cantilever chairs
Countdown to Bauhaus 100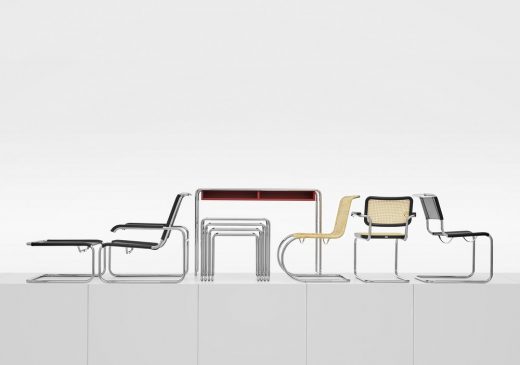 image courtesy of architects
Countdown to Bauhaus 100: Exciting plans from Thonet
Thonet chairs grace The Birnam Brasserie, Gleneagles, Scotland
Hotel Restaurant Interior in Scotland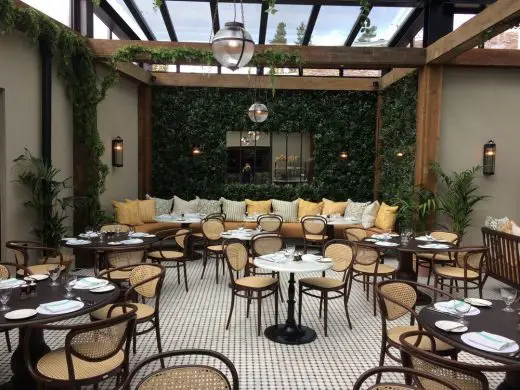 image courtesy of architects
Thonet chairs grace The Birnam Brasserie at Gleneagles
"Thonet All Seasons" Chairs S 34 N, S 35 N and S 64 N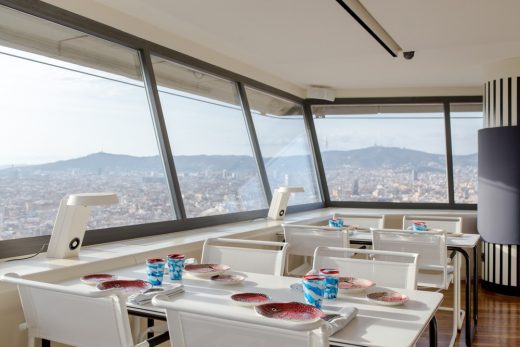 image courtesy of architects
Thonet All Seasons Chairs in Barcelona Restaurant
Thonet at Design Museum, London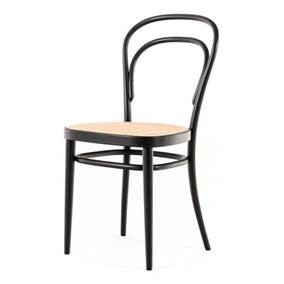 image courtesy of architects
Thonet at Design Museum, London
Thonet at Orgatec 2016 in Cologne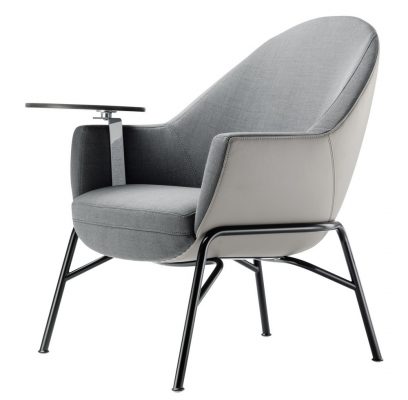 image courtesy of architects
Thonet at Orgatec: Furniture Expo Germany
Modern Architecture
Modern Architecture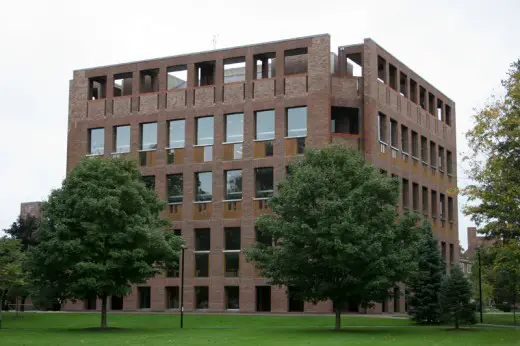 photograph by Rohmer at en.wikipedia
German Architecture
Furniture Design
Furniture Architecture Designs – chronological list
Website : Furniture Design
Comments / photos for the Thonet – contemporary since 1819 page welcome