Thonet at Design London, World of 'New Work', Classic Thonet Furniture Design, Pictures
Thonet at Design London: The World of 'New Work'
2 Sep 2021
Thonet at Design London
Thonet at Design London: The World of 'New Work' 22-25 September 2021, Magazine London, Greenwich Design District
After a challenging 18 months with few opportunities to exhibit new products, or for the industry to gather together, Design London in September represents a welcome return to something closer to 'business as usual.' Thonet is delighted to announce its presence at this exciting new show in a striking new event space.
2021 has been a busy year for Thonet in terms of product launches and updates, thus Design London represents a wonderful opportunity to display the qualities that makes the brand so iconic. Building on a unique heritage and a distinctive 'design DNA', Thonet maintains a portfolio that is not only timeless, sustainable and authentic but also relevant and well-adapted to contemporary demands.
One of the most significant developments of recent times has been the blurring of lines between living and working environments, with the need for communicative spaces that can also offer access to privacy and relaxation when needed. From company workplaces to flexible co-working facilities to working from home, professional – and educational – life has evolved dramatically… and Thonet has been in the perfect position to adapt accordingly.
On show at Design London will be several inspired new furniture solutions, plus some pertinent updates to existing ranges:
S 5000 Retreat
From the 1930s to 'New Work': a modern update from Thonet and Studio Irvine
When English designer James Irvine began work on a new interpretation of the Thonet S 5000 daybed-style sofa 15 years ago, he was designing for the present – with the future already in mind. Daybeds with tubular-steel frames have been an integral part of the Thonet range since the 1930s; from this classic design, Irvine created a versatile sofa system.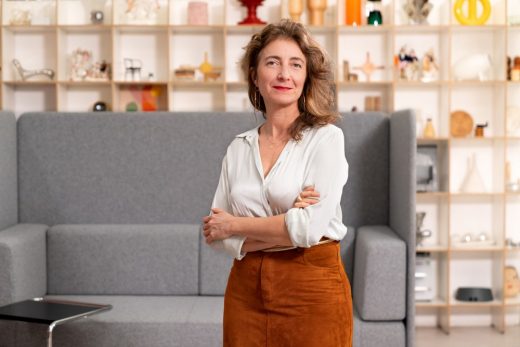 Now Studio Irvine, directed by Marialaura Rosiello-Irvine – architect and wife of the late designer – has re-imagined the modular, minimalist S 5000 range as a system of sofas and seating elements with dividing 'privacy' panels. Numerous accessories such as tables, cushions and power sockets allow for a wide variety of applications. The new S 5000 Retreat creates a private yet aesthetically pleasing working or relaxing environment.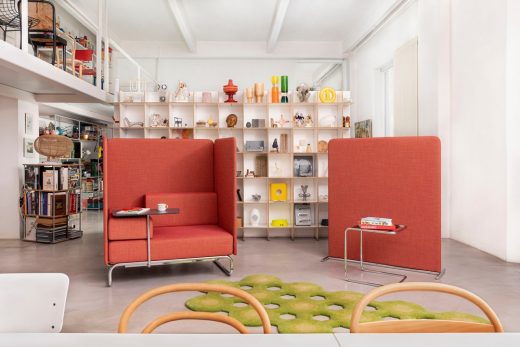 The Covid-19 pandemic turned our world upside down – and, at the same time, changed and expedited the need to adapt our working spaces. Personal space and separation have taken on a whole new meaning. This is precisely the idea behind the S 5000 Retreat: it creates room-in-room solutions and offers the opportunity to work in more private settings, even in open-plan offices. The layout of 'sofa landscapes' within each room can be freely configured and adapted to new situations as needed.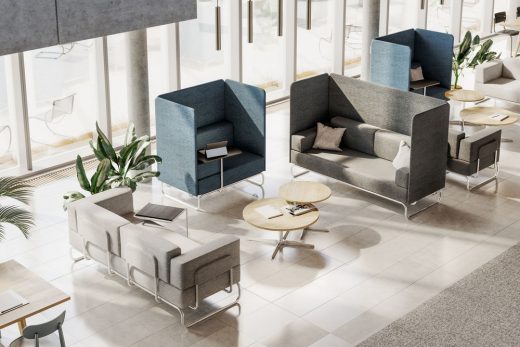 "The S 5000 Retreat has been designed to give a sense of privacy and to promote creativity. It invites you to play with its materials, colours, shapes and dimensions. Even the cushions allow for different shades to be combined," explains the designer Marialaura Rosiello-Irvine.
"Redesigning products that have already been a part of the company's history is a conscious attitude regarding the ever-changing use of furniture, especially in the context of work. Sometimes it's just not necessary to design an entirely new product. Sometimes it makes more sense to redesign existing pieces," says Creative Director and Managing Director Norbert Ruf as he describes the creative process behind the S 5000 Retreat.
"You can dance on it"
Thonet presents the new 1140 multi-functional table by Werner Aisslinger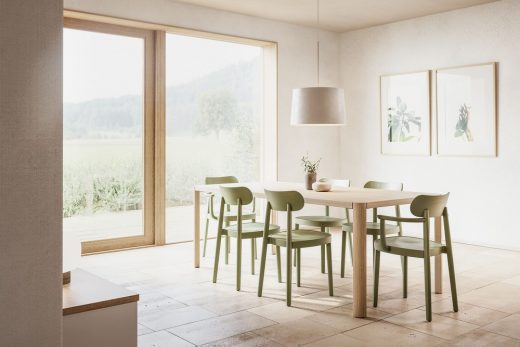 Solid, yet light; understated, yet impressive and designed by Werner Aisslinger as a "community hub", the Thonet table 1140 combines functionality, versatility and elegant simplicity. This new design s distinguished by solid oak legs, rounded to the outer edge in a quarter circle, together with smart, unobtrusive connecting elements on the corners of the tabletop. The tabletop appears almost as if it were floating. Thanks to its thoughtful design, even chairs with armrests fit neatly under this extremely sturdy, stable piece of furniture.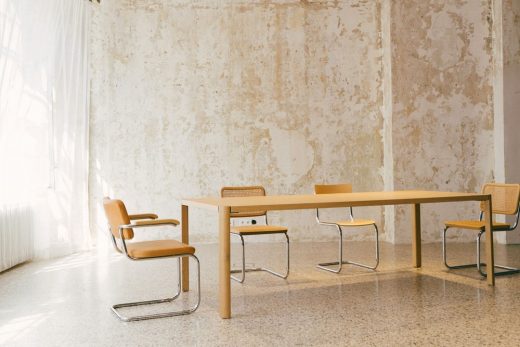 These features, together with its attractive price point, mean that the 1140 can be used almost anywhere: in the home as a dining table or desk, as well as in the contract sector – from 'New-Work' contexts to co-working spaces, from restaurants to hotels, from libraries to seminar rooms and in student housing.
"We wanted to create a table that would work in a variety of different scenarios," says designer Werner Aisslinger, "It was crucially important from the start that we created a very stable piece, making sure the tabletop and legs were securely attached to one another: you should be able to dance on this table, but it shouldn't need an elaborate support system underneath that only gets in the way,"
To connect the legs and tabletop, Aisslinger developed a discreet metal fitting that draws on the principles of bridge building: the tabletop with its milled-out corners sits flush with the table legs and is screwed to each leg using an innovative, die-cast aluminium connecting element. The tabletop itself is made from blockboard with a genuine wood veneer and does not require a stabilising frame, even in the longest version, which lends the design its particularly light appearance.
As it requires fewer raw materials and uses FSC-certified wood, the table also aims for optimum sustainability. The legs are made of solid oak; the top is in veneered oak and available in a varnished or lightened version.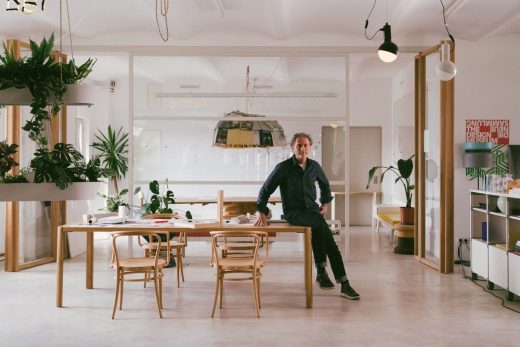 On a roll and reaching new heights: Iconic chairs, adapted
Classic chairs from the Bauhaus era by luminaries such as Mart Stam and Marcel Breuer have been part of the Thonet collection for over 100 years and their longevity is by grace not only of their refined and minimal elegance, but also their natural comfort.
In response to changing needs – from the ability to sit or stand at higher tables or counters (in the workplace, home, or hospitality settings) to the need to move a chair easily from one place to another, Thonet has added new versions to some of its key ranges.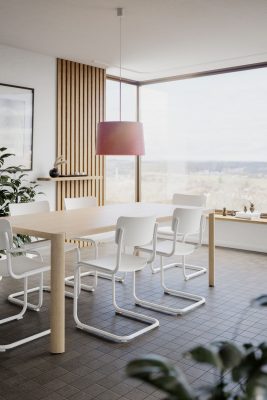 There are now bar stool versions of the S 32 and the S 43 chairs, as well as versions of both chairs on a pedestal leg with castors, offering a whole new way to maximise the applications for these pioneering designs, and to enjoy them.
Also on show:
Perennial favourites synonymous with the Thonet brand will take their place on stand, including the classic bentwood models 214, 209 and 404, plus – as an exclusive preview – the addition of an armchair version to the highly popular 118 range by Sebastian Herkner, a more recent addition to the portfolio which honours core elements of the Thonet heritage, while offering a distinctively contemporary seating collection.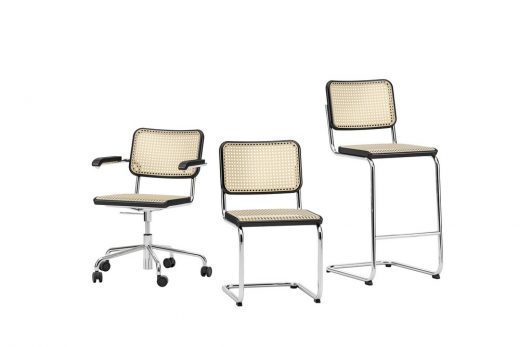 Alongside these will be a variety of elegant table designs, including the Bauhaus classic B 9 range of 'occasional' tables/stools, plus the 1808 and 1828 tables and the 1500 bar table, all versatile favourites for workplace and hospitality environments.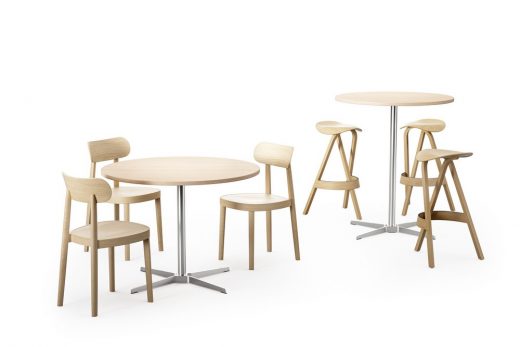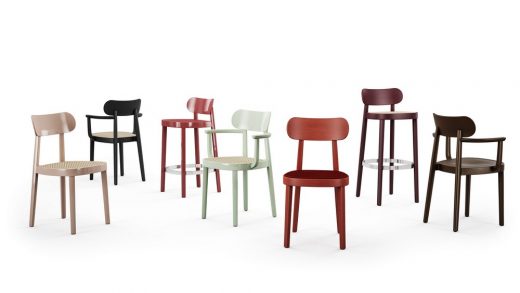 Thonet – future-oriented furniture design with a long tradition
The unique success story of Thonet began with the work of master carpenter Michael Thonet. Ever since he established his first workshop in Boppard on the River Rhine in 1819, the name Thonet has stood for high-quality, innovative and elegant furniture. The breakthrough came with the iconic chair No. 14, today known the world over as the Vienna Coffee House Chair: the pioneering technique of bending solid beechwood enabled the mass production of chairs for the first time. The second milestone in design history was the tubular steel furniture by the famous Bauhaus architects Mart Stam, Ludwig Mies van der Rohe and Marcel Breuer in the 1930s. During those pioneering years, Thonet was the world's largest producer of these tubular steel furniture designs, which are today considered timeless.
For the company today, the continuous process of innovation is the top priority, together with a focus on tradition and fine craftsmanship. Thonet's furniture designs originate both from its collaborations with renowned national and international creatives and from the in-house Thonet Design Team. Chief Executive Officer Brian Boyd and Creative Director Norbert Ruf manage the company from the corporate head office and production site in Frankenberg/Eder (Germany). Michael Thonet's fifth- and sixth-generation descendants are actively involved with the company's business as partners and sales representatives.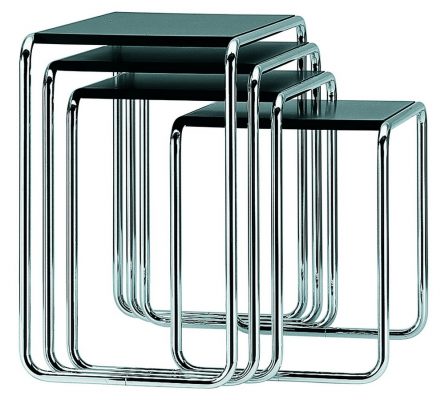 Thonet showroom / agent in the UK: 3rd Floor, 104-110 Goswell Road, London, EC1V 7DH
T +44 (0) 7980 019 194
Thonet at Design London: The World of 'New Work' images / information received 020921
Location: London, UK
Thonet Designs
Thonet Aqua Monaco in Munich
Design Architects: concrete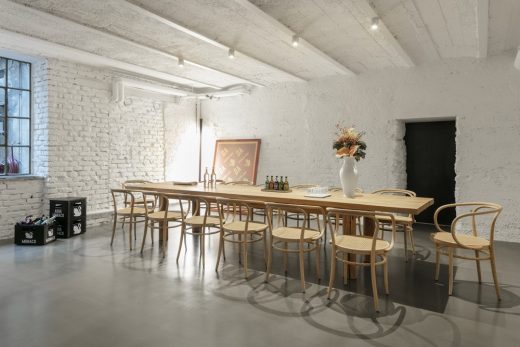 image courtesy of architects
Aqua Monaco in Munich, Thonet design classic
Work from Home? Thonet offers some Lasting Comforts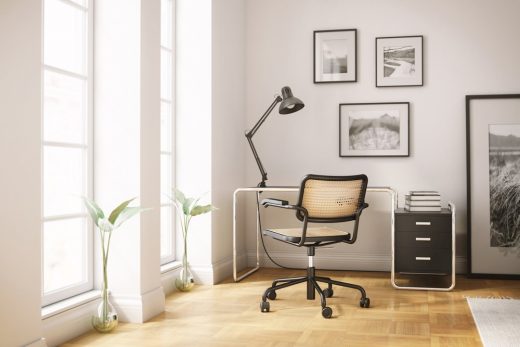 The 'Atelier' version of the famous S 64 chair, now with a pedestal and castors, and the classic Bauhaus era S 285 desk by Marcel Breuer for Thonet
WFH? Thonet offers some Lasting Comforts
Thonet: High Level Dining with Range 118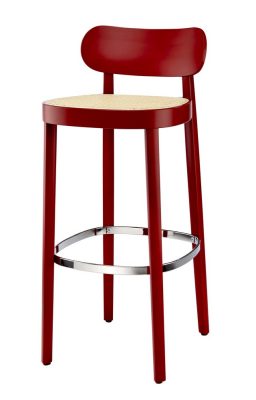 image courtesy of architects
Thonet: High Level Dining with Range 118
The Iconic 214 Chair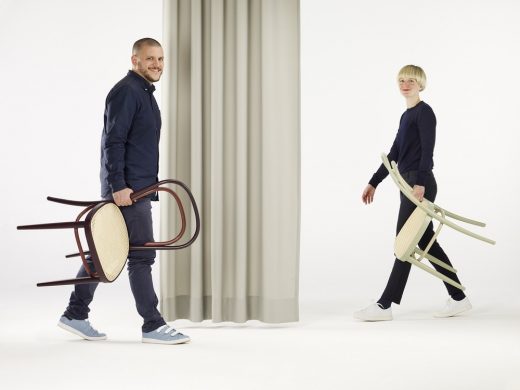 photo © Thonet Constantin Meyer, Koeln
200 years of Thonet: iconic 214 chair
Thonet tubular steel cantilever chairs, Leipzig Library, Germany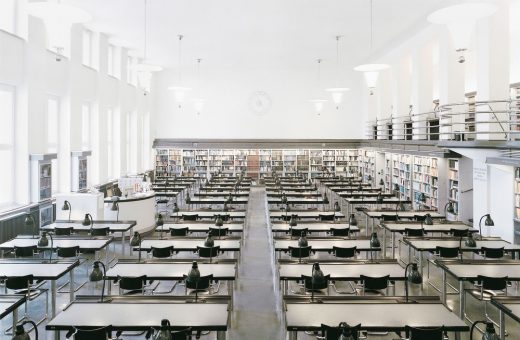 image courtesy of architects
Thonet tubular steel cantilever chairs
Countdown to Bauhaus 100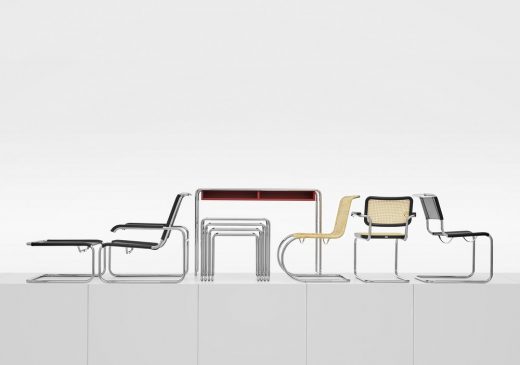 image courtesy of architects
Countdown to Bauhaus 100: Exciting plans from Thonet
Thonet chairs grace The Birnam Brasserie, Gleneagles, Scotland
Hotel Restaurant Interior in Scotland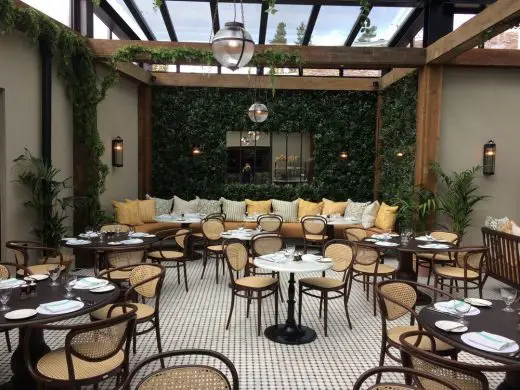 image courtesy of architects
Thonet chairs grace The Birnam Brasserie at Gleneagles
"Thonet All Seasons" Chairs S 34 N, S 35 N and S 64 N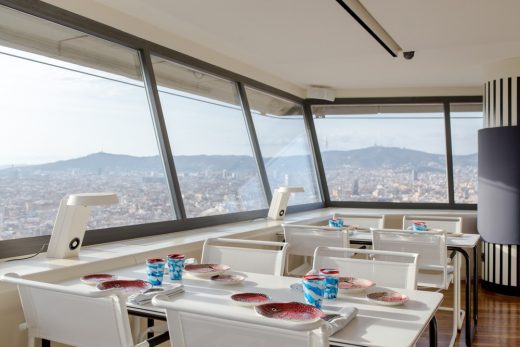 image courtesy of architects
Thonet All Seasons Chairs in Barcelona Restaurant
Thonet at Design Museum, London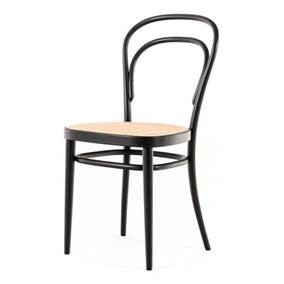 image courtesy of architects
Thonet at Design Museum, London
Thonet at Orgatec 2016 in Cologne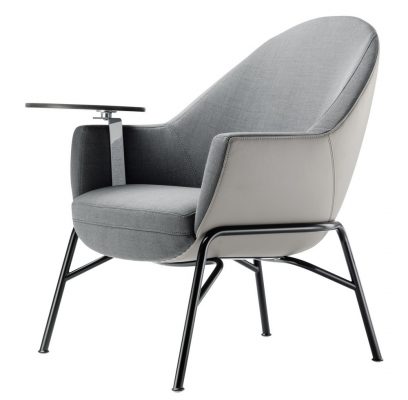 image courtesy of architects
Thonet at Orgatec: Furniture Expo Germany
Modern Architecture
Modern Architecture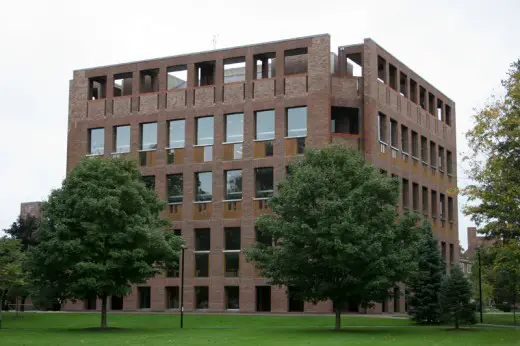 photograph by Rohmer at en.wikipedia
German Architecture
Furniture Design
Furniture Architecture Designs – chronological list
Comments / photos for the Thonet at Design London: The World of 'New Work' page welcome