Will Alsop Paintings, Architect Exhibition, UK Building, British Designer, Image
Will Alsop Painting Exhibition
Architecture Show at South Kensington and Chelsea Mental Health Centre, London, England
14 May 2018
Architect Will Alsop
Remembering British Architect Will Alsop who has Died Aged 70
Professor Will Alsop OBE
Internationally renowned architect, artist and lecturer Will Alsop approached all his projects and ventures with the unwavering belief that individual and creative design can change and improve lives.
Schooled at London's Architectural Association, Alsop belongs to a generation of modern British architects who follow no single school of theory. His guiding principle is the notion that joy must be allowed to pervade every sector of his work. Alsop recently set up 'Will Alsop at RMJM' – a London studio within the international architecture firm.
Following parallel research paths as an artist, product designer, film-maker and writer, Alsop's architecture develops through an inseparable dialogue with sculpture, painting and drawing. He was a tutor of sculpture at Central St. Martins College of Art & Design, London, for several years and has held many other academic posts including his long-term post as Visiting Professor of Architecture (from 2002).
Alsop actively promotes the artistic contribution to the built environment his paintings and sketches have been exhibited alongside his architectural projects in dedicated exhibitions at Sir John Soane's Museum, Milton Keynes Gallery, Cube Gallery, Manchester and the British Pavilion at Venice Biennale. His works have been exhibited by the Canadian Centre for Architecture and the Royal College of Art along with many other prestigious institutions.
8 Dec 2009
Will Alsop Exhibition
Will Alsop brings colour to London hospital with rare exhibition of paintings
Paintings by Will Alsop OBE, one of Britain's most prominent architects and a prolific painter, will go on show this week in a central London hospital. Organised and curated by the Nightingale Project, an organisation which brings the visual arts and music to hospitals, it is the architect's first exhibition of his paintings in the capital for over seven years.
Painting by Will Alsop: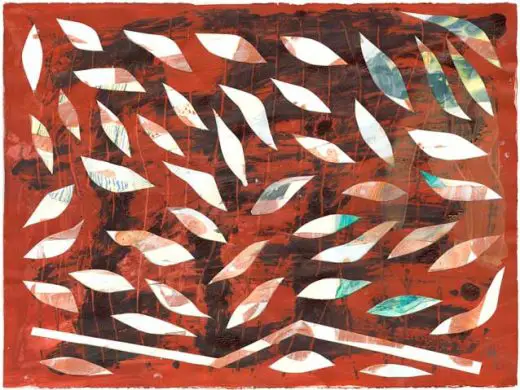 image Courtesy architecture office
The exhibition of nearly 30 previously unseen works opens on Wednesday 9th December 2009 at the South Kensington and Chelsea Mental Health Centre – where the Nightingale Project has organised over 20 exhibitions since the organisation was founded in 1998. Alsop has been involved with the charity since 2007 as patron alongside celebrated British illustrator Quentin Blake.
In the past year, Alsop has led a series of workshops with inpatients at St Charles hospital in North Kensington, where he co-created a set of large paintings which now hang on the ward there. This latest exhibition features work in acrylic on canvas and paper, including work from 'Four Seasons' a series of paintings which depict a concept for the inside of a town hall in Italy and 'Hotel Life' a special limited edition digital print.
Will Alsop, who recently set up a much publicised architecture studio in Battersea with international architecture firm RMJM, has been vocal about his desire to spend more time on his painting, which often leads to inspiration for his building designs.
Will Alsop workshop: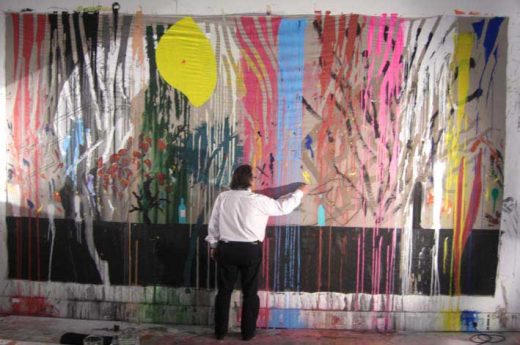 image Courtesy architecture office
Dr Nick Rhodes, director of The Nightingale Project, believes that arts projects have an important role to play in hospitals: "The importance of art in hospitals is now increasingly recognised and many NHS Trusts are taking a keen interest in the aesthetics of the healing environment. There is evidence that people recover and are discharged more quickly in an environment that has been made more attractive and less institutional. We are thrilled that Will has allowed us to use his wonderful collection of bold artworks, which will inject colour and vitality into this centre."
Painting has always played a crucial role in Alsop's creative process, with some of his buildings starting life as splash of colour on paper or canvas. He explains: "Some of my paintings result in buildings and some do not. I am interested in what happens when there is no intention. I make no distinction between art and architecture; to me they both begin in the same place.
Will Alsop portrait: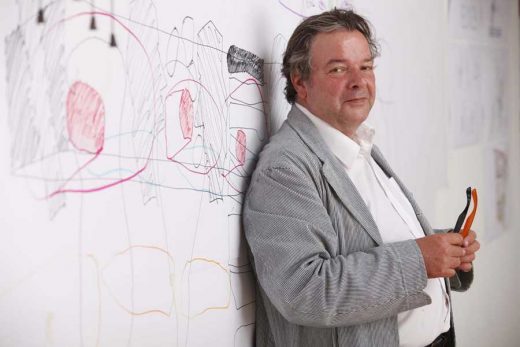 photo : Jason Alden
"The Nightingale Project brings art to hospitals which are sadly more often than not uninspiring, drab places. It's a fantastic organisation to be involved with and I'm delighted to be exhibiting again for the project in London and bringing a bit of colour to patients' lives."
Famed for his bold and colourful approach to design, Alsop has worked extensively across the UK and internationally with major projects in Toronto, Marseille, Hamburg and New York. Recent projects in the UK include the affectionately nicknamed 'Chips' building in Manchester and The Public in West Bromwich. Alsop joined forces with international practice RMJM earlier this year to create a new design studio – 'Will Alsop at RMJM'.
The exhibition, entitled 'A Sense of Enquiry', will be opened by Stephen Bayley, The Observer's Architecture and Design Correspondent on Wednesday 9th December 2009 and will run until 26 February 2010 at South Kensington and Chelsea Mental Health Centre, Nightingale Place, London SW10 9NG. The exhibition is open to the public between 8am and 6pm, Monday to Friday, admission free.
Will Alsop Painting Exhibition images / information from RMJM
Location: Nightingale Place, London SW10 9NG, UK
Will Alsop Designs – Selection
The Public, West Bromwich, England



picture from architect
The Public Art Centre
Almere Entertainment Centre – three buildings incl. Pop Zaal
Alsop & Störmer



photo © Adrian Welch
Almere Entertainment Centre
Fawood Children's Centre, Brent, northwest London



photograph © Nick Weall
Fawood Children's Centre
Will Alsop Exhibition, London – 2011
Exhibitions – chronological list
About the Nightingale Project
The Nightingale Project brightens up the environment in mental health services through art and music. We see it as vital to bring life and colour into a hospital or clinic setting to provide a conducive setting for medical and therapeutic work. To receive a patient in a hospital environment which is pleasant, cheerful, and welcoming can be seen as an essential first step in treatment, a fundamental contribution to the process of recovery.
We are a charitable project that works with CNWL NHS Foundation Trust, a large mental health trust with many sites in the London area, to make the treatment environment more human and more uplifting for both inpatients and outpatients.
We do this through putting on temporary exhibitions of high-quality art in waiting rooms, commissioning artists to produce beautiful works of art for permanent display in the wards, and through bringing musicians into hospitals to play live for the patients. The Project began at the South Kensington and Chelsea Mental Health Centre in 1998, and has since spread to numerous other sites. www.nightingaleproject.org
Comments / photos for the Will Alsop Paintings Architecture Exhibition page welcome