Dubai Tall Emblem Entry, Za'abeel Park Building Design Images, Architect, Development
Tall Emblem Structure : Dubai Skyscraper Design
Architecture Competition in UAE design by SE.Arch, architects
27 Jul 2009
Dubai Tall Emblem Design Structure
Location: Za'abeel Park, Dubai, UAE
[2009]
Design: SE.Arch
"Life wants to raise itself on high with pillars and steps … It needs height […]
Life wants to climb and in climbing overcome itself […]
We build our nest in the tree future." Nietzsche
Tall Emblem Structure Dubai
The phenomenon of evolution expands on a continuous line, linking point A to point B, endlessly … In order to evolve, we must point out to the past and improve it. Evolution is in that sense a repetition of past steps, marching towards the future.
As for Dubai, this process relies on a visual projection of an Ideal, a "Mental Plan", and acts accordingly with will, work and effort, all to overcome. The tools and targets in such progression are knowledge, strength and wealth.
We use them to achieve them, like a tree uses its roots to expand and grow.
The "Walking Roots" – Za'abeel Park
Something happens on the "Discovery Trail" …
The "Discovery Trail" key plan is copied and elevated at great heights.
This duplication unveils a structure formed by three major thematic "Roots":
– Root I the "Will Root" (Conference Space)
Dialogue & debate help projecting human will.
– Root II the "Strength Root" (Circulation Core)
Dynamic systems & technologies assure physical power & efficiency.
– Root III the "Knowledge Root" (Children's Library)
Informational documentation & research feed the young human intellect.
Together, these three aerial roots form a tree-like entity that embodies images of emergence, life and accomplishment.
Roots | I + II + III | = Will + Strength + Knowledge = Wealth





1 | 4
Dubai Tall Emblem Design Structure at Za'abeel Park
The structure features four main levels, distributed as following:
– Basement floor, the "Subsoil"
– Park level, the "Bulb"
– Intermediate height, the "Nest"
– Upper platform, the "Sc(r)ape"
The "Subsoil"
– A single basement level contains parking space and general services. Organized all along a circulation spine, it counts more than 30 car parking lots. The underground comprises also circulation cores, technical utilities and premises: electrical and mechanical rooms, delivery area, and free storage spaces for café + conference + library.
– The employees' parking lot is served by an external ramp ensuring a 6-street-side entry-exit, on the North-East of the land plot.
The "Bulb"
– The "Bulb" is an extruded embryo-shaped organic shell, a birth point.
– At South-West, the main public access connects the park to entrance.
– Located at the park level, the podium covers all the cultural public facilities. Its collective space is thus composed and animated by the following functions: forum (info/control desk + kiosk + ticket booth), conference room, children's library, administrator's office and utilities.
– A compact vertical circulation core, "Root II" wraps the main circulation elements (elevators + stairs), as well as the service battery (service lift + stairs) on the eastern side of the podium. Two elevator units lift visitors from the "Bulb"'s level to the other elevated functions.
– Inner patios, shaded areas, recreational playgrounds and outdoor extensions are provided within the envelope. Mostly exterior, the "Bulb" is sheltered by a sculpted tent that extends itself reaching the "Nest" at higher levels.
The "Roots"
– The rooted Trio punctually emerges from the hardened "Bulb", marking its impact at different points where it collides with the ground. These elongated structures connect the inferior part of the tall edifice to its apex. Their tubular shafts combine techno-structural components, constantly draining energy, air flow and loads of visitors.






2 | 4
Tall Emblem Structure | Za'abeel Park – Dubai
The "Nest"
– Like a tree, this structure is inhabited at an intermediate rise by a hybrid form, in which the café is nested with its shaded outdoor terraces, framing various panoramic views over Stars City + 303 – Sheikh Rashid Road, to the North; Za'abeel Lake + 310 – Sheikh Khalifa Ben Zayed Road, to the West; and 21-Street to the South.
The "Interlace"
– A structural secondary network of internodes mingles to form a fibrous tissue, attaching the "Roots" together, like metal shackles and fetters.
The "Sc(r)ape"
– The "Discovery Trail"'s replication at high altitude (160m. max. height) releases the ground level, assuring extreme fluidity to the lower park.
– The tall emblem's crest becomes also a park baring open spaces, sky gardens that could be used for public promenade, outdoor exhibitions and a 360° viewing platform over Dubai Cityscape.
– A void is drilled in, floating above the "Nest"'s terraces, ensuring a vertical visual relation between "Bulb", "Nest" and "Scape".
The "Flying Shrub"
– This green biomass fur covers the "Scape" and shoots up into the sky.
– By day, the "Flying Shrub" lays down a wide canopy of shade, lit vessel at night, elevating …
The "Walking Roots" Structure
– The twisted Tripod stands in the park, showing a complex dynamic behavior, creating an articulated choreography of feet, elbow and hand. This 3-root-170-metre-high-anti-seismic structure reveals similarities with a gigantic vault – traditional reference, where column line and shell surface share a same continuum. Hybrid, made of steel and concrete, covered with a translucent polycarbonate fabric layer, it conveys a milky skin. Consolidated by an intertwined anti-wind-effect nodal mesh, this tripartite configuration anchors firmly into the "Bulb".
3 | 4
Dubai Tall Emblem Design Structure in Za'abeel Park, UAE
We define the "Walking Roots" Structure as a certain state of mobility and motion, in a park conceived as a field of openness and indeterminacy.
Its implantation on the "Discovery Trail" undoubtedly enhances its visual presence and grants it an amplified scale. The proposal preserves and assimilates the adjacent landscape elements, including the pedestrian road belt and the pre-existing buildings. Loaded with vigor, its presence adds beauty to the surrounding park, smoothly merging with its site. Audaciously provocative, this well-rooted project perfectly fits into its environment and reflects its direct relationship with the "Za'abeel Park" zone.
However, this sculptural edifice maintains a formal autonomy and originality within the context. With an effect of contrasts, the structure astutely responds to the challenges of scale, context and function, coupling monumentality and refinement, mass and lightness, compactness and opening. This emblematic silhouette captures the mind and the eye.
We designed a structure where innovative technology, local human experience and contextual integration exist in a single equation; an urban object with a serene and dynamic look to Dubai City, a ground-breaking gateway, a singular portal that carries its visitors into a dreamlike journey.
A fertile plant-like organism is born, breathing something new and exciting. Its "Roots" now carry knowledge, strength and wealth, feeding the structure that blossomed. Baring life, it brings on a vision, one that evolves through time and space giving way to an imminent future, yet to be reached.
This is what Dubai stands for, and here is the iconic Emirati landmark that holds that same vision, eternalizing a vital plan of wise development, extending itself, reducing the future's gap that no one else dares to cross.
Dubai is where the future begins … and the "Walking Roots" Structure expands with every step and erects out of "Za'abeel Park" regenerating it, and becoming by itself a source of creation, carrying a shiny promise:
Dubai is where the future will be overcome.
"Walking Roots" tend their stretched legs up ahead …
Seeming on the verge to walk.
PROJECT:
Dubai Tall Emblem Design, United Arab Emirates
ARCHITECTURE:
SE.Arch | Samer Eid Architect
TEAM:
SE.Arch | Samer Eid Architect
+
Rami El Murr, Guy-Roger Conchon, Jean-Pierre Fargialla, Karen Nassar
DATE:
Jan 2009
PHOTOS:
Image courtesy of Samer Eid | SE.Arch © 2009 All rights reserved
Location: Dubai, United Arab Emirates, the Middle East
UAE Architectural Designs
Contemporary Architecture in Dubai – architectural selection below:
ThyssenKrupp Elevator Architecture Award Winners – 2009
Expo Entry Portals
Architect: Asif Khan Studio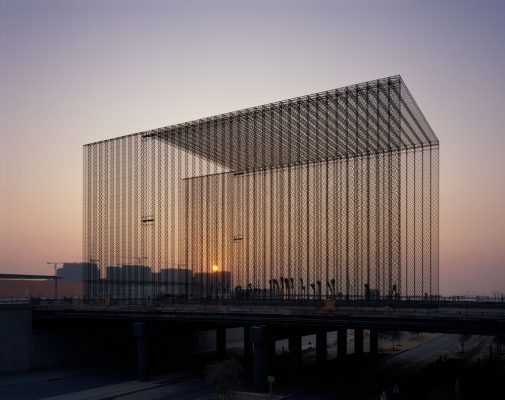 photograph : Hélène Binet
Dubai 2020 Expo Entry Portals in UAE
Asif Khan, renowned British architecture studio, has designed the Expo Entry Portals, three spectacular gateways to Expo 2020 Dubai that will grant entry to visitors from 20 October. The structures are the first works to be unveiled from the studio's design of more than six kilometres of Expo 2020 Public Realm.
Barjeel Museum for Modern Arab Art, Sharjah
Design: Architect Habibeh Madjdabadi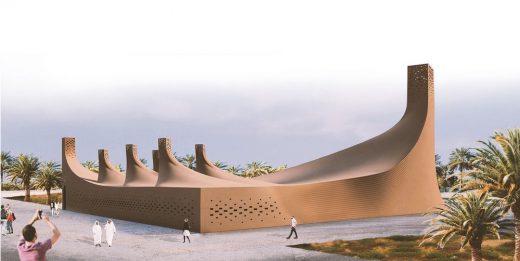 image courtesy of architects
Habibeh Madjdabadi's Museum for Modern Arab Art in the UAE
Comments / photos for the Dubai Tall Emblem Design Architecture page welcome