Al Qassimi Maternity and Pediatric Hospital Dubai, UAE Architecture Images
Al Qassimi Hospital in Sharjah
UAE Health Building in Sharjah – design by UPA Urbanism Planning Architecture
12 Oct 2016
Al Qassimi Maternity and Pediatric Hospital
Location: Sharjah, United Arab Emirates
Design: UPA Urbanism Planning Architecture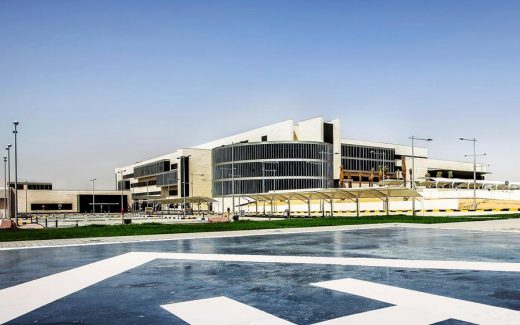 The New Maternity and Pediatric Hospital is located in Sharjah, United Arab Emirates and commissioned by the Ministry of Public Works.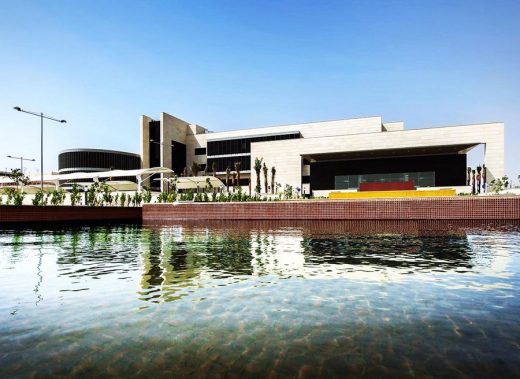 Al Qassimi Maternity and Pediatric Hospital in Dubai
The client in his decision to extend the services of Al- Qassimi Hospital included additional 200 beds for Maternity, Gynecology and Pediatrics as self – contained Hospital for all kinds of services and facilities. It was also decided to extend the Emergency department of the existing hospital to respond to the additional needs for better emergency services.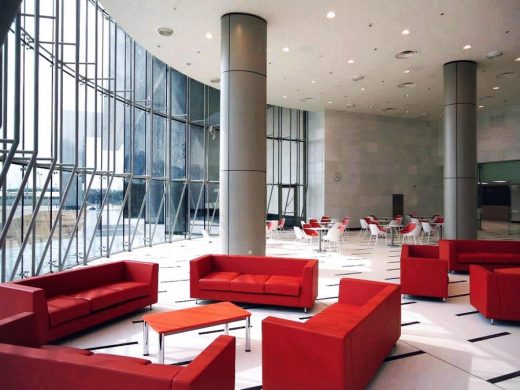 The architectural design of the building, which stretches over an area of 43,500 square meters, is developed according to a rational management of space, which translates into a clear separation between the various departments: the three main units (gynecology, obstetrics, and pediatrics), area of medical treatment, the patient area, the ward reserved for VIP (6 suites and 3 royal suites), called the Royal Ward, with private entrance.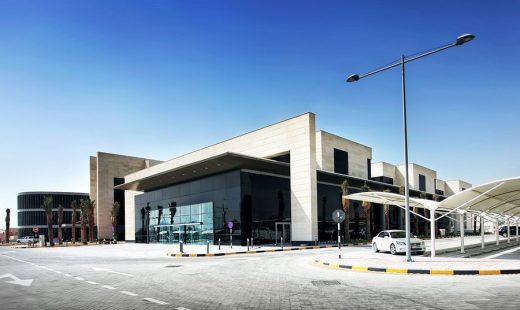 The pavilion of the new Emergency Room is located between the old and the new hospital, and serves as link to the two buildings. The complex is designed as a veritable citadel and blends harmoniously with the existing building and with the surrounding environment.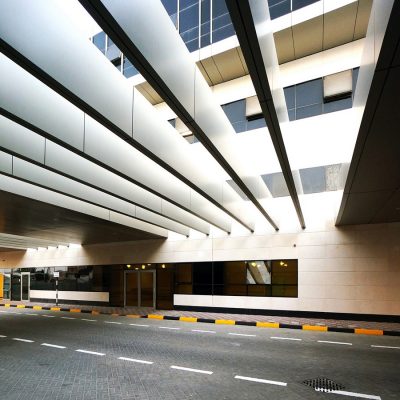 In fact, considerable importance has been given to green areas (gardens, fountains, courtyards) and the management of natural light with large windows and skylights that not only help save energy, but above all to create a pleasant atmosphere for patients, doctors and visiting relatives. Latest generation ventilated facades and windows are used in order to protect the building from the action of heat, wind, rain and contaminants, giving significant benefits in terms of thermal and acoustic insulation.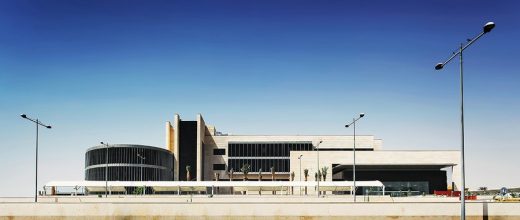 The internal environmental is focused on use of sustainable material as for example the white flooring of entrance and public spaces is active clean air & antibacterial ceramic with photocatalytic material.
The building scrupulously follows the Health Care Facilities Guidelines of American Institute of Architects using the most modern technological equipment. The hospital building combines technological excellence and respect for the environment.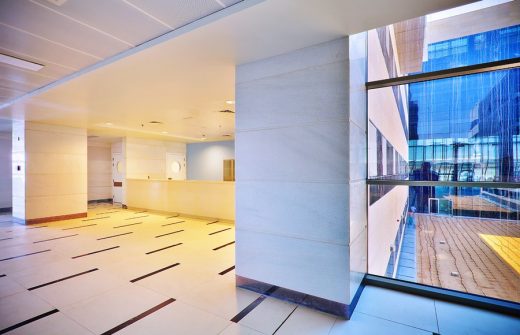 The design developed as Joint Venture between Urbanism Planning Architecture and General Planning. Progetto MCK did consultancy services for medical planning and equipment. The completion of the existing Al-Qassimi hospital was designed by the UPA, which continued the project up to Site Supervision and Final Delivery to Client.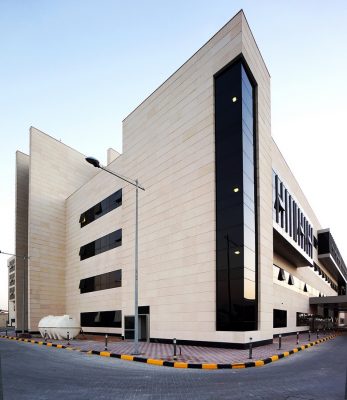 Al Qassimi Hospital – Building Information
Project Name: Al Qassimi Maternity and Pediatric Hospital
Client: Ministry of Public Works of UAE
Design Company in Charge: Urbanism Planning Architecture
Design: Urbanism Planning Architecture and General Planning
Project Architect: Arch. Paolo Lettieri, Arch. Dagmar Sestak Project Team: Arch. Aswan Ibrahim Zubaidi, Ing. Giuseppe Monti, Ing. Andrea Bambini, Arch. Paolo Lettieri, Arch. Dagmar Sestack, Arch. Haider Al Sawad, Arch. Antonina Gucciardi, Arch. Francesco Prennushi, Arch. Maria Marta Zandonà, Arch. Irene Tchimorin, Ing. Giorgio Tommaselli, Arch. Marta Candiani, Arch. Pierolivo Lunardelli, Arch. Firas Raheel. Healthcare Design and Medical Equipment: Progetto MCK
Site Supervision: Urbanism Planning Architecture Site Supervision Team: Arch. Aswan Ibrahim Zubaidi, Sahar Yosusif, Ing. Kais Al Ashimi, Arch. Mustafa Baldawi, Arch. Stefan Shalabi Client: Ministry of Public Works UAE End User: Ministry of Health UAE – Al Qassimi Hospital Contractor: Ali Moosa and Sons Holding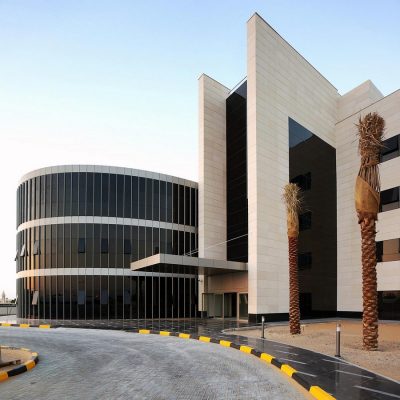 Size: 43.500 sqm built up area, 61.000 sqm plot area
Cost of the project: 90.000.000 €
Date: Start Design in September 2007, Concept Design March 2008, Schematic Design June 2008, Revision of design for budget reduction in September 2008, Construction Started in June 2010, Completed in May 2014.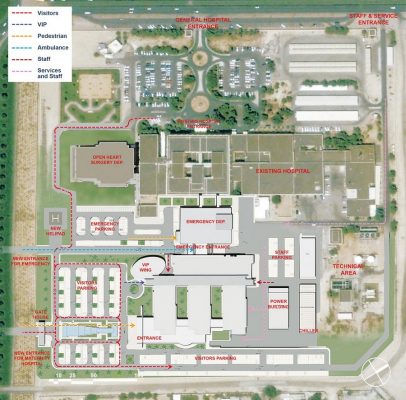 Photo Credits: Arch. Celso Career II, Arch. Paolo Lettieri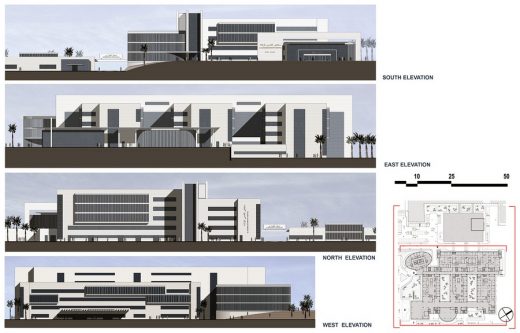 UPA Urbanism Planning Architecture
Al Qassimi Hospital images / information from UPA Urbanism Planning Architecture
Location: Sharjah, United Arab Emirates
Dubai Architecture
Dubai Architecture Designs – chronological list
Michael Schumacher Tower, Abu Dhabi
Design: LAVA (Laboratory for Visionary Architecture)
Michael Schumacher Tower
MOMEMA : Museum of Middle East Modern Art
Design: UNStudio
MOMEMA
O-14 tower, Business Bay, Dubai
Design: RUR Architecture – Reiser + Umemoto
O-14 tower Dubai
Comments / photos for Al Qassimi Hospital Building in Sharjah page welcome
Al Qassimi Hospital
Website: Dubai, UAE