The Battery Copenhagen, Danish Mosque Architecture, Design Images, Architect, Information
The Battery Copenhagen
Integration of Islamic and Danish culture? Contemporary Danish Building design by BIG architects
18 Oct 2008
The Battery Copenhagen Building
Design: BIG architects
Nye Bygning i København, Danmark
Design includes the first mosque ever built in Denmark
The Battery Copenhagen Design
English text (scroll down for Danish):
URBAN INTEGRATION
This project is about integration; It seeks to integrate all aspects of city life into a unified environment: apartments, offices, shopping, child care provision, sports facilities, cultural institutions, a hotel and a mosque; it seeks to facilitate the cultural integration of Islamic and Danish culture, by incorporating the first mosque ever built in Denmark; it seeks to bring together the three disparate quarters of Islands Brygge, Amagerbro and Ørestaden into one overlapping urban activity centre; and finally it seeks to fuse landscape and architecture, the built-up and the non-built-up environments, into a unified urban topography of man-made peaks, valleys, cliffs and caves.
This architecture will be free from the stylistic straitjacket; free to generate new associations from the architectonic spectrum. The Tower of Babel collapsed because of the confusion caused by different languages. The new peaks of The Battery will stand precisely because of the multicultural diversity of religion, activity and architecture.
COPENHAGEN ICON
If we study Copenhagen's Coat of Arms, we gain an interesting insight into the city's heraldic self perception. Three towers stand side by side with their feet in water, the spire of the highest tower is crowned by a half moon. The image of a modern multicultural metropolis with harbour fronts populated with life and towers. Imagine if this project could give new energy to this alchemical formula for city life, that we sense hidden in Copenhagen's Coat of Arms: Towers + water + diversity = a living Copenhagen!
URBAN PEAKS
We see the project as an urban landscape with peaks, valleys, cliffs and caves. From the terraced slopes the residents will be able to admire the Copenhagen skyline with its plethora of historic towers and spires. People will pass through the terraced landscape, which is moulded in such a way as to provide a network of routes between the three different urban quarters. The valley provides a sheltered oasis for the children of the integrated playschool.
COLLECTIVE CAVES
The caves constitute a large unified public space, ranging in scale from the human to the monumental. They contain a bazaar, shops, sports facilities, a spa, a playschool and lots of other publicly accessible programmes. A dome in the heart of the development will become the first mosque built on Danish soil:
a promise of a fertile future for the coexistence of Islamic and Danish society.
MAXIMUM BUILDING HEIGHT
City bylaws are decided to insure a controlled development of the city according to our common desires. But if the bylaw has been on standby for several years, the development of the city and the needs and wants of its inhabitants might have made it obsolete.
When local government passed the city bylaw for The Battery they envisioned university buildings of the same kind as that of the other side of the road at the existing KUA (Copenhagen University Amager). It was later decided to concentrate the university in "Ørestad Nord", to initiate a planning with higher and denser structures and to construct new buildings for the university, student residence and the DR-city (headquarters for the Danish Broadcasting Cooperation).
Islandsbrygge, Ørestad Nord and Amagerbro has experienced an astounding development in recent years and it is clear that it is due time to re-evaluate our collective visions for The Battery site. Our goal was with a basis in the principles for planning a new urban area to set new guidelines for a district on The Battery that in them possess the ability to realise the dreams and desires of the community as well as future inhabitants.
Copenhagen's principle guideline for maximum building heights takes its starting point from the distance to the neighbouring buildings; Max building height = (distance to neighbour x 0,8) + 3m.
This principle draws an apparition volume consisting of slanted lines drawing away from the existing building mass. With a set off in this principle as well as principles for views, daylight and accessibility we developed a new urban volume. An architectural vision that might go beyond the text of the city bylaws but that fully lives up to its intentions.
Project: Housing, Commercial, Hotel, Leisure, Culture, Kindergarten, Mosque
Type: Commission
Size: 128.000m2
Client: Njalsgade K/s – Karol Marcinkowski
Project Developer: Kurt Thorsen Group
Engineers: Niras A/s
Cultural Director: Vibeke Windeløv
Location: Copenhagen, Denmark
Status: Ongoing
BAT CREDIT LIST
Partner-in-Charge: Bjarke Ingels
Collaborators: Julien De Smedt
Project Leader: Ole Schrøder
Contributors: Bo Benzon, David Benitez, Eliza Rudkin, Jakob Lange, Joao Vieira Costa, Karsten Hammer Hansen, Kathrin Gimmel, Krestian Ingemann Hansen, Matias Labarca Clausen, Nanna Gyldholm Møller, Simon Herup, Simon Irgens-Møller, Thomas Garvin, Wataru Tanaka
Consultants NIRAS A/S, JDS
Danish Text:
BAT
I en by, som er bange for højder, i et land, som er bange for det fremmede, kan vi da forestille os et multikulturelt boligkvarter med en ekstrem urban densitet?
Batteriet er et projekt, som handler om integration.
Det urbane bjerglandskab søger således at sammenbringe og forene alle aspekter af bylivet: lejligheder, kontorer, shopping, daginstitutioner, sportsfaciliteter, kulturinstitutioner, et hotel og en moské.
Batteriet vil med opførelsen af den første moské i Danmark lette integrationen mellem islamisk og dansk kultur. Det vil forene tre kvarterer som Islands Brygge, Amagerbro og Ørestaden, så der opstår et overlappende urbant center for liv og aktivitet. Og endelig vil Batteriet forene landskab og arkitektur i en sammenhængende urban topografi af menneskeskabte bjergtinder, dale, klipper og huler.
Babelstårnet styrtede sammen på grund af forvirringen mellem forskellige sprog. Batteriets tinder vil derimod blive stående netop på grund af den multikulturelle diversitet af religion, aktivitet og arkitektur.
BAT PROJEKTBESKRIVELSE
Projekt: Batteriet – Boliger, Erhverv Og Moské
Klient: Njalsgade A/s
Størrelse: 120.000 M2
Placering: København, Dk
Status: Under Udarbejdelse
BAT MEDVIRKENDE
Hovedansvarlig partner: Bjarke Ingels
Samarbejdspartner: Julien De Smedt
Projektleder: Ole Schrøder
Medvirkende: Karsten Hammer Hansen, Kathrin Gimmel, Nanna Gyldholm Møller, Peter Larsson, Simon Herup, Michael Ferdinand Henriksen, Louise Hansen, Jerome Glay, Armen Menendian, Matias Labarca Clausen, Simon Irgens-Møller, Thomas Garvin, David Benitez, Eliza Rudkin, Jakob Lange, Joao Vieira Costa, Krestian Ingemann Hansen, Wataru Tanaka
KONSULENTER NIRAS Konsulenterne A/S
Location: Copenhagen, Denmark, northern Europe
Copenhagen Architecture
Contemporary Architecture in the Danish Capital
Copenhagen Architecture Designs – chronological list
Scala Tower : BIG
Copenhagen Building News – Selection
New office building for Nordea Bank – Shortlisted at World Architecture Festival 2018 Awards
Design: Henning Larsen Architects + Signal Architects + SLA Landscape Architects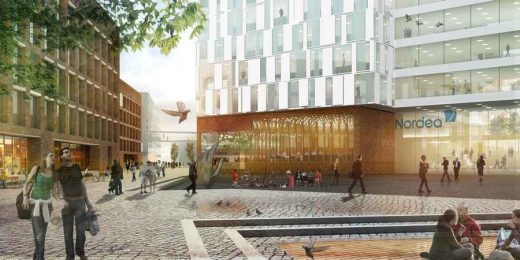 image © Henning Larsen Architects
Nordea Bank Ørestad North Office
Urban spaces at Carlsberg : Primus arkitekter / streetmovement
Taastrup Theatre Building : design by COBE
Comments / photos for the The Battery Copenhagen page welcome