eVolo Skyscraper Competition 2014 Winners, Design Contest, World Buildings
eVolo Competition 2014 Winners
Skyscraper Architecture Contest Results, New York City, USA
21 Mar 2014
2014 Tower Contest Results
eVolo 2014 Skyscraper Competition
eVolo Magazine is pleased to announce the winners of the 2014 Skyscraper Competition. The 2014 edition marks the ninth anniversary of the competition established in 2006 to recognize outstanding ideas for vertical living through the novel use of technology, materials, programs, aesthetics, and spatial organizations.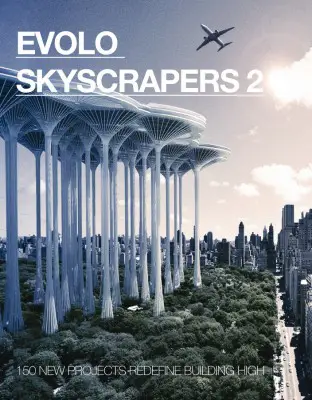 eVolo Magazine received 525 projects from 43 countries in all continents. The Jury, formed by leaders of the architecture and design fields selected 3 winners and 20 honorable mentions.
The first place was awarded to Yong Ju Lee from the United States for his project "Vernacular Versatility". The proposal reinterprets traditional Korean architecture in a contemporary mixed-use high-rise.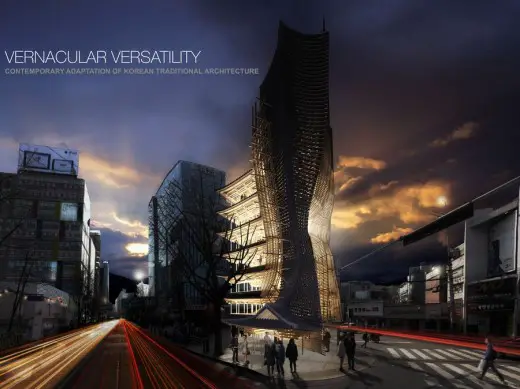 The second place was awarded to Mark Talbot and Daniel Markiewicz from the United States for his project "Car and Shell: or Marinetti's Monster" which proposes a city in the sky for Detroit, MI.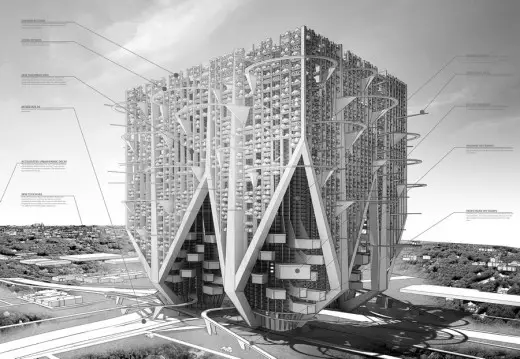 The recipients of the third place are YuHao Liu and Rui Wu from Canada for their project "Propagate Skyscraper" that investigates the structural use of carbon dioxide in skyscrapers.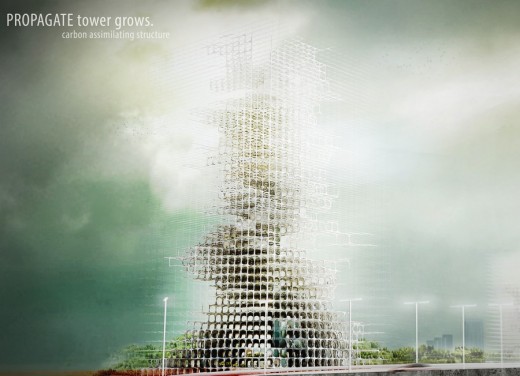 Some of the honorable mentions include a skyscraper that filters the air of polluted cities, a sky village for Los Angeles, a 3D printed tower in the desert, and a vertical transportation hub among other innovative projects.
The Jury was formed by: Wiel Arets [principal Wiel Arets Architects, dean of the Illinois Institute of Technology's College of Architecture], John Beckmann [principal Axis Mundi], Michael Hensel [principal AKNW + NAL, professor at Oslo School of Architecture], Lisa Iwamoto [principal IwamotoScott Architecture, professor at University of California Berkeley], Kas Oosterhuis [principal Oosterhuis-Lénárd, professor at Delft University of Technology], Derek Pirozzi [architectural designer Oppenheim Architecture + Design, first place 2013 eVolo Skyscraper Competition], Tom Price [principal Tom Price], Fernando Romero [principal FR-EE], Craig Scott [principal IwamotoScott Architecture, professor at California College of the Arts], Carol Willis [director Skyscraper Museum, professor at Columbia University], and Dan Wood [principal WORK Architecture Company, professor at Yale University]
To commemorate the 9th Annual Skyscraper Competition, eVolo is publishing the Limited Edition Book "eVolo Skyscrapers 2" which is the follow-up to its highly acclaimed book "eVolo Skyscrapers". The 628-page book examines 150 projects received during the last years of the competition. Only 1000 copies are available worldwide.
4. Honorable Mention. Sand Babel: Solar-Powered 3D Printed Tower. Qiu Song, Kang Pengfei, Bai Ying, Ren Nuoya, Guo Shen (China)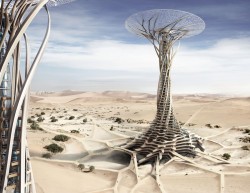 5. Honorable Mention. Climatology Tower. Yuan-Sung Hsiao, Yuko Ochiai, Jia-Wei Liu, Hung-Lin Hsieh (Japan)
6. Honorable Mention. Launchspire. Henry Smith, Adam Woodward, Paul Attkins (United Kingdom)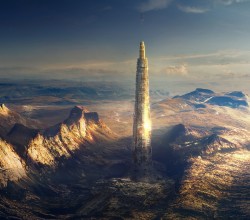 7. Honorable Mention. Hyper-Speed Vertical Train Hub. Christopher Christophi, Lucas Mazarrasa. (United Kingdom)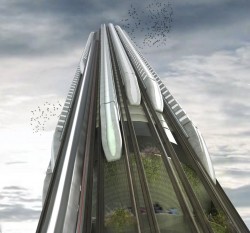 8. Honorable Mention. Rainforest Guardian Skyscraper. Jie Huang, Jin Wei, Qiaowan Tang, Yiwei Yu, Zhe Hao (China)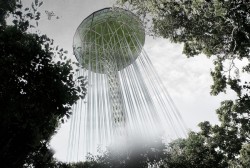 9. Honorable Mention. The New Tower Of Babel. Petko Stoevski (Germany)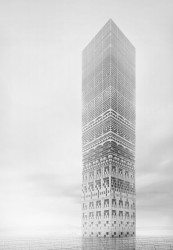 10. Honorable Mention. Bamboo Forest: Skyscrapers And Scaffoldings In Symbiosis. Thibaut Deprez (France)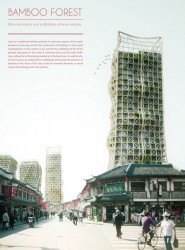 11. Honorable Mention. PieXus Tower: Maritime Transportation Hub Skyscraper For Hong Kong. Chris Thackrey, Steven Ma, Bao An Nguyen Phuoc, Christos Koukis, Matus Nedecky, Stefan Turcovsky (United States)
12. Honorable Mention. Hyper Filter Skyscraper. Umarov Alexey (Russia)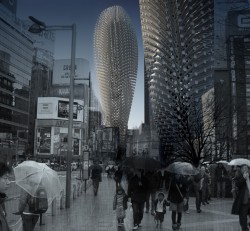 13. Honorable Mention. Project Blue. Yang Siqi, Zhan Beidi, Zhao Renbo, Zhang Tianshuo (China)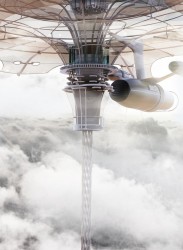 14. Honorable Mention. Liquefactor: The Sinking City. Eric Nakajima (New Zealand)
15. Honorable Mention. Urban Alloy Tower. Matt Bowles, Chad Kellog (United States)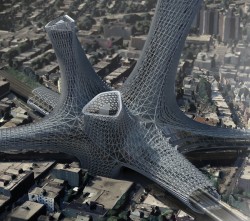 16. Honorable Mention. Skyvillage For Los Angeles. Ziwei Song (United States)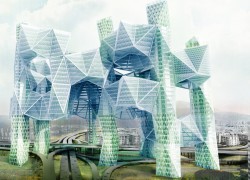 17. Honorable Mention. Here.After: The Material Processing Machine. Tsang Aron Wai Chun (Hong Kong)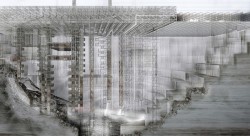 18. Honorable Mention. The Blossom Tower. Anthony Fieldman / RAFT Architects (United States)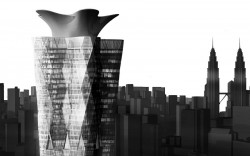 19. Honorable Mention. Seawer: The Garbage-Seascraper. Sung Jin Cho (South Korea)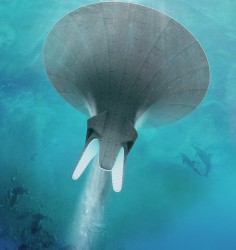 20. Honorable Mention. Infill Aquifer. Jason Orbe-Smith (United States)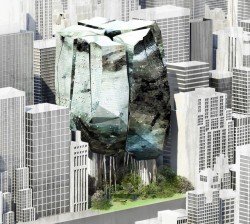 21. Honorable Mention. Re-Silience Skyscraper: Biomass Reduction. Diego Espinosa Figueroa, Javiera Valenzuela Gonzalez (Chile)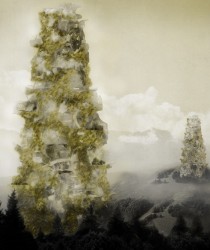 22. Honorable Mention. 21st Century Neoclassical Skyscraper. John Houser, Park MacDowell (United Sates)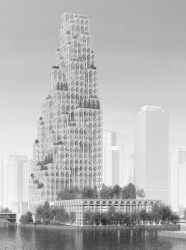 23. Honorable Mention. Made In New York: Vertical Urban Industry. Stuart Beattie (United States)
For more information please visit:
www.evolo.us/competition/winners-2014-evolo-skyscraper-competition
Location:New York, USA
eVolo Skyscraper Competition : main page



eVolo Skyscraper Competition 2012 1st place image from eVolo
eVolo Skyscraper Competition – Previous Winners
eVolo – 2012 Skyscraper Competition Winner
Evolo Skyscraper Competition 2012
eVolo – 2011 Skyscraper Competition Winner
1st place design


eVolo Skyscraper Competition 2011 winners image from eVolo
Evolo Skyscraper Competition 2011
eVolo – 2010 Skyscraper Competition Winner
1st place design


image from architects
eVolo Skyscraper Competition 2010
eVolo – 2009 Skyscraper Competition Winner
1st place design



image from architects
eVolo Skyscraper Competition 2009
Building Competitions : Archive
Evolo Skyscraper Competition Design
Comments / photos for the eVolo Skyscraper Competition 2014 Winners page welcome
eVolo Skyscraper Competition 2014 Winners
Website: www.evolo.us