Bespoke Access Awards 2018, RIBA Accessible Hotel Competition, Architect, News
Bespoke Access Awards
RIBA Contest – International: Accessible Hotel Room Design
6 Jan 2018
Bespoke Access Awards, RIBA Competition
Bespoke Access Awards 2017/18
Deadline extended for international design competition for fully accessible hotel rooms, with a prize fund of £30,000.
Paralympic Gold Medalist Baroness Tanni Grey-Thompson and RIBA Stirling Prize-winning architect Alan Stanton OBE amongst competition judges.
The deadline for the Bespoke Access Awards competition has been extended to Tuesday 27 February 2018.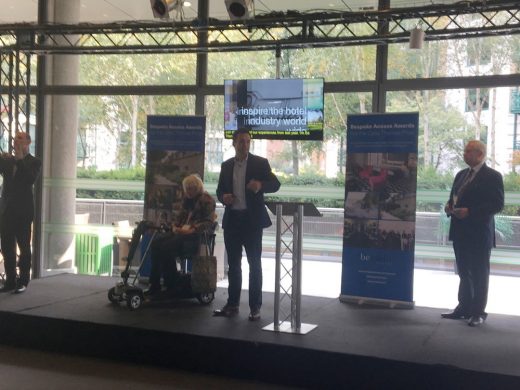 photo courtesy of RIBA
The Awards, run by the Royal Institute of British Architects (RIBA), in association with Bespoke Hotels, are an international competition to design fully accessible hotel rooms, to continue improving access to properties worldwide for disabled people, including those with learning difficulties, as well as all other guests. The Awards aim to challenge the perception of hotel facilities set aside for disabled people, which can often be viewed as joyless, poorly-designed and over-medicalised.
The Bespoke Access Awards were established in 2016 and were the first of their kind. In their opening year, teams of designers from countries as far afield as Hong Kong, Russia and Canada submit entries across a range of categories. The overall winners, awarded the Celia Thomas Prize worth £20,000, were Motionspot & Ryder Architecture, who devised 'AllGo', a unique, universalised approach to hotel room design system to ensure that all hotel rooms are functional, flexible and accessible.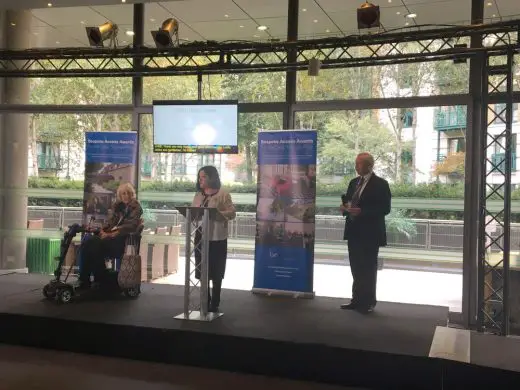 photo courtesy of RIBA
Bespoke Access Awards Scope
The scope of the competition has been broadened for its second year to cover five strands of inclusive design: Architecture, Product Design, Service Applications (digital), Service Applications (training), and Inclusive Employment.
Prizes will be awarded for the most imaginative, innovative and potentially realisable ideas in any or all of these strands, with the overall winner of the Celia Thomas Prize receiving £20,000.
The competition aims to reward entrants who address guests' experience from the front door to any room or service within a hotel; it includes the process undertaken before a visitor arrives, or during check out.
The Paralympic Gold Medalist and Peer Baroness Grey-Thompson, whose interest in design was fostered by her father, an architect, will judge the competition together with the distinguished architect Alan Stanton, winner of the 2012 RIBA Stirling Prize for Architecture. Alongside them will be Robin Sheppard, Chairman of Bespoke Hotels and Hotel Sector Champion for Disabled People; Baroness Celia Thomas, Patron of the Access Awards Graeme K Whipper MBE, Disability Specialist for Channel 4; Alastair Hignall CBE, Trustee of the Leonard Cheshire Foundation; Sarah Weir OBE, Chief Executive of Design Council; and Paul Gregory, MCIBSE, MSLL, Global Specification Director for Dyson.
Winners will be announced at a ceremony on 18 April 2018.
Entries are open internationally to everyone. The organisers particularly welcome entries from designers and architects with disabilities themselves. Collaboration between people with disabilities and design professionals is also encouraged, as is collaboration amongst design disciplines.
Robin Sheppard, Chairman of Bespoke Hotels and Hotel Sector Champion for Disabled People, said:
"Once again, we have been thrilled by both the quality of interest and diversity of their origin, and are pleased to be able to extend this opportunity further. The competition continues to provide inspiration and spark the creativity of budding designers and architects across the world. On behalf of the panel, I am looking ahead with keen interest to selecting the latest round of winning ideas."
Bespoke Access Awards Competition
Bespoke Access Awards Background
Bespoke Hotels, formed in 2000, represents over 170 properties worldwide. It is the UK's largest independent hotel group. Ranging from specialist golfing hotels to award-winning spa resorts and chic city centre properties, the group prides itself on its individualised management style.
Design Council are recognized as a leading authority on the use of strategic design to drive societal change, advising the UK government and addressing all aspects of design, from product to user experience
Leonard Cheshire Foundation is a charity supporting disabled people across the UK and around the world, providing care, leading campaigns, as well as developing skills through employment and volunteering opportunities.
Awards administrators: The Royal Institute of British Architects (RIBA) is a global professional membership body that serves its members and society in order to deliver better buildings and places, stronger communities and a sustainable environment. www.architecture.com
Competition enquiries: [email protected] | +44 (0)113 203 1490
#AccessAwards
Location: London
Architecture Competitions – Selection
San Pardo Architecture Competition, Matera, Italy



image from design contest organisers
Nemesis Group Architecture Competition
Article 25 Research Architecture Competition, Haiti



photo by Wayne Rowe, © outreach-international.org
Article 25 Research Architecture Competition
Eisteddfod Architecture Competition, Wales
Eisteddfod Architecture Pavilion Competition
alterMALL Architecture Competition, International



image from design contest organisers
alterMALL Competition : opengap Design Contest news
Leipzig Architecture Contest, Germany



photo © LTS-Kühne
Leipzig Architecture Competition : Monument to Freedom and Unity
Comments / photos for the Bespoke Access Awards Competition – RIBA Contest page welcome
Bespoke Access Awards, RIBA Competition – page