International Architectural Poetry Competition Series, 2nd Cycle 2020 Architecture Contest Call For Entries
Architectural Poetry Competition Series, 2nd Cycle
18 June 2020
Call For Entries: Architectural Poetry Competition Series, 2nd Cycle Design Contest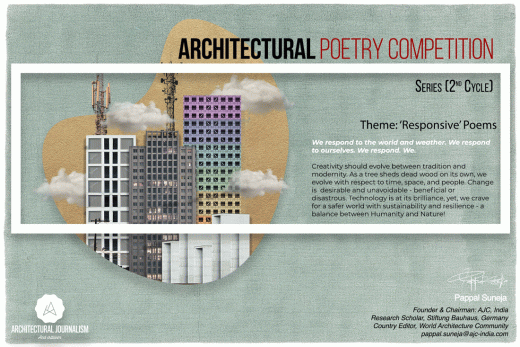 Architectural Poetry Competition Series, 2nd Cycle is the seventh initiative of the Architectural Journalism & Criticism Organization, India founded by architect Pappal Suneja to spread awareness about this subject and sow the seeds of inspiration to explore and write about Architecture and allied fields from a lyrical perspective. The theme for the Series 1.0 in this cycle is Responsive Poems.
We respond to the world and weather. We respond to ourselves. We respond. We.
Brief: Creativity should evolve between tradition and modernity. As a tree sheds dead wood on its own, we evolve with respect to time, space, and people. Change is desirable and unavoidable – beneficial or disastrous.Technology is at its brilliance, yet, we crave for a safer world with sustainability and resilience – a balance between Humanity and Nature. A Resurgence of the traditions, to which we are the first signatory for comprehending our diversity and portraying ideas in a unified approach, is what shall aid in creating today's much needed Responsive Environments.
We welcome poems in three categories –
School-going, Collegians, and Open (25-100 years of age).
Submission Guidelines:
– Submissions are open to all poets writing in English. International submissions are welcome.
– Maximum 3 poems per poet are allowed.
– The poem may be accompanied by an Illustration/Photograph (optional).
– Each poem should not exceed 40 lines.
– The entry should be sent to [email protected] with the subject line Architectural Poetry, 2nd Cycle – Category (school-going, collegians, and Open) in a word document with 12 pt., Arial font, single-line spacing
– All entrants must mention their social media handles with the submission (Instagram, Twitter, Facebook)
– The submission should be an original work of the entrant and will go through a plagiarism test.
– The winners will be announced on 21st August 2020 on all our social media pages.
– In addition to three winners (citation) in each category, a Special Mention Award shall be given.
Jury Panel for the Competition comprises of
Rochelle Potkar,  Fiction Writer & Poet, Mumbai
Prof. J. Subramanian, Architect & Executive Director, STUP
Pappal Suneja, Research Scholar, Stiftung Bauhaus Dessau, Germany
Sangeet Sharma, Architect, Author & Poet, Chandigarh
Sanan Verma, Architect, Planner & Poet, SPA Delhi
Parichita Mohapatra, Architect, Urban Designer & Poet, Bengaluru
Deadlines: 
Submission window for Series 1.0 opens on 15th June 2020 – 31st July 2020 (11:59 pm IST/8:29 pm CEST)
– Early Bird Registration till 30th June 2020, (500 INR for participants from India and 11 Euros for International Participants)
International Participants can drop in a mail at [email protected] to get Paypal Details for registration.
– Standard Registration till 27th July 2020, (800 INR for participants from India and 21 Euros for International Participants)
Curatorial Assistant: 
Vidya Ramesh, Editorial Associate, AJC, India
For Queries, Contact: [email protected]
Winning Prizes for the Competition are
Citation (A set of Autographed Books):
– 'Paper Asylum': A book of Haibun (prose poetry) by Rochelle Potkar
– Myriad Disciplines Of Architectural Writing' by Pappal Suneja
– 'The Touch of Moon': A collection of Poems by Sangeet Sharma
Special Mention (A set of Autographed Books):
– 'Four Degrees of Separation': A collection of Poems by Rochelle Potkar
– 'Castles in the Air': Misadventures of a Profession by Sangeet Sharma
– 'Poetry & Architecture' curated by Pappal Suneja.
Two winning entries, that is a citation and a special mention award shall be announced for all three categories – school-going, collegians, and Open. Besides this, all the entrants shall be sent E-Certificate attested by all the jurors and the winning entries shall be featured on several web architectural portals and will receive a goodie bag. Also, the best entries shall be complied in the form of a book with ISBN No. after the successful run of all the Series under this cycle.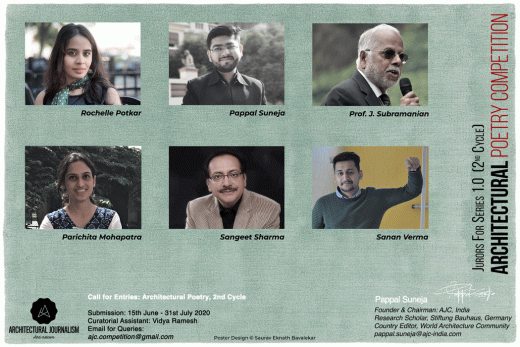 Note: AJC, India is a non-profitable initiative and supports underprivileged children of the society, We are also in the process to expand our reach, thus interested organisations may contact us in this regard. For further updates, Visit the Instagram and Facebook handle of the Organisation.
Architectural Poetry Competition Series 2020 information / image received 170620
Architecture Competitions
Current Architectural Competitions Selection
Tomb of Waste Architecture Competition

Tomb of Waste Architecture Competition
'RETHINK: 2025' Design Competition
RETHINK: 2025 Design Competition
Call For Submissions: Sustainable Revolution
Call For Submissions: Sustainable Revolution
WAF / PechaKucha 'Isolation Transformed' Design Competition
Isolation Transformed Design Competition
Kaizhou New City International Young Designer Competition, Sichuan, China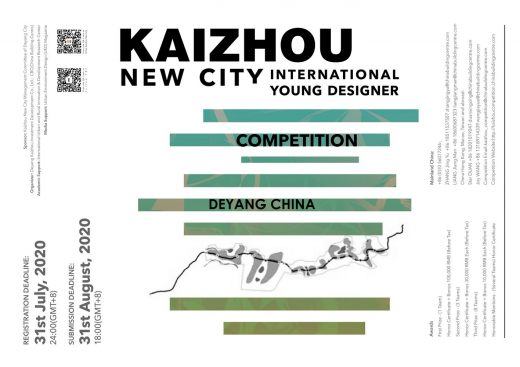 Kaizhou New City International Young Designer Competition
Comments / photos for the Architectural Poetry Competition Series 2020 page welcome