Pérez Art Museum Miami, PAMM Building, Herzog & de Meuron Architecture, Architects
Joel Solkoff's Column – Volume II, No. 4
Architectural Column by Joel Solkoff, PA, USA
Writing on architects plus their role in the imminent global Baby Boom housing crisis – Joel Solkoff's Column
______________________________________________________________________
Joel's Column Volume II, Number 4
What Herzog & de Meuron's completion of the Pérez Art Museum Miami (PAMM) means to the revitalization of Downtown Miami
Below is the first building constructed under the current revitalization.
Bayside view: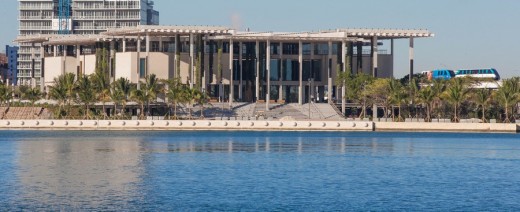 photo Daniel Azoulay photography
The government of Miami approved a revitalization plan—a plan that includes the taxpayers of Miami paying costs to the Herzog & de Meuron's firm. Miami taxpayers paid $100 million toward the cost of the museum.
Worthy of asking but not of discussion here: Are taxpayers getting what they paid for?
++++
Sustainability at Herzog & de Meuron's museum in Downtown Miami – YouTube video
Published on 1 May 2014
The first in a four-part series on sustainability in South Florida – Joel's Column.
Critiquing Herzog & de Meuron's first completed building in the 20 acre new Museum Park along scenic Biscayne Bay.
++++
Pérez Art Museum Miami, east facade: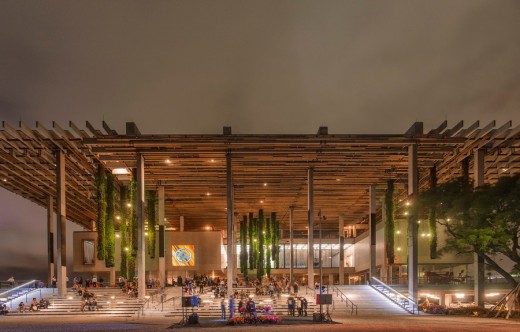 www.PhotosbyArmando.com
Pérez Art Museum Miami, south facade: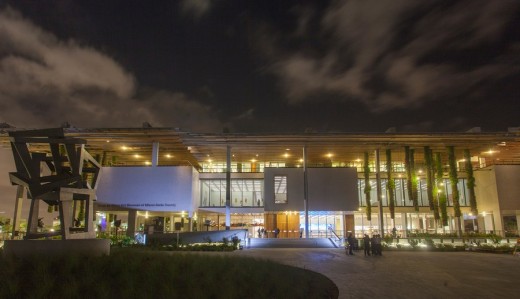 www.PhotosbyArmando.com
Perez Art Museum Miami, Auditorium and central stair: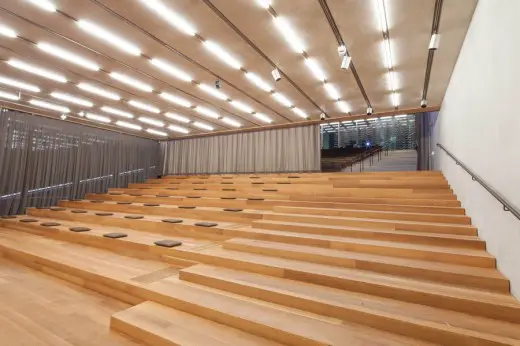 photo Daniel Azoulay photography
PAMM, south facade: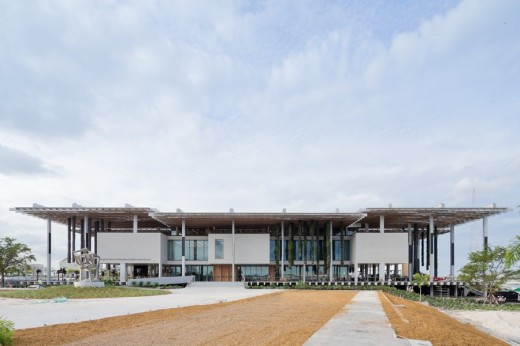 photo courtesy Iwan Baan
PAMM, south facade: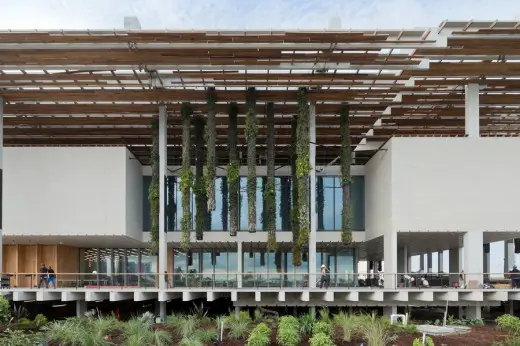 photo courtesy Iwan Baan
PAMM, window seating: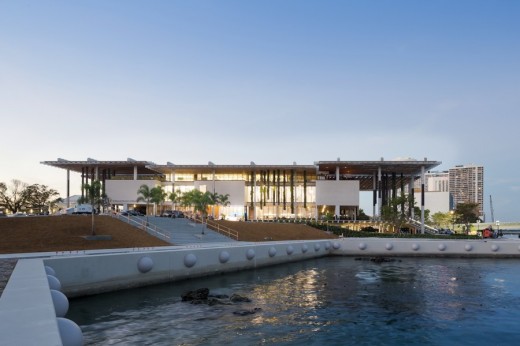 photo courtesy Iwan Baan
To understand what is going on that is promoting a feverish architectural boom in south Florida, it is useful to go back to 1959. In 1959 Castro took over Cuban rule. That event resulted in a transformation of Downtown Miami.
Before 1959 Miami was a sleepy southern town. Today, Miami is the largest city in the southeastern United States (if you do not include the District of Columbia).
Below is a photograph of the Miami/Dade Courthouse which dominated the city skyline in the 1950s.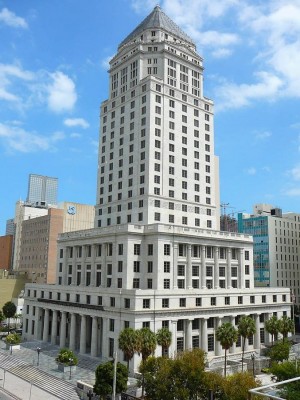 Miami skyline photo courtesy Wikipedia Commons
Readers knowing the name of the architect are encouraged to write in: [email protected]


Miami skyline photo courtesy Wikipedia Commons
This is the skyline today and it is rapidly changing. Notice the absence of the PAMM at Museum Park
++++
What changed the skyline was money. Previously, Miami had prospered on the legal business taking place at the Courthouse where all public records are on file and where Don Johnson and his "Miami Vice" colleagues hung out.
To change the skyline what was first required was an economic base with funds greater than the legal community could raise.
Miami became the banker for Latin America.
According to the authoritative Almanac of American Politics by Michael Barone and Chuck McCutcheon:
"Miami has long been the economic and commercial capital of Latin America, both English and Spanish are commonly understood and it has been the place where many Latinos could be sure their money and their persons were safe from government takeover."
++++
Following Castro's takeover, the refugees who went to Miami transformed the city. Today, Miami's Mayor is Tomás Pedro Regalado.
Regaldo's biography begins: "Born in Havana, Cuba, May 24, 1947, Tomás Pedro Regalado was the first-born child of Tomás Regalado Molina and Carmen Rita Váldez de Regalado. His father was an attorney and a journalist who was the last president of the Cuban Association of Journalist and Reporters and a political prisoner for over 22 years… In April 1962, when Tomás was 14, he and his younger brother Marcos were placed on a flight to Miami as participants of Operation Peter Pan."
++++
According to the United Nations Miami is the most diverse city in the world. Diversity in this instance meaning number of residents being born someplace else. The Miami area has heavy population concentrations from individuals born in Haiti, Nicaragua, El Salvadore and so on.
Much of Miami business, including banking business, takes place speaking Spanish.
++++
The Dade County Courthouse was under construction from 1923¬25. Especially after banking, the legal community also benefitted. So, the Zaha Hadid plan for revitalizing Downtown Miami includes a reach to this courthouse, walking distance to the new Pérez Art Museum.
++++
One Thousand Museum, Miami:



image courtesy of Zaha Hadid Associates, London
This is Zaha Hadid's conception of how her One Thousand Museum high rise will look within the community. You will notice a park directly in front of One Thousand Museum. That is Museum Park.
The PAMM is located next to a fast metro rail stop where reaching the Financial District is easy.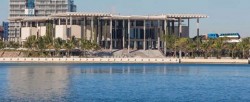 photo courtesy of Pérez Art Museum Miami, bay view January 2014 Designed by Herzog & de Meuron ; photo by Daniel Azoulay Photography
This is PAMM looking north from the south (Miami Beach)
++++
Below is a photograph Alexa Ferra. Communications Consultant, PAMM sent. The photo shows the view from her desk. In the distance you can see Miami Beach (and even south Beach if you look to the far to the right of Miami Beach downtown).
–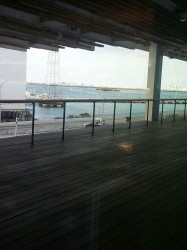 photo by Alexa Ferra reproduced by permission
The Great Miami/Miami Beach divide
"Make it feel like Miami Beach" is the slogan of the Miami Revitalization effort for Downtown Miami.
This is one example of what Miami Beach feels like from architect Morris Lapidus who is ex-posthumously experiencing a revival: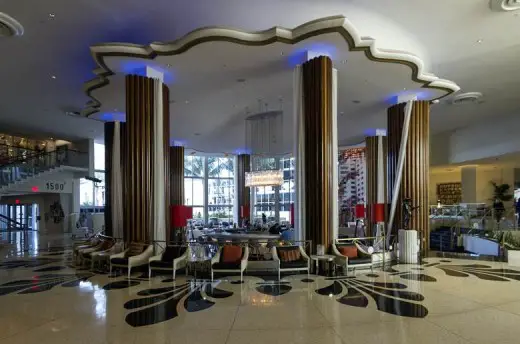 photo of the Eden Rock lobby courtesy of Wikipedia
The economy of Miami Beach depends on tourism. For decades now, the community has established a network of public relations experts whose central theme is: "You and your family would enjoy staying with us in Miami Beach."
The luxury hotel boom of the 1950s produced an astonishing array of hotels which have formed a lasting image of Miami Beach. If the logic holds: A Latin American dictator feels comfortable knowing his money is in Miami—thinking Miami and Miami Beach are just the same.
PAMM, vertical gardens: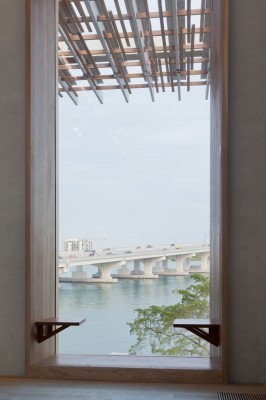 photo courtesy Iwan Baan
Over the years, Miami bankers fret with their confidants about how tawdry Miami seems compared to Miami Beach. The Miami business community has invested heavily in revitalizing Downtown Miami. At this point, it is unclear precisely what architectural-city plan is being used. Changes are happening in South Florida architecture quickly. Very quickly.
–Joel Solkoff
Copyright © 2014 by Joel Solkoff. All rights reserved.
AMERICANA at Perez Art Museum Miami (PAMM):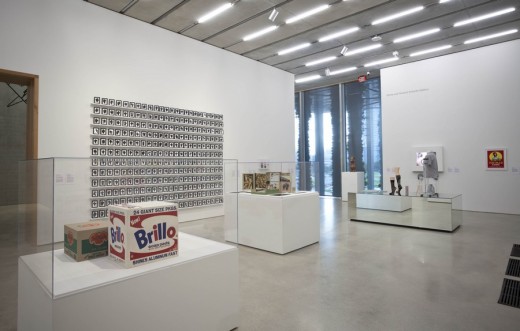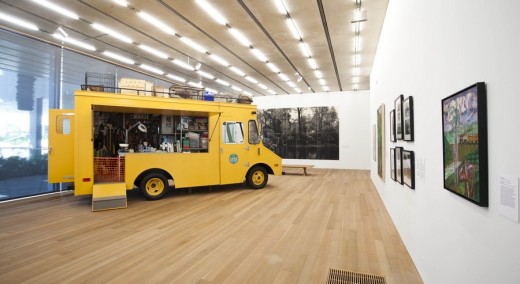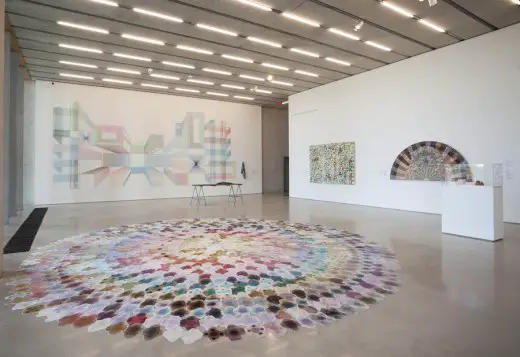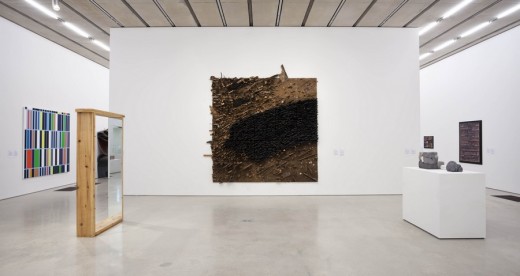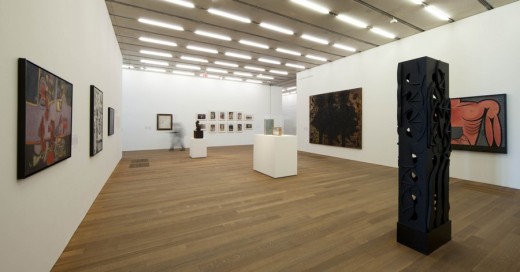 photo Oriol Tarridas
*******************
Joel Solkoff – regular guest editor at e-architect
Joel Solkoff's Column Vol.II, Number 3
Joel Solkoff's Column Vol.II, Number 2
Joel Solkoff's Column Vol.II, Number 1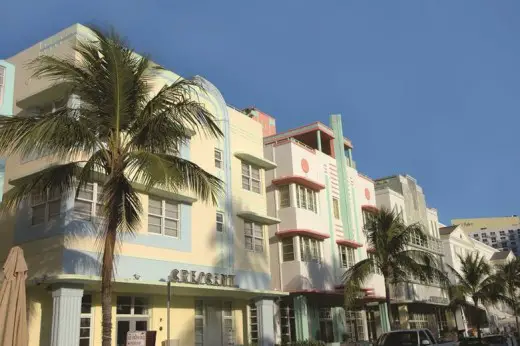 photo : The Crescent a 1938 Art Deco hotel, Henry Hohauser architect, photo courtesy of the City of Miami Beach, Florida
J.P. Morgan Library and Museum Building, New York City, USA



photo by Michel Denancé, provided by permission of the Morgan Library and Museum
J.P. Morgan Library and Museum Building : architecture article by Joel Solkoff. 13 Jul 2013
Comments / photos for the Pérez Art Museum Miami – Joel Solkoff's Column Vol.II, Number 4 page welcome