Shaoxing Hotel Multi-Purpose Hall, Chinese Accommodation Development Images
Multi-Purpose Hall of Shaoxing Hotel
Building Development in Yuecheng District by The Architectural Design and Research Institute of Zhejiang University Co., Ltd.
9 Mar 2019
Shaoxing Hotel Multi-Purpose Hall
Architects: The Architectural Design and Research Institute of Zhejiang University Co., Ltd.
Location: 8 Huanshan Road, Yuecheng District, Shaoxing, China
Urban Forest: Architectural Design of Multi-Purpose Hall of Shaoxing Hotel
Shaoxing Hotel originating from "Lingxiao Pavilion" is made up of very traditional architectural complexes with white walls, black tiles, winding corridors, bridges over flowing water, and well-spaced flowers and trees, full of the features of Jiangnan dwelling.
Photos below by Zhao Qiang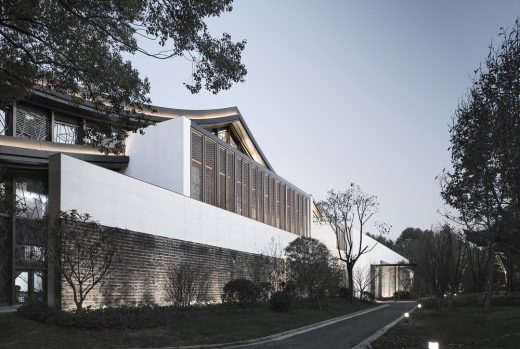 The multi-purpose hall of Shaoxing Hotel, located to the west of original Shaoxing Hotel, to the east of Fushan West Road and City Park, to the north of Huanshan Road, has a gross floor area of 7978.34 m2 and is 16.595 m tall with one-story main part and three-story local part.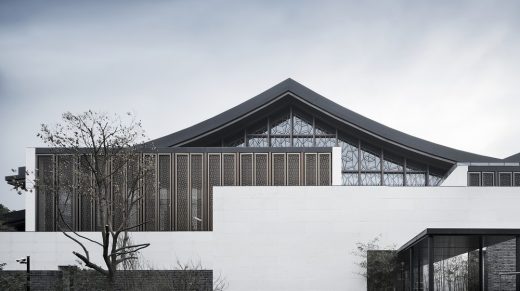 A contemporary and future combined style hall containing thousands of people in such a cramped place is a challenge. From the beginning of design, we try to avoid drastic rebuilding and seek an artful fusion of landscape so as to build an appropriate urban forest looking on the complex city life.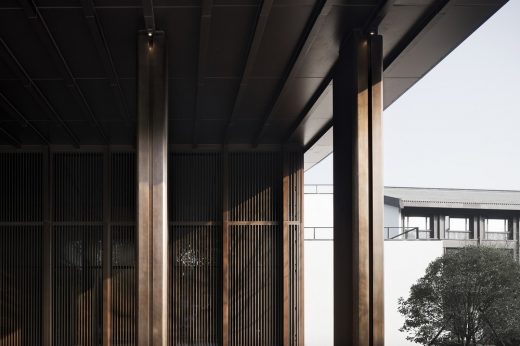 We try looking at the natural and cultural properties of the base, the centennial buildings of Shaoxing Hotel, Fushan combining the Wu and Yue cultures, and profound cultural deposits of Shaoxing from a broader perspective. In the process of design, we reorganize the natural and traditional elements—mountain, stone, roof, window, column—into the new architectural form as significant symbols. Traditional big roofs sketch the contours of mountains in a range; well-arranged side walls form vivid elevations of the building. Carved hollow windows and modular columns switched life between city and forest.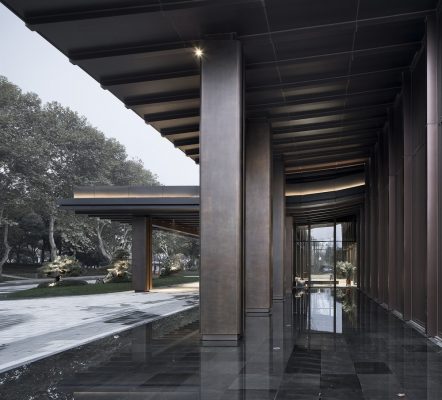 On the north of the building are streets. We realize the perfect transition from traditional to modern through well-arranged reorganized eaves corresponding to the gray walls and double eaves of Datong School on the opposite of road.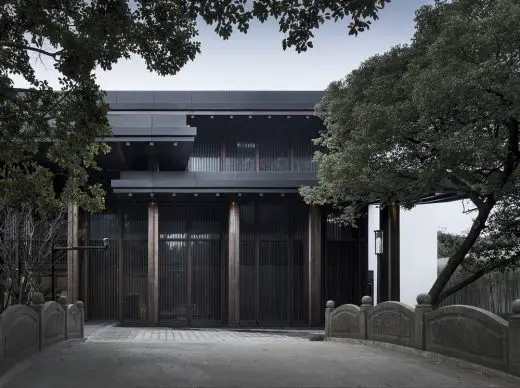 On the west is natural landscape. We emphasize the fusion with daily urban life. The differences in architectural from treatment between before and after and the staggered linear roof coverings hide the big meeting space from views and soften the building volume. Well-arranged side walls separating the auxiliary rooms inside are designed to be significant nodes guiding observation paths.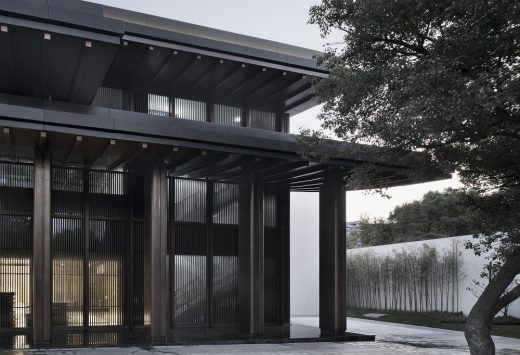 On the south, we emphasize the longitudinal depth of field by deconstructing and reorganizing traditional roof coverings and reduce the perceived volume of building by extending the horizontal vision through colonnade and water pools, light and shadow.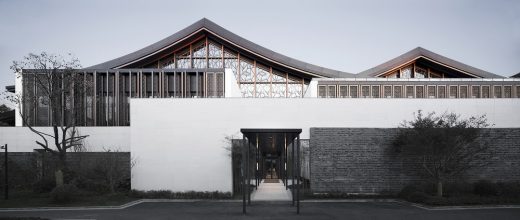 Hall design inspired by the daily city life and developed from the sentiments to landscape is embodied in scenes. We try to create modern experience in the urban forest by means of design.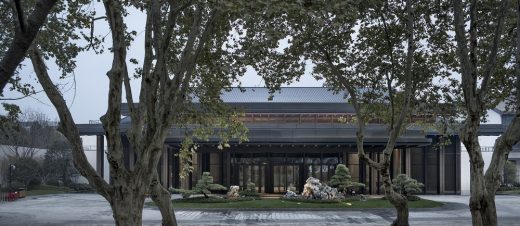 Multi-Purpose Hall of Shaoxing Hotel – Building Information
Name of Project: Multi-Purpose Hall of Shaoxing Hotel
Construction company: The Architectural Design and Research Institute of Zhejiang University Co., Ltd.
Website of the Company: http://www.uad.com.cn/
Architects in Charge: Hu Huifeng, Dong Danshen
Type: Public building
Design Team: Zhang Chenfan, Jiang Lanlan, Lv Ning, Lan Wenzhong
Address of the project: No. 8, Huanshan Road, Yuecheng District, Shaoxing, China
https://www.google.com/maps/place/%E7%BB%8D%E5%85%B4%E9%A5%AD%E5%BA%97/@30.004156,120.5724543,17z/data=!3m1!4b1!4m5!3m4!1s0x344cf457d20f5ef1:0x33e0127a1f250902!8m2!3d30.004156!4d120.574643
Built area (m2 or sqft): 7978.34 m2
The Time of Completion: 2018
Design year: 2018.06-2018.10
Clients: Shaoxing Cultural Tourism Group Co., Ltd.; Shaoxing Hotel
Collaborator: Zhejiang Yasha Decoration Co., Ltd.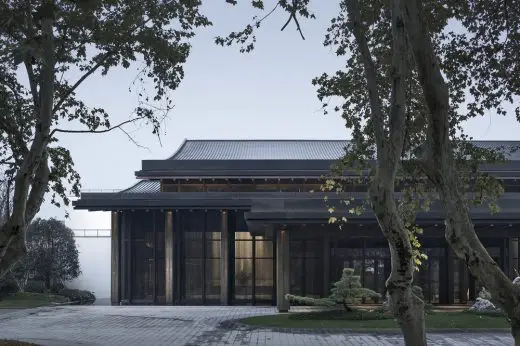 Manufacturers/Products:
Anhui Yuchuan Intelligent Technology Co., Ltd. – Sabatino (artistic handle)
Hangzhou Jinxing Copper Works Co., Ltd. – Copper
Ningbo Jiaxiang Stone Co., Ltd. – Stone material
Photographers: Zhao Qiang, Zhang Chenfan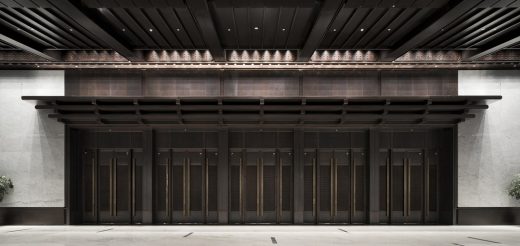 Chinese text:
Multi-Purpose Hall Shaoxing Hotel
项目名称:绍兴饭店多功能厅
建筑公司:浙江大学建筑设计研究院有限公司
公司网站:http://www.uad.com.cn/
项目类型:公共建筑
主创建筑师:胡慧峰 董丹申
设计团队: 章晨帆 蒋兰兰 吕宁 蓝文忠
项目地址: 浙江省绍兴市越城区环山路8号
https://www.google.com/maps/place/%E7%BB%8D%E5%85%B4%E9%A5%AD%E5%BA%97/@30.004156,120.5724543,17z/data=!3m1!4b1!4m5!3m4!1s0x344cf457d20f5ef1:0x33e0127a1f250902!8m2!3d30.004156!4d120.574643
完成年份: 2018年10月
建筑面积(平方米或平方英尺): 7978.34平方米
摄影师: 赵强 章晨帆
客户:绍兴文旅集团、绍兴饭店
合作方:浙江亚厦装饰股份有限公司
品牌/产品:
萨巴蒂诺(艺术拉手)——安徽裕川智能科技有限公司
铜——杭州金星铜工程有限公司
石材——宁波佳翔石材有限公司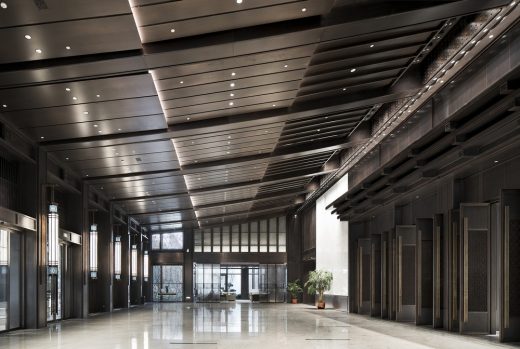 项目描述:
城市山林:绍兴饭店多功能厅建筑设计
绍兴饭店源起"凌霄阁",古朴典雅的建筑群配以白墙黑瓦、曲径回廊、小桥流水、花木扶疏,具有浓郁的江南民居特点。绍兴饭店多功能厅选址于原绍兴饭店西侧,西临府山西路与城市公园,南靠环山路,总建筑面积7978.34平方米,主体一层,局部三层,建筑高度16.595米。
在如此局促之地建造一个立足现在、放眼未来的千人会堂,设计从最开始就试图规避大刀阔斧的除旧迎新,巧妙得寻求山水意向的融合,在这复杂的城市生活场景外,以一个旁观者的姿态,造一座恰如其分的城市山林。
我们尝试从更广泛的视角来审视基地的自然与文化属性,绍兴饭店百年传统建筑、集吴越文化于大成的府山,以及深入骨髓的绍兴文化底蕴。设计过程中提炼了山、石、屋顶、窗、柱这些自然与传统的元素,抽离重组成为新的建筑形态的重要符号。传统大屋顶勾勒出的连续线条,表征连绵的山势,高低前后错落的片墙构成生动的建筑侧面。雕花镂空的窗扇与模数化的柱列,完成建筑内外、城市与山林之间自然而然的情境切换。
建筑北侧融入街道巷陌,解构重组的屋檐、高低错落的檐口与路对岸大通学堂的灰墙重檐呼应对话,完成传统到现代的完美过渡与提升。
西侧渗透自然景观,强调与城市日常生活场景的融合。建筑前后形体差异化处理、线性的屋面交错曲折、遮蔽其下大尺度的会议空间,弱化建筑体量;高低错落的几组片墙,隔离了其内的辅助用房,同时被设计成暗示引导观察路径的重要节点。
南侧通过对传统屋面的解构与错位重组,强调建筑的纵向景深层次,柱列与水池、光线与倒影,则通过视觉的水平延展,减弱对体量的实际感知。
设计起源于城市的日常起居,立意于山水情怀,着笔于场景情境,试图通过设计这一手段,创造城市山林的现代化体验与感受。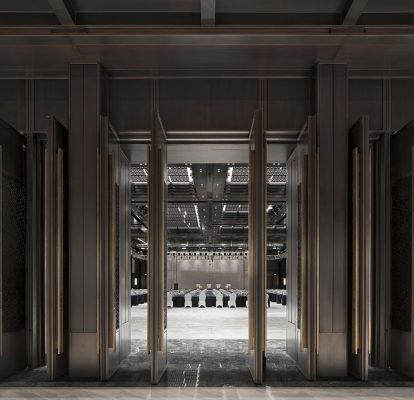 Multi-Purpose Hall of Shaoxing Hotel Building images / information received 080319
Location: No. 8, Huanshan Road, Yuecheng District, Shaoxing, China
New Chinese Buildings
Buildings in China
Jingshan Boutique Hotel
Design: Continuation Studio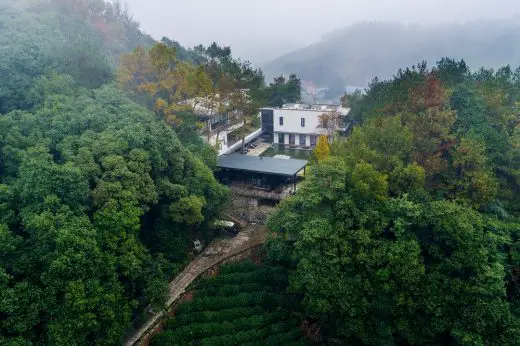 photo : SHIROMIO Studio
Jingshan Boutique Hotel in Hangzhou
Raffles City Hangzhou
Design: UNStudio / Ben van Berkel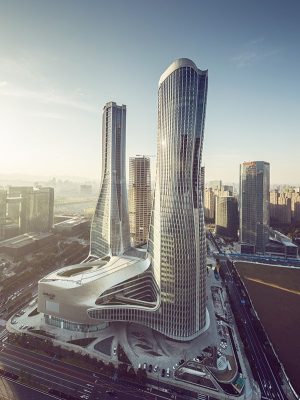 photos © Hufton+Crow, © Seth Powers, © Jin Xing
Raffles City Hangzhou Building
Architecture in China
China Architecture Designs – chronological list
Chinese Architect Practices – Design Office Listings
Comments / photos for the Multi-Purpose Hall of Shaoxing Hotel page welcome