Jewish Reconstructionist Congregation Synagogue Evanston, Illinois Building, JRC Dodge Avenue
Jewish Reconstructionist Congregation Synagogue, Illinois
Jewish Reconstructionist Congregation Synagogue Building design by ross barney architects
Jun 16, 2011
Jewish Reconstructionist Congregation Synagogue
Design: ross barney architects
Location: Evanston, Illinois, USA
Design Evanston Awards
Architectural Design : Public Use – winner
Project Description
The new LEED Platinum certified synagogue for the Jewish Reconstructionist Congregation replaces the old building at the edge of a residential area, across from a city park and the tracks of the Skokie Swift commuter train. The design balances the limitations of a small site with an ambitious program that uniformly promotes its worship, educational, and community objectives.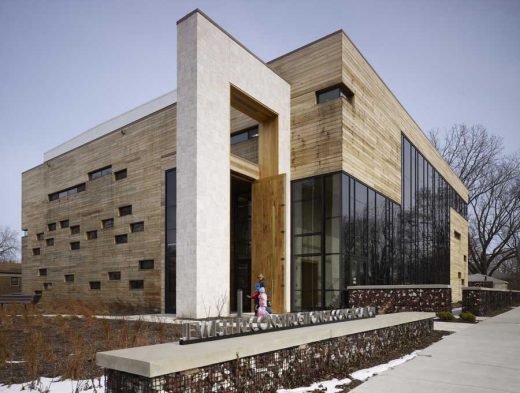 photograph : Steve Hall © Hedrich Blessing
The synagogue's design reflects the vision and goals of the congregation. The design criteria was developed through goal setting workshops with the JRC board and building committee. The consensus opinion was that the building should symbolically reflect the values of Judaism and Reconstructionism. Some of the specific goals included the following:
– Warm and inviting building
– Spiritual space
– Connection to the natural environment
– Good flow of spaces
– Fully accessible facility
– Child safe and friendly environment
– Meditative and small social spaces
– Inwardly focused and outwardly reflective facility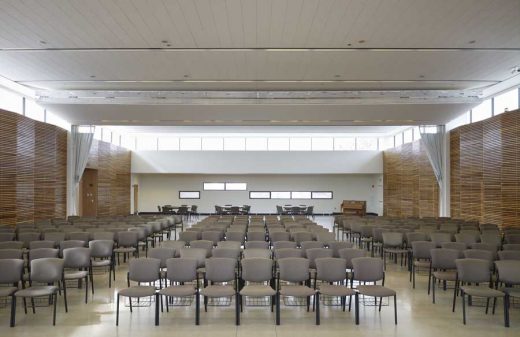 photo : Steve Hall © Hedrich Blessing
Evanston's zoning ordinance, limiting building height and lot coverage, impacted the final building program and design solution. The congregation originally identified 42,000 square feet of dedicated space to serve their needs. The design met these needs in 31,600 square feet of flexible and convertible space. The use of spaces from week to week, hour to hour, were traced over the building levels to find the best balance of all needs.
The project demolished the existing 21,400 square foot synagogue and constructed a new 31,600 square foot facility on the same site. The new building has three floors containing the Congregation's offices, early childhood program, and chapel on the first floor; their education offices, classrooms and library on the second floor; and the sanctuary, social hall and kitchen on the third floor.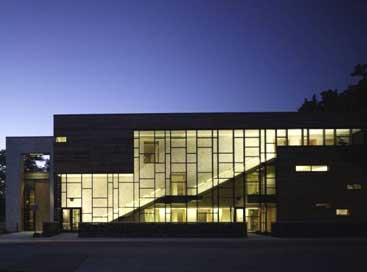 photo : Steve Hall © Hedrich Blessing
The new facility includes spaces for worship and social events, as well as classrooms for Early Childhood, Religious, and Adult Education programs. The building includes space for the Congregation's staff, a large teaching kitchen, the youth group, arts and crafts, and library with a media center and language laboratory.
Organized to create communal spaces, the design reflects the Congregation's character of a multigenerational group for whom the building is home.
Several ideas were formulated to make a sustainable transition from old to new. The new building is built on the foundations of the old. Local demolition rubble is placed in wire cages to create "gabion" walls to retain the edges of gardens and children's playgrounds.
The memorial trees that shade the existing building were cut down and reconstituted as paneling on the Ceremonial door in order to preserve the memory of those associated with their planting and care. The Congregation has placed, throughout the building, their collected words – lyrics, testaments, calls for protest – to be added to and to be enshrined in the building as a permanent testament of the Congregation's work. Art has been commissioned to contain the Torah scrolls and other ceremonial features.




photos : Steve Hall © Hedrich Blessing
Sustainable Design
The plan to achieve a platinum rating required careful consideration of sustainable strategies, and a comprehensive, holistic approach to the building design. The process included integration of site design, architectural planning, building materials, natural and mechanical ventilation, natural and artificial lighting, and HVAC and lighting controls.
The Congregation's commitment to Tikkun Olam – to "repairing the world" –manifests itself through an assertive demonstration of sustainable and ethical architecture. Using sustainable materials such as fly ash concrete, wood, and glass, and through strategies such as light harvesting and water conservation, the building was designed to achieve a LEED Platinum rating, as mandated by the Board of Directors. The congregation intends to be a leader within the larger community by demonstrating the benefits of sustainable building design.
Sustainable Site Elements
Urban site located within ¼ mile of public bus lines.
Urban site located with ½ mile of 20 community services.
Preferred parking for hybrid vehicles and carpooling.
Reflective roof to mitigate the heat island effect.
Landscaped to mitigate the heat island effect.
Stormwater detention system to ease impact on natural environment and municipal systems.
Exterior light fixtures with full cut-off optics to mitigate light pollution.
Solar powered light fixtures to illuminate the parking lot.
Water Efficiency
Landscaped with native or adapted vegetation, including plants saved from the original landscaping.
No permanent irrigation system.
Low-consumption water closets with dual flush flushometers
Low-consumption urinals.
Low flow, metered lavatories.
Energy & Atmosphere
Energy efficient design saving 40% over baseline
Additional, third party commissioning
Certificates for wind power
Modular chiller in 15 ton increments
98% efficient boiler
Over ninety percent of the fixtures use T5 fluorescent lamps, and over fifty percent are direct/indirect pendants.
Cold cathode lighting
LED lighting
Solar tubes for natural daylight
Dimming and photocell control for daylighting of Sanctuary
Occupancy sensors for control of artificial lighting
Dual switched lamping of light fixtures
Materials & Resources
Over 95% of demolition waste diverted from landfills
Over 40% of materials from recycled content
Over 40% of materials from local and regional sources
Over 50% of wood from certified sources
Reclaimed Materials
Exterior wood cladding and interior wood slat walls within the Chapel and Sanctuary are made of reclaimed cypress from mushroom houses.
Concrete and brick from the existing building was crushed and used as engineered fill for the new building.
Reclaimed brick and limestone fill the gabion site walls.
The bimah is designed with over 1000 square feet of reclaimed black walnut from urban forests.
Four crimson maple trees on the site, that could not be saved, were cut down and milled to clad the large ceremonial entry door.
Recycled Content
Concrete with fly ash
Synthetic gypsum wallboard
Structural, reinforcing and miscellaneous steel
Exterior and interior metal studs
Building insulation
Steel doors and frames
Countertops
Toilet partitions
Ceiling tile
Carpet
Rapidly Renewable
Cabinets and shelving made with Dakota Burl, a board made from sunflower hulls.
Carpet with fibers made with bio-based polymers.
Bulletin boards made from linoleum.
Rubber playground mulch
Regionally Manufactured
Overall, the new building was constructed with more than 40% regionally manufactured materials. The one notable exception is the Jerusalem Stone used on the entrance wall, Chapel and Sanctuary. The material was chosen for its spiritual connection to Judaism and Israel. The stone represents less that 1.5% of the total construction costs.
Indoor Environmental Quality
Displacement ventilation in the Sanctuary.
Increased ventilation effectiveness
Carbon dioxide monitoring for control of fresh air intake
Access to daylight for over 90% of the spaces
Low emitting VOC materials
Reference
Alan Saposnik Jewish Reconstructionist Congregation 303 Dodge Avenue Evanston, Illinois 60202-3252 P. 847.328.7678 F. 847.328.2298
Jewish Reconstructionist Congregation Synagogue – Building Information
Architect: ross barney architects
Cost: $7,300,000
Program: 31,600 sqft
Status: Complete 2008
LEED: Platinum Certified
Awards / Publications
2010 Architectural Record, Building Types Study: Religious Facilities. 2010 Design Evanston Award. 2009 World Architecture Festival, High Commendation Community Buildings. 2009 AIA/COTE Top Ten Green Project. 2009 Chicago Building Congress Merit Award. 2008 AIA Illinois Honor Award. Blair Kamin, "Structure blends spirituality and sustainability; Designers aim for greenest synagogue in America, Chicago Tribune, February 17, 2008. Laurie Petersen, "Wholly Different; A new Evanston synagogue models sustainable methods." Chicago Architect magazine, Sep-Oct, 2008. 2009 The Jewish Museum, New Jewish Synagogues: Art and Architecture." Newscasts, ABC, CBS, NBC, WTTW-PBS January-October 2008.
Jewish Reconstructionist Congregation Synagogue images / information from ross barney architects
Address: 303 Dodge Ave, Evanston, IL 60202, United States
Phone: +1 847-328-7678
Location: Jewish Reconstructionist Congregation Synagogue, Evanston, Illinois, USA
Architecture in Chicago
Contemporary Chicago Architectural Projects
Chicago Architectural Design – chronological list
Chicago Architecture Tours – city walks by e-architect
Another design by ross barney architects on e-archtect:
James I Swenson Building
2010
Ross Barney Architects



photo : Kate Joyce Studios
James I Swenson Building
Website: Jewish Reconstructionist Congregation Synagogue, Evanston
Comments / photos for the Jewish Reconstructionist Congregation Synagogue design by ross barney architects page welcome