Surface Design Show London, UK Architecture Awards, Winner, SDS Event 2018, Architects
Surface Design Awards
SDS Winners: Interior + Exterior Architectural Prize, London, England – Winning Designs + Designers
17 Feb 2018
Surface Design Show 2018
Surface Design Awards 2018 Round-up
Last week saw the return of Surface Design Show to London's Business Design Centre where over 5,000 visitors saw the best and most tactile in new surfaces.
More than 170 exhibitors from 15 countries showcased the very best in exterior and interior surface materials and treatments.
All 10 of the top 10 of the 'AJ100' architectural practices visited SDS18:
• Foster & Partners
• BDP
• Zaha Hadid Architects
• Allford Hall Monaghan Morris
• Sheppard Robson
• Allies and Morrison
• Atkins
• Purcell
• Squire & Partners
• TP Bennett
• Scott Brownrigg
Surface Design Awards 2018 wall covering by Anne Kyyro Quinn: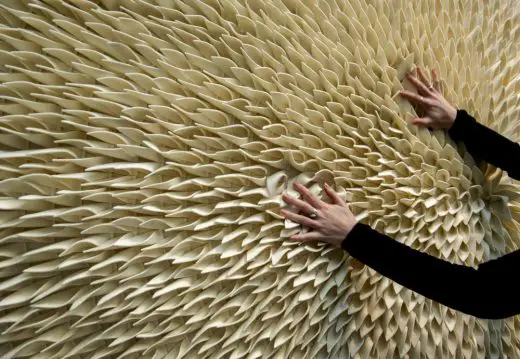 photographs from organisers
Highlights of the busy 2018 show events programme included:
• The Main Stage, designed by Anne Kyyro Quinn, created a stunning platform for the exciting programme of talks which included sets from interior designer and TV presenter Naomi Cleaver, colour and trend expert Sally Angharad and Houzz.
• The fantastic PechaKucha Evening was another highlight of the events programme, with a full house listening to an engaging set of panellists being hosted by architect Phil Coffey of Coffey Architects.
• Opening Night Live Debate, which tackled the hot topic of housing in London and attracted a large and varied audience. Led by Peter Murray Chairman of the NLA, the expert panel presented their views on house prices in London and discussed potential solutions.
Daedalian at SDA 2018 London: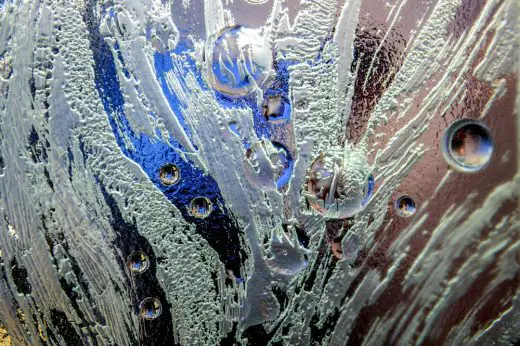 Surface Design Show 2019 will take place at London's Business Design Centre from 5-7 February 2019.
9 Feb 2018
Surface Design Awards Winner
Surface Design Awards 2018 Winner
Museum of Art, Architecture and Technology (MAAT) by AL_A unveiled as Supreme Winner at Surface Design Awards 2018
The winners of this year's Surface Design Awards have been announced, unveiling some of the best projects from across the globe which feature innovative and exciting materials and surfaces.
The Museum of Art, Architecture and Technology (MAAT) in Lisbon by AL_A was announced Supreme Winner as well as winner of the Public Building Exterior Surface.
Museum of Art, Architecture and Technology, Lisbon designed by AL_A: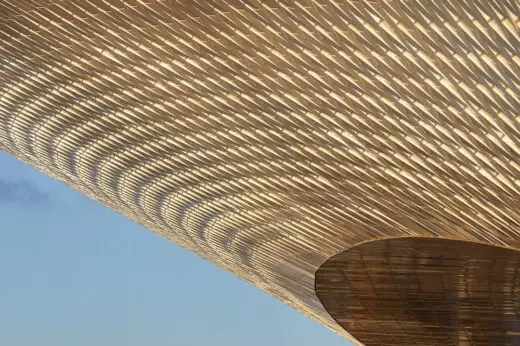 photograph courtesy of architects
The design builds upon Portugal's rich tradition of craft and ceramics, almost 15,000 three-dimensional crackle glazed tiles articulate the façade and produce a complex surface that gives mutable readings of water, light and shadow. The project was described by Jo Littlefair as "promoting art and architecture just by being there". Making the win all the more impressive, AL_A were up against spectacular entries from Foster & Partners, Heatherwick Studio and The Manser Project.
In several categories, the best in applied surface design was put forward by a number of brilliant architects and designers including Coffey Architects, Giles Miller Studio and Studio Octopi amongst others.
The Surface Design Awards took place on the 8 February as part of Surface Design Show 2018. The Surface Design Show is the only event in the UK focusing solely on interior and exterior surface design, facilitating thousands of innovative and thrilling materials to connect with an audience of architects and designers.
Launched in 2013, Surface Design Awards has grown exponentially in both stature and quality. International growth has been staggering this year with project entries from 16 different countries. 51% of the projects were outside the UK. 13 from China, 7 from Portugal and further entries from Spain, Italy, India, Egypt, Canada, America, Belgium, Lithuania, Taiwan and Hungary. There were 39 entries from the UK, 69% of these being from London. The most popular categories entered were Commercial Interiors and Housing Interiors.
The judging panel of the eleven Award categories was co-chaired by Tina Norden, of Conran and Partners, and Ab Rogers of Ab Rogers Design. The judges included Jenny Jones of Studio Jenny Jones, Sacha Leong of Studioilse, Constantina Tsoutsikou of HBA London, Jo Littlefair of Goddard Littlefair, Howard Sullivan of YourStudio and Nir Gilad of Nous Design, all of whom are experts in their fields.
Museum of Art, Architecture and Technology (MAAT), Lisbon, Portugal – AL_A
Surface Design Awards Winner in 2018
Surface Design Awards 2018 Winners
Project, Location – Designer
Commercial Interior Surface
Vanke DayPark Sales Office & Culture Exhibition Centre, Shenzhen, China – Zhao Yu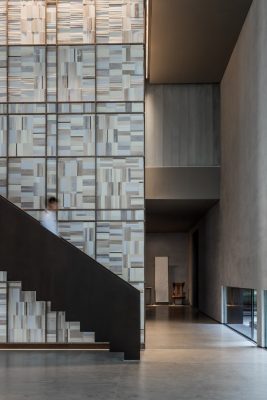 Commercial Exterior Surface
Friendly Border Apartments, Lisbon, Portugal – Maria Ana Vasco Costa for GAS2 Architects
Light and Surface Interior
Soundscapes Gistel, Belgium – Zumi
Light and Surface Exterior
Beach Hut Monument for Beachy Head Lady, Eastbourne, UK – Stephen Foley
Sustainable Exterior Surface
Valley Villa, Vilnius, Lithuania – Arches
Public Building Interior Surface
Science Museum London, UK – Coffey Architects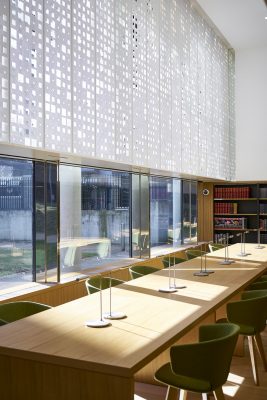 Public Building Exterior Surface
Museum of Art, Architecture and Technology (MAAT), Lisbon, Portugal – AL_A
House Interior Surface
House 13, London, UK – Studio Octopi
Housing Exterior Surface (joint winners)
Presidente Arriaga Building, Lisbon, Portugal – Maria Ana Vasco Costa for STC Arquitectos
John Ruskin Street, London, UK – David Stanley and Romy Grabosch
Retail Interior Surface
Cannavacciuolo Bistrot Torino, Turin, Italy – Davide Squariciapino of Delta Tecno Studio
Temporary Surface
The Bolt London, UK – Giles Miller Studio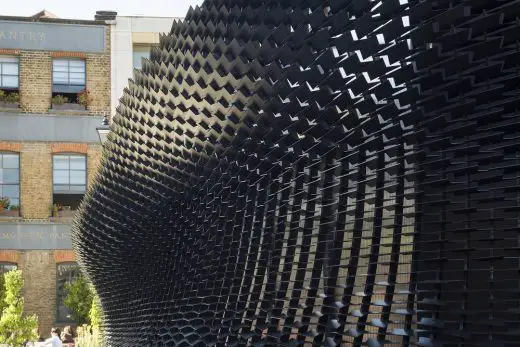 Details of Surface Design Show 2018 category winners:
Vanke Day Park Sales Office & Culture Exhibition Centre by Zhao Yu located in the heart of Shenzhen Bay, China is the Commercial Interior Surface winner. The project was praised by co-chair of the judging panel Ab Rogers for having "a nice use of materials with the alignment of the walls being exquisite". The most arresting part of the design is the installation of library and floral work in the central display hall. The big bookcase was made of overlaying paper sheets framed by steel strips. Also eye-catching were the teahouses created in distinctive styles embodying diverse tea culture under the background of characteristic cultures in Beijing, Shanghai, and Shenzhen.
Returning winners Maria Ana Vasco Costa were omnipresent at this year's Awards, picking up Awards for Commercial Exterior Surface for Friendly Border Apartment, as well as the Housing Exterior Surface Award for Presidente Arriaga Building, both projects, located in Lisbon. Friendly Border Apartments was Inspired by the famous "Casa dos Bicos", a historical building from the 16th century located in old Lisbon and so designed a diamond shaped tile alternated with a simple flat square. The project was praised by judge Howard Sullivan as "Quirky and original exterior treatment which sets apart the building on the street".
The façade of the Presidente Arriaga Building resulted from a variation of 1 three-dimensional and 3 two-dimensional tiles which created different patterns from the street view and depending on the time of day, bestowing an organic character to a classic rectangular design. The design made "A real connection to the history of where it stands" according to judge Nir Gilad.
The years' Awards played host to a joint winner for Housing Exterior Surface, Presidente Arriaga Building by Maria Ana Vasco Costa for STC Arquitectos and John Ruskin Street by David Stanley and Romy Grabosch. The transformation strategy adopted for John Ruskin Street was to extend out to create a flexible family room; and to dig down to create an independent sunken office and fully functional annexe, with the garden being the focus. Both David Stanley and Romy Gabosch are award winning architects which enabled them to work together to transform the flat into their dream home. Ensuring that sustainability and environmental conservation was an essential element of the design and enabled both architects to choose the materials that best fit their desired outcome.
The Light and Surface Interior Award winner Zumi for Soundscapes in Gistel, Belgium was recognised for "the integration of light texture and acoustic performance in one product and the proportion and materiality was successful", as said by judge Jenny Jones. The project combined energy-efficient LED lighting with a high- quality acoustic panel and the option to integrate speakers.
The Eastbourne Pavilion is the result of a design build competition in which the local council asked designers to create iconic beach huts by the Seafront Walk. The winner of the Light and Surface Exterior category was the Beach Hut Monument for Beachy Head Lady by Stephen Foley. The monument is made of translucent Corian Panels with an engraving on the street side of the hut explaining the story behind the design. The result was described by Ab Rogers as "Joyful multifaceted illuminated hut, (with a strong dialogue).
Architectural firm Arches, created a contemporary, eco-friendly villa within close proximity to Vilnius, the capital of Lithuania. This unique property, and Sustainable Exterior Surface winner, is aptly named 'Valley Villa' and was built to complement the scenery, with natural timber cladding and irregular pitched roofs. All of which are characteristic of the neighbouring surroundings and in harmony with the hillsides and pine trees. This villa strikes the perfect balance with an architectural style that is simultaneously modern and traditional. Sacha Leong from the judging panel commented on the project "Strong use of a single material. Tactile and beautifully detailed."
The Housing Interior Surface award went to architects, Studio Octopi for House 13, which involved the full excavation of a basement below a Victorian house in Wandsworth, South London. The project followed the theme of exploring innovative ways to link a basement with the existing house and garden. The resulting plan arrangement is fluid whilst also dramatically improving the natural lighting for the key spaces. The project was awarded by the judges for its "incredible detail", as highlighted by Jo Littlefair, as well as being "slick and well executed" said Tina Norden.
The Cannavacciuolo Bistrot Torino in Rome, Retail Interior Surface winner, was designed with attention to the customer welfare and particularly to the acoustic comfort, meaning good speech perception and absence of disturbance. Acoustics and audio system designed by Davide Squarciapino of Delta Techno Studio S.r.l created a healthy environment, taking care of air pureness and optimum energy balance for human wellbeing.
Giles Miller Studio returns to Surface Design Awards after winning consecutively with the Retail Interior Surface in 2015, Commercial Interior Surface in 2016 and Sustainable Exterior Surface in 2017. The Bolt, winner of the 2018 Temporary Surface Award, was installed for the duration of Clerkenwell Design Week 2017 in a temporary showroom for lifestyle brand Shinola in the heart of St. Johns Square in London. The building showcased the latest louvre-generated facade concepts from their studio, demonstrating how a surface can control visual and light permeability to generate intrigue surrounding the buildings contents.
A perforated screen designed for the Science Museum in London by Coffey Architects is the winner of the Public Building Interior Surface category. The clever design of the double layered screen produces dappled light as the sun moves across the sky, engaging the visitor with the passing of time and negating library fatigue. Judge Nir Gilad commented "I looked at the picture and it made me want to visit the Science Museum".
27 Oct 2017
Surface Design Show Finalists
Surface Design Awards 2018 Finalists Announced
From the Science Museum in London to a mirrored shelter in China: The best in surface design is celebrated as the Surface Design Awards 2018 finalists are announced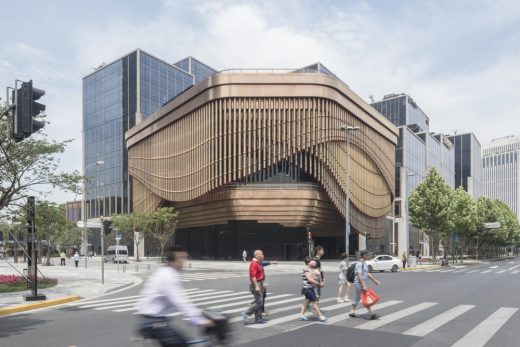 photo : Katy Harris
Surface Design Awards 2018 Finalists
21 Sep 2017
Surface Design Awards 2018
Entries for Surface Design Awards 2018 Now Open
Only 1 Week until Entry Closes
There is only 1 week until the Surface Design Awards entry closes and we are still looking for the best interior and exterior design projects which feature innovative surfaces.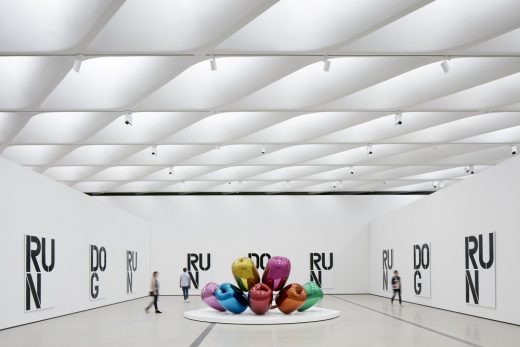 23 Jul 2017
Now in its sixth year the Surface Design Awards recognise progressive design and the use of innovative surfaces in projects both in the UK and internationally.
The Surface Design Awards are part of Surface Design show the only event in the UK that solely focuses on interior and exterior design, allowing for thousands of innovative and thrilling materials to connect with an audience of architects and designers.
Surface Design Show returns to the Business Design Centre, Islington London from the 6-8 February 2018.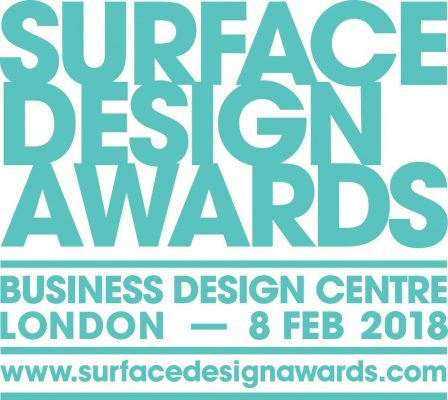 Launched in 2013, Surface Design Awards has grown exponentially in both stature and quality. The 2018 Awards will not be short of variety with 94 projects located in 10 different countries entering in 2017. There are 13 Awards across 7 different categories with most categories being divided into exterior and interior. Each project is judged on a variety of criteria including materials used, type of surface and aesthetic design.
The 2018 judging panel will be co-chaired by Ab Rogers of Ab Rogers Design and Tina Norden from Conran and Partners.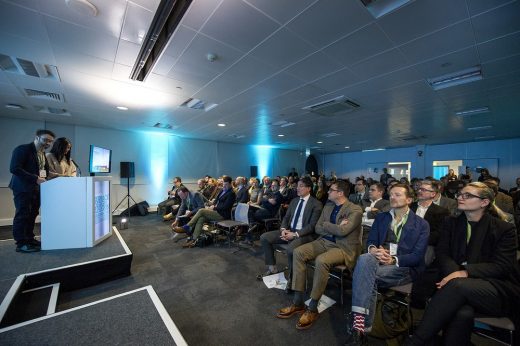 They are joined by 6 fellow professionals from the architecture and design world:
Jenny Jones – Jenny Jones Studio,
Sacha Leong – Studioilse,
Jo Littlefair – Goddard Littlefair,
Howard Sullivan – YourStudio
Nir Gilad – Nous Design
Constantina Tsoutsikou – HBA London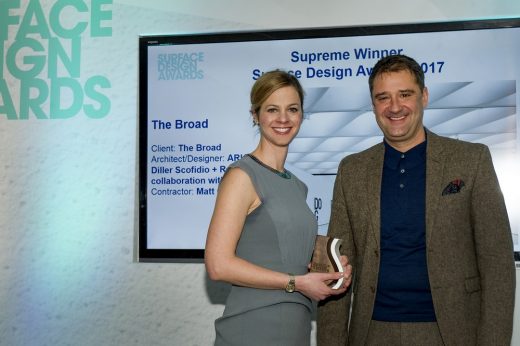 In 2017 there were 34 finalists with ARUP/ Diller Scofidio + Renfro in collaboration with Gensler receiving the honour of becoming Surface Design Awards Supreme Winner 2017 for their stunning project The Broad Museum in Los Angeles.
Pavlina Arkitas, Senior Lighting Designer at Arup said:
"It's clear that this is an incredibly special, visually stimulating building and it's great for it to have been recognised with this award. The airy, honeycomb-like 'veil' that envelopes the structure effectively filters natural daylight across the space, which was a unique and exciting challenge for us to work with. I really believe that this project wouldn't have been possible without the close collaboration between the client, the architect and the design team".
Sponsors for the 2018 Awards are Business Design Centre, James Latham and Eden Anglo Veneers.
Register now to secure your involvement in one of the most respected events of the year and to be in with a chance to win an Award.
Projects can be submitted by the client, architect or designer, surface supplier or their representative.
Enter the Surface Design Awards via the website before Friday 29th September
http://www.surfacedesignshow.com/surface-design-awards/interested-in-entering
T: @surfacethinking #SDAwards
F: surfacedesignshow.co.uk/facebook
P: surfacedesignshow.co.uk/pinterest
I: surfacedesignshow.co.uk/instagram
L: surfacedesignshow.co.uk/linkedin
2 Nov 2016
Surface Design Awards 2017
Surface Design Awards Finalists in 2017
Surface Design Awards 2017 finalists feature an astounding range of inspiring surfaces and materials.
Temporary Exterior Surface – 'Billboards Clerkenwell':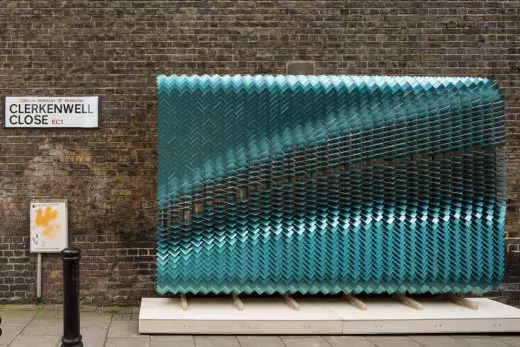 Commercial Interior Surface – 'Fucina Restaurant London':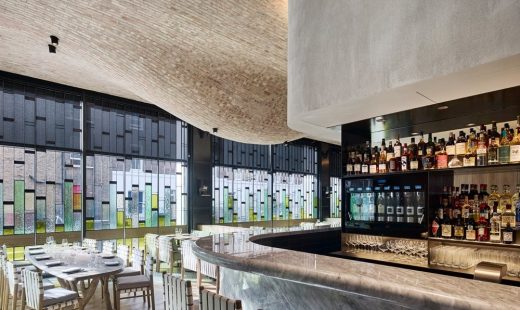 Housing Exterior Surface + Interior Surface – 'Ruins Studio':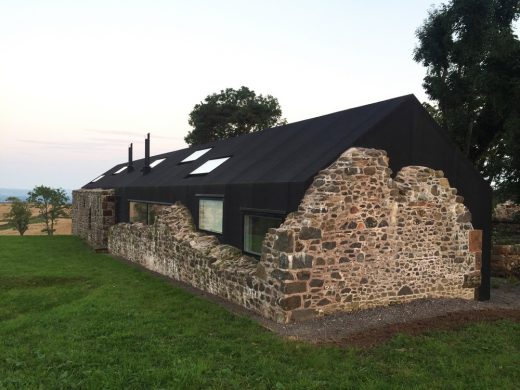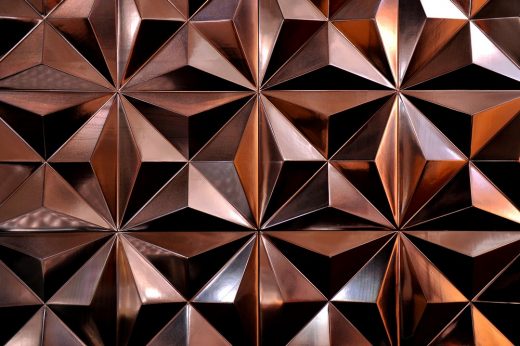 22 Sep 2016
Surface Design Awards 2017
Surface Design Awards Supreme Winner 2016 – Howe Farm by IPT Architects: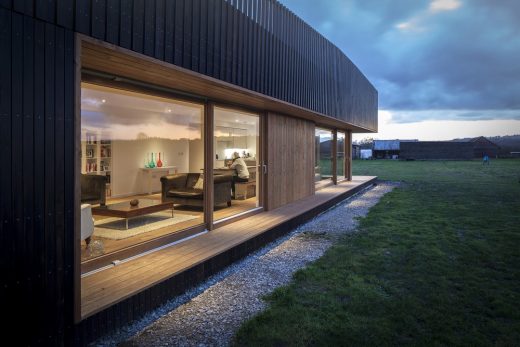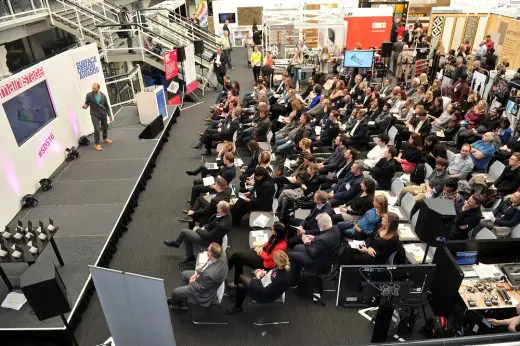 Nanjing South Railway Station, China:



photograph : Chen Wu
Mayfair House, London: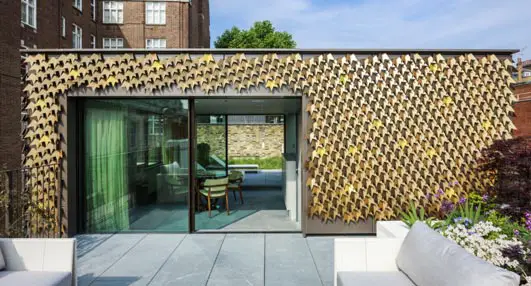 photo : Gareth Gardner
Location: London, UK
London Architecture
London Architecture Design – chronological list
Surface Design Awards 2014
Velvet Underground Nightclub in Singapore, past winner:



photographs from organiser
Surface Design Awards 2013 winners
KREOD Pavilion



photograph from organiser
Stratford City



photograph from organiser
Comments / photos for the Surface Design Awards 2018 page welcome
Website: www.surfacedesignshow.com