Europe 40 Under 40 Awards 2019 Deadline, Architects, Chicago Athenaeum Prize, Dates
Europe 40 Under 40 Awards 2019 – 2020 News
European Centre for Architecture Art Design Prize News: Architecture – Buildings
19 Nov 2020
Europe 40 Under 40 in 2020-2021
Europe 40 Under 40 Awards 2020-2021
25 Oct 2020
Europe 40 Under 40 Awards 2020-2021 News
Europe 40 Under 40 in 2020-2021
The Chicago Athenaeum: Museum of Architecture and Design
and
The European Centre for Architecture Art Design and Urban Studies
Call For Submissions
2020-2021
EUROPE 40 UNDER 40 AWARDS
Architecture, Landscape Architecture and Industrial Design
DEADLINE
December 1, 2020
Apply on-line at www.europeanarch.eu
"Future of Story telling" 2014 by Bjarke Ingels / BIG. Winner of Europe 40 Under 40 Laureate 2010: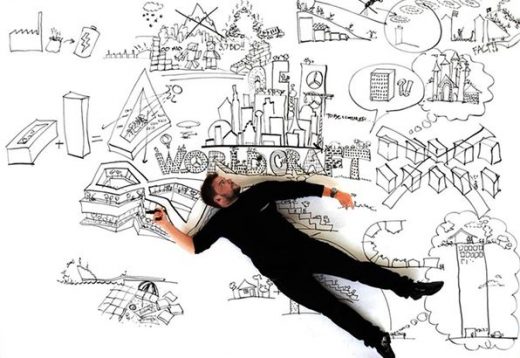 photo courtesy of organisers
Dublin, Ireland, October 16, 2020 – Now in its 14th year, The Chicago Athenaeum: Museum of Architecture and Design, together with The European Centre for Architecture Art Design and Urban Studies, are organizing "Europe 40 Under 40" for 2020-2021.
Each year, our institutions invite young European professionals to participate in this innovative awards program that spotlights Europe's next generation of up-and-coming European design practitioners.
"Europe 40 Under 40" includes architects, landscape architects, urban planners and industrial and graphic designers who are European citizens under the age of 40 as of December 2020.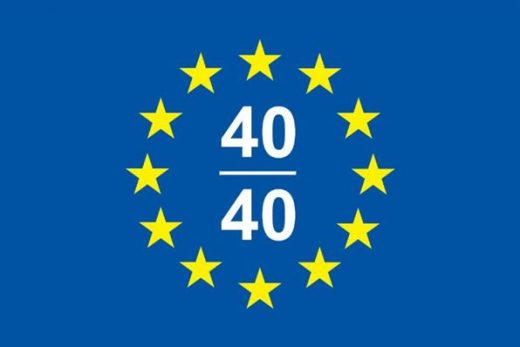 Previous Laurates of "Europe 40 Under 40" have gone on to establish extraordinary careers in the design fields from Danish Architect Bjarke Ingels (2010) to British designer Paul Flowers (2010) now Chief Design Officer for Grohe AG.
This is a prestigious program for young design professionals to achieve much needed recognition for their early design talents and to exhibit their works to their peers and to the public.
To date, over 700 young European designers have been awarded since the start of this program.
Each year, the winners of "Europe 404 Under40" have been published in a catalogue and exhibited at our Museum in Athens, Greece, Contemporary Space Athens, and throughout Europe and the Americas.
The 2020-2021 deadline for submissions is December 1, 2020.
More information and on-line applications are available at The European Centre's website at europeanarch.eu.
If you have any questions, please feel free to contact Ms. Konstadina Geladaki, Director of Administration, The European Centre in Greece at [email protected]
Previously on e-architect:
25 Oct 2019
Europe 40 Under 40 Awards News
Europe 40 Under 40 in 2019-20
Dec 1, 2019: deadline
The European Centre for Architecture Art Design and Urban Studies and The Chicago Athenaeum: Museum of Architecture and Design are pleased to present EUROPE 40 UNDER 40 AWARDS an annual awards program that celebrates the next new talented generation of European architects and industrial designers.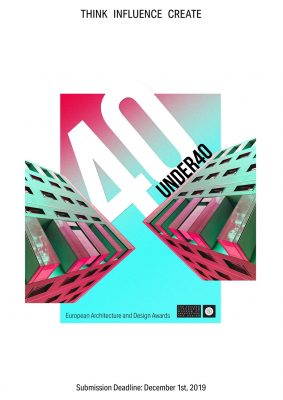 The program is directed to support new and emerging professionals that will influence the near future of European architectural design, thinking, and theory with the direct consequence of impacting future environments, culture, daily life and future European and international cities.
The key is to bring wider recognition to 40 of the most promising emerging architects and industrial designers working in the European Union and other countries inside Europe, fostering and encouraging new talent and creative thinking at the forefront of tomorrow's profession.
Architects and industrial designers up to 40 years old (as of December 31, 2019) are invited to submit projects to be judged by a committee of distinguished architectural practitioners, developers, architectural and design journalists, educators, and critics.
Participants either working as individual practitioners or collaborating inside an established firm as the principal lead designer/architect of the projects submitted, can only apply as individuals, no firms allowed.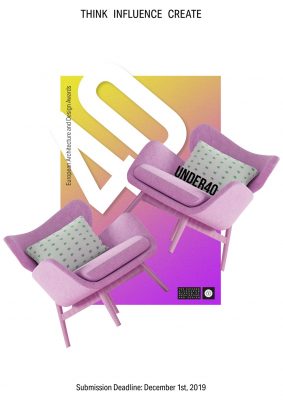 Information for Architects
Eligible projects (built or not) may include corporate architecture, skyscrapers, institutional projects, religious buildings, civic and political structures, planning projects, urban renewal, restoration/renovation, residential architecture for single family and multi-family dwellings, stores, residential or commercial interiors, sports and transportation centers, and public environments.
This is an individual program where only professionals' architects, landscape architects, urban planners can apply.
Information for Industrial Designers
Eligible products (manufactured or concept) may include electronics, medical equipment, furniture, equipment, hardware, tools, kitchen and bath utilities, floorcovering, tabletop, household products, personal effects, appliances, office products, transportation, children's products, sports and recreation, lighting and public environments.
This is an individual program where only design professionals can apply.
The deadline for the 2019 program is DECEMBER 1, 2019.
The jury will select the individual industrial designers and architects based on submitted work and the potential of their impact on the future of the professions.
The results of EUROPE 40 UNDER 40®AWARDS will be announced in early 2020 and will be presented as an exhibition that will open in Athens, at THE EUROPEAN CENTRE during the summer of the same year.
All award-winning architects and designers will be included in the edition entitled Next New Talented Generation of European Architects & Designers by Metropolitan Arts Press Ltd.
More information on the submission requirements of the EUROPE 40 UNDER 40®AWARDS are available at https://www.europeanarch.eu/europe-40under40.html
Applications are available online at The European Centre's website at
www.chi-athenaeum.org
For further information, please contact Mrs. Konstadina Geladaki at [email protected]
Facebook: 40under40 European Design Award
Instagram: 40under40europeandesign
The European Centre for Architecture Art Design and Urban Studies
28 Butlers Court, Sir John Rogersons Quay
Dublin 2, IRELAND TEL/FAX +353/ (0) 1 6708781
THE EUROPEAN CENTRE
74 Mitropoleos Street, Athens, GREECE
TEL +30 2103428511 FAX +30 2103428512


image courtesy of architects
Europe 40 Under 40 Awards
Location: Dublin, Ireland
Website: Europe 40 Under 40
Architecture Awards
Europa Nostra Award – winner news
RIBA Special Awards : Shortlisted Buildings / Architects
For further information on the Europe 40 Under 40 Awards, contact The European Centre at [email protected]
Comments / photos for the Europe 40 Under 40 Awards 2019 -2020 page welcome