Dedalo Minosse Prize 2019, ALA Assoarchitetti Italia, Architects, Winners, Dates, Deadline
Dedalo Minosse Prize 2019 Winner
European Client Architectural Award – Palladian Architecture in Vicenza, Italy
7 Oct 2019
Dedalo Minosse Prize 2019 Winners News
15 Mar 2019
Dedalo Minosse Prize 2019 News
Dedalo Minosse International Prize for Commissioning a Building
ANNOUNCING THE ELEVENTH EDITION OF DEDALO MINOSSE INTERNATIONAL PRIZE FOR COMMISSIONING A BUILDING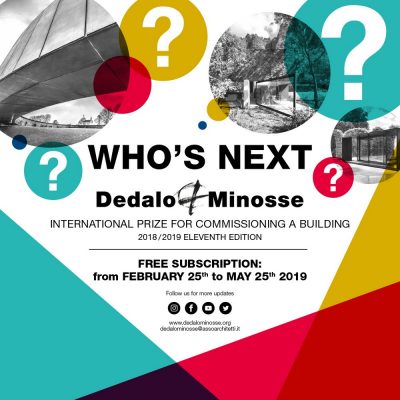 22 years after its foundation, ALA-Assoarchitetti announces the eleventh edition of the Dedalo Minosse International Prize for Commissioning a Building.
Vicenza February 25th 2019 – Exceptional and unique, this is the only architecture award that recognizes the positive and stimulating role of the Client in the creation of great architecture and rewards the efforts of those clients who have worked harmoniously with their architects to create successful and worthy projects in the last 5 years.
Analysing and focusing on project and constructive plan process, the Prize gives – special attention to the people who determine the success of a work: the Architect and the Client indeed, but also the project executors (the building firms) and the public administrations.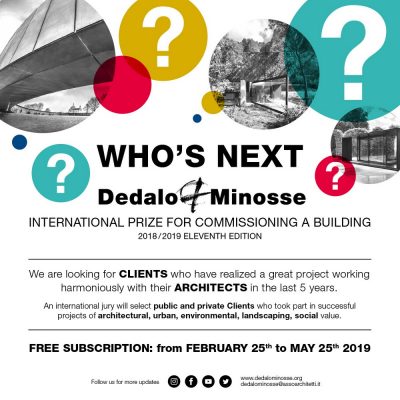 An international and multidisciplinary Jury will award private and public Clients together with their architects, focusing on those works that have taken into account the following issues: social and economic sustainability; works inspired by Design for All; enhancement and conservation of the environment, the landscape and the architectural heritage; use of innovative technologies and materials; use of renewable energy and resources; promotion of traditions and local languages; multidisciplinary planning approach; integration between art and architecture.
Special attention is dedicated to young Architects under 40, to whom the prize offers a chance of international exposure.
Applications can be submitted from 25th February 2019 to 25th May 2019. Registration is free and can be completed on the Dedalo Minosse website by filling out the online form and sending the requested material as explained in the Prize's Rules.

Links:
Form online https://www.dedalominosse.org/eng/2019_iscrizione.php
Rules https://www.dedalominosse.org/doc/rules_18_19.pdf
Key dates:
Early Entry Deadline: May 25, 2019
Final Entry Deadline: May 31, 2019
In the past editions the Dedalo Minosse Prize awarded first-class Clients who have searched a value for the community in their architectural works. Among those: the governments of Belgium, Denmark, England, Spain, France, Italy and Germany; the city of Amsterdam, Innsbruck, Hiroshima, Londra, Barcellona, Roma, Napoli, Palermo, Joannesburg, Kuala Lumpur, Berlino; Birmingham; institutions as United Nations' agencies, European Space Agency, the National Trust of England, Emergency and WWF; the universities of Detroit, Baltimora, Los Angeles, Cordoba and the Politecnico di Milano; famous companies, as Porsche, Citroen, BMW, Ferrero, Benetton, Nestlè, Vodafone, Snaidero.
Among the architects who participate to the past editions: Gae Aulenti, Campo Baeza, Mario Botta, Guido Canali, Massimiliano Fuksas,Von Gerkan Marg Und Partner, Zaha Hadid, Kisho Kurokawa, Mecanoo, Manfredi Nicoletti, Erik Owen Moss, Dominique Perrault, Paul de Ruiter, Keisuke Maeda, mk27, Waro Kishi, BIG Bjarke Ingels Group, Piero Sartogo, Studio Odile Decq, Oscar Tusquets, Kengo Kuma, Claude Vasconi, Cino Zucchi, Philippe Prost, EDAA, Lazzarini Pickering, Demogo, Ryuichi Ashizawa, Schneider+Schumacker, SET Architects, KAAN, C.F. Møller Architects, Auer Weber, Emmanuelle Moreaux, TYIN Tegnestue, Samyn and Partners, Satoshi Okada, Keysuke Kawaguchi, Werner Tscholl, Siegfried Delueg, Stifter Bachmann.
11 Mar 2018
Dedalo Minosse Prize 2018 Winners
Dedalo Minosse International Prize for Commissioning a Building
The ring of remembrance, France: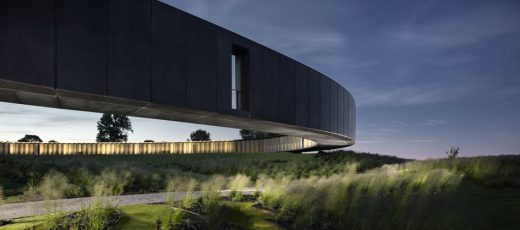 all photos courtesy of the Deadlo Minosse organisers
Casa Meztitla, Tepoztlán, Morelos, México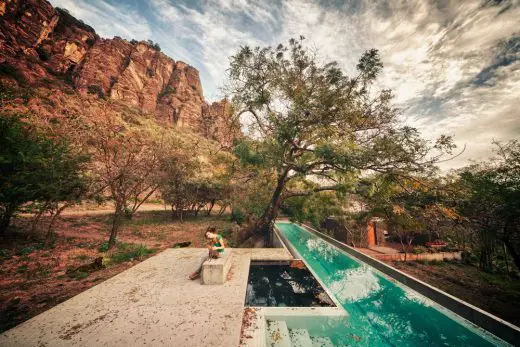 "The Bluff" Villa, the Chilterns, Oxfordshire, England, UK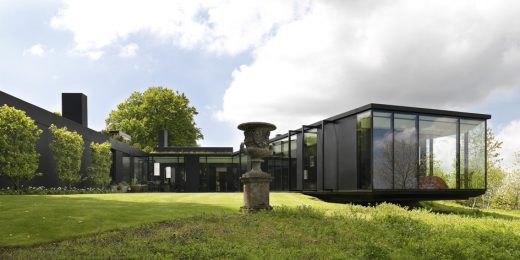 Town Hall of Gembloux, Gembloux, Namur, Belgium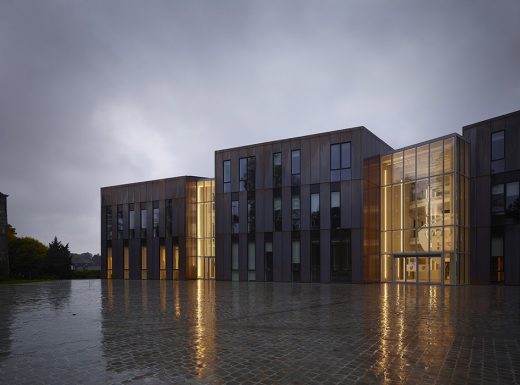 Website: Dedalo Minosse Prize Italy
Location: Vicenza, Italy
Architecture Awards
RIBA Special Awards Shortlisted Buildings / Architects
Comments / photos for the Dedalo Minosse Prize 2019 Awards News page welcome
Website: Dedalo Minosse Prize in Italy