Art Fund Museum of the Year 2022 Winners, Shortlist, Architects, Architecture, Buildings
Art Fund Museum of the Year Winners
Shortlist / Winners – Projects, News, Design: Buildings + Architects
Art Fund Museum Of The Year 2023 Winners
Art Fund Museum of Year 2023 Winners
14 July 2022
Horniman Museum And Gardens Wins £100,000 Art Fund Museum Of The Year 2022
Students visit the Horniman Museum and Gardens, London, June 2022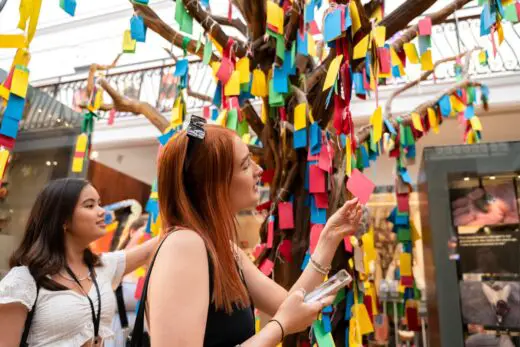 photo : Amaal Said
Art Fund Museum of the Year 2022 finalists
The Art Fund Museum of the Year 2022 finalists were:
Derby Museums, Museum of Making (Derby)
Museum of Making and the River Derwent: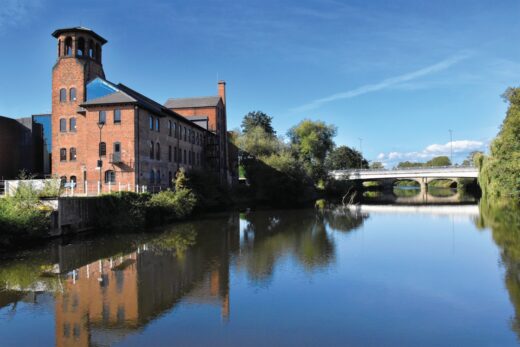 photo © Derby Museums 2021
The Museum of Making opened in May 2021 following an £18m redevelopment plan at Derby Silk Mill, originally built in 1721 and considered to be the site of the world's first factory. Exploring the story of making in Derby over 300 years, the museum is inspiring the next generation to be makers of the future. Over 1000 volunteers contributed to its transformation, from helping to move the collection to creating art installations and conserving the heritage building, embedding public participation at the core of the museum.
Since opening, the museum has attracted over 105,000 visitors. The Museum of Making membership scheme provides a vital opportunity for people to join a creative community: members can work on site with specialist equipment and technical support, encouraging and empowering future makers and innovators. Its learning programme with local partners Rolls-Royce integrates Science, Technology, Engineering, Arts and Maths as a multidisciplinary approach, helping to forge deep relationships with the local community and aiming to improve young peoples' skills to enter the workforce in a city in need of technicians, engineers, and problem solvers.
People's History Museum (Manchester)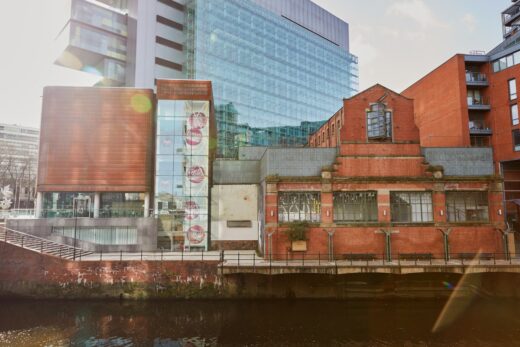 photo © Emli Bendixen
People's History Museum is inspiring the next generation to be active citizens, to use their voices and to make a difference. It showcases the struggle for equity and equality and provides space to explore contemporary issues through marginalised voices. Stories of radical history and contemporary changemakers are celebrated through a collection of 60,000 objects and the largest collection of political and trade union banners in the world. The museum co-creates its programmes in partnership with communities.
In 2021-2 Migration has been its headline theme, working with those who have experienced it first-hand. The exhibition More in Common: in memory of Jo Cox explored the life and legacy of Jo Cox MP working with a wide variety of people living in Manchester. In the context of national conversations about migration, People's History Museum has shifted from a museum about campaigning to a museum that campaigns, standing Together With Refugees to challenge the Nationality and Borders Bill and the approach it will take on the right to seek asylum. The museum has also joined 350 organisations to oppose the Police, Crime, Courts and Sentencing Bill, fearing it will silence marginalised voices.
The Story Museum (Oxford)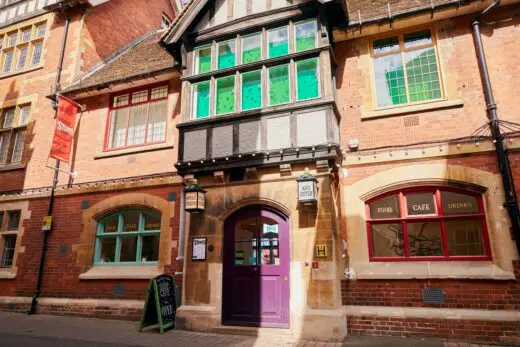 photo © Emli Bendixen
The Story Museum fires the imaginations of young people through the power of stories. The museum reopened in May 2021 after a £6m redevelopment working with 50 designers, makers and creatives to bring a host of stories to life in 10 immersive galleries and activity spaces. They have since welcomed 80,000 visitors. Spaces including a Whispering Wood, Enchanted Library, Small Worlds picture book gallery and Learning Studio inspired by Hogwarts connect visitors creatively with stories in all forms.
The museum directly addresses inequality in Oxford where 26% of children live below the poverty line, with its work shown to effectively promote early oracy, literacy and motivation to read independently. The programme also tackles isolation in families with young children experienced as a result of the pandemic. Its upcoming exhibition will inspire children to become the next generation of comic artists and writers. In 2022 the Story Museum will also launch its Minecraft Museum project, working with teenagers to create a digital version of the Enchanted Library gallery space.
Tŷ Pawb (Wrexham)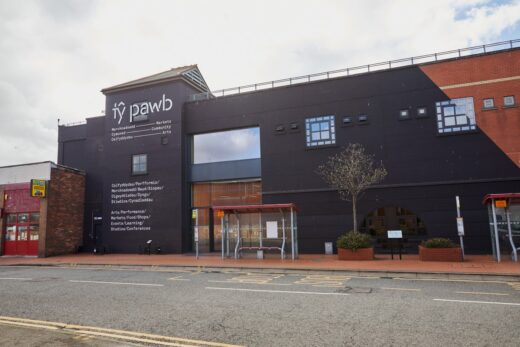 photo © Emli Bendixen
Tŷ Pawb creates a community space for everyone – a museum in a market with makers, traders and galleries all under one roof. This coexistence celebrates the significance of markets within Wrexham's cultural heritage and identity, saving a traditional space and bringing services and creatives together to make and sell. In 2021 Tŷ Pawb also transformed a gallery into 'Lle Celf Ddefnyddiol' or 'Useful Art Space'. The space is for creative workshops, community conversations, play sessions, informal performances and other uses imagined by the local community – inspired by the belief that art can be a tool for social change.
Projects closely serve the needs of local people, from free play sessions for families to 'Make Yourself at Home', working with refugees to learn a range of craft techniques to develop creative making skills and supporting them in establishing micro-businesses. An ambitious programme of contemporary art working with artists from Sean Edwards to Assemble features within the gallery spaces. Tŷ Pawb is at the heart of a burgeoning local arts and culture scene, with Wrexham County Borough reaching the shortlist to become UK City of Culture 2025.
About Art Fund Museum of the Year
Art Fund has supported Museum of the Year since 2008. Its forerunner was the Prize for Museums and Galleries, administered by the Museum Prize Trust and sponsored by the Calouste Gulbenkian Foundation from 2003-2007.
The prize champions what museums do, encourages more people to visit and gets to the heart of what makes a truly outstanding museum. The judges present the prize to the museum or gallery that has shown how their achievements of the preceding year stand out, demonstrated what makes their work innovative, and the impact it has had on audiences.
Winners 2008 – 2021
2008 – The Lightbox, Woking
2009 – Wedgwood Museum, Stoke-on-Trent,
2010 – Ulster Museum, Belfast
2011 – British Museum
2012 – Royal Albert Memorial Museum
2013 – William Morris Gallery, London
2014 – Yorkshire Sculpture Park, Wakefield
2015 – Whitworth Art Gallery, Manchester
2016 – Victoria and Albert Museum (V&A), London
2017 – The Hepworth, Wakefield
2018 – Tate St Ives
2019 – St Fagans National Museum of History, Cardiff
2020 – Aberdeen Art Gallery; Gairloch Museum; Science Museum; South London Gallery; and Towner Eastbourne.
2021 – Firstsite, Colchester
About Art Fund
Art Fund is the national fundraising charity for art. It provides millions of pounds every year to help museums to acquire and share works of art across the UK, further the professional development of their curators, and inspire more people to visit and enjoy their public programmes. Art Fund is independently funded, supported by Art Partners, donors, trusts and foundations and the 130,000 members who buy the National Art Pass, who enjoy free entry to over 240 museums, galleries and historic places, 50% off major exhibitions, and receive Art Quarterly magazine. Art Fund also supports museums through its annual prize, Art Fund Museum of the Year. www.artfund.org
Previously on e-architect:
14 Oct 2020
Winners Of £200,000 Art Fund Museum Of The Year 2020
Aberdeen Art Gallery (Aberdeen, Scotland)
Gairloch Museum (Gairloch, Scotland)
Science Museum (London, England)
South London Gallery (London, England)
Towner Eastbourne (Eastbourne, England)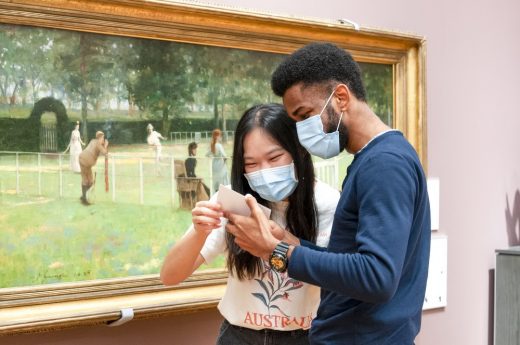 photo : Marc Atkins
Art Fund Museum of the Year – 2020
10 May 2016
Art Fund Museum of the Year Shortlist in 2016
Art Fund Museum of the Year Shortlist 2016 News
Five brilliant, innovative UK museums have been shortlisted for the Art Fund Prize for Museum of the Year 2016.
– Arnolfini, Bristol
– Bethlem Museum of the Mind, London
– Jupiter Artland, West Lothian
– Victoria and Albert Museum, London
– York Art Gallery
Photos of the shortlisted work:
Arnolfini, Bristol: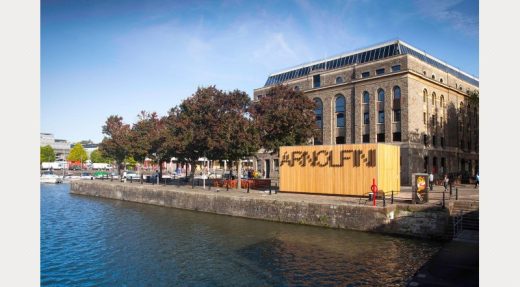 photograph © Jamie Woodley
Bethlem Museum of the Mind: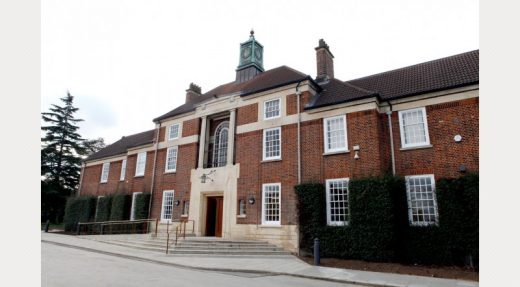 photograph © Polly Braden
Charles Jencks' 'Cells of Life' at Jupiter Artland: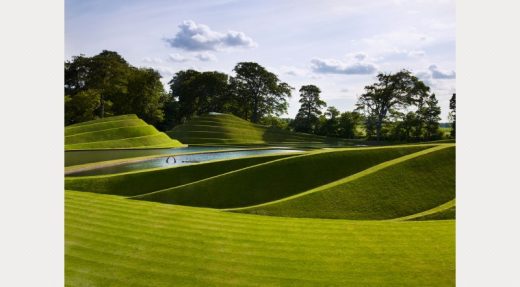 photograph © Allan Pollok Morris
Victoria and Albert Museum: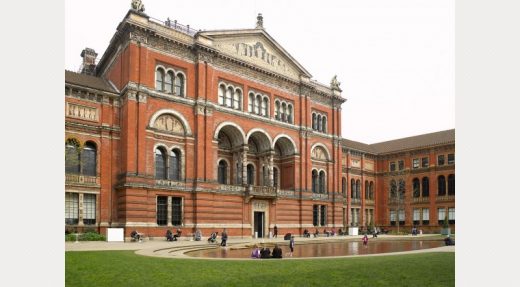 photograph © Polly Braden
York Art Gallery: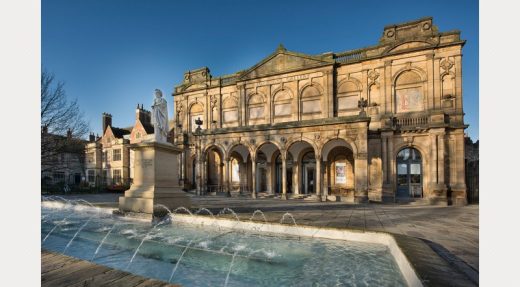 photograph © Giles Rocholl Photography
The winner will be announced on Wednesday 6 July 2016.
Source: http://www.artfund.org/prize/shortlist
What's Museum of the Year?
The Art Fund awards the Museum of the Year prize annually to one outstanding museum, which, in the opinion of the judges, has shown exceptional imagination, innovation and achievement. The prize of £100,000 is given at an awards dinner, before an invited audience of the UK's museum and cultural leaders, which this year will take place at the Natural History Museum in London on Wednesday 6 July 2016.
Kate Brindley, Arnolfini CEO said:
"We are delighted to be nominated as a Museum of the Year 2016 finalist and congratulate the other organisations: we're in good company. Arnolfini is incredibly proud to have the hard work of our team, the talent of our artists and the quality of our partnerships recognised by this important national programme."
"Most of all, we are grateful to the people of Bristol for supporting us and inspiring us in our mission to create spaces where the culturally curious can come together and participate in contemporary arts and culture."
"This award is a major boost for the organisation following a year of ambitious transformation at Arnolfini, and also for the city as a whole as we gear up to collaborate with Bristol's cultural community to make the case to bid for European Capital of Culture. The Art Fund recognition has been a gift for Arnolfini and for Bristol."
Source: http://www.arnolfini.org.uk/blog/museum-of-the-year
Art Fund Museum of the Year Shortlisted Buildings 2016
Art Fund Museum of the Year Shortlisted Buildings
– Arnolfini, Bristol – note this links to an article on a proposal by 51N4E
The gallery was founded in 1961 by Jeremy Rees, and was originally located in Clifton. In the 1970s it moved to Queen Square, before moving to its present location, Bush House on Bristol's waterfront, in 1975. The name of the gallery is taken from Jan van Eyck's 15th-century painting, The Arnolfini Portrait.
– Bethlem Museum of the Mind, London
Design: Fraser Brown MacKenna Architects



picture Courtesy Fraser Brown MacKenna
Bethlem Museum of the Mind houses an internationally renowned collection of archives, art and objects relating to the history of mental health care and treatment, dating back to 1555. Among the objects on display are metal and textile restraints, patient portraits from the 1850s, and the statues Raving and Melancholy Madness by Caius Gabriel Gibber, which were originally displayed at the hospital at Moorfields; plus an art collection of around 1,000 works.
– Jupiter Artland, West Lothian
Jupiter Artland is a unique award-winning sculpture collection 12 miles west of Edinburgh, and a charity committed to nurturing the work of contemporary artists and commissioning site-specific work. In 1999 art collectors Robert and Nicky Wilson bought Bonnington House, a Jacobean manor set in a 100-acre estate near Edinburgh, to live with their family. Nicky, a sculptor herself, had long dreamed of creating her own sculpture park, and the gardens, fields and woodlands of the estate seemed like the perfect setting for a sculpture park; some years later, Jupiter Artland opened to the public.
– Victoria and Albert Museum, London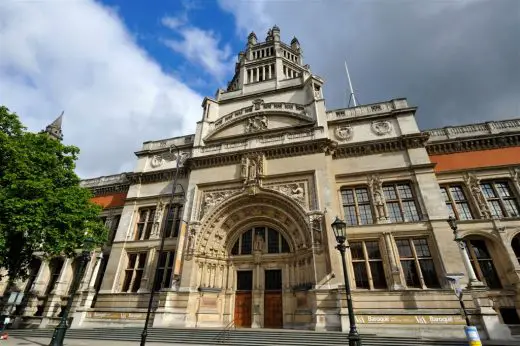 photo © Nick Weall
2015 was a remarkable year for the world's leading museum of art and design, from a record-breaking Alexander McQueen exhibition to its acclaimed Europe 1600-1815 galleries, and much more.
Founded in 1852 following the enormous success of the Great Exhibition, the Victoria and Albert Museum is now home to more than 2.3 million objects from all over the world, ranging from textiles and fashion to sculpture, photography, furniture and more.
– York Art Gallery
York Art Gallery was built in 1879 for the second Yorkshire Fine Art and Industrial Exhibition, inspired by the Great Exhibition in London of 1851. When the exhibition closed, the space became a permanent art gallery. It is now home to a superb collection of art spanning 600 years, including works by David Hockney, LS Lowry, Sarah Lucas, Paul Nash and Stanley Spencer, and the city's own William Etty.
Location: England, UK
Architecture Awards
Key European Architecture Award:
Stirling Prize
Art Fund Pavilion Architecture Competition
Website: Architectural Tours
Pritzker Prize Winner 2004 : Zaha Hadid
Comments / photos for the Art Fund Museum of the Year Shortlist, 2016 page welcome
Website: Art Fund Museum of the Year 2016