IS ARCH Awards, Architects, Architecture, Projects, First prize winner News, Design
5th edition IS ARCH Awards
International Architecture Prize – Winners in 2015
15 Apr 2015
5th edition IS ARCH Awards for Architecture Students
Jury announced for 5th Edition of the IS ARCH Awards
IS ARCH awards for architecture students Jury evaluation comments
5th Edition/ 15th September 2014 – 25th March 2015
Jury members / Tomislav Dushanov, Associate Herzog & De Meuron / Emmanuel Blamont,
Ateliers Jean Nouvel / Makoto Fukuda Fukuda, Project Director in Toyo Ito Architects and
EMBT / Carme Pigem, RCR arquitectes / Ricardo De Ostos, NaJa y deOstos
First prize winner
Crece Junto a La Naturaleza / Alejandra Salvador / University CEU San Pablo
Tomislav Dushanov, Associate Herzog & De Meuron
Concept: outstanding
Detail: very good
Presentation: outstanding
Emmanuel Blamont, Ateliers Jean Nouvel
Nice drawings, lot of ideas, we would like to know more about architectural solutions…
Makoto Fukuda Fukuda, Project Director in Toyo Ito Architects and EMBT
Beauty, joy practical ideas and Fantasy. The author express well his/her sences. All the elements on the drawing are effective and they give us something more.
Carme Pigem, RCR arquitectes
It is an alive and happy approach…
Ricardo De Ostos, NaJa y deOstos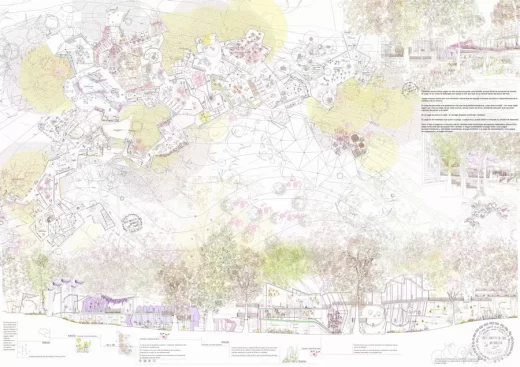 The project has a rich and powerful combination of spaces as sequence of event but also as time as a enriching factor. The inclusion of senses apart from only visual puts the project into a great bonanza of experiences. Well presented, comprehensive and clear in its objective.
We know that children play, not only because they like it, but also because they have the need to do it.
The game in not just one kind of children acivity, it is also the basic child behaviour. They play because they want, for an internal motivation that push them to rehearse actions and interpretation of themselves and their environment. Playing is to the children a vital experience wich possibility them to tansform, create other worlds , live others lives ,play to be others while never ceasing to be themselves, think like others and , above all , discover that there are other ways to think and feel. During the game they are tested, they practice, they confirm ,they reject…
Playing is so necesary that thouse who do not play or play just a bit can reduce or even block their growing process.
Anyway, although playing is a natural push , it needs some conditions of material spaces and moments. Will these conditions which relate the project with the user.The starting point for every space of this children's center.
Second prize winner
Bookish hills / Yoshihito Tamba / Meiji University
Tomislav Dushanov, Associate Herzog & De Meuron
Concept: outstanding
Detail: outstanding
Presentation: outstanding
Emmanuel Blamont, Ateliers Jean Nouvel
Poetic idea but disconnected from thereality of a public library wich is a complex
program with very specific functional needs a constraints.
Carme Pigem, RCR arquitectes
Nice way for a library…
Ricardo De Ostos, NaJa y deOstos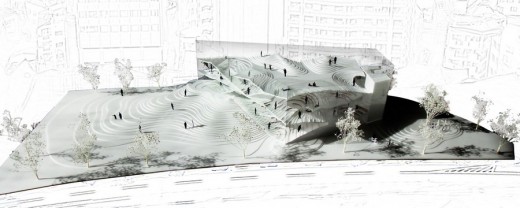 Unfortunately the project is not well documented on the submitted board, therefore it leaves a bad impression of an exciting idea translated into a one liner architectural model. Not well presented, not enough depth, not well explained.
To stir intellectual curiosity, here is a try to combine floors with book shelves. This is a library with hilly floors located in between a huge park, a small park and residential area. Thanks to the space for books, the floors appear to be a lot of hills with full books. Visitors can walk through, sit or lie on the hills, and read books. Then they will find other books by looking over the hills. People can read books in several styles here.
The gentle hilly floors which compose the building connect with the neighbors so that the building could coexist with a park and residential area. That indicates smooth walking flow from the outside to the inside and the rooftop garden. The floors are connected with each other and classify the books as well. There are basic floor levels of the elevator and the stairs, and the hills consist from each basic level. Therefore visitors can find any books from the classified hills.
Third prize winner
Rethinking Biotope / The Eutrophication Case / Kyriaki Goti, Nikolaos Xenos / Aristotle University of Thessaloniki
Tomislav Dushanov, Associate Herzog & De Meuron
Concept: excellent
Detail: very good
Presentation: outstanding
Emmanuel Blamont, Ateliers Jean Nouvel
Nice renderings, poetic and interesting on a sustainable point of view.
But the project is more about "design product" rather than about architecture.
Makoto Fukuda Fukuda, Project Director in Toyo Ito Architects and EMBT
Good idea! But structure pattern is not special… You can make more interesting as
plants, but unique plants.
Carme Pigem, RCR arquitectes
The nature makes architecture growing…
Ricardo De Ostos, NaJa y deOstos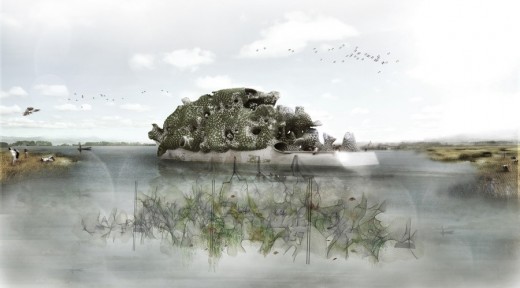 Exciting idea utilizing a existing structure to mediate an environmental and social sustainble issue. The project uses ingenious techniques appropriating and quoting existing systems to create and innovative experience and structure. It excitingly connects design to environment opening several interesting questions about the high and low tech systems. The project is commendable for its courage, delivery and thematic.
With this project we tried to exploit the potentials that emerge from a significant environmental problem: eutrophication. Eutrophication is the great increase of phytoplankton which disrupts normal functioning of the ecosystem and implies a variety of environmental consequences. As in Greece the 25% of the lakes, rivers and lagoons suffer from eutrophication, how could we face the problem and at the same time increase the economic development of each place?
The project acts in three axes: economy, environment, culture. An oceanographic ship that is travelling in a route that connects the problematic areas, collecting the algae, investigating its advantages and providing touristic facilities. In each "station" a set of nets is placed underwater, that concentrates algae, functioning as an artificial reef.
When the ship arrives, it collects from the nets the amount of algae that is needed for the research and for the energy production and it stores it in the hull, where it can grow due to the sun. In this way, a new type of biotope is being developed, proving that economic development is interwoven with the harmonic symbiosis of human and nature. We participated in the competition IS ARCH Awards, since it is a process through which interesting academic projects are rewarded and promoted.
IS ARCH Awards 2015 Winners from IS ARCH Awards
Location: Barcelona, Catalunya, Spain
Contemporary Architectural Designs
Mies van der Rohe Awards



photograph : Ute Zscharnt
World Architecture Festival Awards



photo : Roland Halbe
LEAF Awards



photograph from architects
Pritzker Prize



image © Nick Weall
Comments / photos for the 5th edition IS ARCH Awards for Architecture Students page welcome
5th edition IS ARCH Awards for Architecture Students Prize
Website: http://www.isarch.org/en/