3DReid Student Prize 2021, Buildings, UK Architectural Award News, British Higher Education
3DReid Student Prize 2021
British Architecture Student Award – UK Higher Education Architectural Design Information
8 June 2021
3DReid Student Prize
Architecture Student Prize
3DReid are delighted to return once again with our Student Prize that celebrates the best new talent and provides a link between education, practice and the industry at large.
We would like to invite you to nominate either one Part II student or a team if they have collaborated on a single project. We can only accept one entry per university.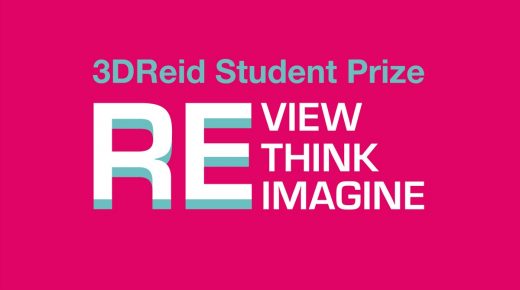 REBOOT ON HOW WE CONDUCT THE PRIZE
The last two years have seen seismic changes to the world and we as a practice have reviewed our impact on the planet, society and the industry as a whole. We want to be proactive in encouraging and promoting work that matters and people that care.
We shall be asking students to remove their names and universities from submissions to ensure unconsicous bias plays no part in the shortlisting process.
We shall ensure the final judging panel is diverse to better represent varied views and voices. We will be hosting the prize online and as such we are asking for entries to be A4 landscape for better screen viewing and also giving the students the opportunity to submit a video.
We do not expect students to respond to a specific brief at this busy time of year, but this year we have amended our judging criteria and entrants shall be judged on:
• Impact – does the project have meaning? does it address societal concerns such as environment, culture, community, wellbeing, inclusivity and marginalisation?
• Innovation – does the project represent new ways of thinking? does it explore new technologies, materials, building methods, sense of place and environmental impact?
• Communication – does it speak to the viewer? are the imagery and words well conceived and have they embraced new ways of communicating their ideas?
With practices fighting to recruit the best talent available, help your best students by giving them the opportunity to raise their personal profiles and get better job prospects. All of our previous winners have confirmed that winning the 3DReid Student Prize has significantly helped their chances of securing work. We've even recruited a few ourselves.
There will be a 2-stage judging process. Five finalists shall be chosen internally. External judges will then join our judging panel for the final presentations on Thursday 22nd July.
SUBMISSION:
To submit for this first stage, please complete the attached nomination form and return to us at [email protected] no later than Friday 25th June. Entries after this date cannot be accepted.
Your chosen student will then need to supply a maximum of 4 A4 landscape slides in PDF format of their final project and a separate 400 word project description in Word, this year there is the option to include a short video as a link. Deadline for artwork and text is Friday 2nd July. We cannot accept entries without all 3 items (nomination form; A4 slides and description).
We appreciate that this deadline for many is very close to the end of term and work may not be fully realised but it will give us enough for the first stage of judging and allow for the final presentations to be conducted before the holiday season.
Announcement of the shortlist will be Monday 12th July.
We will then contact the shortlist to coordinate the final presentations which will take place before a judging panel virtually on the Week of 19th July (date tbc) with a 45min slot per entrant.
For any queries please email: [email protected]
Previously on e-architect:
12 Nov 2007
3DReid Prize
DETAILS OF 3DREID STUDENT PRIZE ANNOUNCED
Architecture Student Prize
3DReid has announced a £5,000 pot for their 3rd practice-run student prize – the largest run by an architectural practice. Five shortlisted final year students will each receive £800 and the 'Best of the Best' will receive an additional £1,000 grand prize.
The 3DReid Student Prize is aimed at rewarding students for their excellence in concept and design during the current 2007/8 academic year. Letters and posters will be going out in the coming weeks to architectural departments across the UK asking heads of departments to consider their nominations. Each school can only nominate one student each.
David Stanford, Director at 3DReid said: "In collaborating with these academic institutions, we aim to give graduates an opportunity to expose their work to a broad audience, putting their college work and experience within the context of a practicing firm of architects. The practice strongly believes that supporting students through the challenges of their college courses is essential in preventing a widening gap between education and practice. "
Professor Tim Heath, Chair of Architecture & Urban Design at the University of Nottingham, said: "The 3DReid Student Prize is a fantastic example of a practice showcasing the best architectural projects emerging from our leading schools of architecture and an exciting opportunity for the selected students to exhibit their work to a wider audience."
The results will be announced after the end of year shows in 2008.
Architecture Awards – Selection
World Architecture Festival Awards
International Competition for the Development Plan of the Old HANGLAS Site, South Korea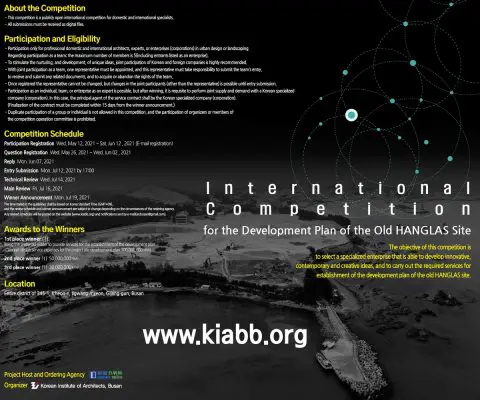 Old Hanglas Site International Competition
Architecture Walking Tours Europe
Comments / photos for the 3DReid Student Prize 2021 page welcome