2022 RIBA Research Fund Awards News, UK Building Design Analysis, England Architects profession
2022 RIBA Research Fund News
1 December 2022
RIBA awards £30,000 in research funding
The Royal Institute of British Architects (RIBA) has today announced the recipients of the 2022 RIBA Research Fund. Awarded annually, the Fund is intended to support individuals – at any stage of their career – who would like to conduct a piece of independent research to benefit architects and the wider profession.
2022 RIBA Research Fund, UK
The 2022 recipients of the RIBA Research Fund are:
Aude Azzi and Frederik Weissenborn
Spatial Practice in a Post Disaster City: Learning from Beirut
Awarded £6,000
This project explores spatial practices that have emerged in Beirut in recent years. Focusing on four neighbourhoods in central Beirut – Geitaoui, Gemmayze, Karantina, and Mar Mikhael – the project investigates the spatial practices that have been developed by communities in response to the 2020 Port explosion and explores if and how they can be translated to other social and geographical contexts.
Kate Jordan and Julie Marsh
Moving pictures: reusing cinemas as places of worship in the diaspora
Awarded £8,000
This project combines primary research with the innovative art-based methodology, 'site-integrity' to investigate the adaptive reuse of cinemas as places of worship and explore questions of faith and diaspora in the contemporary urban landscape.
Garrett Nelli
Branching Out: Make Use, Not Waste
Awarded £5,000
'Branching Out' explores the use of small-diameter crown timber in adaptable and modular construction and the environmental, cultural, and economic implications once a value is associated with this forestry waste. This research leverages drone scanning technology to catalogue tree geometry for accurate stand volume calculations and a life cycle assessment to benchmark the carbon footprint of this proposed supply chain against contemporary forestry practices.
Elena Palacios Carral
Portraits of a Practice
The Making of a Doll's House by the Architect Mary Jane Long
Awarded £4,600
This is a research project about the life and work of the architect Mary Jane Long as told through a study of a Doll's House she made in the 1980s for her young daughter. As such, the doll's house can be viewed as a portal through which to navigate MJ Long's work and life, and her archive, which is currently in storage and uncatalogued at the RIBA.
Dominic Walker
Portraits and Strategies for an Edible City
Awarded £6,400
This research project aims to create a design guide that encourages an integration of healthy eating and food production in city life. It will consider the societal, natural, climatic, and cultural benefits of food and the relationship between food and architecture at the following scales: the dwelling, communal housing, neighbourhood, public institutions, and city-scale. Case studies will range from academics to farmers to activists and back garden growers.
Starting with top row, left to right: Aude Azzi, Kate Jordan, Julie Marsh, Garrett Nelli, Elena Palacios Carral, Dominic Walker, Frederik Weissenborn: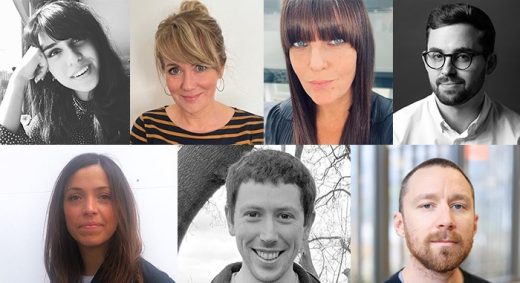 photos courtesy of winners / RIBA
Applications were assessed by the RIBA Research Development Group, which comprises:
Professor Robert Brown, University of Plymouth (Outgoing Chair)
Laura Evans, Howland Evans Architects / Kingston University
Dr Saul Golden, Ulster University
David Hills, DSDHA
Professor Mhairi McVicar, Cardiff University (Incoming Chair)
Meryl Townley, van Heyningen & Haward Architects
Jessie Turnbull, MICA
Professor Stephen Walker, University of Manchester
On announcement of the 2022 recipients, RIBA President Simon Allford said:
"Research is a cornerstone of our profession and the projects we are supporting this year are a testament to the awardees' dedication to improving architectural practice, discourse and knowledge. I strongly commend the tenacity exemplified in the diverse selection of winning projects and am delighted to see that our awardees include individuals from various stages of their career in practice and academia."
Chair of the RIBA Research Development Group, Professor Mhairi McVicar also added:
"The RIBA Research Development Group reviewed a wide range of excellent proposals, and the panel were pleased to see the level of interest in architectural research, and the quality of proposed topics provoked a rich discussion. This year's award recipients demonstrate a breadth and depth of architectural research approaches, and balance feasibility with originality and significance."
Find out more about the RIBA Research Fund and previous projects here.
Recipient Biographies
Aude Azzi and Frederik Weissenborn
Aude Azzi is an architect, tutor and researcher. She holds a Bachelor and Master of Architecture from the Académie Libanaise des Beaux-Arts in Beirut. She received her M.AAD from Columbia University. She currently works at Stiff + Trevillion Architects in London. Aude has taught at Columbia University and Birmingham City University. She co-founded the GSAPP Collective for Beirut which is an interdisciplinary group dedicated to the promotion and discussion of contemporary issues in Lebanon and the middle east. Frederik Weissenborn is a researcher. He received his doctorate from the Bartlett School of Architecture, University College London. Frederik's research explores the relationship between built form and urban social justice. He acts as an external lecturer and guest critic at leading UK universities, including the Architectural Association and the Bartlett School of Architecture. أثر [Athar] is an architectural research practice set up by Aude Azzi and Frederik Weissenborn. أثر is the Arabic word for 'trace'
Kate Jordan and Julie Marsh: Julie Marsh is an artist and researcher at the Centre for Research and Education in Arts and Media (CREAM) at the University of Westminster. Julie is a specialist in collaborative and knowledge-led approaches to field research and in 2017 she developed the methodology "site-integrity" which employs artistic devices that directly respond to the site and its community. Her long-standing research project Assembly (2016-present) was exhibited internationally at the Venice Architecture Biennale in 2021, exploring the under-represented aspect of Britain's religious heritage, the adapted mosque. Kate Jordan is a Senior Lecturer in Architectural History and Theory in the School of Architecture and Cities at the University of Westminster. Her research focuses on inclusive heritage and modern and contemporary faith architecture. She is co-editor of the book Modern Architecture and Religious Communities: Building the Kingdom and is currently guest-editing a special issue of the journal Architecture and Culture entitled, 'Sacred, spiritual, secular: places of faith in the twenty-first century'. Recent articles include 'Urban churches in an infrasecular landscape' in the Journal of Architecture and 'Victorian values: past and present in the refurbishment of London's historic churches' in the Journal of Architectural Conservation.
Elena Palacios Carral trained as an architect in Mexico and the UK, and is a director at Forms of Living, an architectural practice in London that explores the relationship between life and form in architecture, the city, and the landscape.She is a Design Fellow at the University of Cambridge, an associate lecturer at CSM and a dissertation tutor at the University of Greenwich, where she runs a seminar series developed from her doctoral research at the Architectural Association, 'The Studioification of the Home.' Elena previously taught in the History and Theory course at the Royal College of Art and ran design studios at Kingston University, Oxford Brookes University and the University of Hertfordshire. Elena is currently undertaking a research project about the life and work of Mary Jane Long as told through a study of a Doll's House she made in the 1980s for her young daughter. This project will culminate in a publication and exhibition at the AA in 2023/2024.
Garrett Nelli is a practicing architect and recent graduate of the AA Design + Make's MSc postgraduate programme with Distinction. His passion exists at the intersection of architecture, sociology, and ecological activism. Garrett was the recipient of the 2017 AIA Seattle Emerging Professionals Travel Scholarship, and his writings have been featured on Archdaily, The Architectural League of New York, and Arcade NW Magazine.
Dominic Walker graduated top of class with a MArch in Architecture from the Bartlett in 2019. He previously graduated top of class with an MEng in Architecture and Structural Engineering from the University of Sheffield in 2015. He was awarded the Sir Banister Fletcher Medal and the RSHP Bursary while at the Bartlett. Since 2020 he has worked at Witherford Watson Mann Architects, and previously at RSHP and Thomas-McBrien Architects. He was awarded first place in an RIBA competition in 2020 and has since been conducting a wider research project into urban ecology in London, with Timothy Rodber.
Previously on e-architect:
2020 RIBA President's Awards for Research, UK
Winners of 2020 RIBA President's Medal for Research and Research Awards
Climate Change Winner – The Hawkins-Brown Emission Reduction Tool: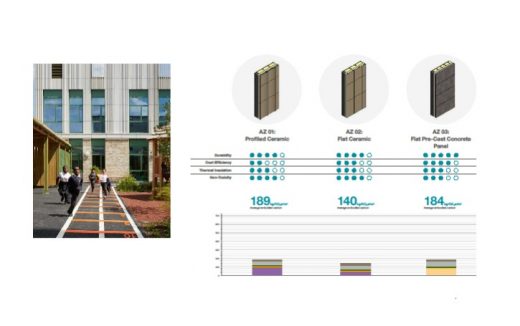 image courtesy of architects practice
2020 RIBA President's Awards for Research
Richard Beckett, Bartlett School of Architecture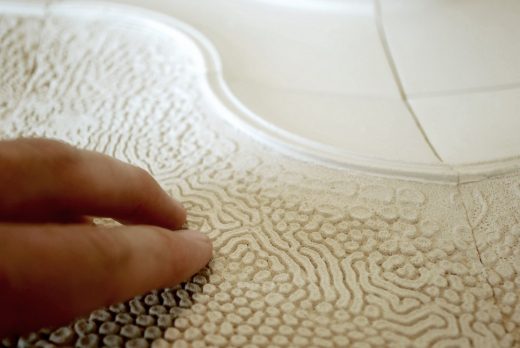 image courtesy of researcher / RIBA
RIBA President's Awards for Research 2018
RIBA 2017 President's Awards for Research

RIBA President's Awards for Research 2017
RIBA President's Awards for Research 2016
Location: 66 Portland Place, London W1B 1AD, UK
Architecture Awards
RIBA President's Medals Student Awards Winners
RIBA President's Medals Student Awards Past Winners
RIBA President's Medals Student Awards 2010 Winners
RIBA President's Medals Student Awards 2009 Winners
World Architecture Festival Awards
RIBA Awards
Comments / photos for the 2022 RIBA Research Fund Winners page welcome