2015 RIBA National Award Winners, Winning Buildings, UK, Architecture, Links, Projects
2015 RIBA National Award Winners
Royal Institute of British Architects – Prize Winners – Buildings + Architects
18 Jun 2015
2015 RIBA National Award Winners
Britain's best new buildings – 2015 RIBA National Award winners are announced with inspirational new housing the stand-out trend for 2015
The Royal Institute of British Architects (RIBA) is pleased to announce the winners of the 2015 RIBA National Awards, the most rigorous and prestigious awards for new buildings in the UK.
RIBA National Award-winning buildings set the standard for good architecture. The shortlist for the coveted RIBA Stirling Prize for the UK's best building of the year will be drawn from the 37 award-winning buildings announced today.
Award winners include a beautifully-crafted wooden fishing hut on a small new estate in Hampshire (Fishing Hut), a crisp, modern malt whisky distillery inspired by the shape of a barley sheaf (Dalmunach Distillery), a patterned red-brick church centre and apartments surrounding a listed church in Hackney (St Mary of Eton) and a modest and calm cancer care centre (Maggie's Lanarkshire).
The stand-out trend of the 2015 RIBA National Awards is the prevalence of high quality new housing developments. One quarter (8) of the 37 award winners are housing projects by developers ranging from large housebuilders and housing associations to smaller bespoke schemes by private investors.
At a time when the lack of decent housing dominates the political agenda, amongst the winning projects are some exceptional examples of well-designed affordable and sustainable new developments. Great examples include the regeneration of over 200 homes on the Gorbals district of Glasgow (Laurieston Transformational Area) and, at the other end of the size scale, an elegant five-storey, 13-home affordable housing block for Peabody in East London (Darbishire Place).
Private housing developments include Richard Rogers' housing towers on prime London real estate (Neo Bankside), a 45 home canal-side development in west London (Brentford Lock West) and 14 distinctive homes stepping down through a gap in the heart of St Andrews' old town conservation area (West Burn Lane).
Exceptional education buildings also feature strongly on the winners list. From a small delightful nursery school for the University of Edinburgh (Arcadia Nursery), new state schools (Burntwood School, Ashmount Primary School), an independent school building (Uppingham School Science Centre) and a special needs school building (Alfriston School pool building) to major university buildings (University of Greenwich library building, Manchester Met Student Union), these projects will benefit generations of children, students and staff.
One quarter (9) of the RIBA National Award winners are private homes and garden buildings. Ranging from a stone and copper-clad tiny retreat buried in a Wiltshire garden (Myrtle Cottage Garden Studio), to an architect-owned low-energy house on the edge of a Somerset village (Dundon Passivhaus) and a strikingly modern family house in County Down (House at Maghera).
Speaking today, RIBA President Stephen Hodder said:
"The RIBA National Awards provide a unique insight into UK construction, investment and design trends.
"The UK is blighted by poor-quality new housing and dilapidated school buildings, so I am delighted that the notable trends amongst this year's RIBA National Award-winners are the volume of inspiring new housing and education projects.
"I am particularly pleased to award an unprecedented number of housing developments. The innovative spirit of these projects sets them apart from the ubiquitous, uninspiring housing developments being built all over the country. Our award winners show it is possible to build exceptional new housing developments that are profitable, sustainable and desirable places to live.
"Well-designed school buildings have the power to inspire students and teachers. This doesn't mean every new school needs to be a show-stopper – like Burntwood or Ashmount – but we must ensure that value for money and the best possible design go hand in hand.
"One intriguing design trend is the use of brick, in all its hues (British, Danish), patterns and textures, as the dominant material for many of the award winners. Brick is firmly established in the British psyche as a safe, long-lasting, familiar material. Our award winners have used bricks to great effect – whether to respond contextually, or to imbue their buildings with humanist qualities.
"The admirable aspect shared by every one of our winners is ambition. The combination of ambitious clients, architects, local leaders and a supportive local community leads to great new buildings. All 37 of our RIBA National Award winners should provide inspiration for developers, local authorities and architects alike and will delight generations to come."
The 37 buildings that have won a 2015 RIBA National Award are:
LONDON
1. University of Greenwich Stockwell Street Building, SE10 by Heneghan Peng architects
Located in the UNESCO World Heritage Site, this delightful building houses the main university library and the departments of Architecture, Landscape and Arts.
2. Burntwood School, Wandsworth by Allford Hall Monaghan Morris
Bold, characterful new campus buildings with light-filled rooms and corridors add to a sense of this being a very collegiate school.
3. St Mary of Eton Church, Apartments and Community Rooms, Hackney Wick E9 by Matthew Lloyd Architects LLP
Three new buildings, including 26 new apartments, in patterned red brick that responds to the original Grade II* listed church.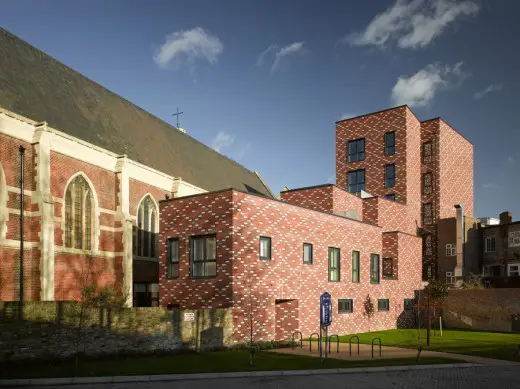 photograph © Benedict Luxmoore
4. The Foundry, SE11 by Architecture 00 Ltd
Refurbishment of an old shoe polish factory into a flexible building for ethical organisations; the expressive language of the architecture appropriately suggests informality, openness and the idea of a collective of individuals.
5. NEO Bankside, SE1 by Rogers Stirk Harbour + Partners
New housing towers with exo-skeleton and external lifts on London's South Bank – a well-mannered example of a structurally expressive architecture.
6. University campus for Hult International Business School, E1 by Sergison Bates architects
New undergraduate campus in a converted Grade II-listed brewery with a clear architectural identity and strong aesthetic sense.
7. Bonhams, W1 by Lifschutz Davidson Sandilands
Exemplary urban infill on an extremely complicated site. Grand new entrance and refurbished Deco facades.
8. Ashmount Primary School, N8 by Penoyre & Prasad
Exemplary zero-carbon school and nursery which carefully manipulates its plan and cross-section to draw in natural light and reveal woodland views.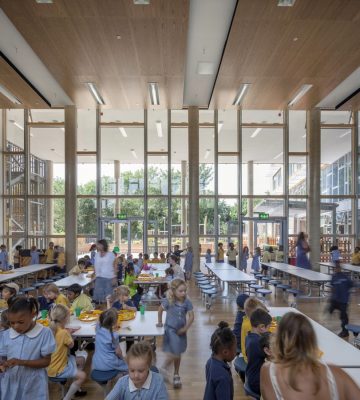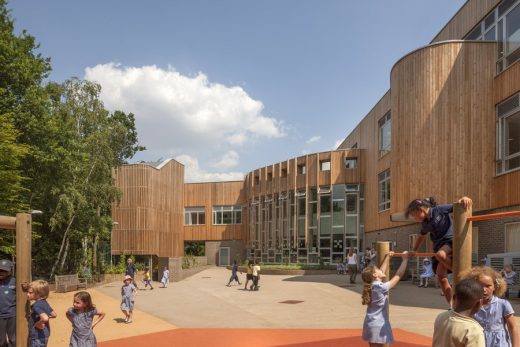 photographs © Morley Von Sternberg
9. Levring House, north London by Jamie Fobert Architects Ltd
Spacious and luxurious Danish-brick-clad house on the corner plot of a typical London mews.
10. Foyles, WC2 by Lifschutz Davidson Sandilands
Previously home to Central St Martins School of Art, this is more than just a bookshop. Behind the restored 1930s façade, is a mixed-use block with top floor apartments.
11. Kew House, TW9 by Piercy&Company
Bold, highly inventive and well-considered family house in patinated steel in a conservation area.
12. Brentford Lock West, TW8 by Duggan Morris Architects
45 unit housing scheme that sets a challenging standard for canal-side residential architecture in an area that has previously been ill-served by its developers.
13. Darbishire Place, E1 by Niall McLaughlin Architects
Dignified new 13-home Peabody apartment building, with refined proportions and details.
14. National Theatre (NT Future) by Haworth Tompkins
The assured front-of-house re-organisation gives the theatre greater clarity and a sense of arrival. It has radically transformed a new stretch of London's South Bank.
EAST
15. Abode, Great Kneighton, Cambridge by Proctor and Matthews Architects
Extremely well-considered scheme of 300 medium density homes – a testament to the successful working partnership between architects and developer.
EAST MIDLANDS
16. Parkside, Matlock by Evans Vettori Architects Limited
Modest apartment block cloaked in Derbyshire millstone block to blend in perfectly with the context.
17. Uppingham School Science Centre by Orms
New science department building that completes a courtyard. Inside and outside, feels like a top university department rather than a school.
NORTH WEST
18. Lancaster University Engineering Building byJohn McAslan and Partners
A taut and well-considered engineering building which accommodates the diverse functions of an engineering department around a central atrium.
19. Manchester Metropolitan University Student Union by Feilden Clegg Bradley Studios
Enthusiasm and order – at its best this is a cultural building for the students of Manchester Metropolitan University.
20. The Whitworth, Manchester by MUMA
Extension to the 19th century Whitworth Gallery – carefully crafted spaces emerge seamlessly from the existing as an integral yet individualistic part of the whole assembly.
SOUTH
21. Alfriston School, Beaconsfield by Duggan Morris Architects
New swimming pool building that magically folds and twists to become a thing of great beauty: a timber grid shell propped delicately above the shimmering water.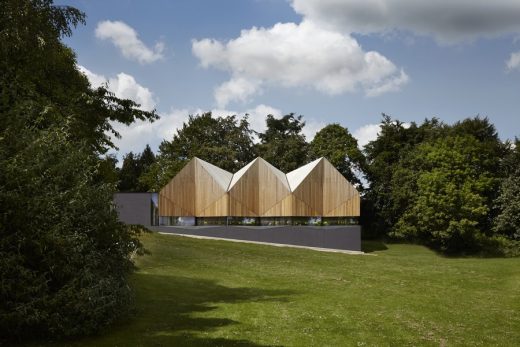 22. Flint House, Waddeston by Skene Catling de la Pena
Accommodation for family members, guests and artists. Internally the spaces carefully frame the landscape and provide a rich sequence of experiences.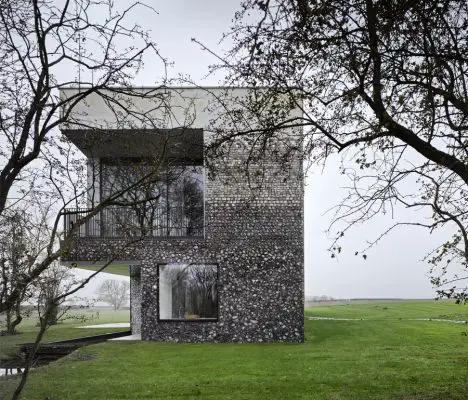 23. The Fishing Hut by Niall McLaughlin Architects
A sophisticated primitive hut – timber-framed and clad construction hovers over the lake, intended as a retreat for fishermen and a place for the owner's family to unwind.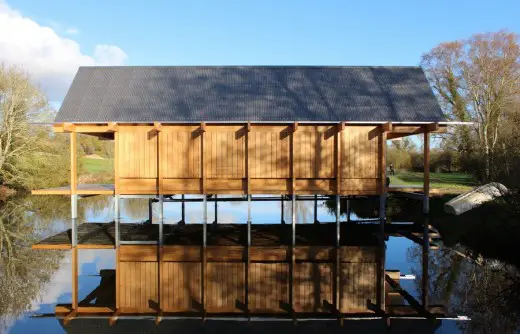 photograph © Niall Mclaughlin Architects
SOUTH EAST
24. Sussex House by Wilkinson King Architects
This sophisticated barn of cross-laminated timber stands proudly on a ridge overlooking the Sussex Downs.
25. WWF-UK Headquarters Living Planet Centre, Woking by Hopkins Architects
A large barrel structure tethered by honest steel sections and connections, giving it the appearance of a lightweight tented hangar structure housing 340 staff in a wide, open-plan office environment.
SOUTH WEST/WESSEX
26. Myrtle Cottage Garden Studio, Bradford on Avon by Stonewood Design
Impeccably detailed and beautifully crafted inside and out – a discreet space to work, sew, play guitar and sleep in.
27. Dundon Passivhaus, Compton Dundon by Prewett Bizley Architects
Extraordinarily understated and unpretentious – a low-energy family home lovingly crafted by the architect client.
WEST MIDLANDS
28. Middleport Pottery, Stoke-on-Trent by Feilden Clegg Bradley
A meticulous refurbishment of an existing Grade II* listed pottery which has clearly regenerated the area and trebled the size of the workforce.
YORKSHIRE
29. Sheffield Cathedral, New Main Entrance and reordering by Thomas Ford & Partners
New front door for the cathedral, closing in a 1960s faux-Gothic porch, demolishing a link, and building a new entrance in stone and stainless steel.
WALES
30. Cliff House, Southgate by Hyde + Hyde Architects
Complete yet modest piece of domestic architecture that is exemplary in both process and presence. Nothing screams for attention. But nothing has been overlooked.
NORTHERN IRELAND
31. Old See House, Belfast by RPP Architects Ltd with Richard Murphy Architects
Inviting and open new community mental health centre which promotes a sense of calm and well-being.
32. House at Maghera by McGonigle McGrath
A Family house on the leeward side of the Mourne Mountains composed of two linear traditional building forms whose silhouette anchors the house to the ground and fixes it in the landscape.
SCOTLAND
33. Maggies Lanarkshire by Reiach and Hall Architects
Modest, low building that gathers a sequence of domestic-scaled spaces. Visitors enter a quiet arrival court, defined by the low brick walls and two lime trees. At once, a sense of dignity and calm is encountered.
34. Arcadia Nursery, University of Edinburgh by Malcolm Fraser Architects
Externally each age group's playroom is clearly identifiable as a welcoming, contemporary domestic form which creates a sense of belonging – a single storey building with a large rooflight links the three pavilions.
35. West Burn Lane, St Andrews by Sutherland Hussey Architects
Located in a conservation area the scheme consists of six 4 bedroom houses and eight 2-3 bedroom apartments, organised as discrete volumes addressing a series of public and private urban courtyards.
36. Dalmunach Distillery by Archial Norr (Inverness Studio)
With a plan inspired by the shape of a sheaf of barley, the design is a conscious balance between the honest aesthetics of a crisp modern industrial building and one with a strong sense of place.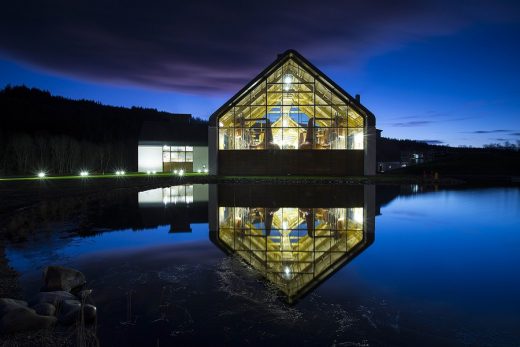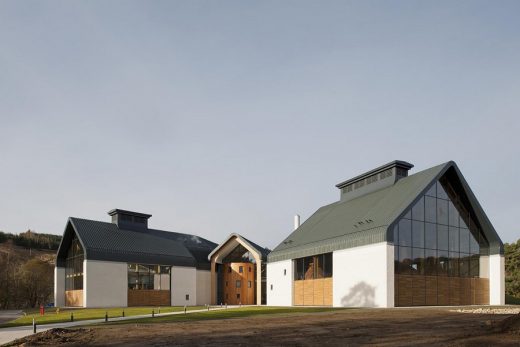 photographs © Archial Norr Inverness
37. Laurieston Transformational Area, Glasgow by Elder and Cannon Architects & Page Park Architects
201 affordable rented homes in a new layout of streets and mews settings, using a contemporary tenement form and providing a variety of housing types.
The shortlist for the RIBA Stirling Prize for the UK's best building of the year will be selected from these winners and announced on Thursday 16 July. The winner of the RIBA Stirling Prize will be announced at a special event on Thursday 15 October in London.
The winners of the 2015 RIBA National Awards will be celebrated at a special event at the Serpentine Pavilion in London on 8 July, generously supported by Marley Eternit.
The Architects' Journal is media partner for the RIBA National Awards and professional media partner for the RIBA Stirling Prize.
2015 RIBA National Award Winners images/information received 18062015
RIBA Awards Winners
RIBA Awards 2014
Best new buildings – 2014 RIBA National and EU Award winners
The Blue Planet, Kastrup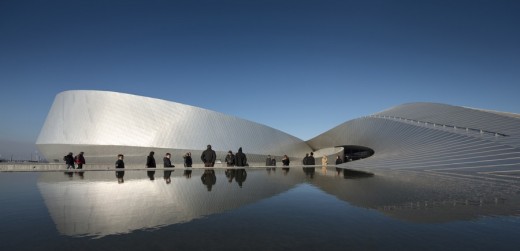 photograph © Adam Mørk
The Royal Institute of British Architects (RIBA) has revealed the winners of the 2014 RIBA National Awards, the most rigorously-judged awards for architectural excellence. RIBA National Award winning buildings set the standard for good architecture; these are projects that go beyond the brief and exceed the client's expectation. The shortlist for the coveted RIBA Stirling Prize, sponsored by Brockton Capital, for the best building of the year will be drawn from the 56 RIBA National and EU Award winners (44 buildings in the UK and 12 buildings elsewhere in the EU).
Britten Pears Archive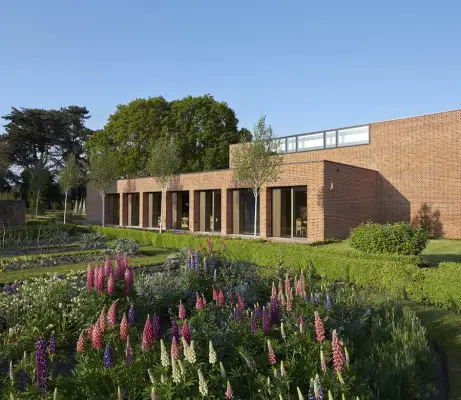 photograph © Hufton Crow
Ditchling Museum of Art and Craft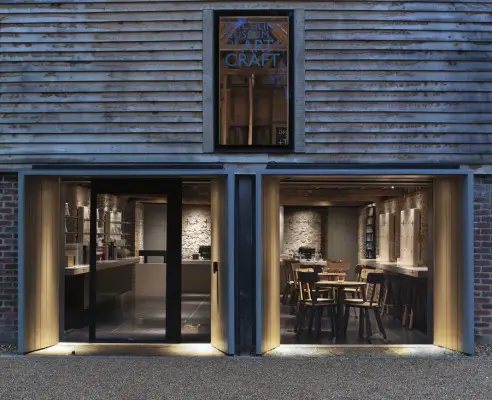 photograph © Brotherton Lock
RIBA Awards : current page
The RIBA Stirling Prize is awarded to the architects of the building that has made the greatest contribution to British architecture in the past year.  The shortlist will be announced on July 2015 and the prize will be presented in October 2015 in London.
RIBA International Awards



photo : Patrick Bingham-Hall
RIBA Awards News
RIBA Northwest Regional Awards winner – 2014 Stirling Prize winner – Everyman Theatre in Liverpool by architects Haworth Tompkins
Comments / photos for the 2015 RIBA National Award Winners page welcome
2015 RIBA National Award Winners – page
Website : RIBA Awards Winners