Is mocha the same as brown, Home bedding tips, Bedroom comforter sets style, Online property advice
Is mocha the same as brown?
19 December 2022
White walls and bedding may be the norm these days, and there's nothing wrong with opting for this classically soothing color palette. However, those who prefer their home decor with a little more drama may get bored by all this sameness. If deep, moody hues make your heart sing, then you're likely to appreciate mocha decor in the bedroom.
A trending shade of late, mocha is both fresh and homey. Whether you use your bedroom for reading, studying, or participating in hobbies, mocha bedding and accessories help create a warm and elegant aesthetic that you're sure to enjoy. Keep reading to learn more about this shade and find out once and for all whether mocha is the same as brown or something new entirely.
What Color Is Mocha?
If you're considering a bedroom remodel, then there's a good chance you've heard the word "mocha" of late. One of the most popular projected decor colors for 2023, this classic neutral shade is beloved for being both warm and cozy. Still, many amateur home designers have trouble defining the hot hue. They may confuse it with more traditional colors like brown, beige, or tan. However, the truth is that mocha is its own versatile shade.
A lighter, lower-saturation shade of brown, mocha is one of the most popular neutrals in the world of bedroom design. On the other hand, more traditional browns tend to be darker in color due to the fact that they're created by combining oranges and blacks. If you love warm, chocolatey hues reminiscent of snuggling up before a roaring fire on a freezing night, mocha is a great choice.
Benefits of Mocha Bedding
There are multiple reasons that mocha is a popular shade in the design world these days. Soft and welcoming, this deep neutral is incredibly versatile, pairing well with a broad assortment of accent shades, including beige, tan, gold, rust, terracotta, ivory, green, and blue. Additionally, this earthy color melds seamlessly with furniture made from natural materials. We're talking about everything from wood dressers and nightstands to stone fireplaces and even pottery. The end result is a space that's at once safe and stylish, modern and classic, fresh and traditional.
Top Mocha Comforter Sets for 2023
If you've decided on mocha bedding for your bedroom refresh, then the good news is you have plenty of options available to you. After all, this popular shade has inspired a number of trending designers in recent years from Bebejan to J Queen. Here are some of our favorite luxury comforter sets featuring mocha and other shades in this fabulous color family.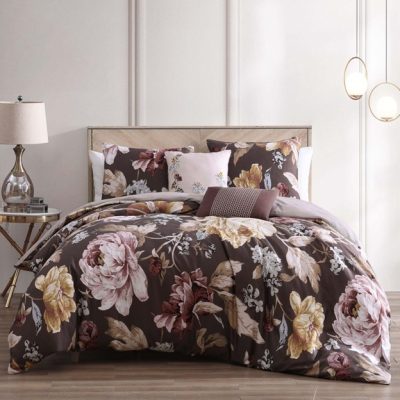 Bebejan Floral Garden Chocolate Brown 100% Cotton Sateen 230 Thread Count 5-Piece Reversible Comforter Set
Who says floral comforter sets have to be fussy? Feminine yet fresh, the Bebejan Floral Garden Chocolate Brown Comforter Set is a great choice for shoppers with flair who prefer a look that's outside the box. Made from 100 percent cotton sateen, this collection has a silky feel that's also cooling.
So you don't have to worry about waking up in a pool of sweat on hot nights. Along with a reversible comforter showcasing warm shades of chocolate brown, rouge, and gold, the set comes complete with two reversible shams, a printed square decorative pillow, and an embroidered oblong pillow. A bonus bag is provided for your convenience.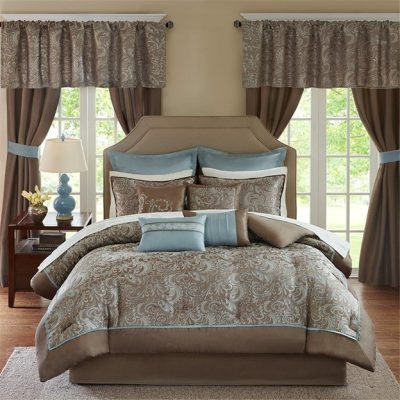 Layla Night 24-Piece Comforter Set
Those looking to save time on shopping will likely be drawn to the Layla Night 24-Piece Comforter Set. Boasting a whole lot more than the traditional bed in a bag, this sleek and modern collection features an intricate paisley pattern in shades of chocolate, taupe, and dusty blue. Along with a cozy comforter and matching shams, the set includes four decorative pillows, two traditional pillows, and two Euro shams.
Window panels, tie-backs, and valances ensure that you don't have to worry about the sun waking you up in the morning, while a bed skirt keeps the area under the bed hidden from view. A flat sheet, a fitted sheet, and pillowcases finish off this generous collection from Madison Park that works as well in the master as it does in a guest room.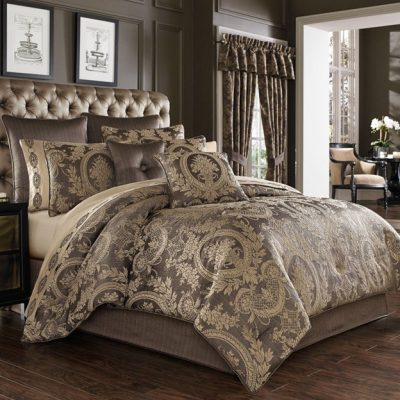 Neapolitan Mink 4-Piece Comforter Set By J Queen
The color mink has long been evocative of luxury and comfort. So it's no surprise that the Neapolitan Mink Comforter Set from J Queen conveys both beauty and elegance. This four-piece set starts with a quilted comforter featuring shades of mocha and tan. Floral medallions add drama and flair, while a solid reverse side gives buyers a nice change of pace. Additionally, the collection features carefully cut matching shams with solid mink reverse sides and satin cording. A coordinating bed skirt finishes off this stylish bedroom look.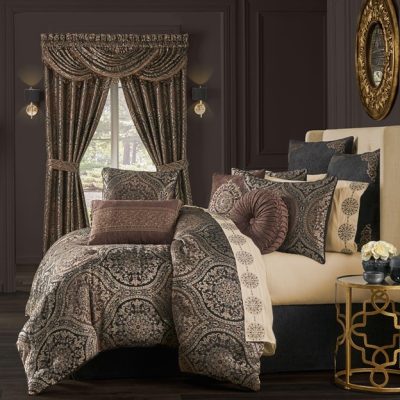 Mahogany Chocolate 4-Piece Comforter Set By J Queen
Another dramatic offering from J Queen, the Mahogany Chocolate Set offers traditional sophistication at a price point that's more than reasonable. The oversized comforter boasts an array of on-trend hues, including chocolate, black, and gold. Plus, the woven jacquard medallion print is sure to add drama and elegance to any bedroom, while the solid reverse black side gives you the opportunity to switch things up.
You'll also save time on shopping, thanks to the fact that the collection includes matching hidden zipper closure shams and a solid black chenille split-corner bedskirt. Want to take your bedroom decor to the next level? Invest in coordinating pieces such as J Queen's mahogany throw pillows and window treatments.
Shop Luxury Comforter Sets and More at Latest Bedding
Just about everyone wants a soothing place to rest and rejuvenate at the end of the day. However, marrying your aesthetic goals with reality can be a challenge. At Latest Bedding, we make home decorating easy by supplying a wide array of luxury comforter sets and accessories at prices that won't break the bank. Shop all your favorite bedding brands, including J Queen, Waterford, Bebejan, Donna Sharpe, and more. Our goal is to create a space that sparks joy and creativity while keeping your budget intact.
Comments on this guide to Is mocha the same as brownarticle are welcome.
Bedroom Design
Bedroom Articles
Modern versus contemporary bedroom designs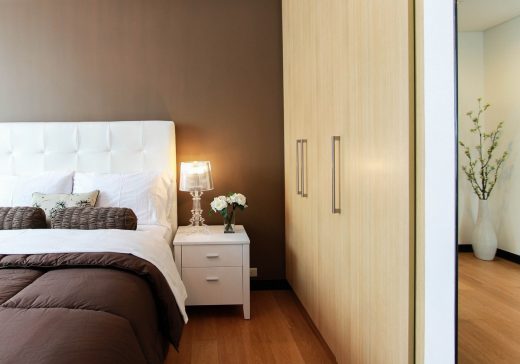 Essentials things for a perfect master bedroom
Make Your Bedroom More Comfortable
Touches Of Glamour for your Bedroom
Property Articles
Residential Architecture
Comments / photos for the Is mocha the same as brown advice page welcome