Swimming Pool Investment, Building Installation, Property Garden Design
Consider Investing in a Swimming Pool Guide
Home Leisure – Unique Design Ideas Article
22 Apr 2019
Consider Investing in a Swimming Pool?
Here Are Some Unique Design Ideas You Can Try
Investing in a swimming pool is one of those smart decisions all homeowners should make. If you want to go the extra mile and make yours unique and more functional than others, you will find yourself in a predicament.
While swimming pools have all the same purpose, mainly, finding inspiration in intricate, luxurious and unique designs will help tremendously in creating a different swimming area. In-ground pools don't have to be boring and follow a pattern. Let your creativity come to the surface with the following design suggestions for your swimming pool!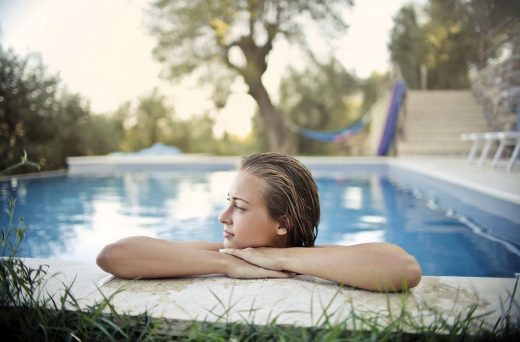 Fire pit pool
Fire and water don't seem to mix well, at least in theory, but a spacious pool with a fire pit entering shy in the crystal-clear water will surely create an impressive visual effect. While fire pits are common around pools, an in-ground pool with a built-in fire pit will offer your home a sense of luxuriousness and community. Large, high-end properties are the perfect example where you will find this swimming pool design. Traditionally, these pools may be found in luxury resorts, and have the purpose of offering tourists the perfect context to gather and socialize.
American lodge style swimming pool
For owners of large backyards, an American lodge style, the in-ground pool makes a perfect choice. The simplistic and natural approach to pool design of this particular idea makes it approachable in different house architectural models. Homeowners will only have to focus on a single element that will be intensively used: cut-stone. It should be integrated into decorations and the path, and it will make the entire landscape surrounding the pool look natural and tastefully picked.
A palm tree in-ground pool
An illusion of endlessness and exoticism is always visually impressive. A clear, blue sky and a matching swimming area, with tall palm trees, delicately piercing the sky is a hard-to-overlook scenery. If you already live in a tropical area, the palm trees will emphasize the atmosphere furthermore. If you live in climates where palm trees are only a human addition, they will successfully emulate the exotic and warm look you go for.
For this type of project, you can look into two swimming pool types: an above the rough pool which will double as an outdoor jacuzzi. This will create a warm and inviting atmosphere, being a more intimate design idea. On the other hand, we have a traditional, in-ground pool in the middle of a wooden deck, to create the perfect, classy party and relaxation area.
A Spanish style swimming pool
A high-end pool idea that will completely change the aesthetics of any home is a rooftop Spanish design pool. The majestic construction will overlook the entire neighborhood. This approach should be designed with a natural aesthetic in mind and should also have a couple of several natural elements: bushes, trees and so on.
Rocky swimming pool design
A rocky swimming pool area will impress through the air of intriguing wilderness. Cut from stone and featuring several natural elements, maybe a small jacuzzi, this type of swimming pool design is common in the Mediterranean area. To enhance this particular theme, homeowners can install French doors, ceramic tile roof, and some exotic plants and trees. A dim, yellow lighting will wonderfully complement this type of outdoor swimming pool design.
Simple and elegant swimming pool
The common misconception that only homeowners with large backyards can enjoy the luxury of installing an in-ground swimming pool. Even small backyard owners can enjoy the perks of having a similar addition, although you should visit the site of a professional company to get a better idea on available options, depending on your backyard dimensions.
In terms of design, you should choose a simple and elegant one, with clean cuts and small, deep-blue tiles. Choose a pool design where the swimming area is divided into two different sections: adult and children swimming area. Install a small deck with two pool chairs and a small, yet functional table. If the sun is bothering you, a big umbrella will be a great addition. To boost the coziness and bring nature closer to you, work with a landscaping company and find an easy to incorporate landscape.
Tropical resort-style swimming pool
This particular pool design is rather appropriate for a vacation home. Try to recreate as much as possible the look and feel of a tropical resort. Choose a dark-blue theme, and this will shortly turn your swimming area into a relaxing oasis, by bringing it closer to the ocean. This particular design idea works even better if you also have a view of the ocean. Add some greenery, a couple of large beach umbrellas and several outdoor couches. This will replicate perfectly a swimming pool in a luxury resort.
Invisible rooftop swimming pool (infinity pool)
Singapore's most popular swimming pool is the inspiration for this swimming area design. This above-the-ground design idea is appropriate for apartment buildings, but it can also work wonderfully on flat roof houses. In terms of shape, this particular design idea is actually simple to follow and accomplish. The blend between the blue of the water and the sky, plus the incredible scenery, will make this addition stand out and will raise the value of your home incredibly.
Above-ground see-through swimming pool
A modern and contemporary house design would be best complemented by a modern, in-and-above the ground pool design. The house design will be complemented by the pool. The surrounding areas should be separated by pebbles in a single color: black or white; the pebbles should be separated by the rest of the swimming area, through a wooden deck, painted in shades of deep brown. From the deck's perspective, the pool should look like an aquarium. This is an exotic and modern look and creates the illusion of spaciousness and cleanliness.
These swimming pool design ideas should offer all pool prospects more insight into unique and intricate solutions for their swimming areas. While this is such a simple and unpretentious addition to a home, it can completely change the look and feel of a property.
Comments on this Consider Investing in a Swimming Pool Guide are welcome
Building Articles
Swimming Pool Building Designs
Kennedy Town Swimming Pool, Hong Kong, China
Architects: Farrells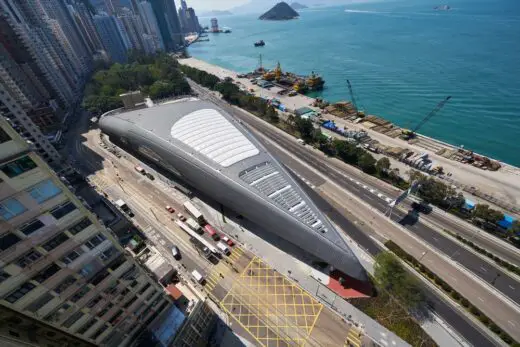 photo courtesy of architects
Kennedy Town Swimming Pool in Hong Kong
Derby Swimming Pool Complex, Derbyshire, England, UK
Design: FaulknerBrowns Architects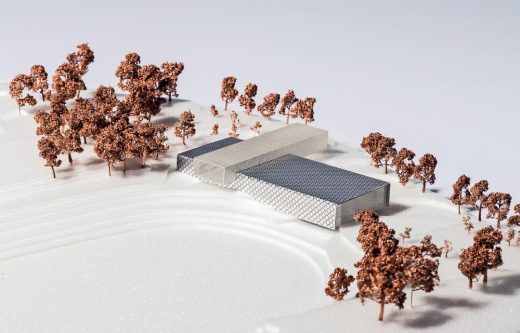 photo courtesy of architects
Derby Swimming Pool Complex
Comments / photos for the Consider Investing in a Swimming Pool? page welcome