Trusted Bedroom Personality Advice, Smart House Interior Tips, Property Design Guide
Bring more Personality to your Bedroom
24 Feb 2020
Bring more Personality to your Bedroom Tips
Designer tips: 7 Killer ways to bring more personality to your bedroom
You spend one-third of your life sleeping, which is why putting some effort into making your bedroom feel comfortable seems like a no-brainer. In a second, you'll learn what are the things that you could do to ensure that your bedroom reflects your personality. Let's go!
Put a shelf behind your bed!
If you dread having to traverse the distance between your bed and your bookshelf, then there is a simple solution: put the shelf behind your bed. This way, you won't have to leave your warm bed to continue your reading. And let's be honest – although it might seem childish, having to leave your cozy kingdom might sometimes be just too much of an obstacle. Just try to keep your horror books somewhere else, or otherwise, your length and the quality of your sleep will decrease.
Choose proper curtains
Another thing that could make it more difficult for you to have a good night's rest is badly-chosen curtains. If you live in a neighbourhood that is full of life, even during nighttime, street lamps and lights of cars could make it challenging for you to fall asleep. That's why you should choose curtains that will protect you from any outside sources of light when you need it.
At the same time, you should consider what color would go best with the rest of your room. If you want to make your bedroom feel more intimate and sensual, then you could go with burgundy curtains. If you have the opposite problem – there is not enough light in your bedroom, then it might be time to purchase better lighting, which you can find on this site.
Spare no expense for a bedding
Given the considerable amount of time that you'll spend in your bed, you should have bedding that will make you feel comfy and safe. Though we put more effort into making sure that our diets are healthy, and more people are aware that physical activity is crucial for physical and mental health, there is one thing that's often lacking: a proper amount of sleep. We think that we can be as productive sleeping 6 hours per night if we only consume enough coffee. It is simply not true. If you want to be ready to face all the obstacles life will throw at you, you should be getting 8 hours of sleep each night.
High-quality bedding made from bamboo will ensure that you feel good in your bed, though that's not all. Nice-looking bedding will make your entire bedroom feel more inviting. It is a bed, and not any different piece of furniture that will attract the attention of the visitors. You don't need to spend a fortune, but choosing suitable bedding is something for which you should dedicate some time. It is worth it.
Hang some paintings!
If you want to make your bedroom feel like it is your place, you should consider hanging paintings that you love. Ideally, the paintings in your bedroom would make it feel like a safe haven. It doesn't mean, though, that if you are really fond of Pollock's masterpieces, then they shouldn't appear on the walls of your bedroom. Replacing "safe" with "creativity-inspiring" is also acceptable.
Reveal your inner child!
Though you might have stopped being a teenager years ago, there is no reason why you should behave like an adult all the time. No, I'm not talking about ignoring your responsibilities and blaming others. Instead, you could purchase some plush toys, or retrieve them from a chest that you haven't checked in a long time. I promise, no one will think that you are silly – there are no adults, only people who try to behave like adults.
Consider your personality
Although you might think that the types of items that are allowed in bedrooms are clearly defined, you don't need to conform to any invisible rules. Do you enjoy playing your piano in the morning, when your brain feels exceptionally creative after getting a healthy dose of REM sleep? Then put a piano in your bedroom! If you share your bedroom with your spouse, it's best to discuss this idea first, though if you remain reasonable when it comes to the time at which you will play, then there shouldn't be any issues. If you are not a piano-guy, but a saxophone is your instrument of choice, then it could be more problematic. But who knows, perhaps your partner will understand.
Be sentimental
It's best not to overdo it, as it might turn your bedroom into a lair of nostalgia, but putting several items that will remind you of the old times should make your bedroom feel more like "home". Old photos, bust of this solemn-faced guy, or souvenirs from far-away countries – all of these will add some character to your bedroom.
Don't be afraid to experiment!
You don't need to know a lot about interior design to turn your bedroom into a place that will feel inviting and make you feel at ease, no matter what you are going through in your life. If you want to make it feel like home, just try several of those tips, and you'll be impressed by the change!
Comments on this guide to Bring more Personality to your Bedroom article are welcome.
Building Articles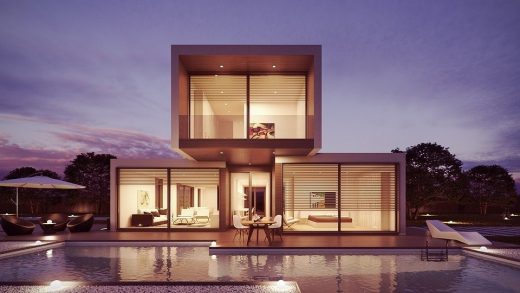 image courtesy of article provider
Comments / photos for the Bring more Personality to your Bedroom Advice page welcome