Architecture RFPs 2017, Searches for Architectural Services, Architect Requests
Architecture Tenders 2017
RFP Architectural Design Services Information
Architecture Tenders – current information
Architectural Tenders in 2017
We list the latest architecture tenders and requests for architectural services around the World.
e-architect take no responsibility for the veracity of posts. We try to verify information but ask readers to do their own research.
Nov 30, 2017
Tenders for Architectural Design Services & Interior Work
Summary of current LIVE tenders, information from tendertiger.com:
1-
Czech Republic | TID: 26344368
Architectural Design And Design Documentation For The Reconstruction Of The Cultural And Administrative Center In Neratovice And The Subsequent Processing Of All Phases Of The Construction And Maintenance Of Engineering Activities And The Author's Supervision Of The Reconstruction
Due on 29-Jan-2018
2-
Belgium | TID: 26351104
Appoint An Architect With A Construction Team for the Herselt Project, Sint Servaasweg
Due on 23-Jan-2018
3-
Czech Republic | TID: 26361273
Design of the architectural solution of the street František kriza. Due on 19-Jan-2018
4-
Romania | TID: 26327211
Development of a landscaping plan for Salaj County. Due on 18-Jan-2018
5-
Germany | TID: 26361775
Architectural services for the new construction of the Catholic day care center St. Josef Spiesen.
Due on 16-Jan-2018
6-
Canada | TID: 26367634
Professional Architectural Services for Sawmill Creek Recreation Facility Due on 10-Jan-2018
7-
Canada | TID: 26343484
IT Architecture Services. Due on 03-Jan-2018
8-
Sweden | TID: 26361950
Project manager; Building Management and Interior Architect. Due on 03-Jan-2018
9-
Ireland | TID: 26362919
Architect led, Project Management Design Team services, for the design, planning approval and construction management for the proposed extension and enhancement. Due on 02-Jan-2018
10-
Morocco | TID: 26364988
Value: MAD 12.74 Million / 1.27 Crore approx. | Architectural study and follow-up of the project for the reconstruction work of a rural health center. Due on 28-Dec-2017
11-
Morocco | TID: 26342553
Architectural study and follow-up of the project of creation and extension of school canteens
Due on 25-Dec-2017
12-
Belgium | TID: 26351019
Architectural works for renovation of the Wezenberg water treatment plant. Due on 21-Dec-2017
13-
New Zealand | TID: 26370500
Architectural Design Services for a Two-storey 4-Classroom Block and associated site works at Onehunga Primary School. Due on 15-Dec-2017
14-
Romania | TID: 26366384
Technical Design For The Drinking Water Supply System Project In The Commune Urzicuta, Dolj County Due on 18-Dec-2017
15-
Turkey | TID: 26360235
Preparation of 1/5000 Scale Master Plan and 1/1000 Scale Implementation Plan of Çerkezmüsellim and Salgamli Neighborhoods Due on 13-Dec-2017
16-
Austria | TID: 26340965
Architectural work to the new building of the regional office Murtal. Due on 13-Dec-2017
Global TenderTiger | www.global.tendertiger.com
Nov 16, 2017
Harrisburg University request proposals for financing and development of a Health Sciences Education and Mixed-Use Facility
Harrisburg University of Science and Technology issue a request for proposals for the development of a new, educational mixed-use facility in downtown Harrisburg. This facility will include health science classrooms, simulation laboratories and student housing in a high-rise that will help transform the downtown and bring scores of jobs to the region.
While still in the early stages, our goal is to develop a state-of-the-art Health Science Education Center where the University can offer degree programs in nursing, pharmaceutical sciences and other allied health programs. The new health sciences facility and degree programs will open the University to new markets, diversify its degree programs, and attract students from a related but different demographic. It represents a powerful next step in the University's long-term growth and applies its quality STEM resources to stable and high-demand health fields. The demand for graduates in health sciences is growing and there are demonstrated career opportunities now.
There are many steps to transform the University's vision into reality, but the Board of Trustees and University leaders envision at least 200,000 square feet of new educational space, plus housing for over 300 students. The new mixed-use building may also contain amenities such as a boutique hotel, restaurant, executive conference center and fitness facility. Potential development teams are being asked to present creative development proposals that address market demands while adding value to the project.
The design of the health science educational facility will include input from three health care providers located in Central Pennsylvania. Developers vying for the design/build of the facility should illustrate their ability to work with health system providers. HU is asking interested development teams to propose various development structuring and financing alternatives to the University, including lease / condo / leaseback, lease-purchase or outright purchase of the new building.
This RFP is the first step in a long process to construct a building devoted to the health sciences, which also will help transform the economic landscape as well as the skyline of downtown Harrisburg. This project will be the second major new construction project for the University since opening in 2005.
Dr. Eric D. Darr is the sole point of contact for information on the RFP: EDarr@HarrisburgU.edu or 717.901.5111.
Steve Infanti
AVP, Communications
717.901.5146/717.982.3772
30 Oct 2017
Tenders for Architectural Design Services and Interior Work
Information from tendertiger.com
Please find summary of FEW LIVE tenders published in your sector. To know Complete information kindly reply to this email with interested region and keywords.
Live Tenders from Middle East / Africa / Europe – Architectural Design Services and Interior Work.
Israel | TID: 24802249
Providing architectural planning services and consultants The establishment of the Northern District Headquarters and a regional station in Nazareth Illit.
Due on 07-Nov-2017
Syria | TID: 25199830
Proposal for College Seminar Architecture.
Due on 24-Oct-2017
Cyprus | TID: 25291184
Provision of Architect Services by Natural Persons, for the needs of supervision and supervision of of the New Football Stadium.
Due on 20-Oct-2017
Turkey | TID: 25335440
Preparation of architectural, static, mechanical, electrical installation projects
Due on 18-Oct-2017
Oman | TID: 24960118
Providing of Consultancy Services specialized in the field of preparation of marketing and promotional plans.
Due on 15-Oct-2017
Saudi Arabia | TID: 24360494
Project for architectural repairing & urgent renovation works for scientific institutes buildings.
Due on 09-Oct-2017
Nigeria | TID: 25097511
Public lecture on Deploying Indigenous African Architecture sustainability in Africa.
Due on 30-Oct-2017
Ethiopia | TID: 25260408
Architecture designed to design a 2B + G + 12 building, a 2B + G + 12 building complex.
Due on 10-Oct-2017
Algeria | TID: 23781638
Architect or engineer in the field of the building or equivalent Justinian.
Due on 03-Jul-2018
Benin | TID: 25328523
Recruitment of an Architectural firm for the design of the Architectural and technical plans and the preparation of the cad, as well as the monitoring and control of the construction of an r + 2 building for the benefit of the federation of commissioners and the national committee for the facilitation of inter-state road transit.
Due on 11-Dec-2017
Morocco | TID: 25259376
Architectural design and follow-up of the construction work of a health center level 1 in bouarg- province of nador.
Due on 23-Oct-2017
Nigeria | TID: 25051280
Provision of Architectural consultancy services.
design of Metropolitan Fire Stations in the Six (6) Geo-Political Zones including the Federal Capital Territory.
Due on 17-Oct-2017
Rwanda | TID: 25169096
Architectural design, detailed technical studies and supervision of works for a 3 storey building.
Due on 09-Oct-2017
Kenya | TID: 25071780
Provision of Architectural services and design services and solutions.
Due on 06-Oct-2017
South Africa | TID: 25128622
Architectural professional services for a contract period until 30 june 2020.
Due on 24-Oct-2017
Nigeria | TID: 25186973
Provision of Architectural and Engineering services.
Due on 13-Oct-2017
Kenya | TID: 25233358
Provision of Architectural services.
Due on 12-Oct-2017
Kenya | TID: 25101372
Provision of interior design for kppf stima plaza extension offices.
Due on 26-Oct-2017
South Africa | TID: 25258040
Supply, Deliver and Install Interior Design Items for RBIDZ Office Complex and Phase 1A.
Due on 20-Oct-2017
United Kingdom | TID: 18674292
Architectural, construction, engineering and inspection services.
design Services Dynamic Purchasing System.
Due on 23-Jun-2020
United Kingdom | TID: 25286556
Demolition, design and Build of a multi-storey Car Park
Due on 06-Nov-2017
Norway | TID: 25309973
Exhibition design and architecture for the exhibitions shows in the new Munch Museum.
Due on 03-Nov-2017
Finland | TID: 25146655
Providing of Haso Sammaltori, Project Planning and Architectural design.
Due on 01-Nov-2017
Finland | TID: 25309057
Skanss Building design.
Due on 12-Oct-2017
Latvia | TID: 25274367
The technical design of the rebuilding of buildings 1, 2 and 3, and the author's supervision.
Due on 30-Oct-2017
Information from tendertiger.com
Services we Offer other than providing daily tenders information:
1. Tender Notice Alerts : TenderTiger track more than 2 Million Tenders annually. As a subscriber you'll get access to all relevant Tender Notices we track for the product / service categories you are interested in. You can view Tender Notice using our mobile app, subscribe our daily email alerts or by accessing our portal as & when you like it. Apart from digitized version of Tender Notices, you'll also get scanned copy of tender published in newspaper or website along with the details as from where it was sourced such that you can quote this as reference in your communication with the Tendering Authority. You can pay/tender you view or go for our unlimited annual plan, where you can access all tenders of your choice.
2. Pre Qualification Terms : TenderTiger also captures pre qualification conditions as specified in tender document, provided tender documents are available for free. This way it becomes easier for you to decide to bid or not to bid in a tender, without you having to download the document or read it yourself. The idea is to save a lot of your precious time, which you should be spending on winning contacts. If for some reason you do not meet the Pre Qualification criteria, you can ask Tendering Authority to relax conditions or you can use TenderTiger to find a consortium partner, along with whom you can participate in the Tender.
3. Tender Documents : TenderTiger also downloads tender documents if same can be downloaded from website of Tendering Authority for free. This way you get complete information on single platform without having to hop websites. Tender document can be accessed by only TenderTiger Pro subscribers. If you wish to participate in a given tenders, you may be required to pay tender document fee to tendering authority. For tenders were tender document are not available, you can use our network to procure Tender Document on your behalf on cost plus basis.
4. Consortium Partner : In case you find Tenders were you do not qualify on your own, don't worry. You can use TenderTiger to find a right consortium partner with whom you can submit bid in partnership. Either you can use our website to advertise your requirement or you can ask our consultants to find right consortium partners for you as per required Financial, Technical, Commercial, Experience criteria. TenderTiger has more than 1 Million Supplier (small, medium & large enterprise) using its services and hence it becomes possible for us to find right consortium partner for you.
5. Private Tenders/BOQ : To win a tender, you'll have to be quote aggressively. All you need to tell us is BOQ/Line items for which you are seeking quotes from our suppliers. We ensure you that thousands of our SME Supplier listed on our platform, offers you the most competitive quote. If you are still not satisfied with their quotes you can set up a Reverse Auction & make suppliers compete such that you get even lower quotes. Thus you can submit a competitive quote to Tendering Authority with back to back understanding with our Suppliers in case you win the Tender.
6. Sub Contracting : If yours is a SME firm, which does not meet the pre qualification terms & still wish to be participate in a Tender, don't worry. You can do it either by way of forming a consortium with other bidder or by proposing to act as a sub contractor to large bidders. All you need to do is post your interest to act as contractors against a tender. Contractors who wish to participate in same tender, will see your offer, and directly get in touch with you. Many large companies also post advertisement seeking sub contractors.
7. Tender Results : You can use TenderTiger to track tender results. You can use this data to even track your competitor activity as who has won tender, at which price, on what terms, who were other bidders, etc. If yours is a SME firm, you can contact the winning bidder & explore the sub contracting opportunity. This information is very helpful as you can identify ongoing price at which tenders are being awarded, identifying next winning bid for future tender, find price trends over period of time, etc. You'll have to be creative enough to use this information to your benefit.
8. Tendering Statistics : You can also get weekly, monthly, quarterly & yearly reports on Tendering happening across country, industry, organisation, etc. This will help you see the big picture as how big is the Government biz is and what should be your strategy to capture the maximum market share of this biz. Our reports will give you 360% view of Tenders i.e. Tender by Buyers, Location, Period, Value, etc. Custom reports can also be generated & shared.
9. Advertisements : TenderTiger is accessed by thousands of companies of all sizes, from all over the world in search of new business opportunities. So if you have a product that can be consumed by them, you should include TenderTiger in your advertisement plan. We guarantee that quality leads will be generated for product / services you offer to scale your business. You can start generating leads with advertising budget as low as Rs.10,000. We also work on per lead revenue model, where you pay on per lead basis we generate for you, without any fixed advertisement spend.
10. Exhibitions : TenderTiger tracks thousands of exhibitions planned across India. Whether you are exhibitor or visitor, you can use this service to find exhibition of your choice. Since we participate in most of the exhibitions on our own, you can use our stall to promote your company too. We can circulate your brochure in these exhibitions & generate business lead for you at fraction of cost. We can also help you book stalls at discounted rates, if you wish to participate in an Exhibition.
11. Digital Certificates/Tokens : Many government bodies have switched to eTendering, eAuctions, Reverse Auctions, etc. To participate in such opportunities you will need valid class 3 Digital Certificate. We can help you procure a digital certificate from certifying agency of your choice. Moreover we also provide you total support in terms of installation, configuration of digital certificate such that you can use it effectively. We also provide SSL Certificates, Crypto keys, etc.
12. New Projects Information : TenderTiger tracks thousands of new projects announced by government & private sector companies across India. These projects involve huge investment and hence offer a great business opportunity to supply. Hundreds of new project are added to our database on daily basis which translates into opportunities worth billions. You can use this information be used to find new biz opportunities and to track investment plans too. You'll have to be creative enough to use this information to your benefit.
13. E Procurement / E Auction : We also offer complete eProcurement & eAuction solutions which are retailed under abcProcure.com, ProcureTiger.com & AuctionTiger.net domains. More than 100,000 eTenders / eAuction / Reverse Auction has been successfully enabled by us for hundreds of Buyers (government & private) worth Trillions till date. You can use our platform to search / view / participate / win such opportunities too.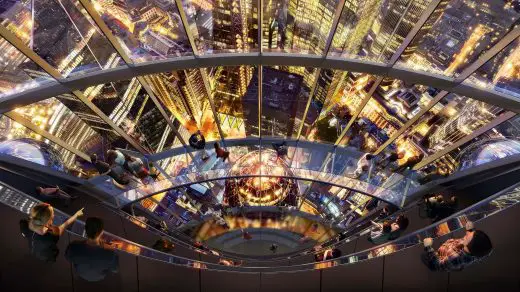 image Courtesy Foster + Partners, Architects
Architects Jobs
Scottish Architecture Jobs : architectural vacancies in Scotland
Additions for the Architecture Tenders 2017 News – Architectural Services RFP Information page welcome