USA Pavilion 2014, Venice Architecture Biennale, Italian Architecture
Venice Biennale USA Pavilion 2014
United States of America at 14th International Architecture Exhibition, Italy
10 May 2014
Pavilion of the United States of America in Venice
USA Pavilion la Biennale di Venezia 2014
Pavilion of the United States of America
at the 14th International Architecture Exhibition – la Biennale di Venezia
Venice, Italy. May 9, 2014 – OfficeUS, the U.S. Presentation at the 14th International Architecture Exhibition-la Biennale di Venezia, announced today the Partners of OfficeUS: Arielle Assouline-Lichten, Curtis Roth, Cooking Sections: Daniel Fernández Pascual & Alon Schwabe, Manuel Shvartzberg Carrió, Matteo Ghidoni, and M-A-U-S-E-R: Mona Mahall & Asli Serbest.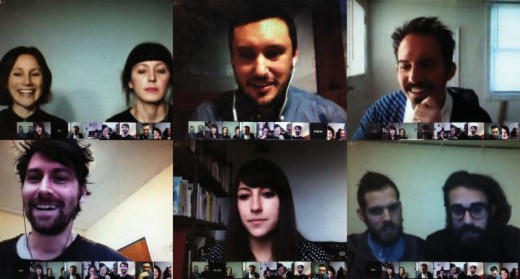 The OfficeUS Partners were selected from an international open call hosted by Storefront for Art and Architecture in Fall 2013. Eva Franch i Gilabert, Ana Miljački and Ashley Schafer, curators of the U.S. Pavilion project, OfficeUS, selected the partners.
Over the twenty-five weeks of the Biennale, these eight architects, who include two collaborative pairs, will work in conversation with visiting experts and various outpost offices around the world to reconsider the projects exhibited in the pavilion and to construct an agenda for the future production of architecture.
OfficeUS is still accepting applications for outpost offices as part of OfficeUS. Application materials can be found at http://officeus.org/apply/.
About the Partners
Arielle Assouline-Lichten
Arielle holds a Master of Architecture from the Harvard Graduate School of Design, and a bachelor degree in Critical Theory and Visual Media from New York University. She is the co-founder of Slash Projects, a multi-disciplinary design firm based in Brooklyn, New York. Her work focuses on experience as a driver for new design opportunities between physical and interactive space. Prior to founding Slash Projects, Arielle has worked for BIG, Snøhetta, and Kengo Kuma Architects. She recently led a campaign seeking retroactive recognition of Denise Scott Brown by the Pritzker Prize and is passionate about establishing equality for designers through digital activism.
As Partner of OfficeUS, Arielle investigates the secondary figures in US architecture and new modes of operation for empowerment.
Curtis Roth
Curtis is a recent graduate of the Massachusetts Institute of Technology where he earned his Master of Architecture degree with a concentration on post-war histories and theories of architecture. While at MIT Curtis was awarded the AIA Henry Adams Medal, as well as the Ralph Adams Cram Thesis Prize. Curtis was most recently the 2013-2014 Howard E. LeFevre '29 Emerging Practitioner Fellow at the Knowlton School of Architecture at the Ohio State University where he curated a retrospective exhibition of the work of the fictional neo-avant-garde group Superimpossible. Prior to his appointment as the LeFevre Fellow, Curtis served as the Knowlton School of Architecture's Richard W. Trott '61 Distinguished Visiting Professor where he taught both studios and history seminars in the Architecture and Landscape Architecture departments. He has worked professionally for Howeler + Yoon Architecture and Opsys Landscape Infrastructure Lab, both located in Boston.
As Partner of OfficeUS, Curtis is the office's Confabulist of Archival Comedies (CAC), a role which entails simulating new collective architectural memories by repurposing the affective magic of comedy as a device for re-wiring architectural history.
Daniel Fernández Pascual & Alon Schwabe
Based in London, Daniel Fernández Pascual and Alon Schwabe create new critical methods of mapping territories and urbanism through their trajectory of geopolitical cooking performances. After meeting at the Centre for Research Architecture, Goldsmiths, University of London, they founded Cooking Sections: a research-practice that cooks site-specific edible maps of boundaries, thresholds, events, buildings, architectures, landscapes, oddities and anomalies. Past performances have taken place at Storefront for Art and Architecture, New York; The Bartlett, London; Institut Für Raumexperimente, Berlin; dOCUMENTA(13); TEDx Talks, Madrid; Halle14, Leipzig; Polytechnic Architecture School ETSAM, Madrid; Fiorucci Art Trust, London amongst others. They have been associate residents participating in The Politics of Food program, at Delfina Foundation, London.
As OfficeUS Partners, Cooking Sections speculate on US architectural exports by looking at the spaces of production and consumption of food. During the course of the project, they will develop a cookbook drawing from OfficeUS Repository and realize their recipes publicly.
Manuel Shvartzberg Carrió
Originally from Spain and Argentina, Manuel studied at the Bartlett School of Architecture and holds an MA in Aesthetics and Politics from CalArts. Among others, he has worked for OMA/Rem Koolhaas and was project architect for David Chipperfield Architects from 2006 to 2012. Manuel is a co-founder of the experimental practice Hunter & Gatherer, dedicated to developing speculative projects on contemporary art, architecture and culture, and is a founding partner of Matterberg Architects, based in London and New York City. He has published and exhibited his work internationally and has taught at various institutions, including CalArts and the University of Southern California. Currently he is based in New York City where he is enrolled in the PhD in Architecture program at Columbia University and is a graduate fellow of the Institute for Comparative Literature and Society.
As OfficeUS Partner, Manuel is interested in how to re-design "architecture" as a particular set of socio-technical practices connected to economic and political imaginaries. How do the theatrics of economization affect the architecture profession, and vice-versa? Are we doomed to be global financial capitalism's window dressers? Can we think of other political capacities for architecture?
Matteo Ghidoni
Matteo is an architect, editor and publisher based in Milan. He has been guest professor at the Istituto Universitario d'Architettura di Venezia, the Politecnico in Milan, the Royal Danish Academy of Arts in Copenhagen and the Pontificia Universidad Javeriana in Bogotà. As founding partner of the research agency Multiplicity, his work has been exhibited at Kunstwerke in Berlin (2003), the Venice Biennale (2003), the Musée d'art moderne in Paris (2003), the ZKM in Karlsruhe (2004) and the Beijing Biennial (2004). In 2005, he founded the architectural office Salottobuono, which has served as editor of the Instructions and Manuals section of Abitare magazine (2007-10) and as creative director of Domus magazine (2011, 2012). The office has taken part in the Venice Biennale (2008, 2012), published the Manual of Decolonization (2010) and designed the Italian Pavilion in 2010. Matteo is co-founder and Editor-in-Chief of San Rocco magazine, an independent international publication about architecture. San Rocco was awarded the Icon Award as best emerging architecture practice (2012) and the Graham Foundation Grant for Advanced Studies in the Fine Arts (2013).
As OfficeUS Partner, Matteo Ghidoni is the Head of the Department of Radical Realism. Matteo deals with issues of extreme professional pragmatism and the logic of proper exploitation of given conditions as possible ways toward a truly genuine architecture for the city. Rather than focusing on singularity of buildings and the romantic figure of the architect, the department contributes to the construction of a shareable and manipulable knowledge of architecture.
Mona Mahall & Asli Serbest
Based in Stuttgart and Istanbul, Mona Mahall and Asli Serbest, M-A-U-S-E-R, represent the practice and research of the Micro Architecture Unit Star Energy Ray. As an undisciplined, collaborative studio they reflect and produce architecture in and through different media. Their only, quasi-universal, principle is that ideas-although being shaped by certain linguistic, social, political, technological, and interpretative conditions-dominate their strategies, procedures, and objects. Therefore, M-A-U-S-E-R's work can come as building, installation, video, graphic, sound, text, etc.-depending on the idea behind. It can use existing forms or develop anti-forms. It is shown in their self-published magazine Junk Jet, in their texts for e-flux journal, Perspecta, etc., and in their exhibitions at Künst-lerhaus Stuttgart, General Public, Berlin, Storefront for Art and Architecture, New York, etc. Mona and Asli each completed a PhD on a critical reflection of modern speculative architecture. Currently, M-A-U-S-E-R holds the chair of fundamentals of design at the Stuttgart State Academy of Art.
As Partners of OfficeUS, Mona and Asli integrate what is usually separate. Depending on the moment, they become webmasters, existentialist philosophers, Palm Jockeys, members of the cabin crew, or architects that from a long way off look like flies.
About the U.S. Representation at the 14th International Architecture Exhibition
The U.S. Department of State's Bureau of Educational and Cultural Affairs supports and manages
official U.S. participation at the Biennale Architettura 2014. The selection of OfficeUS for the U.S. Pavilion in 2014 resulted from an open competition and followed the recommendation of the Federal Advisory Committee on International Exhibitions (FACIE), convened by the National Endowment for the Arts. U.S. representation at this global event ensures that the excellence, vitality, diversity, and innovation of architecture in the United States are effectively showcased abroad, and provides an opportunity to engage foreign audiences to increase mutual understanding.
About Storefront for Art and Architecture
Founded in 1982, Storefront for Art and Architecture is a nonprofit organization committed to the advancement of innovative positions in architecture, art and design. Storefront's program of exhibitions, artists talks, film screenings, conferences and publications is intended to generate dialogue and collabo-ration across geographic, ideological and disciplinary boundaries. As a public forum for emerging voices, Storefront explores vital issues in art and architecture with the intent of increasing awareness of and interest in contemporary design.
About PRAXIS
Founded in 1999, PRAXIS: a journal of writing + building has established itself as a distinctive voice in international architectural culture. Emphasizing the interdependence of technology, design, theory, and history, the journal addresses contemporary design issues in both depth and breadth, promoting connections between diverse fields of architectural production. It has engendered an architectural discourse uniquely rooted in practice. PRAXIS has received numerous awards and honors, including an I.D.award, and was twice awarded the largest grant in design from the National Endowment for the Arts.
About Leong Leong
Leong Leong was established by brothers Chris and Dominic Leong in New York in 2009. Leong Leong's concept-based approach to design is coupled with a deep interest in methods of production and architecture's potential for cultural resonance.
About Pentagram: Natasha Jen
Natasha Jen is a graphic designer partner at Pentagram, which she joined in 2012. Jen's work is a hybridization of contexts, drawing from a diverse range of cultural, historical, aesthetic, and technological sources. The body of work encompassing brand identities, environmental design, multi-scale exhibitions, signage systems, print, motion and interactive graphics.
About CASE
CASE is a Building Information consultancy with offices located around the world. Recognized as industry-thought leaders on the integration of technology and BIM principles, they help the building industry identify, implement and manage the technologies and business practices that enable more effective coordination, communication and collaboration.
OfficeUS Team
Eva Franch i Gilabert, Ana Miljački, Ashley Schafer
-Curators
Michael Kubo
-Associate Curator
PRAXIS
-Co-Organizer
Carlos Mínguez Carrasco, Jacob Reidel
-Assistant Curators
Leong Leong: Dominic Leong, Chris Leong, Gabriel Burkett;
Jackie Woon Bae, Clare Johnston, Yu-Hsiang Lin, Jane Jonghyun Yi
-Exhibition Design
Pentagram: Natasha Jen, Jeffrey Waldman;
Justin Chen, Oeun Kwon, Lucia Del Zotto
-Graphic Design
CASE
-Technology Architecture
Therrien-Barley
-Global Network Strategy
Andrew Fierberg
-Media Producer
M-A-U-S-E-R; Partner & Partners
-Web Design
Lars Müller Publishers
-Publishing Partner
Architizer
-Media Partner
Irina Chernyakova
-Project Coordinator
Juan Jofre
-Research Coordinator
Kara L. Meyer
-Development, External Relations and Special Events
Piotr Chizinski
-Technology and Production Coordinator
Zeynep Göksel
-Outreach and Communications Manager
Natalie Snyder
-Project Assistant
Amanda Reeser Lawrence; Margaret Arbanas, Andrew Colopy, Megan Miller, Fred Tang, Irina Verona
-PRAXIS
Chiara Barbieri (Peggy Guggenheim Collection), Giacomo Di Thiene and Germano Colonna
(Th&Ma Architettura), Saverio Panata & Silvia Zini
-Coordination in Venice
Kyle Barker, Christianna Bonin, Kyle Coburn, Nathan Friedman, Sam Ghantous, Anastasia Hiller, Jessica Jorge, Karen Kitayama, Gabriel Kozlowski, Jasmine Kwak, Patrick Evan Little, Ann Lok Lui, Moojin Park, Austin Smith, Tyler Stevermer, Evelyn Ting, Michael Waldrep, Sarah Weir, Natthida Wiwatwicha, Rixt Woudstra, Wenfei Xu; Support: Daniel Chang, Kristina Eldrenkamp, Nicolo Guida, Lee Moreau, David Oliver, Chiranit Prateepasen, Claire Shafer, Trygve Wastvedt
-MIT Department of Architecture
Laila Ammar, Levi Bedall, Tyler Brozovich, Joe Carifa, Nicholas Castillo, Luke Dougal, Clay Ellerbrook, Abdelrahman Elzamly, Talia Friedman, Chris Mannella, Nicholas Miller, Dustin Page, Darren Spensiero, Alexander Stagge, Jacqueline Stern, Jianning Zhong, Michael Zumpano
-Austin E. Knowlton School at The Ohio State University
Abby Bussel, Silvia Callegari, Michelle Callinan, Tyrene Calvesbert, Diandra Cohen, Ian Costello, Sarah Hirschman, Ashely Kuto, Francesca Lantieri, Itzel Lavanderos, Anu Lill, Yuma Shinohara, Michael Signorile, Alexandra Lee Small, Zaina Soueid, Melody Stein, Elise Stella, Mario Torres, Allie Turner, Mariel Villeré
-Project Support
Laurie Beckleman, Aaron Betsky, Holly Block, Beatriz Colomina, Keller Easterling, Campbell Hyers, Cathy Lang Ho, James von Klemperer, Marc Kushner, Lars Müller, Douglass Rice, Bob Rubin, Sylvia J. Smith, Lisa Phillips, Artur Walther, Sarah Whiting, Karen Wong
-Project Advisors
Peter Aaron, Zahra Ali Baba, Dana Aljouder, Alan I. Appel, Iwan Baan, Chiara Barbieri, Roberta Bartalone, Barry Beagan, Cameron Blaylock, Gary Boyd, Roy Brand, Beth Broome, Ana Cannepa, Bryan Cave LLP: Alan Appel, Greg Galvin, Nicole Gates, Robert Lancaster, Margery Perlmutter, Stefan Skulesch; Michael Cadwell, Rebecca Chamberlain, Alan Cross, Nicholas de Moncheaux, Patricia Driscoll, Ignacio Peydro Duclos, Ellen Finnie Duranceau, Nazareth Ekmakijan, Igor Ekstajn, Rami el Samahy, Britt Eversole, Alia Farid, Enrico Fontanari, Christine Foushee, Frener & Reifer: Thomas Geissler, Michael Purzer; Curt Gambetta, Emil Rodriguez Garabot, Roland Halbe, Jim Harrington, Sarah Herda, Dessen Hillman, Adam Himes, Margaret Ho, Mark Jarzombek, Duncan Kincaid, Arianne Kouri, Naho Kubota, Neil Levine, Rungu Lin, Rob Livesey, Hannah Loomis, Elizabeth Gill Lui, Sebastian Lux, Richard Mandelkorn, Sandro Marpillero, Melissa Marsh, Jack Masey, Lorrie A. McAllister, Brendan McGetrick, Cathleen McGuigan, John McLaughlin, Franco Micucci, Antoni Muntadas, Hansrobyn van Oosten, Janet Parks, Partner & Partners: Greg Mihalko, Zach Mihalko, David Liss; Beverly Payeff-Masey, Neal Prince, Ivan Raskovic, Julian Rose, Marco Ariso Rota, Ryan Rothman, Joel Sanders, Adèle Naudé Santos, Kelly Schein, Ori Scialom, Neslihan Sen, Karin Serman, Douglas Sershen, Sarah Sherman, Tarek Shuaib, Amber Sinicrope, Erica Stoller, Hicks Stone, Sam Sweezy, Nader Tehrani, Wayne Thom, Dicle Uzunyayla, Gary Van Zante, Ana Cristina Vargas, Ann Whiteside, Jaren Wilcoxson, Mark Young, Ines Zalduendo
-Special Thanks
OfficeUS Sponsors
Austin E. Knowlton School of Architecture at the Ohio State University, Autodesk (Creative Partner), Bureau of Educational and Cultural Affairs, US Department of State, Herman Miller (Creative Partner), Peggy Guggenheim Collection, Venice (Solomon R. Guggenheim Foundation, New York), The Massachusetts Institute of Technology, Department of Architecture;AECOM, Arup, Esto, Graham Foundation for Advanced Studies in the Fine Arts, Hewlett Packard | AMD, Kohn Pedersen Fox Associates (KPF);Elise Jaffe and Jeffrey Brown, Frederick Iseman, FXFOWLE Architects, Oldcastle BuildingEnvelope, Robert Melvin Rubin and Stéphane Samuel, Skidmore, Owings & Merrill LLP, Walther Family Foundation; Arthur H. Schein Memorial Fund, JAHN; Lanny and Sharon Martin, RTKL; Charles Renfro, Control Group, Iwan Baan, Michael A. Manfredi and Marion Weiss, OTTO Archive, Peter Aaron, RD RICE Construction Inc., The American Institute of Architects; Acción Cultural Española, Adrian Smith + Gordon Gill, Barbara Jakobson, Daniel and Estrellita Brodsky, David and Jane Walentas, Elizabeth Gill Lui, Eva Ching and Jeff Small, Frederieke Taylor, Knowlton School Alumni Society, Lauren Kogod & David Smiley, Richard Mishaan Design, Roland Halbe Fotografie, Todd DeGarmo; American Printing Company, Belmont Freeman, Carlos Brillembourg and Karin Waisman, C & M Shade Corporation, Claudia Gould, Holly Block, Jinhee Park and John Hong, SsD, Karen Wong, Linda and Harry Macklowe, Mabel Wilson, Margery Perlmutter, NRI (National Reprographics Inc.), Sara P. Meltzer, Steven T. Incontro and David Joselit, The Legacy Companies, The Henry Ford.
Venice Biennale US Pavilion image / information from Storefront for Art and Architecture
17 Apr 2014
USA Pavilion for la Biennale di Venezia
US Pavilion la Biennale di Venezia 2014
Design: Leong Leong
OfficeUS, the U.S. Presentation at the 14th International Architecture Exhibition – la Biennale di Venezia, explores the last 100 years of United States architectural production abroad and the ways in which the U.S. architecture office has exported architecture around the globe.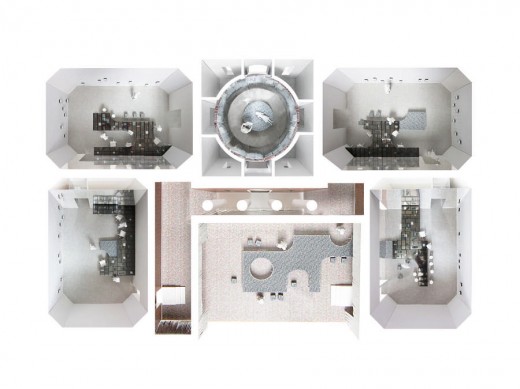 OfficeUS in U.S. Pavilion, Leong Leong, 2014. Courtesy Leong Leong and Storefront for Art and Architecture.
Curators Eva Franch i Gilabert, Ana Miljački and Ashley Schafer re-imagine the U.S. Pavilion as an active, global, experimental architecture office that researches, studies, and remakes projects from an onsite archive of 1,000 buildings and the 200 U.S. based architecture offices engaged in their construction. Collectively, the projects in the archive tell multiple, imbricated stories of U.S. firms, typologies, and technologies. The office consists of 8 architects selected from an international open call, visiting experts, and outpost offices distributed worldwide. Over the 25 weeks of the Biennale, OfficeUS will revisit the projects in the archive, their premises and conclusions, to construct an agenda for the future production of architecture.
Collectively designed by New York based architects Leong Leong, graphic designer Natasha Jen/Pentagram and technology consultants at CASE, OfficeUS dwells on fundamental aspects of historical office corporate identity and design. The design features a wall of project binders housing architectural documentation of each project and disrupts the classical floorplan of the pavilion through a large, collective work-space that moves through each room – inverting interior and exterior – presenting a depth to collect and display historical materials and work produced by the partners working in the office. OfficeUS looks simultaneously backward and forward, rethinking both historical material and office protocols from the archive, while using the U.S. pavilion-based office, OfficeUS, to develop new work and as a portal to host discussions and workshops.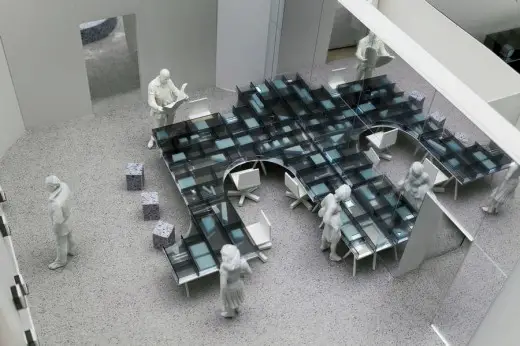 "Taking history as its foundational ground, we envision OfficeUS not just as an exhibition, but as the first headquarters for a new model of global architectural production. In these ways, OfficeUS is an anti-exhibition, it turns the pavilion from presentation to demonstration. We are setting a stage for the architects and visitors to address and respond to the most pressing architectural anxieties of the last one hundred years," say curators Franch, Miljački and Schafer.
OfficeUS is commissioned by Storefront for Art and Architecture, on behalf of the U.S. Department of State's Bureau of Educational and Cultural Affairs. The project is developed in collaboration with PRAXIS journal and with students from MIT's Department of Architecture and the Knowlton School at The Ohio State University. Partner Lars Müller is publishing four catalogs about the exhibition and media partner Architizer is host to a series of online articles exploring the many layers of OfficeUS.
Venice Architecture Biennale USA Pavilion images / information from OFFICEUS
Venice Biennale USA Pavilion : 2012
Location: Venice, Italy
Venice Architecture
Venice Architecture Designs – chronological list
Venice Architecture Walking Tours
Venice Biennale American Pavilion : 2008
Comments / photos for the Venice Biennale USA Pavilion 2014 page welcome
Venice Biennale USA Pavilion
Website: Visit Venice