Park View City Islamabad Development, New Property, Housing Design, Buildings
Park View City Islamabad Development
21 Sep 2020
The latest development in Park View City Islamabad
Park view city is one of the top housing societies in Islamabad. Park View City Islamabad is a model living area for other housing societies. It is the archetypal example of the growing property industry in Pakistan. This home society delivers lots of land for decorative features that are situated beautifully close to Bani Gala Islamabad. All the basics and luxurious features are also present in this amazing housing society.
The Park View City place, payment Strategy, and future predictions built great interest and the attention of their investors. Thus, investors from all around the country and also from overseas are interested in doing the investment and buying plots in Park View City which is located in the capital of Pakistan, Islamabad.
A new colonial living trend is emerging in Pakistan and many new housing societies are under development such as Blue World City islamabad, ICHS, University town, Capital Smart City, Qurtaba city, Fasial Hill, and many, many more to accommodate the population of the country.
Park view city was started in the early phase of this trend and is the little old housing society than others that's why many developments have already been done in this society.
Given below is the latest development which is under process in the society.
Park View City Downtown
Park View City Islamabad is firm to bring exclusive and exotic living experience to its valuable customers. For this use, they have launched the first commercial downtown in the region it is named as Downtown Islamabad. It soon will be the next milestone in twin cities- Islamabad and Rawalpindi.
Downtown Islamabad will be the hub of famous brands and multinational franchises. A lake of 200 Kanal will be built in the mid of the Downtown. Another exclusive feature will be the IMAX cinema which is under development in the Downtown
Commercial plazas were inaugurated at beginning of the season. Two of these plazas are under construction and a number of different plazas will be started in 6 weeks. Soon this area will be bombarded with people and brands. The commercial plazas and Islamabad Downtown are bringing new opportunities.
Resource management system in Park View City
The Management of PVC is taking advantage of the monsoon month of the year as they know it is the most important month for reservation of water, growth of plants, and keep the natural ecosystem running that's why this part of the year is called the month of ecology. This results in the benefit of animals, plants, and humans being. Administration of the society is utilizing this time for watering plants and trees, generating electricity, setting a drainage system, and installing alternative ways to secure resources for the betterment of residence.
Society has made a masterplan of a proper urban city that comprises a good drainage system with separate sewage lines, this will make certain of the continuous flow of drain water and separate it from clean water. PVC has constructed a rain water harvesting system as it is one of the most efficient methods to reserve and cycle water.
The monsoon season may be an issue if there is not any suitable infrastructure and planning. This problem mostly leads to third world nations with poor city planning and upkeep. The current monsoon year hit our most important cities quite poorly.
In Past, the flood was just restricted to villages or regions which were close to nullas and rivers. Climate change and insufficient city planning are chief causes of flooding in towns. This season monsoon rain has influenced Sindh and Punjab and largely their capitals, Karachi and Lahore seriously. This led to power outages, blackouts, and even it took the lives of many humans.
Park view city coup with this situation very wisely and took benefit from it by restoring water and generating electricity
Rain Harvesting in Park View:
Park View City Islamabad has recognized this issue and confessed it. This is why society has included the rainwater harvesting system in its own plans of society.
Our industrial hub Called Downtown Islamabad will have a central lake of approximately 200- 300 Kanal, whose primary source of water will probably be from rain. The preparation department of Park View City Islamabad has paid particular attention to drainage and sewerage system to ensure that the constant stream of water.
Our electric system is completely Underground to prevent any event. It will provide lifetime security with no worry of having a healthy and safe way of life, Park View City Islamabad is the very best alternative for secure living.
This unique home society is just one of a type in Islamabad with stunning views and state-of-the-art infrastructure. Park View City is your sole CDA Approved Home society in Zone IV of Islamabad. Plots are available on simple Installation programs from 1 to 3 years.
Extension of land toward Kurri road
The Capital Development Authority (CDA) expressed in a report submitted into the Islamabad High Court (IHC), that senior ministry at Punjab Aleem Khan encroached on government property to join his Park View Housing Society into Kuri Road.
The report was registered on Saturday, which was previously scheduled to be registered in December, following the IHC criticized the excess delay. In reaction to IHC Chief Justice Athar Minallah's instructions, the CDA submitted the report.
The housing owner had promised they constructed a road on property That has been allocated for this function, but the CDA's report demonstrated that to be untrue, and additionally emphasized two senior bureaucrats who functioned as CDA chairmen from last year.
The report stated, "The owner didn't have possession of this gap Involving CDA project and land territory " Concerning the home society's promise that the street was proposed by the CDA in its concept program, the authority stated that "that was just a concept plan for Kurri rather than an approved design of Kurri endeavor. The authority's report also stated that the developer built a road on property not intended for this function, on the grounds of which it obtained a NOC.
The jurisdiction confessed to its error in permitting Mr. Khan to Construct the road in May 2018. "This conclusion of the CDA board on May 09, 2018, let the owner match the needs of the requirements of no objection certificate (NOC)." There was no access road between Khan's growth and the major street, which will be a necessity for the NOC. On the other hand, the CDA enabled the path to be constructed, thereby allowing it to be eligible for its NOC.
The report added, "'CDA not allowed access via its territory And consumed a notion plan street as a real road, the status couldn't have been fulfilled" A NOC was issued on the grounds of this supply of the access road. Near the end of 2018, the property where the street was built was moved into the CDA, " the report stated.
In a previous hearing in this matter in November 2019, the IHC Had requested the CDA to warrant that the permission is given to the home society to use the acquired land and also to"meet this court it isn't a situation which should be known to (the National Accountability Bureau) to be taken care of under National Accountability Ordinance 1999."
Park View City has been constructed in an inaccessible place, but developers ha constructed all the connecting roads themselves to facilitate its residents and solve the traffic issue.
Revision of Plot prices in Park View City
Due to the fast pace of development, the worth of society has increasd. Owners want to give a chance to patience buyers to invest in this region before revising the rates of plots. This revision will provide profit also for people who have already invest in society.
Rates were about to revise on 15th September and wanted to apply for new costs from the same date of September. But then they wanted to facilitate its clients, so book your plot as soon as possible.
If You are planning to buy a commercial plot in Park View City Downtown, then this is the best time. These commercial plots of 6 and 8 marlas can be found on easy and affordable installations of 3 years.
Other than this, Park View City is launching their signature flats and apartments in Murre and SkyMarketing will be their first marketing partner for best results. They also intends to develop more commercial plot in the region of their international block.  They are also starting terrace apartments in Park view city in September.
September 2020 is kind of the best time of development for Park View City housing society. You should also take advantage of this situation and invest in this society it is affordable for everyone, as a society has plot sizes according to demand and need, their best selling plots are of 3.5 marla plots which you can easly book with the help of  SkyMarketing Islamabad.
Comments on this Park View City Islamabad Development article are welcome.
Location: Karachi, Pakistan
Architecture in Pakistan
Pakistan Architecture Designs – chronological list
DHA City Masterplan, Karachi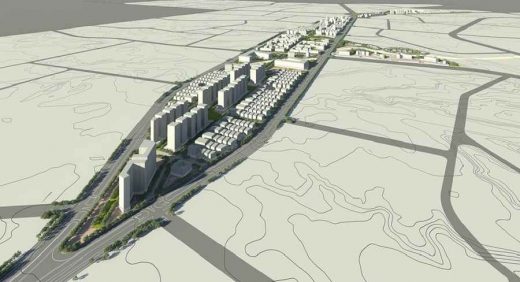 image courtesy of architects
DHA City Pakistan
KPT Tower, Mai Kolachi, Port of Karachi
Aedas
KPT Tower Pakistan
Flooding in Pakistan – Rebuilding
Pakistan Flooding – Report from Article 25 for e-architect
Comments / images for the Park View City Islamabad Development page welcome