Manuelle Gautrand Publication, Parisian Architect Book, French Design Office
Manuelle Gautrand Book : Those I have (already) built
French Architecural Publication – design studio in Paris, France
2 Nov 2011
Manuelle Gautrand Book
English text (scroll down for French):
Manuelle Gautrand : Those I have (already) built
French/English
Size: 22 x 27 cm
256 pages
Retail price: 27 euros
ISBN : 978-2-35733-158-7
Publication date: Oct 2011
Important figure of the French architectural landscape, Manuelle Gautrand created her agency Manuelle Gautrand Architecture in 1991, twenty years ago. To mark this anniversary, the book Those I Have (Already) Built retraces the career of the architect from her early achievements to today.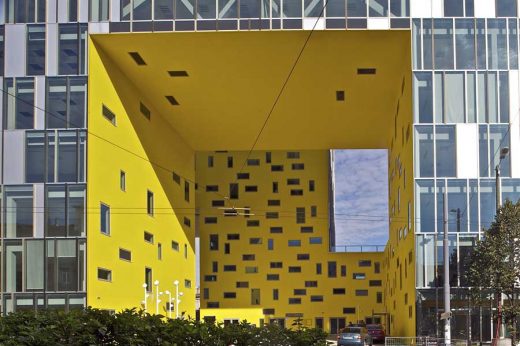 photo : Philippe Ruault
With the foreword by Paul Finch, English architecture critic and director of WAF, this monograph is divided into two parts. The first part offers a summary of the first achievements of Manuelle Gautrand, from 1991 to 2001. In a more detailed manner, the second part illustrates the buildings delivered during the past ten years, from 2002 to 2011. Twenty years of a creative architectural work are marked by a strong identity that has been confirmed over the years and throughout the projects.
In the list of the key buildings designed and built by the Manuelle Gautrand Agency are, among others, the restructuring of the Gaité Lyrique, the Citroën Flagship Showroom on the Champs-Élysées, the extension of the Lille Museum of Modern Art in Villeneuve d'Ascq, or also the office building "Origami" in Paris.
archibooks publishers are dedicated to the contemporary creation: architecture, contemporary art and design.
Archibooks publishes monographs, exhibition catalogues, critical essays and interviews with artists, producing about sixty titles per year that are distributed in a more than thousand points of sale.
49, bd de la Villette, 75010 Paris
t/ + 33 (0) 1 4225 1558 / www.archibooks.com
Information for orders
Diffusion: Geodif
Distribution: Sodis
French text:
Manuelle Gautrand : Ceux que j'ai (déjà) construits
Français/Anglais
Format : 22 x 27 cm
256 pages
Prix de vente : 27 euros
ISBN : 978-2-35733-158-7
Parution: Octobre 2011
Personnalité importante du paysage architectural français, Manuelle Gautrand a créé l'agence Manuelle Gautrand en 1991, il y a vingt ans. à l'occasion de cet anniversaire, l'ouvrage Ceux que j'ai (déjà) construits propose de revenir sur le parcours de cette architecte, de ses premières réalisations à aujourd'hui.
Préfacé par Paul Finch, critique d'architecture anglais et directeur du WAF, cette monographie est divisée en deux parties : la première donne à voir de manière synthétique les premières réalisations de Manuelle Gautrand de 1991 à 2001 et la deuxième nous présente de manière plus développée ses bâtiments livrés ces dix dernières années, de 2002 à 2011, soit vingt ans d'un travail architectural inventif, marqué d'une identité forte, se confirmant au fil des années et des projets.
Dans la liste des bâtiments phares conçus et réalisés par l'agence Manuelle Gautrand, citons, entre autres, la réhabilitation de la GaîtéLyrique, le showroom Citröen sur les Champs-Élysées, l'extension du musée d'art moderne de la ville de Lille à Villeneuve d'Ascq ou encore l'immeuble de Origami à Paris.
Les éditions archibooks se consacrent à la création contemporaine : architecture, art contemporain et design.
Archibooks publie monographies, catalogues d'exposition, essais et entretiens d'artistes au rythme d'une soixantaine d'ouvrages par an, distribués dans un millier de points de vente.
49, bd de la Villette, 75010 Paris
t/ + 33 (0) 1 4225 1558 / www.archibooks.com
Informations commandes
Diffusion : Geodif
Distribution : Sodis
Manuelle Gautrand Architecte



photo : Philippe Ruault
Location: 36 bd de la Bastille, 75012 Paris, France
Architectural Design
European Architecture Walking Tours : city walks by e-architect
Architecture Design Books – chronological list of publications
Manuelle Gautrand Projects
Music and Dance Center, Ashkelon, Israel
Henri Labrouste Exposition Scenography – Winning competition, Paris, France
le Palace Theater Extension, Béthune, France
La Gaîté lyrique, Paris, France
La Gaîté lyrique
Manuelle Gautrand – Buildings Selection
Edison Lite, 71 avenue Edison, 75013 Paris
Design: Manuelle Gautrand Architecture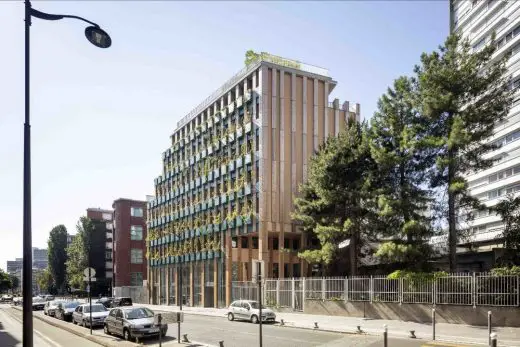 photo © Luc Boegly
Edison Lite Homes Paris
Saint-Etienne Office Building, France
Saint-Etienne Office Building
C42, Citroën display building, Champs Elysées, Paris, France
Citroën showroom Paris
Centralplaza, Bangkok, Thailand
Manuelle Gautrand Building : Centralplaza Bangkok
Manuelle Gautrand Paris : French Architect Studio
Comments / photos for the Manuelle Gautrand Publication page welcome