WAFX 2018 Winners, World Architecture Festival Water Research Prize 2018, Shortlist, Buildings
WAFX 2018 Prize Winners
WAF International Architectural Prize News
10 Aug 2018
WAFX 2018 Prize Winners
Architects and designers address the world's most pressing ecological and societal challenges as part of WAFX 2018
World Architecture Festival (WAF) has revealed the winners of ten WAFX prizes, supported by WAF sponsor GreenCoat®. The prizes are awarded to future projects that identify key ecological and societal challenges which architects are actively seeking to address over the next ten years. These challenges span diverse topic areas including climate change, energy saving and carbon emissions, water wastage and shortage, ageing populations and health issues, reusable materials, smart cities, building technology, cultural identity, ethics and power and justice.
The prize winners will be given the opportunity to present their projects live at the World Architecture Festival on 28th and 29th November, with the overall winner receiving a prize at the Festival's star-studded Gala Dinner on the 30th November, the culmination of the three-day event at the RAI convention centre in the Dutch capital, Amsterdam.
The WAFX judges were impressed by the diversity of innovative approaches by architects and designers across the globe, which varied from innovative solar panel fields in The Netherlands, to urban green corridors in Bangkok, eco farms in rural Vietnam and river parks in Colombia.
Paul Finch, Programme Director of World Architecture Festival commented: "We have been amazed by the standard of entries across this year's future project categories and the prize winners in addressing some of humanities greatest concerns. Rather than being purely 'pie in the sky' conceptual work, each is firmly grounded in reality, presenting practical solutions to issues around the world. It is a very strong field of entries and we look forward to hearing more from the prize winners when the Festival convenes in November."
Anke Meyer, Corporate Marketing SSAB commented: "For the 2nd year GreenCoat® is proud to support the WAFX awards and the innovative and forward-looking architectural concepts they showcase. By addressing key challenges architects will face in the coming years, these projects are perfectly aligned with SSAB Swedish Steel's own initiatives and ambitions. We look forward to welcoming all of the WAFX category winners at WAF and presenting the trophy to the overall winner."
WAFX 2018 Prize Winners
The WAFX 2018 Prize Winners are:
WAFX – Re-Use
Beloit College Powerhouse by Studio Gang
Transforming a former power plant into a student union and recreation facility, Studio Gang's Beloit College Powerhouse Project seeks to replace an old model of energy with a new model to support the health and wellbeing of its many inhabitants. The Powerhouse is designed to become a centre for human energy, activity and health. Nestled between the Rock River and the college's campus, the Powerhouse will serve as a recreational resource and a community forum, all the while fostering a public connection to the riverfront – embracing it rather than polluting it – that foregrounds the connection between human and environmental health. The judges were impressed not only with the repurposing of its cavernous industrial spaces, but with how the project maximises its riverfront location, utilising river water to manage the temperature of the building whilst also significantly minimising total energy use.
WAFX – Climate, Energy and Carbon
Highway Solarpanel Field by 70F Architecture
70F Architecture's proposed project looks to suspend vast arrays of solar panels above highways, rather than on fields, leaving farmland free for farming and doubling the ground-usage of infrastructure. The secondary goal of the project is showing how sustainability can be beautiful as well as functional; the semi-transparent solar panels are placed in an open and airy angle, providing a cupola of light, air and rain 'play'. As a bonus the solar panel field creates a noise barrier of 18dB in relation to its surroundings, which is double that of a conventional highway noise reduction wall. This directly increases the quality and size of the buildable area next to the highway.
WAFX – Ageing and Health
The Alder Center by Allford Hall Monaghan Morris
The Alder Centre was established in 1989 by a small group of health care professionals in partnership with bereaved parents who identified a gap in the services available. The Centre is unique within the NHS and internationally; providing bereavement counselling for families who have had a child pass away as well as a national telephone helpline and general counselling for hospital staff. A series of rooms configured like a big house, set inside a secret garden can be a familiar place for parents to meet, talk, grow things and have a cup of tea. The architecture is easy to use and simple to understand, informed by a conversational process with the counsellors, users and bereaved parents.
WAFX – Food
Cuchi Organic Eco Farm by IF (Integrated Field)
Dramatic urbanisation and economic growth across Vietnam over the last 20 years has put pressure on the nation's food industry. Cuchi Organic Eco Farm (COEF) is a masterplan design proposal for a 600 hectare de-commissioned rubber plantation in Cuchi, Vietnam, aiming to transform the under-utilised site to be an organic farm focusing on the production of animal feed, livestock, fruit and vegetables in a closed-cycle operation. The first phase of 50 hectares is an agro-tourism destination that offers the visitor holistic experience of the food cycle. The project also offers facilities such as farm-stay accommodation, farm-to-table restaurant, farmers market, and co-farming area where one can rent varying sized plots of land specific to their needs.
WAFX – Building and Technology
W350Project by Nikken Sekkei
Nikken Sekkei's research project seeks to demonstrate how developing a green city with timber structures can inspire a "more comfortable" global environment, and specifically how 350m super high-rise timber construction could be a symbol of future urban construction. The practice's research focuses on challenges to the development of construction engineering technology for evolutionary timber buildings, as well as seeking solutions to global environment, nature, and urban environmental sustainability issues. The practice's plan is to use ecologically sensitive methods, such as removing timber from dense forests that encourage healthy development, which will also help to bring the lumber industry back to life, revitalise local communities, improve habitat for forest creatures, and conserve biodiversity.
WAFX – Power and Justice
Tower Inten city by Savage Dodd Architects with UrbanWorks
A range of spaces feature in this substantial mixed-use redevelopment of a tower in Johannesburg, South Africa, from dedicated event spaces at the top of the building, to residential and commercial office floors. Well-programmed and vertically distributed social spaces are integrated with the compact living units allowing both the inhabitants and public to find comfortable and accessible space to socialise and relax. Their program allows for public interaction to ensure a diverse cultural and social life in the tower – which would otherwise run the risk of being a vertical enclave. The lobby is conceptualised as a large urban living room that serves both building inhabitants as well as the public. Large pivot doors create a double volume public interior which an inserted mezzanine animates. The mezzanine wraps around the building core providing a variety of retail opportunities.
WAFX – Water
Medellin River Parks / Botanical Park Master Plan by Sebastian Monsalve + Juan David Hoyos
Based upon a system of integrated projects in Medellin, Colombia, creating new parks and public green spaces, the designers sought to address issues such as urban sprawl, global warming, urban conflict, poverty, segregation and inequality. By repositioning the city's main arterial roads, that currently hug the Medellin river and effectively split the city, the project seeks to open up the Aburra Valley, making the area more accessible to residents and visitors alike.
WAFX – Ethics and Value
Sheltainer – Where Humanity Meets Hope by Sheltainer
Sheltainer is a building initiative that targets different categories of people including refugees, asylum seekers, students and low-income families. It intends to provide a solution that can be readily built anywhere in the world, easy to construct and affordable – hence, the shipping containers. There are millions of unused shipping containers around the world and recycling them not only provides shelter, but also helps reserve the sustainability of a community. The design for a Sheltainer project consists of eight homes per cluster connected together through a courtyard and attached to other clusters through open corners.
WAFX – Smart Cities
10 KM by Shma Company Limited
The 10km long green corridor proposed by Shma Company sets out a series of re-appropriated spaces, parks, footpaths and bridges to reconnect vast swathes of Bangkok along a north-south axis. Currently large and impassable highways have disconnected inner city areas with those adjacent to them, and the extensive use of concrete walls along canals has disrupted resident's interaction with nature and the local environment. By breaking down these barriers and opening up the spaces, the designers hope to encourage healthier lifestyles, celebrate local urban cultures and spur sustainable development.
WAFX – Cultural Identity
Ataturk Culture Center by Tabanlioglu Architects
The Ataturk Culture Center in Istanbul, Turkey, has been a focal point for the city since the building was constructed in 1960s, and was redeveloped after it burned down in 1970. Tabanlioglu's design reasserts its place at the heart of the city's arts and culture scene. Not only will the new centre have one of the largest opera houses in the world, but will also feature galleries, libraries, cafes and restaurants for visitors. The new centre forms a bond between past, present, and future, and unites through design, the urban fabric and culture of Istanbul and the Turkish people.
For more details on the WAF Awards and the festival please visit: www.worldarchitecturefestival.com @worldarchfest #WAF2018
2018 World Architecture Festival
Background
Why get involved in World Architecture Festival?
WAF is where the world architecture community meets to celebrate, learn, exchange and be inspired.
World Architecture Festival is the largest, annual, international, live architectural event. It includes the biggest architectural awards programme in the world, dedicated to celebrating excellence via live presentations to an audience of high-profile delegates and international juries.
The 2018 World Architecture Festival (WAF) comprises five key elements:
– The WAF Awards
– A thematic conference programme
– An exhibition of Award entries
– Sponsor and exhibitor stands
– A series of networking/social events, as well as WAF fringe activities
INSIDE World Festival of Interiors runs alongside WAF, with its own awards and conference programme. Delegates have access to both events.
WAF and INSIDE are organised by EMAP, publishers of The Architectural Review and The Architects' Journal.
WAF Manifesto:
To celebrate reaching its 10th edition, World Architecture Festival organisers launched the WAFX Manifesto in 2017. The Manifesto identifies key challenges which architects will need to address over the next ten years, including climate, energy and carbon; water; ageing and health; re-use; smart city technology; building technology; cultural identity; ethics and values; power and justice; and virtual worlds.
Sponsored by GreenCoat® – colorful steel from SSAB
GreenCoat® is SSAB's brand for innovative, sustainable color coated steel solutions for the building industry. Recently, a number of buildings made from GreenCoat® color coated steel have been honoured with many national and international architecture awards. All products offer Nordic quality steel in the substrate, which is recognized worldwide as one of the best steels available on the market. On top, most GreenCoat® color coated steel products feature Swedish rapeseed oil in the coating – for greener living. They are available in a wide range of colors and for different application needs.
SSAB has manufactured products for the building industry for more than 50 years and is the pioneer and innovator of creating sustainable solutions for the industry. SSAB is a Nordic and US-based steel company. SSAB offers value added products and services developed in close cooperation with its customers to create a stronger, lighter and more sustainable world. SSAB has employees in over 50 countries and production facilities in Sweden, Finland and the US.
https://www.ssab.co.uk/products/brands/greencoat
Previously on e-architect:
World Architecture Festival Reveals 2018 Awards Shortlist
Selected Projects:
Patio House By OOAK architects
Location: Karpathos, Greece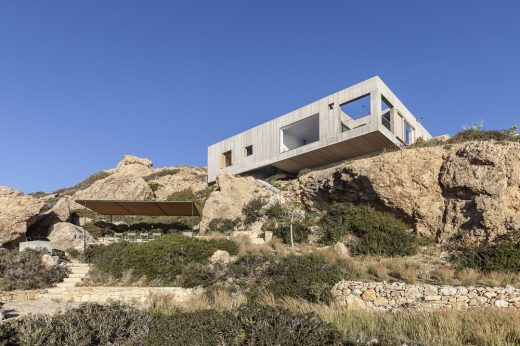 photo : Yorgos Kordakis
Zeitz MOCAA By Heatherwick Studio
Location: Cape Town, South Africa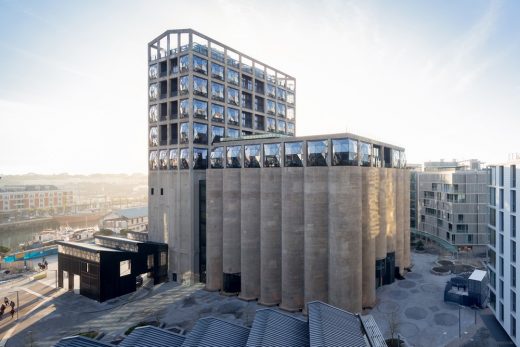 photo : Iwan Baan
Chapel Our Lady of Fátima By Plano Humano Arquitectos
Location: Castelo Branco, Portugal: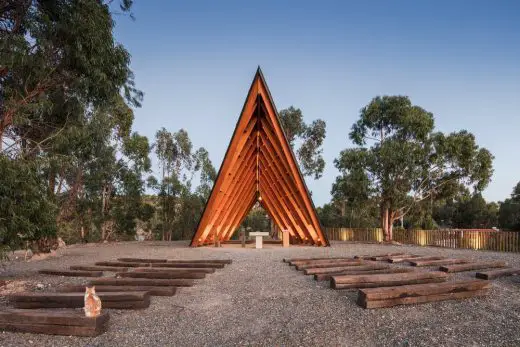 photo : João Morgado
Freycinet Lodge Coastal Pavilions By Liminal Architecture
Location: Coles Bay, Tasmania, Australia: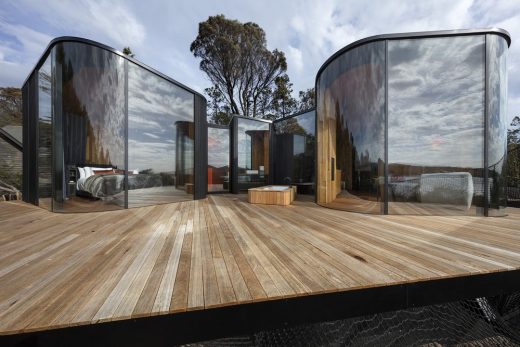 photo : Dianna Snape
World Architecture Festival 2018 Shortlist
Location:RAI Amsterdam, Netherlands
WAF Awards
World Architecture Festival 2017
World Building of the Year 2016: National Museum in Szczecin – Dialogue Centre Przełomy, Szczecin, Poland by Robert Konieczny- KWK Promes: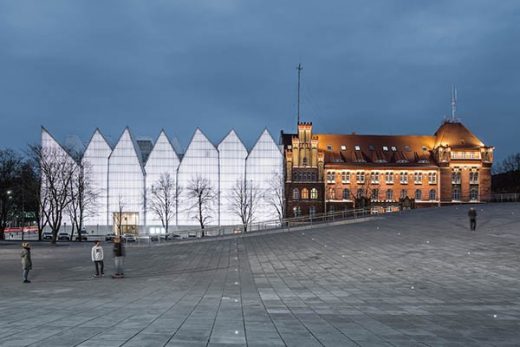 image courtesy of architects
World Architecture Festival Awards 2017 Shortlist
World Architecture Festival Finalists in 2016 – shortlisted buildings + architects news
WAF Awards 2014 Winners
World Building of the Year award to The Chapel, Vietnam, designed by a21studio: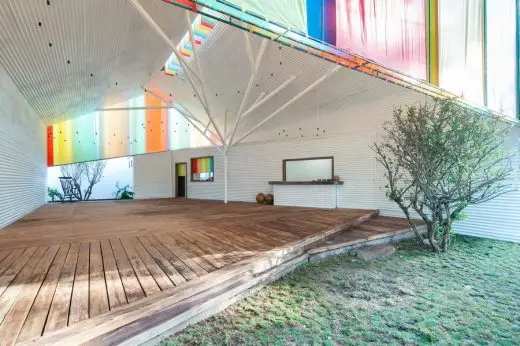 picture from organisers
WAF Awards 2013
World Building of the Year Award 2013
Auckland Art Gallery Toi o Tamaki, New Zealand
Design: Francis-Jones Morehen Thorp and Archimedia



photo : John Gollings
WAF Awards 2013 : more images + links



picture : Placebo Effects
WAF Awards 2012
World Building of the Year Award 2012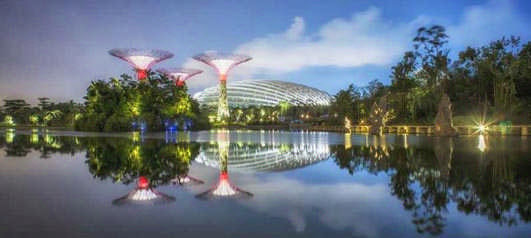 photo : Darren Chin
World Building of the Year winner : Gardens by the Bay Conservatories Singapore
WAF Awards 2008 : 2008
Comments / photos for the WAFX 2018 Prize Winners News page welcome
WAFX 2018 Prize Winners – page
WAF – Website: www.worldarchitecturefestival.com