RIBA Gold Medal 2014, Architect, Winners, Joseph Rykwert, List, Links, Architecture
RIBA Gold Medal 2014 Winner
Joseph Rykwert wins Royal Institute of British Architects Award, England, UK
25 Feb 2014
The Winner of the Royal Gold Medal for architecture for 2014
Joseph Rykwert receives the 2014 Royal Gold Medal for architecture
Joseph Rykwert : Royal Gold Medal Winner
The celebrated architectural critic, historian and writer Joseph Rykwert has this evening (Tuesday 25 February) been presented with the 2014 Royal Gold Medal, one of the world's most prestigious architecture awards.
Joseph Rykwert: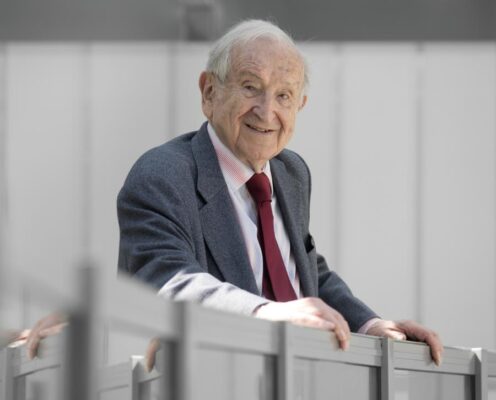 photograph : Pawel Mazurl CC Krakow
Given in recognition of a lifetime's work, the Royal Gold Medal is approved personally by Her Majesty the Queen and is given to a person or group of people who have had a significant influence "either directly or indirectly on the advancement of architecture".
Joseph Rykwert is a world-leading authority on the history of art and architecture; his groundbreaking ideas and work have had a major impact on the thinking of architects and designers since the 1960s and continue to do so to this day.
His seminal book The Idea of a Town (1963) remains the pivotal text on understanding why and how cities were and can be formed. He has written numerous influential works of architectural criticism and history, published over a sixty-year period and translated into several languages. The most significant of these are On Adam's House in Paradise (1972), The First Moderns (1980), The Necessity of Artifice (1982), The Dancing Column: On Order in Architecture (1996), and The Seduction of Place (2002); all have changed the way modern architects and planners think about cities and buildings, and how historians view the architectural roots of the modern era.
Rykwert's works have influenced generations of architects with many either having been taught by him directly or taught in a school where his influence has had a profound effect on a department's teaching. Distinguished architects David Chipperfield, Frank Gehry and Renzo Piano are amongst the previous Royal Gold Medallists who have personally supported Joseph's nomination.
Joseph Rykwert said about his selection for the Royal Gold Medal:
"If we all had our desserts', the poet asked, 'who would scape a whipping?' Certainly not I. So I can't think of a Gold Medal as my dessert. It is a wonderful gift which my colleagues have made me and adds weight and authority to my words to which they could never otherwise pretend.
"What makes the gift doubly precious is that it does not come from my fellow-scriveners, but from architects and builders – and suggests that what I have written has engaged their attention and been of use, even though I have never sought to be impartial but have taken sides, sometimes combatively. So I feel both elated and enormously grateful."
RIBA President Stephen Hodder said;
"The recognition of Joseph with this prestigious award is long overdue; that it has gone to a man whose writings have provided inspiration to so many who practice in the heart of our cities, gives me particular personal pleasure. Joseph's writing and teaching are rare in that he can deliver the most profound thinking on architecture in an accessible way. All our lives are the richer for it."
Born in Warsaw in 1926, Joseph Rykwert is a naturalized British citizen. He has held a number of university teaching posts in Britain and the United States. He is currently Paul Philippe Cret Professor of Architecture Emeritus and was Professor of Art History at the University of Pennsylvania.
Joseph Rykwert has lectured or taught at most of the world's major schools of architecture and has held visiting appointments at Princeton, the Cooper Union, New York, Harvard Graduate School of Design, the University of Sydney, Louvain, the Institut d'Urbanisme, Paris, the Central European University and others. He has held fellowships at the Center for Advanced Studies in the Visual Arts, Washington and the Getty Center for the History of Art and the Humanities.
In 1984, he was appointed Chevalier dans l'ordre des Arts et des Lettres. He holds honorary degrees from the University of Edinburgh, the University of Cordoba, Argentina, the University of Bath, Toronto and Trieste and Rome, and is a member of the Italian Accademia di San Luca and the Polish Academy. In 2000, he was awarded the Bruno Zevi prize in architectural history by the Biennale of Venice and in 2009 the Gold Medal Bellas Artes, Madrid. He has been president of the international council of architectural critics (CICA) since 1996.
He joins previous theorists and largely non-practitioners to have been honoured with the Royal Gold Medal including Colin Rowe (1995), Sir John Summerson (1976) and Sir Nikolaus Pevsner (1967).
18 Sep 2013
Royal Gold Medal for architecture winner in 2013
The Winner of the Royal Gold Medal for architecture for 2014
Joseph Rykwert to receive the 2014 Royal Gold Medal for architecture
The celebrated architectural critic, historian and writer Joseph Rykwert has been named today (Wednesday 18 September) as the recipient of the 2014 RIBA Royal Gold Medal, one of the world's most prestigious architecture awards.
Joseph Rykwert



photograph : Pawel Mazurl CC Krakow
Location: England, UK
Royal Gold Medal for architecture
RIBA Gold Medal 2015 : O'Donnell + Tuomey Architects
Peter Zumthor to receive the Royal Gold Medal for architecture
Peter Zumthor



photograph : Gerry Ebner
RIBA Gold Medal 2013 : further information – the full citation
RIBA Gold Medal 2012 : Herman Hertzberger
RIBA Gold Medal 2011 : David Chipperfield
RIBA Gold Medal 2010 : I M Pei
RIBA Gold Medal 2009 : Alvaro Siza
London Architecture Links – chronological list
Architecture Awards
Comments / photos for the RIBA Gold Medal 2014 page welcome
Website : Royal Gold Medal 2014 Winner