RIAS Lifetime Achievement Award 2014, Margaret Richards, Scotland, Architecture, Buildings, UK
RIAS Lifetime Achievement Award : Margaret Richards
Prize awarded by Royal Incorporation of Architects in Scotland
19 Jun 2014
RIAS Outstanding Contribution Award
Margaret Richards FRIAS Honoured with RIAS Lifetime Achievement Award
At the annual RIAS Awards Dinner in Glasgow last night, Margaret Richards FRIAS was presented with the Lifetime Achievement Award of the Royal Incorporation of Architects in Scotland (RIAS). The Incorporation's Lifetime Achievement Award is given to those architects who, in the view of the Council of the RIAS, have made an outstanding contribution to architecture in Scotland.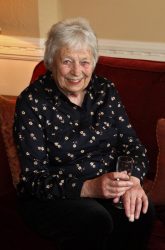 The Award was presented by RIAS President, Iain Connelly, who said:
"Margaret Richards is a remarkable architect. Her early career, in London, involved her with some of the most iconic buildings of the mid-20th Century. Her work with Robert Matthew at the very outset of his practice was instrumental in establishing Robert Matthew, Johnson-Marshall & Partners as a major international force in architecture. She then combined work and a very busy family life alongside her late husband, John Richards PPRIAS, supporting him and working alongside him in a career which is acknowledged as one of the most significant in Scotland in the last 50 years. She is extremely modest and self-effacing, liked and admired by all who have worked with her – a worthy winner of our eighth ever Lifetime Achievement Award."
The citation for Margaret Richards was read out at the event:
"Margaret Richards (nee Brown) was born in Kingussie, the daughter of an engineer. After a peripatetic childhood, she enrolled at Kingston School of Architecture at the age of 16. After graduating in 1952 she worked for two years as an architect with Powell & Moya in London, where she was the job architect for one of the slab blocks of the Pimlico Project housing development in Westminster.
In October 1954 Margaret joined Robert Matthew's newly established private practice in Edinburgh (later Robert Matthew, Johnson-Marshall & Partners). It was initially planned that she would be mainly involved in the practice's New Zealand House project in London but by 1955 she had already been allocated to Scottish projects, including Turnhouse Airport (1954-6) and the design of Crombie Hall for the University of Aberdeen (1955-60).
In May 1958 Margaret married her co-worker in the Matthew office, John Richards (our much missed Past President who died in 2003). They spent six months travelling around Europe, taking part in archaeological excavations in Crete and spending three months at the British School in Rome. On their return, Margaret worked part time at RMJM and was involved in projects such as the unsuccessful 1959 competition entry for Churchill College, Cambridge, and the 1957 competition scheme for Leith Fort (which came second). For the latter she was sent to the Berlin Interbau housing demonstration project to examine a tower block by Dutch architects Van den Broek and Bakema.
Margaret and John's first child, Alan, was born in 1959, followed by Kate in 1961, Lucy in 1965 and Jessica in 1969. It is notable that all of the Richards' offspring pursued creative careers, with Alan becoming an architect, Kate a landscape architect, Lucy a graphic designer, much of whose work is with architects and Jessica works with the National Theatre of Scotland. Mind you, as Lucy recalls, in a childhood full of fun and encouragement there was never such a thing as a beach holiday. Visits to archaeological sites and ancient churches on camping trips in the South of France were more the norm.
Amid the clamour of family life, Margaret somehow managed to set up a practice on her own account in 1964 and also later worked as an associate in the Richards practice. From 1978 she was a tutor in architectural conservation at Edinburgh College of Art.
Margaret has been a council member of the Scottish Special Housing Association and for a number of years was a member of the Cases Panel and the National Committee of the AHSS. A founding trustee and former Chair of the Lothian Building Preservation Trust, she has served on the Historic Buildings Council for Scotland, the Advisory Committee on Artistic Matters of the Church of Scotland and on the International Committee for Training of ICOMOS. She sits on Historic Scotland's Steering Group for the Dictionary of Scottish Architects."
RIAS Lifetime Achievement Award 2014 information / image from RIAS
Location:Scotland
Scottish 2008 RIBA Award winners
Comments / photos for the RIAS Lifetime Achievement Award 2014 page welcome
RIAS Lifetime Achievement Award 2014 – page