Design of the Workplace Report, Next generation office design, Commercial property interior systems
Design of the Workplace Report
30 October, 2023
Modern office workers feel a sustainable workplace is more important than an annual bonus, according to new research
A new nationwide report, released to coincide with London hosting the Ecocity World Summit, has found that:
Eight out of ten employees aged 18 to 29 (83%) feel it's important that their company is run in a sustainable, climate-forward way.
Having a sustainable workspace (34%) is deemed more important than an annual bonus (29%) for the modern workforce.
Almost a third (30%) of office workers would consider leaving their job if their company didn't demonstrate a commitment to sustainability; rising to 35% of those aged 18 to 29.
87% of office workers believe that workspaces need to be evaluated for robustness on the sustainability front and for their health and safety.
Three quarters (74%) of office workers feel more productive and creative when in an office environment versus working from home.
BREEAM Excellent and Active Score Platinum certified Principal Place in Shoreditch developed by Brookfield Properties and designed by Foster + Partners. Image courtesy of Brookfield Properties.
Ecocity Workstation by Brookfield Properties & Foster + Partners,
left-right Dan Scanlon, executive vice president, Brookfeild Properties and Dan Sibert, senior partner, Foster + Partners at Brookfield Properties' central workstation at the Ecocity World Summit at the Barbican Centre, a three day global conference on the future of ecology and cities.
The workstation has been designed in partnership with architecture firm Foster + Partners to showcase the possibilities of future sustainable workplaces. It features seating areas with integrated full-size trees, laptop charging stations, a range of desking ideas and information about the new 'Design of the Workplace' report commissioned by Brookfield Properties: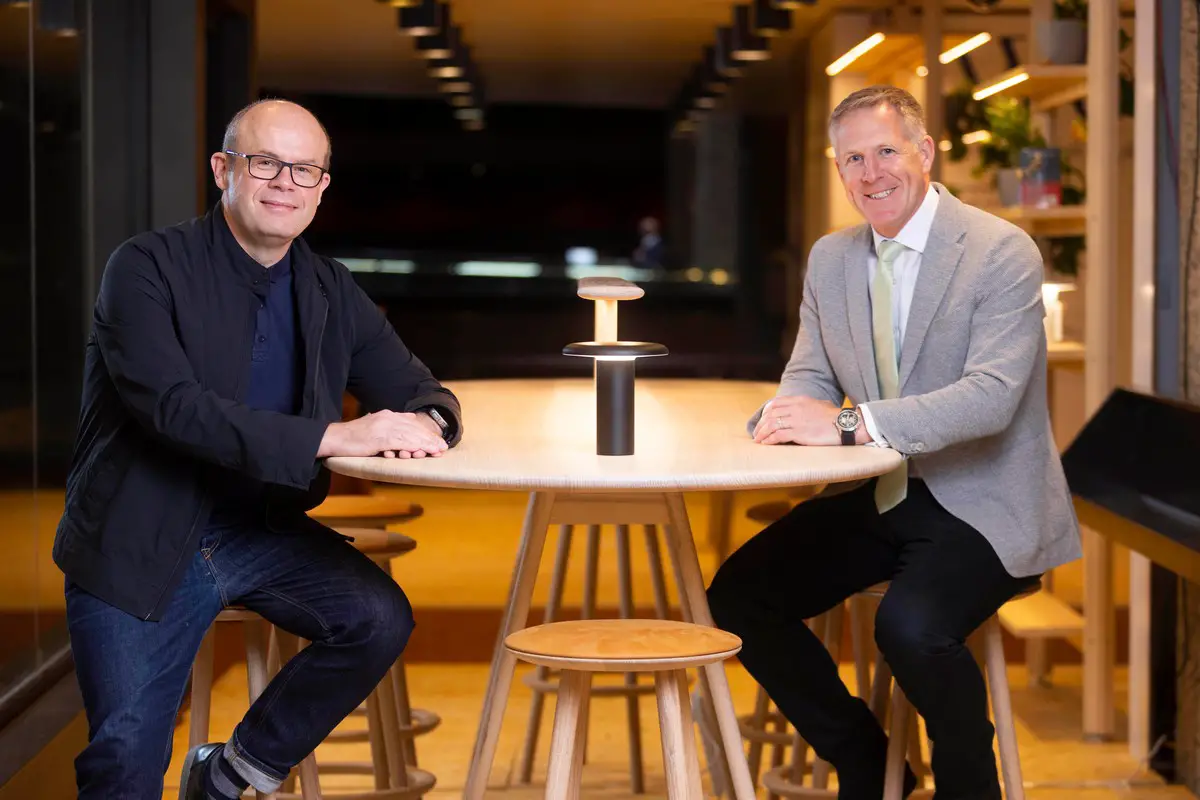 photograph : David Parry/PA Media
Design of the Workplace – next generation office
London, 2023 – A new report, released at Ecocity World Summit, gives office workers a voice for the first time since the pandemic on sustainability goals for their working environment.
Design of the Workplace evidences that employers' credentials in sustainability and, specifically design of workspaces are non-negotiable among future business leaders. As well as being essential to the health of our planet, the findings show environmentally friendly, well-designed workspaces lead to greater productivity, feeling valued, calm and improved wellbeing.
Commissioned by Brookfield Properties, a leading commercial developer and landlord, in partnership with Foster + Partners, a global architecture and design studio, the report indicates
a clear preference for companies who take sustainability seriously – from the design of office spaces, their content and practices to supply chains.
The report also examines what makes for a good workplace experience – an invaluable new blueprint at a time when three quarters (74%) of office workers feel more productive and creative when in an office environment versus working from home.
The survey among 3,400+ office workers nationwide, also revealed:
Nine out of ten office employees (90%) believe that sustainable workspace design is good for both the planet and their wellbeing.
65% of office workers are unaware of their office's carbon footprint but almost three quarters (75%) want to know more about the sustainable credentials of their offices.
Working in an environmentally friendly office leads to higher levels of job satisfaction:

93% of those working in an environmentally friendly office feel happier in their job; happiness levels drop to 55% among those working in environmentally unfriendly offices
40% feel more productive in an environmentally friendly office space; dropping to 12% among those with no access to one
Employees feel 10 times calmer in an environmentally friendly office space
92% of office employees feel more secure in their jobs when based in an environmentally friendly office, compared to 67% of those who aren't
Importantly, a quarter of office workers (24%) stated that an environmentally unfriendly office impacts both their mental and physical health.
Post pandemic, office design is an important factor in terms of employee satisfaction, productivity, retention and wellbeing.  A quarter (24%) of office workers find their workspace uncomfortable, making them feel unproductive and uninspired.
Ecocity Workstation by Brookfield Properties & Foster + Partners in London, UK: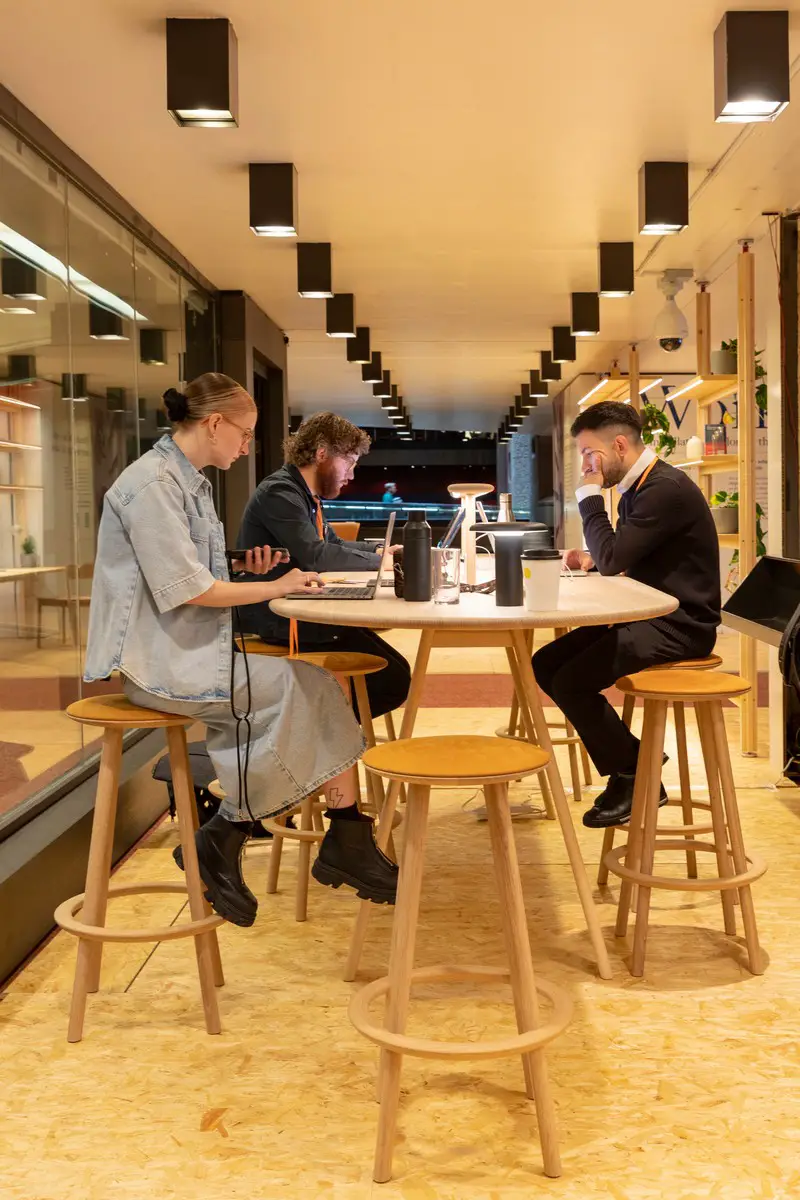 photo : Foster + Partners
The right conditions include:
Good quality air ventilation (48%) and natural ventilation (36%)
Natural lighting (46%) and clever lighting (44%)
Fast internet connection (43%)
Effective heating control (37%)
Recycling facilities (35%)
Adaptable desks and chairs (34%)
To coincide with Design of the Workplace, Brookfield Properties and Foster + Partners are showcasing a co-designed marquee workstation installation at Ecocity World Summit at London's Barbican. The installation features new climate-forward Foster + Partners designed products, which will be repurposed in Brookfield Properties' spaces.
As a leading global real-estate developer with over 20,000 building occupiers in London alone, Brookfield Properties UK has committed to their own near-term science-based target of reducing 50% of Scope 1, 2 and 3 emissions by 2030 through greater tenant, community and supply chain engagement.
Informed by the findings, Brookfield Properties also announces its pioneering initiative – Accelerate ESG – an investment in science-based expertise and a collaborative approach to help their occupiers achieve their ESG goals by tracking data, upskilling their teams, and galvanising third parties in addressing critical issues. It is a unique initiative that allows Brookfield Properties to develop plans for their buildings which align with occupiers' ESG goals – and then work together to achieve them.
"Design of the Workplace and our workstation installation at the Barbican in collaboration with Foster + Partners reflects the feedback from our occupiers and office workers generally.  There is a strong desire from companies and individuals to understand the carbon footprint of their workplace, and importantly how they can make meaningful reductions and deliver upon their own ESG goals. We are proud to support the Ecocity World Summit, and share our findings which demonstrate the appeal of sustainably designed workplaces and the wider benefits they deliver for employees wellbeing, job satisfaction and productivity," commented Brookfield Properties' Executive Vice President Dan Scanlon.
Attendees use Brookfield Properties' central workstation at the Ecocity World Summit at the Barbican Centre, a three day global conference on the future of ecology and cities: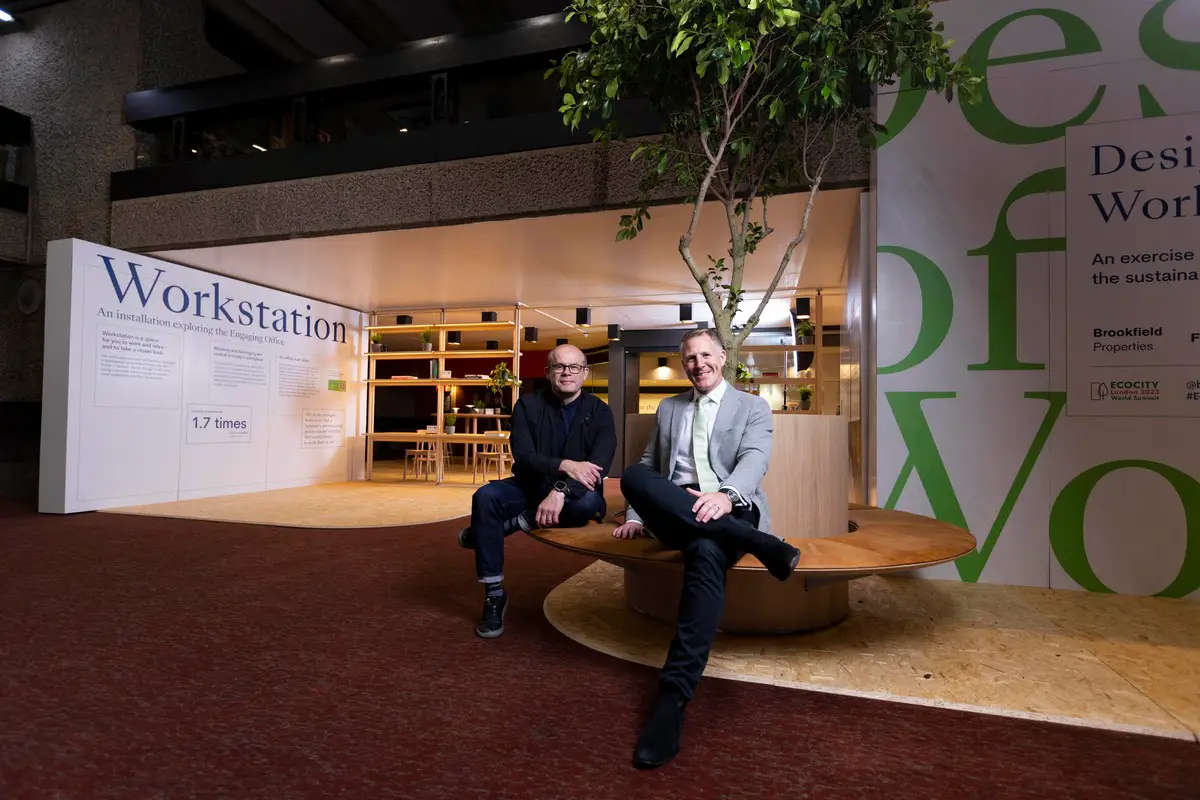 photo : David Parry/PA Media
"Brookfield Properties is committed to providing best in class consultancy and leading the way in sustainable property development and refurbishment – resulting in the creation of inspiring, efficient, resilient, and future-fit spaces that support the needs of tenants and wider communities – today and tomorrow. This report allowed us to spotlight the design of the workplace specifically and how employers can do their bit for the planet and retain a happier, productive workforce in the process."
Dan Sibert, Senior Partner, Foster + Partners added:
"The workplace of the future is about creating spaces that support a greater range of activities and diverse working practices, while focussing on wellbeing and offering people a sense of community. Allied to this is a thorough analysis of the building's carbon footprint – both operational and embodied carbon. Research data shows that the fit-out of a typical building has far greater carbon emissions than its structure. Using technology, we can isolate components to see how those choices impact the carbon footprint of the project. We have developed the idea of a 'timeless fitout' that can change over time and adapt to the evolving nature of the workplace, using higher quality materials that last longer. The result is a sustainable, human-centric workplace, that is equipped to face the challenges of the future."
The workstation at the Ecocity World Summit, Barbican Centre, London, England, UK: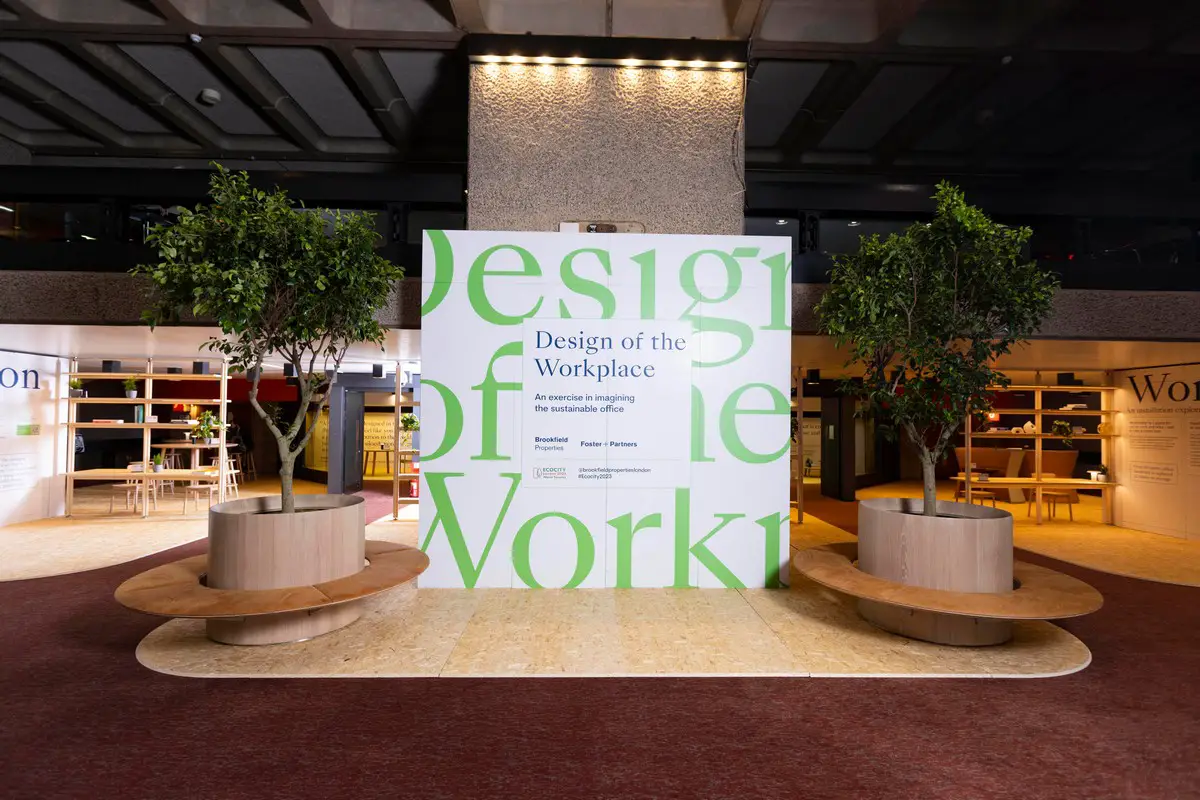 photo : David Parry/PA Media
Conor Storkey, Director of Sustainability, Brookfield Properties said:
"Sustainability within the workplace can be achieved in many ways, including the introduction of policies and smart controls to reduce energy use, improving fresh air supply & ventilation, and maximizing the use of biophilia, ergonomic furniture and recycling facilities. A focus on reducing carbon emissions during refurbishment of tenant fit-outs is
also important, including the imaginative re-purposing and upcycling of existing elements, such as the re-use of raised access flooring or upgrading existing light fittings rather than replacing them entirely."
"Our Accelerate ESG initiative provides the platform for enhanced tenant collaboration, including education and the sharing of best practice to help reduce carbon emissions, achieve our mutual ESG goals and maximise the benefits for their employees and the wider community."
Grant Kanik, Partner, Deputy Head of Workplace Consultancy, Foster + Partners said:
"Since Covid, every aspect of the building design needs to show how it impacts human health. Workers, particularly younger workers, want to know what the air filtration systems are like, they want to know what the fresh air return rates are. They want to understand their lighting systems, not only if they are they energy efficient, but also if they are healthy. Basically, they simply want control over their environment. And that is what buildings should deliver."
"There's the inherent sustainability of a building – the carbon embodied, the design and the energy consumption that goes into our design parameters as a matter of course now. But I think real sustainability goes beyond that, it's about longevity."
Natalie Pearce, Co-Founder and Culture Designer, The Future Kind Collective said:
"Every new generation that is entering the workforce is more purpose and values-led than the last. This means they're not buying into any companies who are not having a positive impact on the wider environment. We also know millennials and Gen Z are actually ranking work culture above salary these days, which is validated in Design of the Workplace. Younger generations are rightly more demanding, and this will continue to be the case."
Brookfield Properties
Brookfield Properties is a leading global developer and operator of high-quality real estate assets. We are active in nearly all real estate sectors, including office, retail, multifamily, hospitality and logistics, operating more than 800 properties and nearly 375 million square feet of real estate in gateway cities around the globe on behalf of Brookfield Asset Management, one of the largest asset managers in the world.
With a focus on sustainability, a commitment to excellence, and the drive for relentless innovation in the planning, development and management of buildings and their surroundings, Brookfield Properties is reimagining real estate from the ground up. For more information, visit www.brookfieldproperties.com.
Foster + Partners
Foster + Partners is a global studio for architecture, urbanism and design, rooted in sustainability, which was founded over fifty years ago in 1967 by Norman Foster. Since then, he and the team around him have established an international practice with a worldwide reputation for thoughtful and pioneering design, working as a single studio that is both ethnically and culturally diverse.
The Foster + Partners architect studio integrates the skills of architecture with engineering, both structural and environmental, urbanism, interior and industrial design, model and film making, aeronautics and many more – our collegiate working environment is similar to a compact university. These diverse skills make us capable of tackling a wide range of projects, particularly those of considerable complexity and scale. Design is at the core of everything that we do. We design buildings, spaces and cities; we listen, we question, and we innovate.
www.fosterandpartners.com
Perspectus Global
Perspectus Global is an independent, international research and insights agency.
Perspectus Global provide high quality consumer and B2B research – both quantitative and qualitative – helping brands ignite conversations, gain insights, become thought leaders and evaluate their success.
www.perspectusglobal.com
Details:
– A total of 3,451 office workers were polled including 1,155 from London, and an average of 200 from 10 other cities including Manchester, Birmingham, Leeds, Bristol, Sheffield, Newcastle, Glasgow, Nottingham, Cardiff and Leicester; 30% aged 18 to 29 and 48% aged between 30 and 44
– Scope 1 and 2 are those emissions that are owned or controlled by the company.
– Scope 3 are those emissions that are not owned or controlled by the company, but those it is indirectly responsible for up and down it's value chain.
Design of the Workplace, next generation offices images / information received from Brookfield Properties / Foster + Partners
Previously on e-architect:
Hybrid Workplaces – Knowledge Work
The Next Generation of Knowledge Work: Lessons Learned on the Path to Hybrid Workplaces
Workplace Amenities Report released amidst Flight to Quality in Commercial Real Estate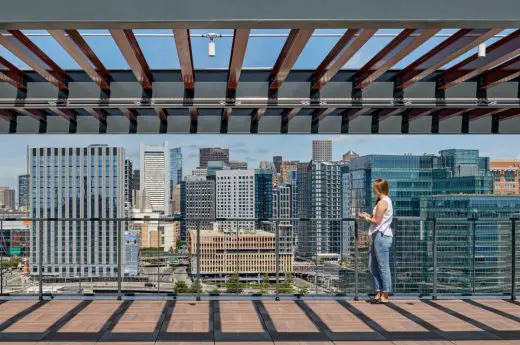 photo courtesy of architects office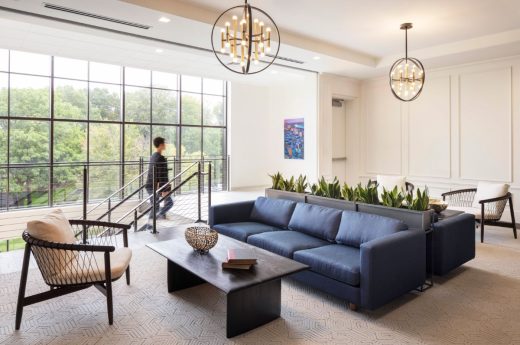 photo courtesy of architects office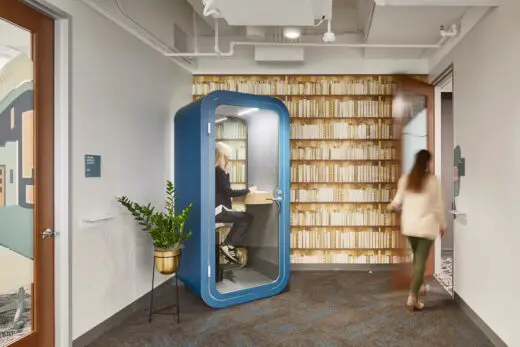 photo : Andrea Calo
Next generation of knowledge work, hybrid workplaces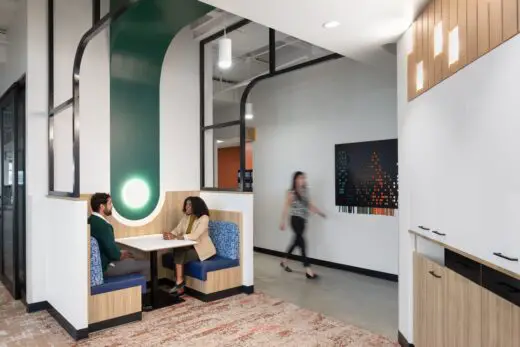 photo : Sean Fleming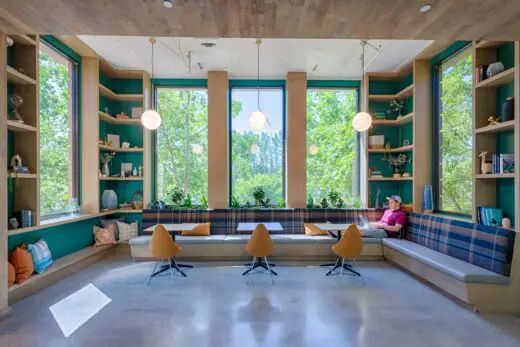 photo : Marco Zecchin
Recent related architecture articles on e-architect:
The Fluid, Sustainable Future of Retail Article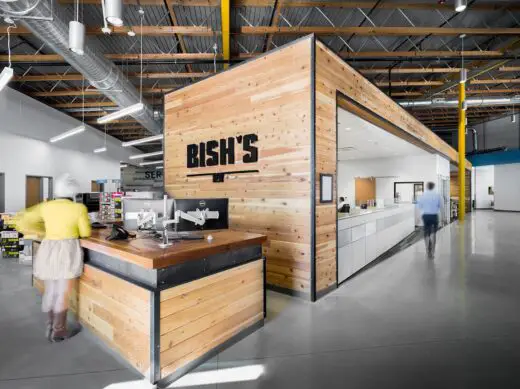 The fluid, sustainable future of retail
Data-Informed Design for User Experience at Work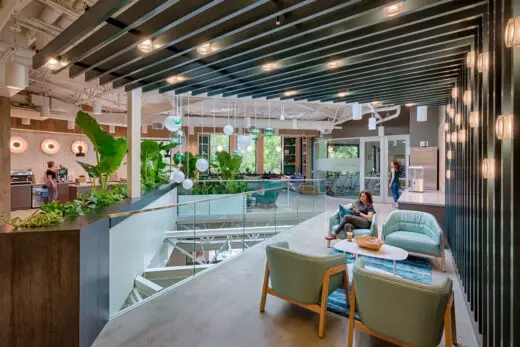 photo : Marco Zecchin
Data-Informed Design for User Experience at Work
Cushing Terrell ATX Office
Architecture: Cushing Terrell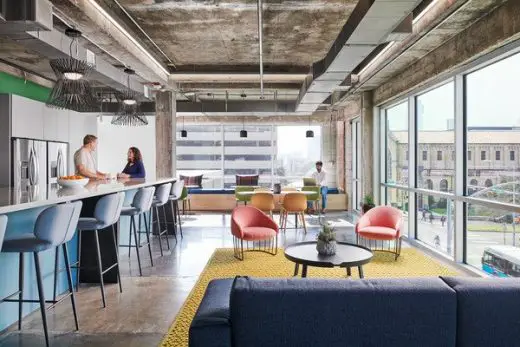 photograph : Peter Molick
Cushing Terrell ATX Office in Austin, Texas
American Architecture Design – chronological list
Comments / photos for the Design of the Workplace, next generation offices architectural article page welcome.