Swedish Architecture Awards 2011, Architects, Images, Proposals, Projects, Houses, News
Swedish Architecture Awards
Building Prize Sweden, Europe
14 Nov 2011
The winners of the Swedish Architecture Awards 2011
Triangeln Station Malmö: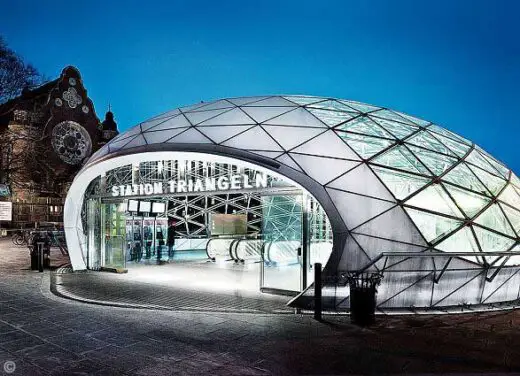 photo : Felix Gerlach
Swedish Architecture Awards Winners
The Triangeln Station, Malmö, receives the Kasper Salin Prize for 2011, the most eminent Swedish annual award for buildings of high architectural quality, "for," as part of the jury citation reads, "an unusually consistent implementation of a clear and percipient architectural idea." The architecture is by KHR AS architects and SWECO Architects AB, represented by leading design architect Nille Juul Sørensen and project leader Lars Lindahl, and the building was commissioned as part of the City Tunnel project.
Triangeln Station, Malmö building:





pictures : Felix Gerlach
This year's Housing Prize goes to the Äppelträdgården atrium terrace housing development, Göteborg (Gothenburg), accoladed by the jury as "an inspiring example of infill development on a Million Homes Programme estate." The prize was jointly received by client representatives Magnus Borglund of White Arkitekter and Sven Steen of F.O. Peterson & Söner, who collaborated on the construction. Architects SAR/MSA Mikael Stenqvist and Thomas Landenberg were also present.
Äppelträdgården, Göteborg:




pictures : Kaller Sanner
Stortorget, Gävle receives this year's Siena Prize for the best public environment. As the reason for its choice, the jury states: "The makeover has been accomplished with an approach commensurate with the magnitude of the task, giving the people of Gävle a central urban space with a strong identity of its own … distinguished by both relevance and sustainability." The architect is Andersson Jönsson Landskapsarkitekter, represented by Landscape Architect LAR/MSA Anders Jönsson, and the commission came from the Municipality of Gävle.
Stortorget, Gävle:



photo 1 : Kasper Dudzik ; photo 2 : Stéfan Estassy
This year's Gold Chair in the product category goes to the Ru Chair. In its citation, the jury writes: "With its neat and discreet profile the Ru Chair is both innovative and exhilaratingly idiosyncratic." The chair, designed by Shane Schneck for Office for Design, is produced by HAY.
As architecture reviewer of the year the jury has chosen Per Wirtén, "for his capacity, through a combination of personal apostrophisation and hard facts, for making the outer city visible to all."
Per Wirtén:



photo : Cecilila Larsson
Swedish Architecture Awards – Citations
Kasper Salin Prize
Triangeln Station, Malmö
Prizewinner. KHR and Sweco
Jury citation
The Triangeln Station, Malmö, is awarded the 2011 Kasper Salin Prize for its unusually consistent realization of a clear and insightful architectural idea. In the encounter of a largescale infrastructure with the city, a new type of space is created, with flows of light which facilitate face-to-face meetings.
The new railway tunnel through the centre of Malmö has been given a halt in the Triangeln shopping centre, taking the passengers' experiences as the starting point for design. The entrance is an inviting daylight aperture from the underground station concourse to the surrounding city. Cogently worked-out lighting, confidently fashioned glass domes, congenial artistic decoration and a firmly styled, general monumentality establish the station as a meeting point and confirm the importance of travel for urban development.
Architect: Sweco Architects AB, Malmö och KHR AS arkitekter, Köpenhamn. Uppdragsledare Lars Lindahl, Sweco Architects AB och designansvarig Nille Juul-Sørensen, KHR AS arkitekter tillsammans med Lise Lind, KHR AS arkitekter. Handläggande var arkitekt Cecilia Spannel samt arkitekterna SAR/MSA Per Kinn och Anders Öreberg (skyltning för resandeinformation) hos Sweco Architects AB.
Medverkande var även arkitekter SAR/MSA Mikael Lassen, Lars Nilsson, Boris Kildetoft och Karin Bellander samt arkitekt MSA Charlotta Öhlin. Medverkande från KHR var arkitekterna Kristian Winther och Janus Rostock.
Consultants: Konstruktion av Sweco Structures AB genom Jan Nordh; Konstruktion (entrébyggnader i glas) av Arup and Partners, Storbritannien, genom Nille Juul-Sørensen; VVS av Sweco Systems AB genom Thore Wiberg; El av Sweco Systems AB genom Steen Hansen; Akustik av Cowi, Köpenhamn, genom Jørgen Vasehus Madsen.
Light Design: Bartenbach Lichtlabor, Österrike, genom Robert Müller.
Art: Christian Partos (stationsrummet) och Gunilla Klingberg (uppgångar).
Landscape: Malmö stad (omgivande mark).
Building Contractor: NCC (byggnad), Skandinaviska glassystem (entrébyggnader i glas), MCG (Malmö Citytunnel Group) (tunnelbygge) bestående av ab Bilfinger & Berger, Pihl & Søn och Per Arsleff.
Client: CTP (Citytunnelprojektet samägt av dåvarande Banverket, nu Trafikverket, och Malmö stad) genom projektledare Örjan Larsson och delprojektledare Patrik Magnusson från Trafikverket. Malmö Stad genom Ilmar Reepalu och arkitekt SAR/MSA Wolfgang Liepack, projektledare hos Gatukontoret.
Jury 2011
Hans Murman
Christer Larsson
Helle Juul
Leif Brodersen
The Housing Prize
Atrium Terrace Houses – The Orchard, Göteborg
Jury citation
For a modern, contemporary project which makes an inspiring example of the supplementation of a Million Homes Program development. Äppelträdgården is a positive addition which adds buoyancy to its surroundings and offers a variety of tenures. With its two-storey scale and wayward identity, the new development contrasts with and enriches the surrounding high-rise township. The addition of these ground-level dwelling units makes possible a residential career within the neighborhood for those wishing to move without leaving. The atrium buildings convey a powerful contemporary and internationally influenced idiom. The homes are designed with a high degree of empathy, with fine detailing and with boundaries between outdoors and indoors obliterated.
Skolmössan Precinct, alias Äppelträdgården ("The Orchard"), is right next to Frölunda Torg in west Gothenburg. The atrium buildings, numbering about 40 when the development is completed, are freehold. An equal number of homes are being built as rental terrace housing. All the buildings are positioned inside a communal apple orchard, a setting as poetical as it is beautiful. Gardens and buildings intermingle in a close-knit structure affording good qualities for homes, private patios and communal spaces.
The atrium buildings are cunningly well-organized, with beautiful rooms and good management of daylight and vistas. The free fenestration is a trumpet call for innovative thinking. The central atrium, which, with its adjoining carport, has a touch of the old-time coach-house about it, combines with the upper terrace to offer patios of varying character and for variable weather conditions.
Architect: White Arkitekter genom ansvariga arkitekt SAR/MSA Mikael Stenqvist och arkitekt SAR/MSA Thomas Landenberg samt byggnadsingenjör Lars Zachrisson.
Landscape: White Arkitekter genom landskapsarkitekt LAR/MSA Sam Keshavarz, landskapsarkitekt MSA Helena Bjarnegård.
Light Design: White Arkitekter genom Kajsa Sperling.
Consultants: Konstruktion av VBK genom Jan Bergstrand; VVS av WSP Group AB genom Patrik Holmquist; El av El-Teknik B A Johansson AB genom Tommy Rolfö samt Geoteknik av Tellstedt Geoteknik AB genom Thomas Östergren.
Construction Management: White Arkitekter genom Karin Palm.
Sustainability: White Arkitekter genom Anna Graaf och fuktsakkunnig Nadja Lindhe.
Contractor: FO Peterson och Söner Byggnads AB.
Client: White Arkitekter genom Magnus Borglund samt FO Peterson och Söner Byggnads AB genom Sven Steen.
Jury 2011
Peter Erséus
Maria Heymowska
Pelle Björklund
Sanna Hederus
Pontus Åqvist
The Siena Prize
Stortorget central square, Gävle
Landscape Architect: Andersson Jönsson Landskapsarkitekter
Client: Gävle municipality
Jury citation
The Stortorget makeover in Gävle has been accomplished with an approach fittingly commensurate with the task, giving the people of Gävle a central urban space with a powerful identity of its own. The renewed piazza is distinguished by both relevance and durability, and this applies to the quality of workmanship as well as to the architectural idea.
The piazza's new character emanates from an overarching order of things. A striped arch, or "damask" as the architects call it, of different granite slabs makes up the new floor on which the life of the piazza is played out. The patterning is strict and repetitive, but never stiff or monotonous. The piazza's commercial, play-related and social aspects fit in naturally with the wider scheme of things, as spaces in their own right. Residual elements such as Erik Höglund's pylons and an amorphous restaurant building serve if anything to strengthen the new order by retaining their old locations – in contrast to the new parts.
The clarity of the principal arrangement is also present in the refinement of the details. The open spaces are refreshingly empty but, thanks to elegance of detailing, rich in content. The corroding steel joins and guttering, wooden gratings dividing up the patterning, with an artistic addition in the form of a zip fastener in the fabric, endow the piazza with the high-quality expression a public place deserves. Foremost among the detailing is the furniture, which grows out of the geometry of the ground pattern, forming an undulating movement of different seating options, from which one can survey the goings-on in mid-piazza.
Landscape Architect, competition: Andersson Jönsson Landskapsarkitekter AB i samarbete med Sture Koinberg AB.
Landscape Architect, realization: Andersson Jönsson Landskapsarkitekter AB genom ansvarig landskapsarkitekt LAR/MSA Anders Jönsson, handläggare och projekteringssamordnare landskapsarkitekt LAR/MSA Stina Elonsson samt medverkande landskapsarkitekter LAR/MSA Marie Ejdemo, Anna Englund och arkitekt MSA Hans Lidquist.
Consultants: El av WSP Systems genom Håkan Berglin och Håkan Larsson; VA av WSP Samhällsbyggnad genom Bo Carlsson och Per Domstad; Markvärme av VVESS Systems AB genom Lars Berthilson; Konstruktion av Grontmij AB genom Christer Johansson; Samordning teknisk beskrivning av pmh KONSULT AB genom Per-Martin Hällström; Program ljussättning av Ljusarkitektur AB genom Alexander Cederroth.
Fountain: Anleka Vattenteknik AB i samarbete med Andersson Jönsson Landskapsarkitekter AB
Furniture Design: Design studio Bernstrand, co-designer Andersson Jönsson Landskapsarkitekter AB.
Art: Kristina Matousch samt lekskulptur av arkitekt SAR/MSA Ingegerd Harvard.
Client: Gävle Kommun, Tekniska kontoret genom projektledare Mats Pierrou samt landskapsarkitekt LAR/MSA Emma Nordebo och landskapsarkitekt MSA Marie Edling.
Building Contractor: Generalentreprenad ODEN Anläggningsentreprenad AB.
Jury 2011
Henrik Rundquist
Mona Wembling
Eva-Lisa Anderson
Erik Simonsen, Cementa AB
Ordförande Jan Lang, Starka Betongindustrier
Architecture reviewer of the year
Per Wirtén
Jury citation
This year's Reviewer's Prize is awarded to Per Wirtén for his ability, using a combination of personal apostrophisation and facts, to make the outer city visible to all, highlighting the need for diversity, for differences in the character of urban development and for making use of existing resources.
The texts studied by the jury before selecting this year's reviewer laureate all have a consistent theme. In prose and poetry, newspaper articles and professional journals, we have been able to trace stories of the tension between centre and periphery. Themes concerning social exclusion and forgotten places have been combined with a calling into question of the city's boundaries, growth and character. The discussion is polarised, but no less rewarding for that. Given that many urban transformation projects are in progress or at the planning stage up and down Sweden, the subject feels urgent and highly interesting.
In a book entitled (in Swedish) "Where I come from", Per Wirtén highlights a dynamic turning point in the history of Swedish urban development, namely the emergent suburbs of the 20th century. He takes us on an instructional tour skilfully interwoven with a personal coming-of-age and reflections on present-day outer-city environments. What is a city? Who lives there? How do we use it and, not least, how do we employ language to name and shape our image of the city and its inhabitants?
The result is an odyssey through time and space. This book is needed as part of the ongoing discussion about designing Stockholm, but is equally pertinent to all cities with a growing polarisation between core and outskirts.
Jury 2011
Torsten Hild
Johan Mårtelius
Christoffer Barnekow
Lotte Möller
Torun Hammar
Swedish Architecture Awards – further information: http://www.arkitekt.se/s68211
Swedish Architecture – Recent Designs
Skipark 360°
C. F. Møller Architects | Berg Arkitektkontor



picture : C. F. Møller Architects
Skipark 360°
Naturum Vattenriket, Kristianstad, Sweden
White Arkitekter



image from architect
Naturum Vattenriket
Stockholm Waterfront
White Arkitekter



photo : Wojtek Gurak
Stockholm Waterfront Buildings
Swedbank Headquarters
3XN
Swedbank HQ Building
Swedish Buildings – incl. famous Modern Swedish Buildings
Developments in adjacent Scandinavian countries
Buildings / photos for the Swedish Architecture Awards page welcome