Why you Should Purchase a King Size Bed advice, Online property bedroom tips, Home interior style
Why you Should Purchase a King Size Bed?
31 May 2021
The last time you stayed in a plush hotel, you probably enjoyed a restful night's sleep with a king size bed and appreciated how comfortable and spacious it was.
Imagine being able to create that same experience every night in your bedroom by installing a king size bed.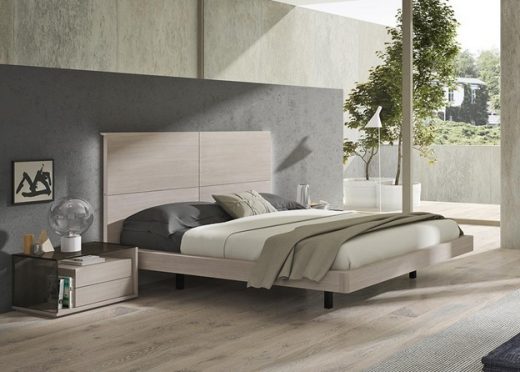 Why you Should Purchase a King Size Bed for your home
Here are top reasons to justify buying a king size bed that can help you sleep better:
Relaxing space
While it may be nice to cuddle up with your loved one in bed, the chances of getting a good night's sleep increase when your bed is large enough for you to do so.
Putting yourself into an average-size bed leaves you with only two feet and three inches of room. A bed that measures four feet and six inches will not allow you to relax and gain comfort.
Evaluating the costs
A new bed might seem costly, especially if it's a king size bed, but when you think about how much you'll use it and how long you might own it, it turns out to be a really good deal.
Considering that we keep our beds for an average of seven years or so, dividing the price of your king size bed by this number soon seems very reasonable.
Improve your sleep quality
Several ergonomic studies confirm that a standard double bed leaves you with little room to stretch out and get comfortable.
After spending a few weeks sleeping in a king size bed and then returning to a double bed afterward, a majority of people would opt to buy a bigger bed after realizing the benefits.
Added flexibility
When you retire to bed for the night, you might be surprised to learn that most people will move around at least sixty times before getting comfortable.
Having more space to wriggle around means you won't disturb your partner.
The king size bed will allow both of you to sleep undisturbed because you'll have more room to move around.
Keep up with the trend
Keeping up with the latest trends might not be the primary reason behind buying a king size bed but it is worth noting that a growing number of countries consider larger beds to be the norm and investing in a bigger bed will put you in good company. On Castlery, an Australian furniture store, you can find the latest collection of king size beds, available in a wide options of colours and materials.
Suits well to your needs
Since every individual is different in height and weight you want to have as many options as possible so that you can find a sleeping arrangement that suits you.
You shouldn't have much problem getting a comfortable night's sleep if you have a king size mattress and bed to support you, regardless of how tall you are or how much you weigh.
Sleep in a proper position
As people, we all tend to adopt our default sleeping positions when we get into bed. Unfortunately, when we are in smaller beds, we might have to compromise on that.
As soon as you lie down on the king sized mattress, you should be able to find a comfortable position, relieves any pressure points, and helps you get into a sound sleep pattern.
Comments on this guide to Why you Should Purchase a King Size Bed article are welcome.
Beds
Beds and Bedrooms Posts
Ways to make your bedroom look like a million bucks
What was original purpose of headboards
How improving your sleep can improve your wellbeing
Building Articles
Residential Architecture
Comments / photos for the Why you should purchase a King Size Bed tips page welcome